There's a good chance that if you regularly visit coffee outlets like Starbucks, you'll have seen chocolate-covered coffee beans for sale, but what exactly are they, do they offer any health benefits, are they safe to eat, and can you make them at home?
This article will take an in-depth look at this popular snack so you can get all the details you need to determine whether they are something you'd like to try. Let's take a closer look.
What Is A Chocolate-Covered Coffee Bean?
Whole coffee beans are the best option for brewing beautiful, fresh coffee to drink, but you can also eat them. One of the most delicious ways to make coffee beans palatable is to cover them in melted chocolate, then allow them to set.
Coffee and chocolate make a beautiful match for more than one reason. First of all, the bitterness of the bean is offset beautifully by the sweetness of the chocolate. Not only that, but once you bite through the softer-textured outer layer of the chocolate, the coffee beans have a satisfying crunch, making it an all-around excellent snack or after-dinner treat.
As well as a standalone snack, you can also add chocolate-covered coffee beans as an edible decoration for cakes. Meanwhile, the natural caffeine of the beans can be an excellent way to get a caffeine hit instead of drinking coffee.
Homemade Chocolate-covered Coffee Beans Recipe
This recipe shows you how to make chocolate-covered coffee beans at home.
Equipment
Metal bowl

Saucepan 

Wooden spoon

Wax paper

Fork
Ingredients
1/3

cup

dark roasted espresso beans

50

grams

chocolate bar

icing sugar

for garnish (Optional)
Instructions
Add chunks of chocolate to a double broiler and stir. Or, microwave the chocolate, stirring every 30 seconds.

Remove chocolate from the heat and stir in the beans.

With a fork, remove the beans and place them on a wax paper-lined tray.

Cool in the freezer for an hour. For more chocolate, repeat steps one to four.

Add a garnish like cocoa powder or icing sugar. (Optional)

Serve now or store in an airtight container.
Notes
Dark roasted espresso beans are suitable for this recipe since they are more brittle. Lighter roasted beans are too dense for chewing. 
100% Arabica coffee beans tend to be less bitter than robusta blends. 
Any chocolate is suitable for this homemade chocolate-covered espresso beans recipe. 
Nutrition
Serving:
50
g
Calories:
260
kcal
Carbohydrates:
29
g
Protein:
3
g
Fat:
15
g
Sodium:
10
mg
How To Make Chocolate-Covered Coffee Beans At Home – Detailed Recipe
Ingredients
Espresso Coffee Beans
An espresso coffee bean is a normal bean blended or roasted to a profile that makes it ideal for brewing espresso. They can be either 100% arabica coffee beans or a blend of arabica and robusta beans. Typically, espresso beans are dark roasted, but it's not always the case. However, darker roasted beans are more brittle, making them easier to chew. Lighter roasted beans are chewier and slightly unpalatable, so they're not recommended for this recipe.
Chocolate Chips Or A Chocolate Bar
Any chocolate is suitable for the recipe. So, milk, dark or even white chocolate will work. Meanwhile, you can use either chocolate chips or a chocolate bar as you'll be melting the chocolate. You also need no set amount, as you can coat the beans as often as you like.
Equipment
Metal bowl
Saucepan (or a microwave-safe bowl if you melt the chocolate in the microwave)
Wooden spoon
Wax paper
Fork
Step By Step Instructions
Step One – Melt The Chocolate
Pour some water into a bowl and boil it on a stovetop. Place a metal bowl on top of the simmering water, break the chocolate into smaller chunks and add it to the bowl. The chocolate will begin to melt. As it does, stir it continuously until the chocolate is smooth.
Alternatively, use a microwave to melt the chocolate – microwave in intervals of 30 seconds, stirring between each until the chocolate is smooth.
Step Two – Add Espresso Beans To The Chocolate
Once the chocolate has melted, remove the bowl from the heat, add the espresso beans to the mixture and stir them in until they are all coated in the chocolate. Try to ensure none of the beans are clumped together, then allow the chocolate to cool for a few minutes, so it thickens on the beans.
Step Three – Separate The Chocolate-Covered Beans
Remove the beans using a fork and place them on a tray lined with wax paper. After removing each bean, allow the excess chocolate to drip off.
This stage will take several minutes, and the chocolate may begin to harden a little too much. If this happens, return it to the heat for a few seconds to loosen it and continue.
Step Four – Place The Tray In The Freezer
Place the tray in a freezer until the chocolate sets. This should take about an hour. Now, you can either add another coat of chocolate to the beans or eat them as they are.
Step Five – Garnish The Beans (Optional)
While the chocolate is still soft, feel free to sprinkle over a topping, including cocoa, icing sugar, cinnamon, or chili powder.
Step Six – Serve
Either serve the beans now or store them in an airtight container to be enjoyed at a later point.
Where To Buy Chocolate-Covered Coffee Beans
If you don't want to make chocolate-covered coffee beans at home, there are several places where you can buy them. Let's look at the options.
Dark Chocolate Covered Espresso Beans At Starbucks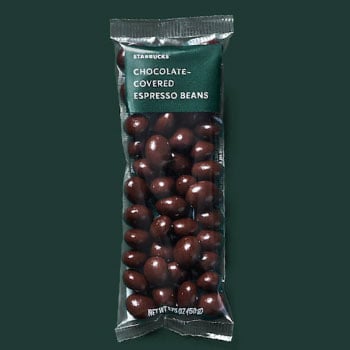 Starbucks sells chocolate-covered coffee beans in 50g bags – an ideal snack size. The outlet uses the same type of espresso beans it uses in its beverages and coats them in dark chocolate for a slightly healthier version than milk chocolate-coated alternatives. At around 260 calories per bag, they offer an indulgent treat you can enjoy guilt-free.
Best Chocolate Covered Coffee Beans On Amazon
1. Chocolate Covered Espresso Bean Blend Jar By Dilettante Chocolates
Last update on 2023-09-26 / As an Amazon Associate, if you buy via the links, Brewcoffeehome earns a commission at no extra cost to you.
This 3lb jar of chocolate-covered coffee beans is great for people who'd like a variety of options, as it has milk, white, dark, and marbled chocolate beans. The beans themselves are Hapsburg Bean Blend medium-dark roast arabica espresso beans. They are also free of hydrogenated oils, compound chocolate, preservatives, or fillers while revolving kettles were used to dip and tumble to ensure even consistency of the chocolate.
2. Chocolate Espresso Beans By WinCrest
Last update on 2023-09-26 / As an Amazon Associate, if you buy via the links, Brewcoffeehome earns a commission at no extra cost to you.
These beans come in a 1.5lb tub, and use roasted arabica beans covered in sugar-free dark chocolate for a healthier alternative. Malitol is the sweetener used instead of sugar, while they're made with the highest quality espresso beans. Like most other shop-bought chocolate-covered beans, they also have a confectioner's glaze to give them an appealing shiny look.
3. Trader Joe's Dark Chocolate Covered Espresso Beans
Last update on 2023-09-26 / As an Amazon Associate, if you buy via the links, Brewcoffeehome earns a commission at no extra cost to you.
This 0.8lb tub again has dark chocolate-covered beans. The beans are arabica, with no artificial colors, flavors, or preservatives. The chocolate is bittersweet, giving them a nice balance of flavor, while there are approximately 170 calories per serving(1.4oz).
How Much Caffeine Is In Chocolate-Covered Espresso Beans?
While the amount of caffeine in the beans will depend largely on the type of beans and chocolate used, some guidelines offer an idea of how many are safe to eat at a time.
On average, a chocolate-covered coffee bean contains around 12 mg of caffeine per bean – including the caffeine in the chocolate.

Healthline.com
Tolerance to caffeine varies, but a single dose of 200mg of caffeine and 400mg a day are considered safe. That equates to around 16 chocolate-coated beans per serving or 32 a day.
If you take the 12mg figure as your average, you can subtract or add to that number based on the amount and type of chocolate used. For example, milk chocolate contains less caffeine than dark chocolate, while white chocolate contains none. Also, if you coated the beans twice, you'll need to consider that when calculating the caffeine content.
The type of beans is also a factor. For example, robusta beans contain more caffeine than arabica.
Is It Safe Eating Coffee Beans?
Coffee beans have been eaten for centuries to offer an energy boost, and they make a tasty treat when chocolate covered. However, though they are safe to eat, you should moderate your intake so as not to consume too much caffeine at a time.
In fact, in moderation, eating coffee beans can have some health benefits, including as a source of antioxidants, which can reduce the risk of diabetes and inflammation.
Of course, eating too many can cause problems, such as heartburn and stomach upset, sleep disruption, and a potential laxative effect. Therefore, it's always best to moderate your intake and try to keep within the guidelines.
Final Thoughts
Chocolate-covered coffee beans are not only delicious, but they are relatively easy to make at home. Not only that, but you can experiment with them by tweaking the type of beans and chocolate you use and whether or not to garnish them.
If you'd rather not make them yourself, there are also plenty of options for buying them and enjoying them straight from a packet, jar, or tub.
As well as a delicious treat, they are also an excellent way of getting a caffeine fix if you don't have a cup of coffee to hand. They also offer some health benefits, including the antioxidants that help reduce ailments, including inflammation.
Of course, like most things, over-indulging in chocolate-covered coffee beans can cause problems. Still, as long as you stick to the guidelines we suggest in this article, there's no reason why you cant enjoy them as a delicious coffee-based indulgence.