The methods involved in brewing an authentic cup of Turkish coffee seem ancient, and they are. This adds to the impression that learning to brew Turkish coffee is a challenge, but it is fairly straightforward.
The coffee pot you need to make Turkish coffee – a cezve or ibrik, is far cheaper than standard coffee makers or espresso makers. Generally, a Turkish coffee maker will be in the same price range as a pour over coffee maker, which you can buy in various materials, designs, and sizes.
For people who would like to try genuine Turkish coffee without the manual brewing process, this article also highlights the top electric Turkish coffee makers.
The choices may seem confusing, but this article will break down all the elements you need to think about while choosing a Turkish coffee pot and highlights the best options. Once you've been through the article, you'll have a solid idea of the best option for you.
Also, if you haven't brew Turkish coffee before, check out our Turkish coffee brewing guide first, you'll know how to use a cezve.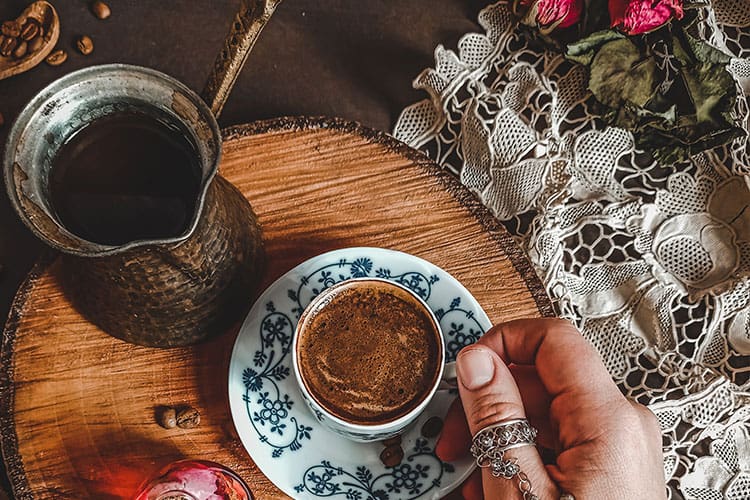 How To Choose The Best Ibrik/Cezve
Firstly, be aware that an ibrik is no more than a simple coffee pot with a long handle. Therefore, it is nowhere near as complex as, say, an espresso machine. You ought to consider only three things while making your choice – the body material, handle material, and capacity. Every other decision will come down to the feel of the pot and the aesthetic – in other words, a question of taste.
Note: There is no difference between an ibrik and a cezve. "Cezve" is the Turkish word for a long-handled coffee pot, while "ibrik" is from Arabic. "Ibrik" is the most commonly used in the USA. So, don't be worry when you see the words used interchangeably in either this article or when making a purchase.
Which Body Material Should I Choose?
Turkish coffee makers generally come in one of three materials: copper, brass, and stainless steel. Each of these materials is excellent for making a reliable, robust Turkish coffee safely. However, there are good and bad aspects with each option.
Copper
This metal is very common in Turkish coffee pots. Copper doesn't rust, but the material does slowly corrode (over a period of decades). Because of this corrosion, most pots with a copper body have tin on the interior to enhance the pot's longevity and make it easy to clean. Copper conducts heat well, meaning it's a good metal for stovetop brewing.
Brass
Brass is largely an alloy made from copper with added zinc. The traditional metal is gold-toned but can seem a little outdated. However, brass is not as corrosive as copper and doesn't rust, so you can rest assured that it will last for many years.
Stainless Steel
Stainless steel is contemporary and is straightforward to maintain and clean. It doesn't look as authentic as the copper and brass Turkish coffee pots, but it is dishwasher-safe (something you should never consider with copper and brass pots) and offers the most longevity.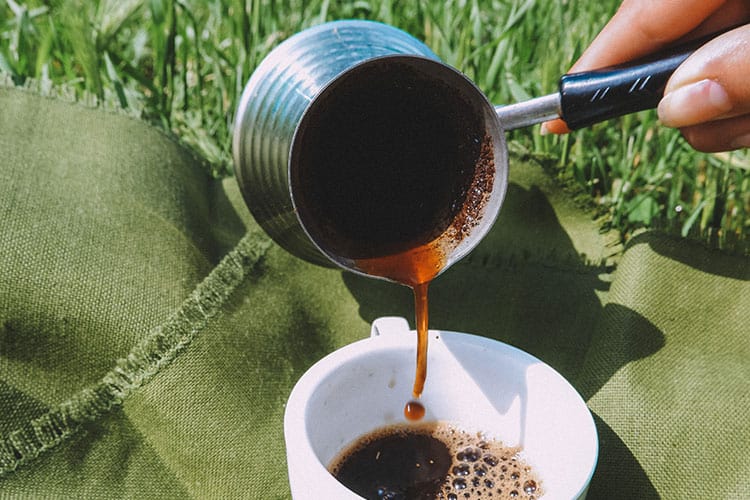 Which Handle Material Should I Choose?
The body material is the most crucial aspect, but the handle's material affects the brewing process, so it is worth researching.
Brass and copper ibriks usually have a brass or wooden handle. Each of those materials has longevity and is safe. We recommend avoiding metal handles if you're looking for a smaller pot. That's because metal handles conduct heat, meaning they will get very hot if they're too close to the stove. We like wooden handles as they remain cool even close to the stove.
Stainless steel pots most often have stainless steel handles or plastic ones. Because you will put the pot on the stove, we are not fans of the plastic handles – even when they are heat-resistant and food-grade. Also, plastic handles seem inauthentic for such an ancient coffee brewing process.
Which Capacity Of Pot Should I Choose?
We recommend choosing a pot that is in keeping with your typical serving size.
It's crucial to choose the correct size so that the foam accumulates on top. For example, it's a bad idea to buy an ibrik that can hold 10 servings if you only need it for one cup of coffee.
The pot sizes of Turkish coffee pots range from one to ten servings. Keep in mind that Turkish coffee is highly caffeinated, holds the grounds in the beverage, and is very robust. Therefore, you are unlikely to want to drink more than one cup at a time. So, opt for a capacity in keeping with the amount of coffee you'll need for each serving.
Single-serve pots are very small. Indeed, when you see the beverage, you might think it's too small for you. However, even though one cup of Turkish coffee is only around two fluid ounces, there is more caffeine in it, as it is unfiltered. Because of this, the maximum you will need is two cups, even if you adore the taste.
If you are likely to host several guests regularly, or the whole household enjoys Turkish coffee, you can opt for a five or six serving pot.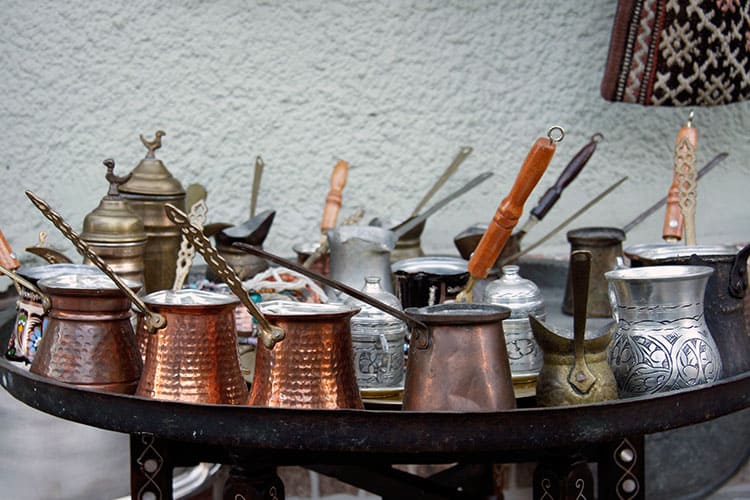 Electric Turkish Coffee Makers
Technological advancements mean that even a brewing process as ancient as Turkish coffee is subject to modernization. Electric Turkish coffee makers remove the hassle of producing the coffee for you from scratch. You will need to measure the finely ground coffee into the brew chamber and pour water into the tank. However, beyond that, the push of a button will be all you'll need to enjoy a cup of Turkish coffee.
The biggest disadvantage is you won't experience the satisfaction of going through the brewing process. However, it's an excellent way to enjoy Turkish coffee easily and quickly if you are in a hurry.
Will I Need A Single Ibrik Or A Turkish Coffee Set?
A Turkish coffee cup is another critical element of authentic Turkish coffee because we use it to measure and serve. With the serving cup, you should measure one and a half cups of water per serving.
Another thing to consider is the experience. If you want the experience to be as authentic as possible for you and your guests, elegant Turkish coffee cups and saucers are vital. Also, if you buy a Turkish coffee set, you may save more money than if you buy each element separately.
Best Turkish Coffee Makers (Ibriks And Electric Coffee Makers)
You now have a sound idea of what to consider when buying your Turkish coffee pot. It all comes down to considering which materials best suit your needs and choosing the best size. However, ultimately ibriks share one major design similarity – they are a long-handled pot.
We will now examine the top four ibriks, each with a different design, to help further narrow your choice.
We will also look at the top four automatic electric Turkish coffee makers for those who prefer to enjoy Turkish coffee without manual brewing.
Best Turkish Coffee Pots – For The Stovetop
The Silk Road Trade – ACU Series Cezve
The Silk Road Trade coffee pot has beautiful, evocative engravings and is handmade in Turkey from a single copper sheet.
There are four size options, but keep in mind that you will need to decide which is the most appropriate for generating the best foam. If you want to enjoy Turkish coffee on your own, buy the small pot, which has an 8.5oz capacity and can make three cups at a time. The medium size has a 13oz capacity, which is good for five cups. Beyond those, the 18oz option makes between seven and eight cups, while the 28oz Turkish coffee pot brews 12 cups.
The copper is 2mm thick and lined with tin. It has a robust quality, and you should get many years of use from this pot. Another advantage is the extended wooden handle, which will ensure you don't burn your hands. Meanwhile, the handle detaches easily, so it is simple to store away when you're not using it.
Bonus: A free extra with the Silk Road Trade ACI Cezve is a handmade wooden spoon, which is great for avoiding scratches while stirring.
CopperBull DEMMEX 2017 Gorgeous Turkish Copper Coffee Pot
We adore this Turkish coffee pot. The pot is built using hammered copper and has a beautiful finish that is dark and old-fashioned. The handle has a wonderful design too, which attaches to one side with a graceful curve, lending it a sleek and striking appearance. To add to the authenticity of the pot, it is handmade in Turkey.
Keep in mind the capacity of the pot – it holds 22oz of water, making it significantly bigger than many smaller Turkish coffee pots. Therefore, you should only consider this if you intend to brew for several guests in one batch, as the pot can make between nine and 10 servings at a time. While this specific design only comes with a 22oz capacity, DEMMEX has a 2021 model in 8oz and 15oz. However, the handle is not as attractive as the 2017 version, as it is straight rather than curved.
This is a solid and original handmade pot that is excellent for authentically brewing beautiful Turkish coffee. Just ensure you have enough people to brew for.
Caizen Coffee Turkish Coffee Pot
This pot is a good option if you prefer a more contemporary aesthetic or have a modern kitchen.
Stainless steel pots such as this are more practical than copper pots as they are easy to maintain and multi-purpose. This pot is also dishwasher safe and easy to keep clean. Meanwhile, although its design is for brewing Turkish coffee, you can also use it for melting butter or coconut oil, warming milk, or any number of other culinary projects. Also, there will be no aftertaste from the pot, and it has greater longevity than copper coffee pots.
One of the most significant drawbacks is that you can't use it on induction stovetops. In other words, if you should consider it only if you plan to use it on ceramic, electric, or gas stoves.
With a 15oz capacity, the pot will brew 3-4 cups in one go, so it's not ideal for large households. However, it is a great size for beginners and will work well if you brew for single-serve use or a few people at a time.
The Caizen Stainless Steel Turkish Coffee Pot doesn't have the romance in the aesthetic design of the copper pots. However, it is very practical. It will also blend in with other pots and pans in the kitchen. However, if you desire an authentic experience, this may not be the right choice.
The pot looks and feels sturdy, while the company offers a one-year satisfaction guarantee, so you can place concerns about the durability to one side.
Sukkar Pasha 12oz Turkish Coffee Pot
If the Caizen Coffee Turkish Coffee Pot seems to inauthentic, this stainless steel alternative might be what you need. This stylish pot has either a brick red or marble black option.
This is a beautifully crafted pot built with premium-quality stainless steel. The steel is eco-friendly and corrosion-proof, making it safe to use. Meanwhile, its handle is bakelite, meaning it's sturdy and heat-resistant. It is also long enough to ensure that the steam won't burn your hands. The handle is also sturdy enough for a firm grip, so it won't easily slip from your hand.
The pot is small and looks cute. Meanwhile, it's versatile, so as well as Turkish coffee, you could use it for anything else you want to heat that you would ordinarily use a saucepan for.
This Turkish coffee pot is good for a range of stovetops, including gas, ceramic, or electric. However, induction stovetops are unsuitable.
When cleaning the pot, a rinse and wipe with a cloth will suffice, while it is also dishwasher-safe.
Best Electric Turkish Coffee Makers
Arzum Okka Automatic Electric Turkish Coffee Maker
This automatic electric Turkish coffee maker reminds us of a super-automatic espresso maker. However, rather than pull an espresso shot with its signature rich crema, this brews a satisfyingly strong Turkish coffee with the tell-tale thick foam.
Usually, an ibrik requires you to brew the coffee slowly and manually pour the coffee into the cups. Manual brewing is not a particularly tricky process, but it does require your attention as the foam builds, which takes a few minutes. With manual brewing, the foam builds rapidly once a particular temperature requires immediate removal from the heat. If you don't time it correctly, the foam will spill over, causing a significant mess.
This automatic electric Turkish coffee maker removes this problem. Add either pre-ground Turkish coffee or finely ground coffee to the brew chamber and pour water into the filter tank. Then opt for one or two cups, and it will take over.
The coffee maker takes care of the temperature, so you don't need to worry about burning the coffee. A slow-brewing feature ensures brewing takes between five and six minutes to extract the strong Turkish coffee flavor fully.
Once the brewing is done, you can set it to auto-clean for automatic rinsing. All you will have to do is remove the drip tray's water, and it is ready to use again.
Maintenance is also straightforward. The machine has an indicator light that tells you when the chamber ring is misplaced, the drip tray needs emptying, or the water tank needs filling.
It's the best option for lovers of Turkish coffee who would rather not have to brew and prepare the drink manually. However, this convenience comes at a greater cost than an ibrik.
Arzum Okka OK004-K Okka Minio Turkish/Greek Coffee Machine
If the previous machine is too expensive for you, the Arzum Okka is a more affordable alternative from the same company.
This machine resembles an automatic espresso maker that brews the beverage straight into the cup. Meanwhile, the Akrum Okka Minio model acts like a drip coffee maker, which brews between one and four cups in a coffee server. From there, you can pour the coffee into the cups manually.
This model won the 2017 red dot award for its design, and there are several color choices.
The Akrum Okka Minio utilizes patented tech to mimic the traditional way of brewing Turkish coffee at the touch of a button at the top of the coffee maker. You need to add water and grounds, press the button, and it will do the rest and brew the same cup of Turkish coffee every time.
The Okka Minio's features are less extensive than the higher-end Okka model. For example, there is not auto-clean function or slow-brewing feature. However, it represents a good saving for those on a budget.
Beko 2-Cup Turkish/Greek Coffee Maker
If you enjoy Turkish coffee but struggle to find the time to prepare it, the Beko Turkish coffee maker is particularly useful.
This coffee maker brings an ancient brewing process to the modern age to make a wonderful beverage with beautiful foam. The machine uses patented CookSense Brewing tech to ensure the perfect flavor and consistency.
It's also easy to use. Take the scoop and place your grounds in the brewing chamber, then pour in the water. The device lets you know where in the preparation process you are with a sound and light indicator. A brew cycle takes about three minutes, you'll have two perfectly brewed servings.
Cleaning the machine is also easy. Just use water to wash the coffee pot after every use and add soap to the process after every 5-10 uses. It's an easy way to enjoy consistent and beautiful Turkish coffee at home.
SAKI Electric Turkish Coffee Maker
The SAKI is one of the best automatic electric Turkish coffee makers for those on a budget. That's because it's around half the cost of the other models in our review.
It has a nice design, too, and is available in either black or white. However, the coffee maker is more plastic-based than the others. The pot's base uses 304 stainless steel, while the walls are BPA PFOA-free plastic.
An internal smart sensor monitors the temperature and stops overflowing, so you don't have to keep checking manually.
The machine allows for four servings per batch, while you can brew either one to two cups, or three to four cups, depending on your requirements. Operating the machine is simple – add water and coffee, and, using the normal brewing setting, it will produce authentic Turkish coffee in two minutes.
However, the machine boasts another nice feature – ember cooking. This setting gives you twice as much foam and the flavor of brewing on ember or sand.
There are also two spouts for pouring coffee with either hand. While this isn't vital, it is, nevertheless, a nice touch.
Finally, there is a two-year replacement warranty for peace of mind. A solid choice for lovers of Turkish coffee.
Our Verdict
Turkish coffee is easy to prepare and enjoy at home, whether you're using an authentic stovetop ibrik or a modern electric appliance. These coffee makers also work for Greek coffee, which is very similar to Turkish coffee.
If you prefer the authentic experience, we recommend the Silk Road Trade – ACI Series Cezve. As well as being an aesthetically beautiful pot, there are more capacity options.
If you prefer a Turkish coffee that's hassle-free to brew, the Arzum Okka is our choice. The Turkey-based organization is long-established and trusted, having been formed in 1966. The company's Okka Turkish coffee maker has been on the market since 2014 and is hugely popular in the domestic and international markets. We love the design, too.
Whichever option you choose, we hope this guide will give you all the information you need to make a choice that is right for your circumstances and budget. Whichever choice you do make, you're only a few steps away from enjoying beautiful and authentic Turkish coffee at home.