There's a reason why Moka pots are essential to an Italian kitchen: it is the traditional way Italians make coffee at home. If you like your coffee strong or want to make espresso drinks at home, you should invest in a Moka pot.
The Moka pot is also called a caffettiera, a macchinetta, or a stovetop espresso maker. This coffee maker is cheaper than an espresso machine and produces a concentrated coffee with a strong body, intense flavor, and richness similar to espresso.
Bialetti built the first Moka pot, the Moka Express, in 1933. Bialetti named the Moka pot after an ancient coffee port city in Yemen called Mocha. Bialetti and other companies make high-quality stovetop coffee makers. Just do your research to avoid fakes.
You don't need to be a barista or an Italian grandma to use a Moka pot. The brewing process is a ritual in itself. It takes a little practice, but it's easy to master.
We have listed the top-pick 7 best Moka pots to help you uncover a flavor world beyond coffee and espresso.
Things to Consider for Choosing the Best Moka Pot
Not every Moka Pot is appropriate for every user.
Are you drinking alone or with friends? Are you willing to hand wash? Do you have an induction stovetop?
You should consider how much coffee you plan to make, which metal suits your needs and lifestyle, and whether or not the Moka pot you like will work with your intended heat source.
Capacity – How Many Cups Do You Need?
Think of each "cup" from a Moka pot as the number of 2 oz shots it can produce.
If you only brew for yourself, a 1-cup or 3-cup size is probably perfect. You can find Moka pots that make as many as 16 cups if you anticipate brewing for a crowd. Keep in mind that you should ideally brew at maximum water and coffee capacity to avoid over-extraction. That means you can't make 3 stovetop espresso shots by filling half coffee grounds in the filter basket and half the amount of water in the water chamber using a 6-cup moka pot. In that case, it won't taste good. So, it might be a good idea to invest in two cup sizes.
You can use the guide below to determine which size pot will be best for you.
● 1-cup pot – makes 2 oz or 60 ml of coffee
● 3-cup pot – makes 6.5 oz or 200 ml of coffee
● 6-cup pot – makes 10 oz or 300 ml of coffee
● 9-cup pot – makes 18.5 oz or 500 ml of coffee
● 12-cup pot – makes 25 oz or 775 ml of coffee
Material – Aluminum or Stainless Steel?
When choosing between an aluminum or stainless steel Moka pot, you should consider the advantages and disadvantages [1] of each type of metal:
1. Price: Aluminum pots tend to be cheaper than stainless steel.
2.Weight: Aluminum pots are ⅓ the weight of stainless steel.
3. Heating Speed: Aluminum Moka pots have better thermal conductivity, so they heat up faster on a gas stove. However, Moka pots made from stainless steel are compatible with conduction stoves for faster heating.
4.Cleaning: Aluminum pots are not as easy to clean as stainless steel Moka pots because they cannot go in the dishwasher. Using soap will remove their protective coating as well and cause them to oxidize.
5.Corrosion: The chromium in stainless steel helps stainless steel stovetop espresso makers resist corrosion. However, when aluminum oxidizes. It will turn white or grey, and the metal will begin to pit.
6.Reaction With Food: Stainless steel is less reactive with foods and liquids than aluminum. However, according to a European study [2], using an aluminum Moka pot doesn't result in dangerous aluminum levels.
Heat Source – Does it Work With Your Stovetop?
Not every heat source is appropriate for every stovetop coffee brewer:
1. Induction stovetops: An aluminum Moka pot will not work on an induction stovetop unless it has some other metal as its base. Stainless steel pots should work just fine.
2.Regular electric stovetops: Electric stovetops work with both types of metal.
3. Gas stovetops: Gas stoves are great for both metal types.
4.Campfires: Both aluminum and stainless steel Moka pots work with campfires.
Keep in mind that Moka pots that come with electric bases are less versatile and should never be placed on a stovetop or over an open flame.
7 Best Stovetop Espresso Makers (Best Moka Pots)
Last update on 2023-12-08 / As an Amazon Associate, if you buy via the links, Brewcoffeehome earns a commission at no extra cost to you.
1. Bialetti Moka Express
An Italian, Luigi di Ponti, invented the first Moka pot. Metal machinist Alfonso Bialetti [3] placed it into production in 1933. The Bialetti Moka Express is the original, Italian-made Moka pot. The iconic little man on the Moka pot with the mustache is Bialetti himself. The polished aluminum Moka Express pot features Bialetti's classic Art Deco octagon shape. You can buy a Moka Express in size options for 1, 6, 9, or 12 cups.
The Moka Express includes a patented safety valve to prevent pressure buildup. Both the handle and knob stay cool during the brewing process. It is both easy to clean and easy to put together. To brew, fill the bottom water chamber, fill the filter with fine grind coffee grounds, assemble the bottom chamber, filter and coffee container together, then put it on a gas stove to add heat.
Pros
There is no need to use soap on your Moka Express. Just rinse it clean with water.
When maintained properly, the pot should have a 10-year lifespan.
The handle prevents scalding and is ergonomic.
It comes in classic silver, Centenario, passion red, grey, and black.
The classical coffee maker that tested by millions of coffee lovers.
Cons
The 3-cup and 9-cup versions in this listing are not made in Italy.
The aluminum will not work with an induction stovetop.
Must be hand-washed.
2. Bialetti Elegance Venus
While Bialetti began as an aluminum company and made the world's first Moka pot from aluminum, it also has a sleek, modern, stainless steel option. The newer, sexier design of the Elegance Venus works just as well as the classic version.
For best results, turn the heat down low and take your time. But with higher heat, you can have a freshly-brewed cup of coffee in only 4 to 5 minutes.
This Italian-made Moka pot features Bialetti's patented safety valve to prevent pressure buildup. The Elegance Venus leaves some water in the boiler after brewing to help avoid burning the base. It also features anti-drop pouring. The cool-to-the-touch nylon handle is high-temperature heat resistant. Unlike their aluminum model, this is soap- and dishwasher-safe. Size options include 1, 2, 6, and 10 cups.
Bialetti also offers another stainless steel Moka pot: Bialetti Kitty Stainless Steel Espresso Coffee Maker, which is similar to the Elegance Venus with a cuter design.
Pros
It can be placed in the dishwasher or washed by hand with soap and water.
Great for Bialetti fans who prefer stainless steel to aluminum.
It does not corrode like aluminum options.
Genuine stainless steel construction works with both gas and electric cooktops.
Cons
Some knockoffs are not from Italy.
3. Cuisinox Roma Stainless Steel Stovetop Espresso Maker
Cuisinox is known for its upscale stainless steel kitchen items. All their products are hand-crafted from the highest grade of food-safe stainless steel. It's not surprising that their premium-level Roma stovetop espresso maker comes with a high price tag.
Cuisinox makes their stovetop coffee maker with heavy-gauge 18/10 stainless steel construction with a mirror finish polish. You will find that Cuisinox welds the steel handle to the pot rather than screwing it on.
The Cuisinox Moka pot will look beautiful on your stovetop and is sturdy enough to use while camping.
The Cuisinox Roma comes in 3 sizes: 4, 6, and 10-cups. Each "cup" contains 1.5 oz.
Pros
It includes an extra reducer and gasket.
It includes a 25-year warranty.
Suitable for all cooking surfaces, including induction cooktops.
The sandblasted interior finish makes the pot easier to clean.
Cons
The stainless steel handle can be hot to the touch.
Not available in smaller sizes.
The price point is higher than the others
4. DELONGHI EMK6 Espresso
De'Longhi makes various coffee & espresso, kitchen, and home comfort appliances. Despite making many espresso machines, the Delonghi EMK6 Espresso is their only Moka pot.
Coffee snobs need not walk away from the idea of an electric Moka pot. It takes the guesswork out of getting the heat and timing just right for your favorite espresso-like coffee. While you need to stand around and watch a stovetop Moka pot, an electric Moka pot allows you to walk away and do other things while you wait for your perfect brew. Yet, you still enjoy the same great taste of Moka pot coffee.
The De'Longhi also satisfies your curiosity with its BPA-free, transparent top chamber. You can watch all the excitement of the coffee perking up to the top as the water boils.
You can also choose to make from 3 to 6 cups to adjust to the number of drinkers.
Pros
An auto-shutoff prevents your coffee from burning, super easy to use.
A keep-warm function allows you to walk away while keeping your coffee warm.
The cool-touch plugin base allows you to take your coffee maker anywhere.
It makes from 3 to 6 cups.
Cons
Not able to be used on a stovetop or open flame.
The top chamber is plastic.
5. GROSCHE Milano Espresso Maker Moka Pot
The Grosche borrows its 8-sided design from the original Moka pot. It's made from food-safe aluminum and features a silicone gasket seal. The safety valve to protect from overpressurizing is Italian made. Grosche's Moka pot includes a unique grip guard to protect and distance your fingers from its hot surface.
The Grosche Milano comes in colors that include black with a black handle, red with a wooden handle, white with a wooden handle, and silver with a black handle. Color-coated ones resist oxidation and tarnish better. It also comes in 1-, 3-, 6-, 9-, and 12-cup sizes.
Every product Grosche sells helps fund their safe water project [4], which provides 50+ days of fresh drinking water to those in need.
Pros
It works with all types of heat sources. It will even heat (slowly) on an induction stovetop.
Your Grosche can last a lifetime if you take care of it properly.
Includes a unique grip-guard handle to prevent hand burns.
Cons
Must be hand-washed.
You must replace the silicone seal every 3 to 6 months.
6. Alessi Espresso Maker 9090 by Richard Sapper
All of Alessi's Italian designers combine modern beauty with practicality. Richard Sapper [5] was the Milan-based designer of Alessi's first stovetop espresso maker. Sapper was a German-born industrial designer who sought to combine simple designs with technical innovation.
Sapper said that he "wanted to give this machine features that others do not have." He gave the 9090 a stylized shape and broader base to help it maximize heat and boil faster. The unit's lever lock allows the user to open the top with just one hand. It also has an anti-drip spout.
The Alessi 9090 is both the sexiest and the most expensive stovetop espresso maker on our best moka pot list.
Pros
It includes beautiful, high-quality design and craftsmanship.
The design uses strong, 18/10 stainless steel.
It works with all heat sources, including induction stoves.
Cons
Rubber washers occasionally need to be replaced.
You must hand wash it.
Long-time customers of this model report buying poorly-made fake versions.
7. Tops Rapid Brew Stovetop Coffee Percolator
The Tops company has been in the coffee business for over 50 years. If you buy this for a camping trip, you're probably going to like the taste. And you'll love to use it for all your coffee after you get home.
Technically speaking, coffee percolators are different from the Moka pots. It creates steam by heating the water and forces the steam to go up through the funnel, saturate the ground coffee in the top filter and drip to the pot. However, there are some similarities between these stovetop coffee makers. So we also listed it in this best Moka pot guide, so you got more choices if you are interested in stovetop coffee maker.
The Tops Rapid Brew features shiny, heavy-gauge 18/8 stainless steel. It also features a top glass knob and a Permawood handle. Permawood is a non-toxic treatment that makes the handle waterproof.
The outside of this coffee percolator is all one piece (compared with two-piece Moka pots). Just fill the bottom with water, balance the coffee-filled basket on top of the water tube, close the lid, and set it to boil.
The Tops percolator makes from 2 to 6, 9, or 12 cups and includes markings along the side to assist with pouring the appropriate amount of water for your perfect brew.
Pros
This stainless steel percolator works with any heat source.
All-natural parts are steel, glass, and wood.
You can use it to boil water for other purposes while camping.
Cons
A percolator brews regular coffee in comparison to the more potent brew of a Moka pot.
Some customers report an inconsistent brew with extended use.
How to Use a Stovetop Espresso Maker
Using a stovetop espresso maker can be a soothing ritual. It takes a little practice, but it's not complicated.
1. Add Water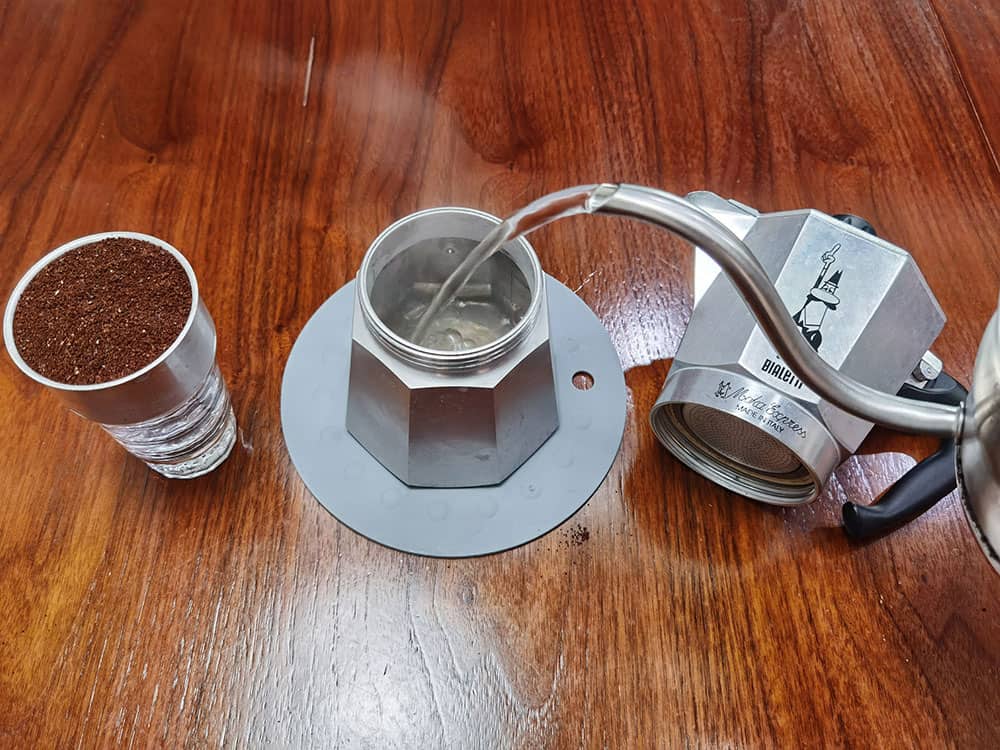 Fill the bottom chamber of the Moka pot with water to just below the safety valve.
Water low in limestone is best to prevent corrosion in aluminum pots.
2. Add Ground Coffee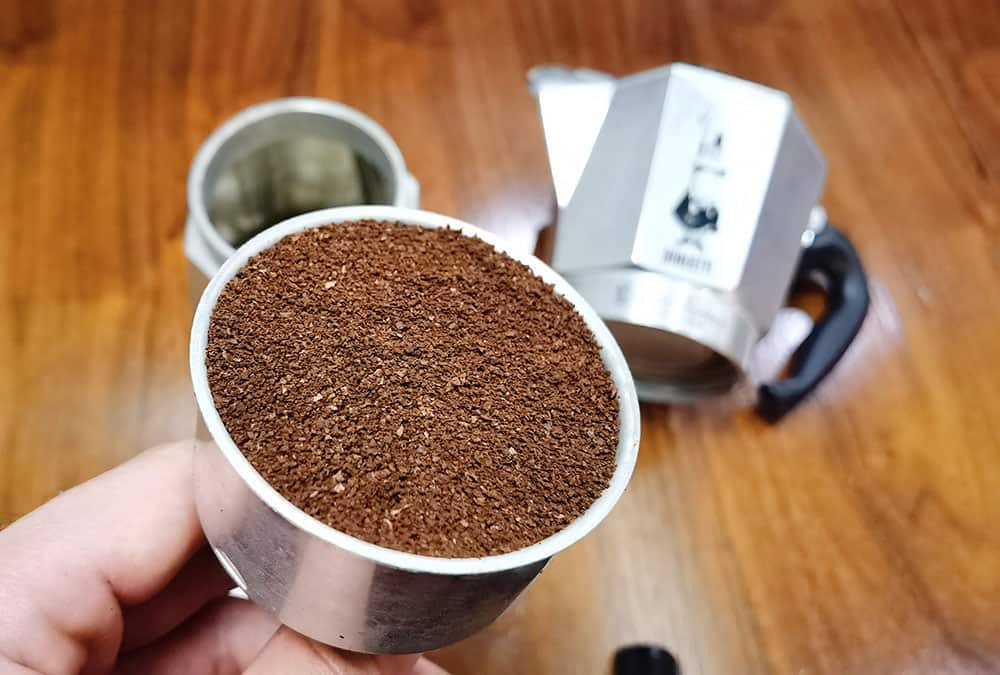 Your coffee should be a finer grind than regular drip coffee (medium to medium-fine). Never use a fine, powdery espresso grind to avoid filter screen clogs.
Place the coffee funnel into the pot. Then, make sure you fill the basket to the top with coffee. The coffee should be loose so water can boil up through it.
3. Reassemble the Moka Pot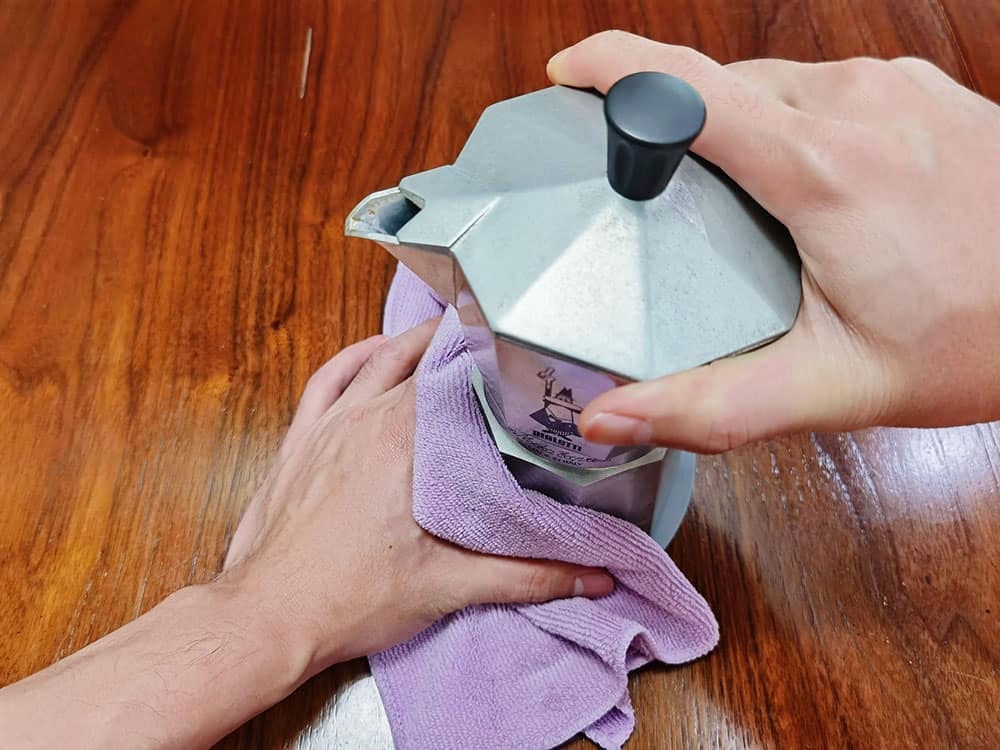 Place the gasket on top of the coffee basket.
The filter plate fits on top of the gasket.
Then, screw the top half of the pot onto the bottom chamber.
4. Heat it
Place your Moka pot on your heating source. Flames should remain below the Moka pot.
Slow and steady heating ensures a better taste and prevents boil overs. It takes 4-5 minutes before anything happens, please be patient.
When the water begins to gurgle, immediately remove the Moka pot from the heat source. The water will push through the coffee grounds with a strombolian volcano effect to the top coffee collector.
5. Enjoy the Coffee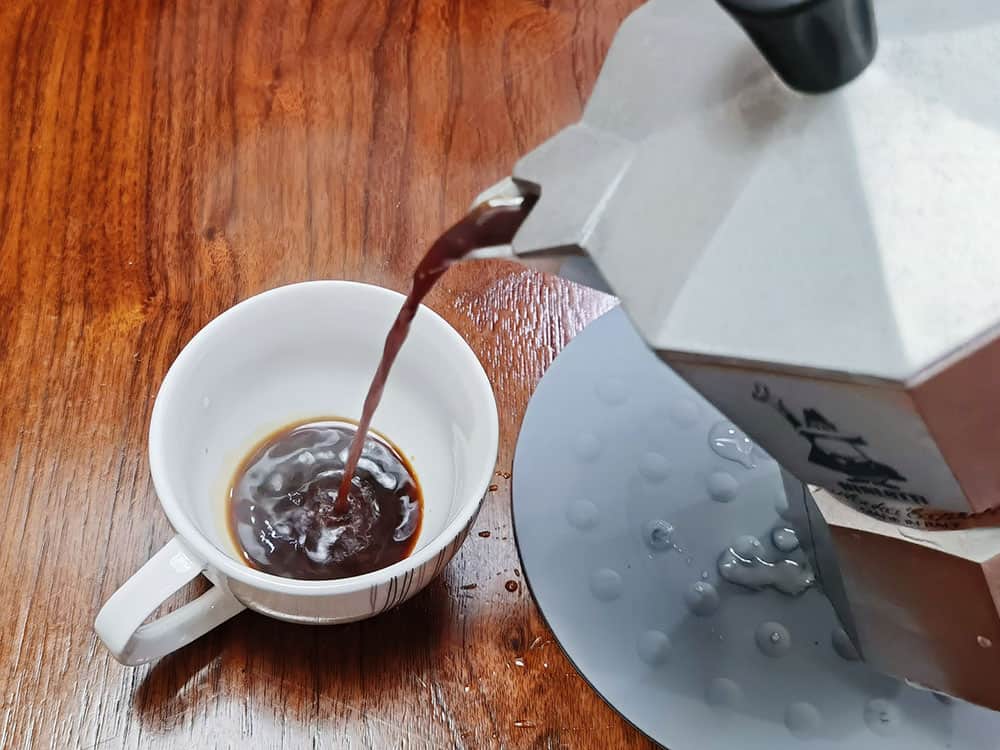 Pour and enjoy the coffee by itself, mix with hot water for an Americano, or add hot or steamed milk for a latte.
The Verdict – The Best Moka Pots We Picked
Best Alumium Moka Pot
Bialetti Moka Express is our favorite, and it's so classical. It's no doubt that it can make the most delicious Moka pot coffee since it's been serving millions of coffee lovers and families for more than 80 years.
Best Stainless Steel Moka Pot
Cuisinox Roma is such a stylish Moka pot with a high-quality build. It can make fabulous stovetop espresso and works pretty well on the induction cooktop. It costs more, but this sturdy coffee maker can easily last a decade.
Best Electric Moka Pot
DELONGHI EMK6 Espresso is an easy pick since that's the only electric Moka pot on the list. If you want to brew this traditional Italian coffee in a more convenient and modern way, this is your choice.
FAQ:
Here are the answers to a few questions about Moka pots and stovetop espresso coffee makers.
Does a Moka Pot Make Espresso?
Despite being called a "stovetop espresso maker," Moka pots don't make authentic espresso.
A Moka pot makes coffee that is stronger in taste than regular coffee but weaker than espresso. Moka pot coffee is 2-3 times as concentrated as regular coffee, while espresso machine coffee is 5-8 times as concentrated as regular coffee.
Espresso has less caffeine than both regular and Moka pot coffee because the water goes through the grounds quickly with such high pressure. Both an 8 oz cup of coffee and a 2 oz shot of Moka coffee have 105 mg of caffeine. A 2 oz shot of espresso only has 93 mg of caffeine.
How to Clean a Moka Pot
Disassemble the Moka pot. Rinse each part with water and use a soft cloth to remove any coffee residue.
You should never use soap with an aluminum Moka pot. A dishwasher will ruin an aluminum pot.
On the other hand, high-quality stainless steel Moka pots should be able to go through the dishwasher with no problem unless their handles aren't dishwasher safe. Be sure to check the instructions that come with your stainless steel pot to make sure it's dishwasher safe.
Some owners choose to hand wash both types of Moka pots to ensure the longevity of their investment.
References:
[1] 10 DIFFERENCES BETWEEN ALUMINUM AND STAINLESS STEEL – from metal supermarkets – https://www.metalsupermarkets.com/10-differences-aluminum-stainless-steel/
[2] Migration of aluminum from food contact materials to food—a health risk for consumers? – from US National Library of Medicine
National Institutes of Health – https://www.ncbi.nlm.nih.gov/pmc/articles/PMC5388725/
[3] Company History – https://www.bialetti.com/it_en/company-story
[4] Safe Water Project By GROSCHE – https://grosche.ca/grosche-safe-water-project/
[5] Richard Sapper – Biography http://www.richardsapperdesign.com/about