If you're in the market for a top-quality manual coffee grinder for both espresso and filter coffee, the 1Zpresso K-Max offers just that.
We've reviewed several 1Zpresso manual coffee grinders in various price categories, and they've never let us down, either in their build quality or grind consistency. However, the K-Max promises to deliver an even higher standard as the brand's flagship product. But is that the case, and does it offer value for money? The review answers those questions and more so that, by the end, you'll have a clear idea as to whether this particular manual grinder is the one you've been searching for.
BTW: You'll find 1Zpresso at Booth #2-S31 in the World of Coffee – Athens on June 22-24, 2023 (More info).
1Zpresso K-Max Grinder Review
Last update on 2023-12-08 / As an Amazon Associate, if you buy via the links, Brewcoffeehome earns a commission at no extra cost to you.
Pros
Premium build quality and detail-oriented design
Excellent performance for both espresso (authentic espresso shots) and filtered coffee
Super easy to adjust and replicate grind size with external adjustment dial (90 clicks in 1 rotation)
Fast grinding speed and smooth grinding experience
Cons
Slightly optimized for filtered coffee with larger grind adjustment each click than the JX-Pro or J-Max
One of the most expensive 1Zpresso manual grinders
Design And Build Quality
As you begin unboxing the machine, the first thing you'll see is the solid protective cylindrical case for storing the grinder. This is impressive enough, but once you open the case, and you're presented with several useful accessories, including a cleaning blower, a cleaning brush, and an anti-slip rubber band.
Even within the case, the thoughtfulness of the design is apparent. For example, there are soft flaps to prevent the handle from scratching the grinder, offering reassurance that it'll be safe and secure while traveling. As you know, brushed steel or aluminum body can get small scratches easily.
There are two models to choose between -iron black or silver. Whichever you opt for, these grinders are beautiful, with the texture and finish of the aluminum alloy offering a premium impression.
In keeping with every 1Zpresso grinder, the K-Max has a natural wood knob attached to an ergonomically designed handle. The lid isn't transparent like the K-Max's predecessors. Instead, it's frosted, while it feels thicker and more durable.
There are other differences, too. For example, the K-Max is slimmer and has patterned silicone wrapping, making it easier to hold and grip if you have smaller hands. There is also a magnetic catch cup for easier removal. The only other models with this type of catch cup are the K-Plus and J-Max.
However, one area where the K-Plus excels over the K-Max is its blind shaker set, which ensures more straightforward dosing directly into the portafilter. The K-Max has 13 magnets on top, guaranteeing a secure attachment even during vigorous grinding for fine grinds. Meanwhile, there is a 35g to 40g grounds capacity.
The base of the K-Max is a pad allowing you to place the grinder on a table and grind with more friction. This and the grinder's shape ensure it sits securely on a work surface even with the handle attached. In contrast, many other hand grinders flip down too easily.
The overall impression is of a sturdy grinder, aesthetically pleasing, and well-designed, reassuring you that this is indeed a high-quality product.
Burr Design And Quality
The 1Zpresso K-Max has a large 48mm stainless steel conical burr set with a design exclusive to the K-series grinders. So, what sets the burr set apart from the others? Called the K-Burr, it has different geometry from burr sets used in other grinders. With the K-Burr, you can easily see the edge go all the way to the bean-crushing area. The result? Faster grinding, even for espresso.
Wobbling will affect grind accuracy when grinding coffee, you don't have to worry about that with 1Zpresso K-Max. There are three ball bearings within the drive system. Meanwhile, two 3-strut support brackets securely position the central shaft, ensuring smooth and reliable grinds. In turn, this leads to consistent results each time.
Grind Adjustment
There are 9 numbers on the external adjustment dial. Meanwhile, there are 10 clicks between each number, giving 90 clicks per rotation. You can go beyond one rotation for coarser grinds if needed. This means that you'll have all the grind sizes for each brewing method within a single rotation.
Only the K-series and J-Max grinders have the external adjustment dial. Most other hand grinders have an internal adjustment mechanism that sits beneath the burrs, which necessitates removing the catch cup and locking the handle before you can alter it.
In contrast, the K-Max is far easier – you just need to align the red dot to the number you need. For example, if you're grinding for pour-over and require 76 clicks, turn the dial ring to 7.5, then add one more click.
Therefore, changing the grind setting for a different brewing method is easy and takes seconds – it's one of the grinder's most significant advantages. This is very intuitive to replicate your perfect grind size for a specific recipe for pour-over or fine-tune the grinds for espresso brewing.
Grind Settings
K-Series grinders, including the K-Max, are incredibly precise, with just 22 microns per step. Because of this, you find your preferred setting for filter coffee, while there are a dozen clicks for dialing in espresso (numbers from 2 to 4 are the espresso range). If you need more steps to find the best shot, the J-Max and JX Pro have even smaller adjustments per step.
Let's look at our recommended grind settings for each brewing method using the 1Zpresso K-Max.
Turkish coffee: 2 (20 clicks)
Espresso: 2 to 4 (20 to 40 clicks)
Moka pot and AeroPress: 4.5 to 6 (45 to 60 clicks)
Pour-overs and drip coffee makers: 7 to 9 (70 to 90 clicks)
French press: 8-10 (80 to 90 clicks)
Cold brew: 10+ (100+ clicks)
These settings are for reference only, the grind setting we recommend is slightly different from the official grind setting reference guide. For example, we consider the number 8 setting grinds slightly coarser than we'd prefer for the Hario V60, so we use number 7 instead. Also, for espresso, we mainly stick to settings lower than 3 for a bottomless portafilter. However, if you're using a pressurized portafilter, we suggest you go coarser.
Grind Quality And Consistency
We carried out the sifting test using the Kruve sifters, using the 500 and 1200 micron sieves. The 1Zpresso K-Max consistently got 70% more grounds within the desired range. While it's not the most scientific means of determining the consistency of a grinder, and some factors can't be accounted for, it does offer a good overview. The results were impressive – we found the K-Max produces far less fines and boulders than cheaper grinders on a filter coffee setting. It offers better grind consistency than many manual coffee grinders.
For espresso, the fine grinds are perfect for our recipe. To begin with, we tried grinding on setting 3. However, the flow was too fast for our liking with our espresso machine, so we adjusted to setting 2.4, and it was perfect for pulling a standard double espresso. From there we can fine-tune the grind size with 1 or 2 clicks for the max flavor. This took us just two attempts, and finding the new setting is straightforward, thanks to the easy adjustment. The espresso has balanced acidity and sweetness. Meanwhile, the texture is creamy, and the delectable flavor lingers.
The K-Max can grind for an authentic shot of espresso pulled with a naked portafilter, even if there's not the scope for the fine grind precision offered by the JX Pro and J-Max. Meanwhile, the consistency for pour-over and French press is impressive. And, of course, the ease with which you can find the preferred grind setting means you can go between brewing methods in seconds and with only one rotation. Because of this, we consider it a fantastic all-rounder for anyone interested in brewing with various methods. Not too many hand grinders can grind for so many brewing methods this well.
Grinding Speed
The thought of manually grinding coffee beans is enough to put many domestic brewers off. However, with a high-performance grinder like the 1Zpresso K-Max, it's more of a pleasure than a hassle. Thanks to its beautiful ergonomic design, large burr set, and incredibly smooth bearings, the grinder is faster and more efficient than many electric alternatives. Meanwhile, it's nowhere near as noisy as you'd imagine, so if you're using the K-Max in the morning when others are sleeping, it won't be too disruptive.
Below is the grinding speed for different settings, using 18g of medium roast beans.
Espresso – fine grind: 40 seconds on setting 2.
Pour-over – medium grind: 35 seconds on setting 7.
French press – medium-coarse grind: 30 seconds on setting 9.
As you can see from the figures we've outlined above, those times are quick. Indeed, the K-Max is one of the fastest models in the lineup. It does require extra effort to grind light roast beans for espresso, but it's well within reason. Even grinding several batches in a row won't strain your arms.
Cleaning And Maintenance
Cleaning the grinder is almost as easy as using it, helped by the cleaning blower and dry brush that come in the box. However, a common problem with many manual grinders is static build-up, so we recommend stirring your beans with a drop or two of water before grinding. The simple method is known as the Ross Droplet Technique and will all but eliminate static and clinging grounds.
You can disassemble the grinder for a deep clean. However, recalibrating the grinder to the zero point once you reassemble is quite fiddly. You need to tighten and loosen the dial ring and alter the knurled thumb nut once or twice until the red dot aligns with zero.
Value For Money
Although the 1Zpresso K-Max manual coffee grinder is a little cheaper than the K-Plus, it's still one of 1Zpresso's more expensive grinders. However, this is a seriously high-performing hand grinder. Meanwhile, it also has a premium build quality, excellent grind consistency, and ease of use. The 1Zpresso K-Max produces grinds for espresso that taste better than many electric grinders, but for a fraction of the cost, so we consider it something of a bargain in its price category.
We've tested many 1Zpresso grinders at every price point, and we've never failed to be impressed with almost any aspect of them. In short, they each provide excellent results for the cost. The K-Max maintains that tradition with ease and more than holds its own alongside any other grinder priced similarly. In fact, in many ways, the K-Max is better. No matter which brewing method you require, the K-Max is up to the task. It could actually be the only grinder you need.
1Zpresso K-Series Comparison (K-Pro vs K-Plus vs K-Max)
In the 1Zpresso K-Series, the K-Max is the latest on the market and sits between the K-Pro and K-Plus (Check our review). The three models share several similarities. However, there are some key differences too. Let's examine some of their similarities and differences.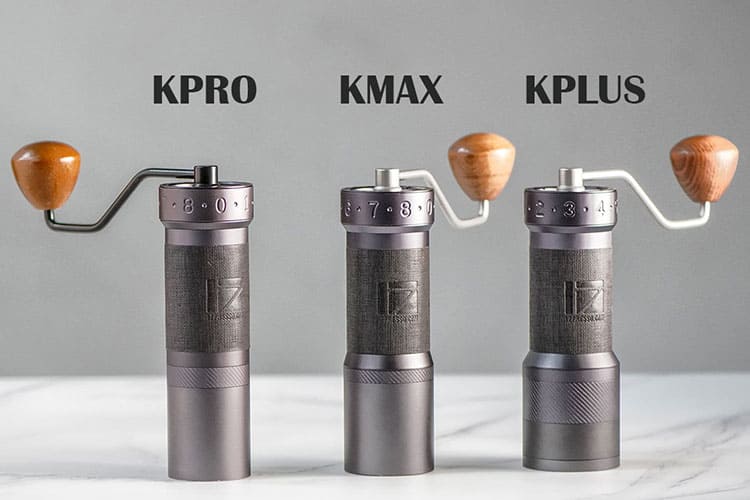 They have the same adjustment mechanism and burr design. Therefore, the coffee and profile should be identical.
The bases of the burr sets on the K-Plus and K-Max are different, with the latter less susceptible to the static build-ups we mentioned earlier. However, it's still a good idea to perform the Ross Droplet Technique to minimize the build-up of static while grinding with any manual grinder.
The K-Max and K-Plus each have a magnetic catch cup, but the K-Pro has a screw-on catch cup. K-Max has a slimmer magnetic catch cup. Meanwhile, as we stated earlier, the K-Plus has a blind shaker bottom – the most significant difference between it and the K-Max.
Of the three models, the K-Pro is the tallest. However, the catch cup and base of the K-Plus are wider than the same parts on the other two models.
The K-Pro and K-Max have identical accessories and come in the same cylinder case. However, the K-Plus is equipped with a more considerable travel case. Still, the cases are all sturdy and secure enough to ensure that traveling with any of the three machines isn't an issue.
Finally, where it comes to price, all three models are in a similar price category, leaving you free to choose them purely based on other preferences like design, size, and versatility.
Our Verdict
If you're interested in using different brewing methods and want a high-quality grinder to do the job, we don't think you need to look much further than the 1Zpresso K-Max. It's beautifully built, easy to use and maintain, and allows you to effortlessly switch settings for different brewing methods.
Not only that, but the 1Zpresso K-Max manual coffee grinder only costs a fraction of what you'd typically pay for an electric grinder, so it offers exceptional value for money by comparison. Of course, electric grinders are less hassle to use than manual grinders. However, there's nothing particularly taxing about using the K-Max – it's neither fiddly to operate nor physically demanding, so don't let that put you off.
There are some good reasons why the 1Zpresso K-Max is the brand's flagship product. The bottom line is that this is a hugely impressive grinder in almost every way – and, most importantly, it's very good at its job.
Last update on 2023-12-08 / As an Amazon Associate, if you buy via the links, Brewcoffeehome earns a commission at no extra cost to you.