A sure-fire way to maximize the quality of your coffee is to grind coffee beans fresh before brewing. To achieve this, you'll need a decent coffee grinder.
If you want a high-quality hand grinder, there are some excellent options, with brands increasingly offering some fantastic grinders. One of those brands is Staresso.
Previously, we've reviewed Staresso portable espresso maker, and we're huge admirers of the company. Staresso's espresso maker allows you to pull an excellent shot of espresso with a few pumps and represents a viable alternative to a more expensive espresso machine.
Recently, the company unveiled the Staresso Discovery coffee grinder. After the excellent impression Staresso's espresso machine made, we were eager to acquire this hand grinder to see if it's as good. Let's get down to the details.
Staresso Discovery Coffee Grinder Review
Staresso Discovery Manual Coffee Grinder D-6
Pros:
Solid build quality and aesthetically pleasing design

Unique built-in sifter removes finer particles

Great performance in finer range, capable for espresso range

Lightweight and compact, great portability
Cons:
Some grounds may get in the gap of the grind cather

More fine grinds compared to the grinder at this price

Details such as the edge and grounds bin can be improved
We earn a commission if you make a purchase, at no additional cost to you.
Design And Build Materials
The Staresso grinder's housing is made of solid but lightweight aluminum with an anti-slip pattern. Meanwhile, the metal grinder has a small enough diameter to make gripping comfortable. Elsewhere, the ergonomically-designed stainless steel handle has a gorgeous walnut wood crank knob. The grinder itself is silver with a hint of cyan.
The handles of many hand coffee grinders are attached to the lid, but not the Staresso. Instead, the lid screws onto the body before attaching the hexagonal hole of the handle to the shaft. There are advantages and disadvantages to this design. On the plus side, it feels sturdy and avoids wobbling during grinding because you only need to rotate the handle and shaft while the lid stays in position, and it's easier for storage without the lid. However, you have an extra step before grinding.
The grounds container has a capacity of 20g, while – uniquely – there is a powder sifter inside the container. When you unscrew the grounds container, there is a grind size adjustment dial. On the dial is a circle that points to the grind size indicators. Meanwhile, the circle is large and easy to turn.
This manual coffee grinder is lightweight at just 517g, perfect for traveling. It also comes with a travel bag with an interior pocket to store the handle. This is well thought out because the two sections won't scratch in transit. It's an excellent grinder for taking with you during outdoor pursuits such as camping.
In general, this is a solid yet lightweight hand grinder with excellent build quality. However, one minor quibble is that the edge of the lid and grounds bin isn't quite smooth enough.
Burrs Quality
You'd expect a high-quality steel burr set in mid-range hand grinders of a comparable price, and that's what you get with the Staresso manual coffee grinder. Indeed, the grinder has a 38mm metal burr set made of Swiss steel.
The burr is pentagonal and bears a striking similarity to the burrs of the 1Zpresso Q2 and Timemore Chestnut C2, placing it in excellent company. Also, the cutting edges are sharper than you'd find on ceramic burrs of lower-quality hand grinders. The burrs will also last far longer than burrs found in cheaper grinders.
There is a one-piece support bracket and cylindrical body, while the drive shaft is fixed in a manner that ensures there's no wobbling. Meanwhile, two bearings ensure a buttery smooth grinding experience and consistent grinding level.
Overall, both the quality of the burrs and the mechanical design of the grinder are tally with what we'd expect of a mid-range hand grinder, and it offers a more consistent grind size than entry-level grinders.
Grind Size Settings
The Staresso Discovery has 12 grind settings, which can feel like a letdown. After all, some hand grinders have over 200 click adjustments. However, it's important to recognize that more is not always better.
If you're on the lookout for a hand grinder for dialing in espresso using professional coffee brewing machineswith a non-pressurized filter basket, one that offers tiny increments is preferable to perfect your shot. However, there's no need for such precision if you're grinding for French press, drip coffee, or espresso using a pressurized basket. Indeed, finding the ideal grind size using a grinder with hundreds of clicks can be more trouble than it's worth.
So, despite the limited grind settings, it's enough for most brewing methods. Below are the grind settings for each method. The intuitive dial switch has only one rotation, so it's a case of turning the knob to the desired number.
1-3 – espresso
3-5 – Staresso, AeroPress, or Moka pot
6-9 – pour-over
10-12 – French press or cold brew
The Staresso's burr has a gap that fits neatly with the small knob on the central shaft. This means it's easy to align the burr to the zero point if you need to disassemble the grinder for deep cleaning and maintenance.
Also, because the grind setting marks are exact numbers, there's no need to return to the zero point and count the clicks each time you want to get your favorite coffee powder. Overall, it's very beginner-friendly and relatively hassle-free.
Grind Quality
The Staresso Discovery is excellent on each setting. We tested four grind sizes between fine and coarse for different brewing methods. Here's what we found.
Fine Grinds (Number 1)
We were pleasantly surprised by the fluffy-textured fine grinds it produces. If you're using a pressurized portafilter, you should have no issue pulling a beautiful espresso shot. Grinds this fine are beyond the reach of most entry-level grinders.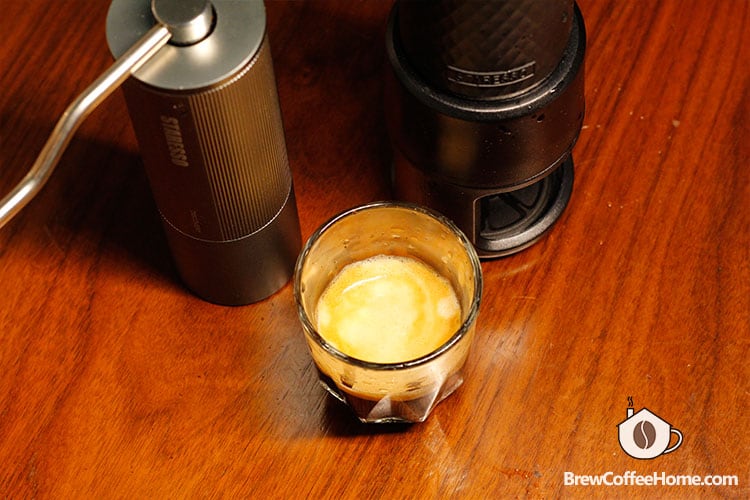 Medium-Fine Grinds (Number 4)
As we mentioned earlier, the range between 3 and 5 is ideal for the Staresso portable espresso maker, AeroPress, or Moka pot. In this range, the grinder makes consistent grinds for an excellent cup of coffee.
Medium Grinds (Number 6)
We weren't quite as impressed with the grind consistency at this range. We found a number of finer particles. However, if you use a setting of 8 or 9, the uniformity improves. Meanwhile, the device's built-in powder sifter is handy at this point, too. More on that soon.
Coarse Grinds (Number 10)
This grind size is best for French press or cold brew.
Overall, the quality is above average, although it offers the best results with finer grind settings.
Built-In Powder Sifter
One of the stand-out features of the Staresso Discovery is the ground sifter. This device removes the fine powder, solving the issue of them in medium and coarse grinds.
Place the powder sifter in the grounds container if grinding for pour-over or French press. The ground coffee falls directly into the basket. Then, shake the grinder, and the finer particles will drop through the smaller holes to leave more consistent grinds.
15g of coffee left 1g of finer filtered particles in our testing. This is significant to the overall flavor and taste because finer grounds are easily over-extracted, making the coffee bitter and unpleasant. After sifting, your coffee will be brighter and more flavorful.
Remember that you won't need the powder sifter while grinding for espresso, the Staresso espresso maker, AeroPress, or Moka pot.
Grinding Speed
Thanks to the sharp steel burrs, dual bearings, an easy-to-grip design, your grinding experience should be consistently smooth. Indeed, using the grinder is virtually effortless, even in the finest grind setting.
We set the machine to the finest setting (number 1), and it ground 15g of coffee in approximately two minutes. This is speedy for a grinder with a 38mm burr set. Meanwhile, it took a minute to grind the same coffee on setting 4 and just 48 seconds on setting 6. On the number 10 setting, it took just 36 seconds for a coarse grind.
Many people won't consider hand grinders as they assume too much work is involved. However, the Staresso Discovery proves that's not necessarily the case.
Cleaning And Maintenance
The Staresso Discovery comes with two brushes. Meanwhile, you can easily disassemble the machine for a deep clean if you grind oily coffee beans.
To do so, turn the adjustment dial towards the coarsest setting until the knob is off. The inner burr will fall out, leaving you to brush the leftover grounds. Doing this regularly will ensure the grinder stays in excellent condition.
Value For Money
Because of its relatively high build quality and steel burr set, the Staresso Discovery is a mid-priced grinder, which is not unusual for other grinders built to a similar standard. However, as a newcomer, the Discovery more than holds its own in the company of more established grinders.
Indeed, not many similarly-priced hand grinders produce fine espresso grinds to the same consistency nor grind so well for other brewing methods. You can easily grind coffee for brewing styles and create your own delicious coffee with little effort. Meanwhile, the innovative built-in powder sifter and easy grind adjustment set it apart. Overall, this grinder is well worth considering if you're shopping in this price range.
Drawbacks
There are few drawbacks with the Staresso Discovery, but one issue concerns the grounds bin. It's not a one-piece design, and there's a gap at the base, leaving the opportunity for smaller grounds to get in. However, this, like the issue with the edge of the lid we mentioned earlier, is a relatively minor criticism and shouldn't put you off considering the machine.
Our Verdict
The Staresso Discovery holds its own against any other mid-priced hand grinder. It's lightweight enough to take with you on your travels, easy to use, beautifully designed and built, and produces consistent, uniform grounds for several brewing methods. However, this machine even improves on some of its competitors thanks to the built-in powder sifter and easy grind adjustment.
Therefore, despite the Staresso Discovery being relatively new on the market, it's an attractive option for domestic brewers looking to step up from an entry-level hand grinder.