If you're a fan of Starbucks and its cappuccinos and flat whites, perhaps you've wondered what kind of espresso machine makes all the magic happen. Quality espresso is, after all, the foundation of these and other specialty drinks that have made Starbucks so popular.
As an influential force on the global coffee scene, the kind of espresso machine Starbucks uses in its shops is a matter of great interest to its diehard fans. So pull up a chair and sit back as we reveal what espresso machine Starbucks relies on to produce its world-famous beverages.
What Espresso Machine Does Starbucks Use Today?
In 2019, Starbucks began upgrading its espresso machines to the Mastrena II. This sophisticated bean-to-cup machine is designed exclusively for Starbucks' cafes and operates with enhanced intelligence, automation, and digital connectivity.
It is intended to produce espressos and specialty beverages with minimal human input. As a result, the Mastrena II delivers cafe-quality drinks at lightning speed with a 16 percent reduction in energy usage compared to its predecessor, the Mastrena.
What Is the Mastrena Espresso Machine?
The Mastrena II is a powerful, state-of-the-art espresso machine. With just a button press, it grinds, tamps, doses, and brews with precision and power. So what differentiates Mastrena 1 vs. 2?
Automatic temperature and brewing time adjustments from drink to drink ensure product quality and consistency.
For perfect cappuccinos, lattes, and other milk drinks, the Mastrena II steams milk to produce ideal froth.
It can make a flawless triple espresso in a matter of seconds.
With every function fully automated, the Mastrena II enables Starbucks baristas to churn out high volumes of premium-quality beverages.
As part of Starbucks' new initiative, Deep Brew, the Mastrena II espresso machine also features AI technology. [1] This feature helps it to monitor every made drink to gather data on coffee bean consumption and provide valuable analytics relating to machine maintenance. 
Not only does the Mastrena II espresso machine produce the premium coffees and espressos that have made Starbucks famous, but it is also an invaluable asset for improving the bottom line.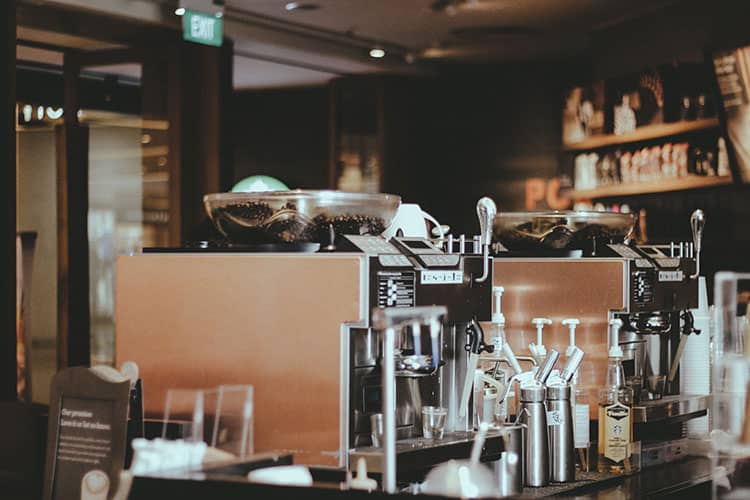 History of Starbucks Espresso Machines
Starbucks has always been a favorite spot for many coffee lovers. In the mid-1990s, when Starbucks was taking the coffee-drinking world by storm, it relied on the La Marzocco Linea espresso machine to craft specialty drinks like lattes and cappuccinos. In the hands of Starbucks' capable baristas, the La Marzocco espresso machines produced handcrafted beverages like no other. But they were labor-intensive to operate.
By 2011, Starbucks transitioned to the fully automatic Verismo 801. This espresso machine platform allowed baristas to exercise enormous control over the quality of espresso produced. But now, with less hassle than doing it manually on the La Marzocco Linea.
This system sped up drink-making significantly and allowed for greater operational efficiency. It also permitted franchise owners to save money on labor costs associated with having a skilled barista handcrafting every cup of espresso.
Continuing its push for modernization in its cafes, Starbucks began using the Mastrena CS2 in 2012, leading up to the AI-enabled Mastrena II that it currently uses.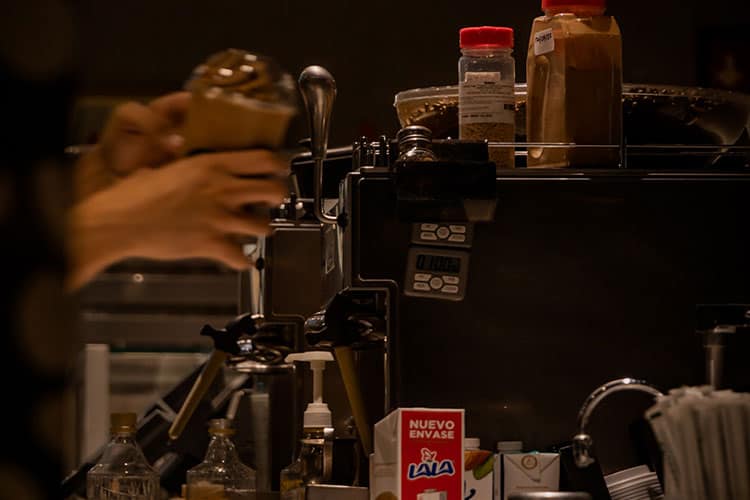 When Did Starbucks Stop Using La Marzocco?
When Starbucks rose to fame and became a household name in the 1990s, its partnership with La Marzocco was integral to its success. Starting in 1994, Starbucks relied on this Italian-made espresso machine to build a reputation for serving premium, handcrafted espresso drinks. [2]
This partnership lasted a decade and ended in 2004 when Starbucks pivoted to superautomatic machines for their cafes all over the US. Though La Marzocco espresso machines are no longer found in Starbucks cafes worldwide, the iconic Pike Place store in Seattle still crafts espressos on this vital piece of Starbucks history.
What Did Starbucks Use Before Mastrena?
Before the Mastrena superautomatic platform, Starbucks relied primarily on semi-automatic espresso machines to provide customers with their doses of caffeine. From there, Starbucks transitioned to fully automatic bean-to-cup machines, starting with Thermplan's Verismo.
Following the Verismo platform's debut in 2001, the 801 series became the espresso machine of choice for Starbucks cafes. This led to development of the current Mastrena II model, which will be around for a while. The company announced plans to have this espresso machine in all of its stores in the U.S. and Canada by the end of 2022.
Who Makes Starbucks Espresso Machines?
Thermoplan AG manufactures the Mastrena II and its superautomatic predecessors. This Swiss company was founded in 1974 and headquartered near Lake Lucerne in the small village of Weggis. It has been producing espresso machines for Starbucks since 1999. [3]
How Much Does the Starbucks Mastrena Espresso Machine Cost?
Mastrena II espresso machines are manufactured exclusively for Starbucks cafes and are not sold to the public. However, word on the street is that each machine costs around $18,000, which is likely accurate given that similar machines can be listed on eBay for $20,000.
Can You Buy a Mastrena Espresso Machine?
Thermoplan manufactures the Mastrena espresso machines used by Starbucks. They are exclusively made for the famous coffee chain, so finding one is challenging. Even if you find a Mastrena or comparable machine for sale, keep in mind that this commercial machine requires highly specialized maintenance to keep it running. [4]
Does Starbucks Sell Espresso Machines for Home Use?
The Mastrena espresso machine is strictly for commercial use in Starbucks cafes and is not sold for home use.
Other Coffee Machines Used in Starbucks Stores
In addition to its Mastrena II machines for preparing espresso-based beverages, Starbucks also uses several other machines for brewing different forms of coffee:
For traditional drip coffee (i.e., your standard regular brewed coffee beans), Starbucks uses commercial Bunn machines.
Starbucks relies on the high-volume Toddy brewing system for its cold brew and nitro coffee drinks.
For fans who prefer handcrafted coffees, specialty coffee drinks are prepared using the Clover system. This Starbucks coffee machine is unique and produces quality coffee.
You may find Black Eagle at Starbuck Reserves.
Whatever your go-to espresso or coffee drink, Starbucks has a specialized machine to prepare it like only Starbucks can.
Starbucks Self-Serve Commercial Coffee Machines
Starbucks has revolutionized the availability of its premium signature beverages with its new self-serve coffee stations. These kiosks offer a wide range of hot and iced drinks with cashless payment options for people on the go.
Where Can You Find a Starbucks Self-Service Coffee Station?
The self-serve Starbucks coffee station is designed to fit into even the busiest environments, allowing customers to grab their favorite Starbucks coffees and gourmet snacks quickly and conveniently. [5]
You'll find these stations strategically located in a variety of high-traffic areas, including:
Hotels lobbies
Airports
Retail stores
Corporate offices
Universities
As Starbucks continues to roll out its self-serve kiosks, it will be able to reach more coffee drinkers who are either too busy or far away to visit a cafe.
FAQs:
Are you curious about what kind of espresso machine Starbucks uses? Here are some frequently asked questions:
Does Starbucks use automatic espresso machines?
Yes, Starbucks uses a fully super automatic espresso machine called the Mastrena II.
Can you buy a refurbished Starbucks espresso machine?
You may be able to find a refurbished Mastrena espresso machine at a fraction of the cost of a new unit, but service and parts may be challenging to obtain. 
Where can you buy a Starbucks espresso machine?
While it is possible to purchase a refurbished Mastrena espresso machine from eBay or other coffee shop outlets, it is not recommended for a few reasons. First, these machines are expensive (even for a used one) and costly to maintain, and there is no guarantee that they will work as intended. 
Final Thoughts
Starbucks is one of the most recognizable consumer brands in the world. As the premier operator of coffeehouses, it relies on the advanced Mastrena II superautomatic espresso machine to deliver premium quality and consistent service to its fans.
References:
[1] Starbucks to introduce AI-enabled machines in all of its US and Canada stores – https://www.comunicaffe.com/starbucks-to-introduce-ai-enabled-machines-in-all-of-its-us-and-canada-stores/
[2] For Decades, La Marzocco CEO Kent Bakke Has Played a Role
in the Evolution of Seattle Coffee Culture – https://spu.edu/depts/uc/response/new/2016-spring/features/man-and-the-machine.asp
[3] Here's The Tiny Swiss Company Behind Starbucks' Espresso Machines – https://www.businessinsider.com/the-company-behind-starbucks-espresso-2014-8
[4] Warning: Verismo 801's Selling On Ebay – https://www.coffeeforums.com/threads/warning-verismo-801s-selling-on-ebay.13553/
[5] https://weproudlyservestarbucks.com/gb/solutions/self-serve-solution