For some people, capsule coffee makers are the way to go. The convenience that it provides early in the morning can be worth its weight in gold. However, with the different options available, how do you know which brewer to choose?
There are many features to consider in the case of two of the top models on the market, Nespresso vs. Dolce Gusto. This comprehensive guide will help you to evaluate each one and make an informed decision for your situation.
Here is a quick comparison table showing you the main differences between these two types of capsule machines.
| Features | Nespresso | Dolce Gusto |
| --- | --- | --- |
| Brand | Nestle | Nescafe |
| Manufacturers | Breville, De'Longhi, Krups | Krups and De'Longhi |
| Coffee Varieties | Espresso, Black coffee | Espresso, black coffee, milk-based drinks, non-coffee drinks |
| Milk-based drinks | Only a few models have milk frothers | Use milk pods |
| Brew Sizes | Original model makes espresso and lungo, Vertuo model allows for larger sizes | Brew size varies depending on the capsule used |
| Ease of Use | Few buttons | Need to select brew size |
| Ideal For | Pure espresso drinkers or black coffee lovers | Those who enjoy flavorful espresso-based beverages |
Check the following short video, we made Americano with Nespresso Vertuo and Dolce Gusto machines so you can see the differences.
Nespresso vs. Nescafe Dolce Gusto Overview
When reviewing Nespresso vs. Dolce Gusto, it can be helpful to know their background and how they came to exist in the coffee market. Both the Nespresso and Dolce Gusto are single-serve coffee makers that utilize capsule systems. They take compatible capsules instead of ground coffee.
About Nespresso
Brand giant Nestle is the company behind the famous coffee capsule brewer, Nespresso. In the same line are the Original and the Vertuo Nespresso coffee maker options. Both devices are popular coffee machines with different features and specialties.
Breville and De'Longhi typically manufacture the Nespresso coffee machines available for purchase in the United States. Both of these are well-known names within the coffee world and lend well to Nespresso.
Nespresso mainly targets espresso enthusiasts with different varieties of espresso coffee capsules. The Nespresso coffee is close to authentic espresso.
About Nescafe Dolce Gusto
The Dolce Gusto is branded under Nescafé, also from the same parent company Nestlé. It's highly popular in Europe and Asia. Like Nespresso, the Dolce Gusto coffee machines are manufactured by some famous brands such as DeLonghi, Krups.
Dolce Gusto coffee makers target different coffee drinkers. It produces more coffee flavors with a wide range of specialty coffee pods. You can make either hot or cold drinks with a simple touch.
Each machine fulfills a slightly different need and has improvements that have been made over time as the new models have been introduced.
Nespresso vs. Dolce Gusto – Side By Side Comparison
Although both the Nespresso and Dolce Gusto are capsule systems made by Nestle, different characteristics separate the two.
Coffee Machines
When it comes to Nespresso vs. Dolce Gusto, both coffee makers are compact and single-serve. Additionally, both have high-quality materials that make them a long-lasting addition to your kitchen and home. It's up to personal preference which machine you end up choosing.
Nespresso Machines
Within the lineup, there are two models to choose from when purchasing. The Original line is the first that came onto the market and was followed up by the Vertuo line. With Nespresso, there are more options in the US to choose from than in Europe or Asia.
The primary difference between the two models is that the Original espresso machine only has the capability to create espresso or lungo. The Nespresso Vertuoline exists to accommodate the demand for an espresso machine that produces longer coffee. They support different Nespresso compatible capsules, we will get into that later.
It's not easy to decide which model is best for you, we picked the best Nespresso Espresso Machines to help you narrow down your list.
How Does Nespresso Machines Work
When you use a Nespresso Original machine for your beverage needs, you have access to 19 bars of pressure. The higher the number, the more tension takes place.
The level associated with the bars doesn't mean that the quality is better or worse. The number of bars with the mechanics of the machine work together to create a quality product.
However, the Vertuo machine does not use pressure to brew. Instead, it creates a centrifugal spin force to extract the flavor and ingredients from the grounds.
Dolce Gusto Machines
In the US, the main Dolce Gusto products are Genio 2, Esperta 2, and Majesto. However, opposite the Nespresso, Dolce Gusto has more options available in Europe and Asia instead of the United States. Check this article you will find the best Dolce Gusto machines in their lineup.
All of the models have a compact size and modern design.
How Does Dolce Gusto Machines Work
All of the coffee makers in the Dolce Gusto line utilize a 15 bar pressure system. Although the mechanics in the models vary, the amount of pressure used is consistent. They mainly use a needle to puncture the lid of a Dolce Gusto capsule and brew coffee with pressurized water.
Dolce Gusto Pods vs. Nespresso Pods
With both the Nespresso and the Dolce Gusto, a capsule system is utilized to get a perfect cup of coffee or espresso each time. However, the pod dimensions are different between the two lines and also among the models.
Nespresso Capsules
A singular coffee pod is used for each beverage made when it comes to the Nespresso machines. The difference lies in that each product line uses its own specific pods and cannot be swapped or substituted between the two.
Therefore, when you purchase the Original model, you must take care to buy the Nespresso Originalline capsules for that style. Additionally, when you have the Nespresso Vertuo, you need to watch the Vertuoline capsules to ensure that they are specific for that Nespresso model.
Dolce Gusto Capsules
When it comes to Dolce Gusto, things are a bit more complicated. Although you also have a capsule to consume the perfect cup of joe, you also have a secondary capsule to use when you desire to create specialty drinks like lattes. However, its capsules are compatible with all the Dolce Gusto models.
To brew the specialty beverage of your choice, you will choose the specific flavor pod you desire and pair it with a milk pod. The powdered milk capsules will give the extra ingredients necessary to make a milk-based drink like a mocha, macchiato, and latte, among others. Apart from coffee capsules, you can also choose non-coffee drinks such as green tea, hot chocolate capsules, or brew iced coffee and iced tea.
Types of Coffee and Taste
Each device creates different variations of coffee, including the taste component.
The two machines have unique features that cater to a variety of styles and drink preferences. Learning about the differences that separate the two can help you decide which single-serve coffee maker is best for you.
Nespresso Coffee
Within the two models of the Nespresso coffee machine line, the Nespresso Original line is mainly for espresso, whereas the Vertuo line is excellent for larger cups of coffee.
For espresso and drip coffee lovers, any Nespresso machine can satisfy your taste buds with high-quality coffee. The espresso is very close to the shots from a traditional espresso machine.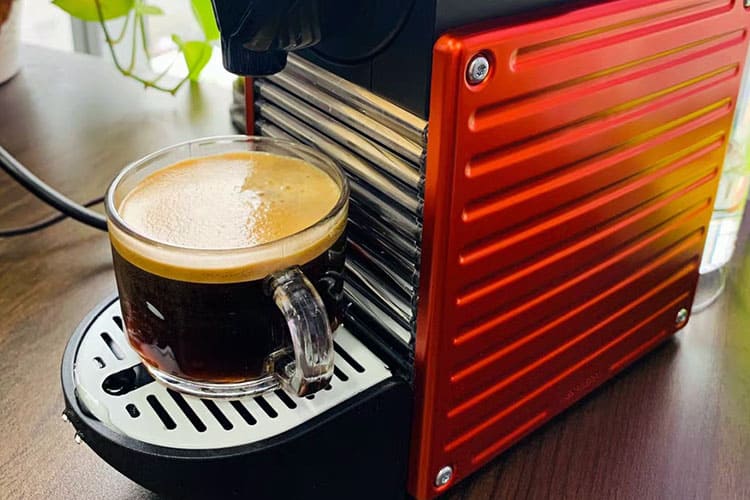 Dolce Gusto Coffee
Having a Dolce Gusto machine allows you to make various coffee-based beverages, including espresso. With this capsule machine, you can create more flavorful coffee drinks than Nespresso. However, with the Dolce Gusto, the espresso is not as high quality as Nespresso's, but you have more choices for milk-based drinks.
Milk Frothing
Making specialty drinks often comes with the need to utilize a milk frother. Using this tool allows you to reach the appropriate milk consistency needed for those particular drinks. If your machine doesn't come with this option, you can buy a frothing tool outside of the coffee maker brand that you've chosen.
Nespresso
Only a few Nespresso models include a built-in frother to steam fresh milk. Most Nespresso Originalline machines and all the Vertuo line machines don't come with a milk frother. It is necessary to purchase a particular device to fulfill the task. The frothing tool specific to the Nestle brand is the Aeroccino3. If you like milk-based drinks, you can buy Aeroccino along with the Nespresso machine.
Dolce Gusto
The Dolce Gusto machine does not come with a milk frother, similar to most of the Nespresso models. Instead of a milk frother device, Dolce Gusto uses milk pods to create the desired milk texture. To make milky drinks, you'll need to brew a cup of coffee with a coffee capsule first, then brew another milk capsule right into the coffee.
Brew Size
For some individuals, the amount of coffee that a machine can brew is essential for consideration before purchasing. Whereas some people prefer a simple cup of espresso to start their day or combine it with other ingredients to create a specialty drink, others desire to have a more considerable amount.
Nespresso
The Original Nespresso only makes espresso and lungo, which come in small amounts. However, the Vertuo model recognized the need for larger quantities and came out with improvements to allow users to brew larger sizes of coffee.
Dolce Gusto
For the Dolce Gusto, you can brew in different cup sizes. However, the size constraints are dictated by which capsule you utilize. For some capsules, the recommendation outlines that it is best suited for smaller amounts. Alternatively, other capsules provide for larger-sized beverages. You can find the recommended brew size on the lid of each capsule.
Ease of Use
Few things in life are more frustrating than figuring out a complex machine first thing in the morning. Thankfully, both the Nespresso and Dolce Gusto are relatively easy to use. However, there are differences in the characteristics that they have.
Nespresso
When it comes to the Nespresso line of coffee machines, they have only a few buttons on their device to choose from. Having minimal options to choose from makes the brewing process more straightforward and less complex.
Dolce Gusto
For the machines that make up the Dolce Gusto line of brewers, the amount of strength that the user places on the buttons increases the power of the function. On some of the newer models, there is a touch screen in place of the strength feature that allows you to select your desired options.
Impact on the Environment (Sustainability)
With more and more information coming out, it is crucial to be mindful of our effects on the environment. These situations include what we put in the landfill.
Nespresso
All Nespresso's capsules are recyclable. There are a few different routes for this, including sending the used capsules to the company, taking them to a Nespresso boutique, or recycling them at your local collection center.
Dolce Gusto
Capsules used in a Dolce Gusto brewing machine can be sent back to Nestle for recycling. More details on the company's website instruct you on how to take advantage of this offer.
Nespresso vs Dolce Gusto: The Verdict
Both the single-serve coffee machines Nespresso and Dolce Gusto have their pros and cons. When deciding which line to choose from and which model to go with, it is essential to consider what your coffee needs are and what you hope to get out of your machine.
You should buy Nespresso if:
You have a desire for espresso or espresso-based drinks. Additionally, the Nespresso is a better option if you have a taste for gourmet coffee. However, it comes at a premium price, which you should take into consideration.
You should buy Dolce Gusto if:
You don't particularly enjoy gourmet coffee but still desire to create flavorful espresso-based beverages. The Dolce Gusto line had more models to choose from at varying price points.
Either capsule system will be a great addition to your kitchen and provide you with a great beverage option for years to come.