Instant coffee and decaffeinated coffee are looked down upon by some coffee lovers. This poor reputation is because the flavors and smells of the coffee are seen as more unappealing than freshly brewed coffee. But is this really the case?
If you are negatively affected by caffeine and have time constraints that prevent you from making freshly brewed coffee, instant decaf coffee is one of your better options.
We have already put 56 regular caffeinated instant coffees to the test and found some of them were excellent. You can see our best instant coffee reviews here.
So, how does instant decaf coffee rate? We also bought and tasted a few popular brands. In the following rundown of our top brands, we hope to help you decide which is the best instant decaf coffee for your tastes and requirements.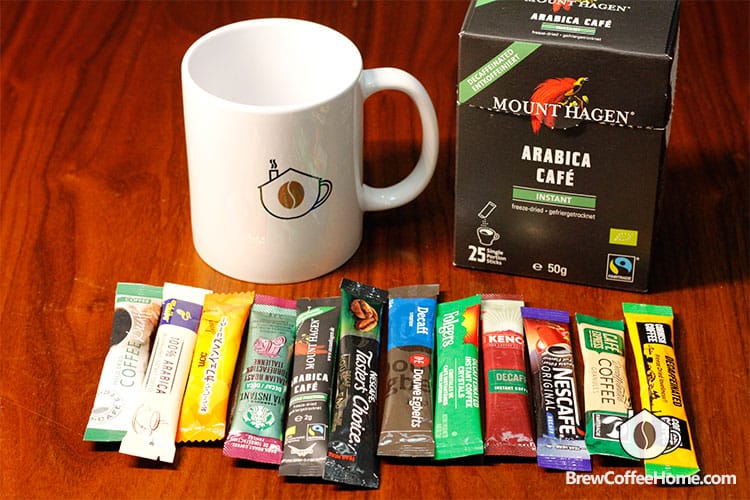 Our Best Picked Decaf Instant Coffee At A Glance:
Last update on 2023-09-27 / As an Amazon Associate, if you buy via the links, Brewcoffeehome earns a commission at no extra cost to you.
How To Select The Best Instant Decaf Coffee?
There's no doubt in our minds that instant and decaf coffee can't reach the same quality as freshly brewed, caffeinated coffee. Decaffeination and dehydration will always have a detrimental effect on the finished product's flavor and aroma.
However, that doesn't mean there aren't some options on the market that are worth trying. One day, there may be methods of removing caffeine and making instant coffee that retain the perfect aromas and flavors. However, in the meantime, we can look at what is available and judge which are the options for better tasting instant decaf coffee.
How Caffeine Removal Takes Place
All coffee beans contain caffeine. However, certain techniques can extract between 97% and 99% of the content. Therefore, for people more sensitive to the effects of caffeine, decaf options are a good choice.
The tricky part comes in extracting the caffeine while retaining the taste. Because of this, the flavor of decaf coffee has a poor reputation.
The most cost-effective method is to extract the caffeine from the water using chemical solvents, including ethyl acetate and methylene chloride.
This has led to concerns that the solvents may be toxic. However, with regulatory approval, the assumption is that the method is safe.
Some manufacturers dissolve the caffeine using "supercritical" carbon dioxide, which is CO2 used at very high pressure. However, generally, the idea of using chemical solvents is frowned upon by the consumer.
Higher-end companies will often employ the Swiss Water Process. This method only uses water to remove the caffeine. However, it is more expensive and complex. The Swiss Water Process is chemical-free and removes 99% of the caffeine. Brands that use this product will invariably promote their decaf beans with this as a selling point.
We have previously examined the best decaf coffee beans, and the majority of the brands use the Swiss Water Process. However, it is less commonly used in instant decaf coffee.
Read Also: Best Coffee Beans To Buy – A guide for choosing the right coffee for you.
How Is Instant Coffee Made?
Once the caffeine is removed from the green beans, the beans have to be roasted. However, because these beans are destined to become instant coffee, the roasted beans need to be transformed into coffee powder. The manufacturers take the decaffeinated, roasted beans and grind then brew them into a coffee extract. Then, the coffee makers remove the water, so the extract becomes instant coffee.
There are two primary means of dehydrating the coffee extract.
Spray Drying: This involves spraying coffee into a giant tower of very hot air. This evaporates the water leaving the dry coffee powder to accumulate on the floor of the tower. The extreme temperature removes much of the flavor and aroma of the coffee, which is not ideal. However, spray drying is a cheap and speedy method allowing for the production of huge batches of instant coffee at a time.
Freeze Drying: In this method, the coffee is frozen. At this point, the manufacturer breaks the ice and dries it using pressure under a vacuum at a low temperature. This process leads to the ice sublimating and coffee granules remaining. Because heat is not used with freeze-drying, the flavor and aroma of the coffee stays intact. However, it takes more time than spray drying and is more complex and costly.
If you would like to know more about how manufacturers create instant coffee, look at our article on the process.
Conclusion On Choosing The Best Instant Decaf Coffee
There is no doubt that the processes of decaffeination and dehydration negatively affect the coffee's flavor. However, if you choose a freeze-dried, chemical-free instant coffee, you will usually find a better quality.
However, that is not always the case. Coffee producers such as Starbucks and certain specialty roasters use innovative and propriety processes to manufacture premium-quality instant coffee. Also, the methods used today are generally far better than those used in the past. Finally, you can trust your judgment of taste to settle on an instant decaf coffee you prefer.
Not everyone wants to test many different decaf instant coffees to arrive at the one they like the most, which is where the next section comes in. In it, we list our top choices from some of the instant decaf coffees we have sampled.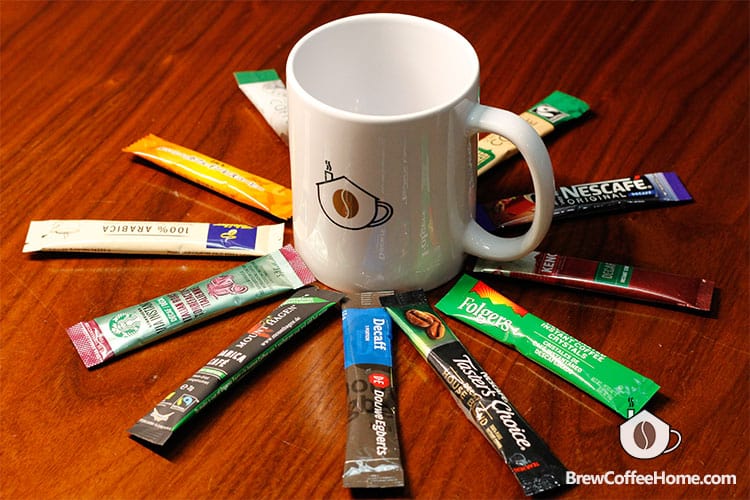 The 7 Best Instant Decaf Coffees
1.Nescafe Taster's Choice Decaf House Blend Instant Coffee
Nescafe first began selling soluble powdered coffee in 1938. The company then introduced its Taster's Choice freeze-dried instant coffee in 1966. Nescafe is the world's biggest coffee company, meaning its freeze-drying technology is particularly advanced.
The company only uses water in its process for decaffeinating Taster's Choice and Clasico Instant Decaf coffee. We confirmed with the support, by the way, Nestle's customer service is excellent.
Using a mixture of freeze-drying and water processing, we can be sure that the decaf coffee's quality is assured.
House Blend is Taster's Choice signature blend, but what is it like decaffeinated? We tested the caffeinated and decaffeinated to make a comparison.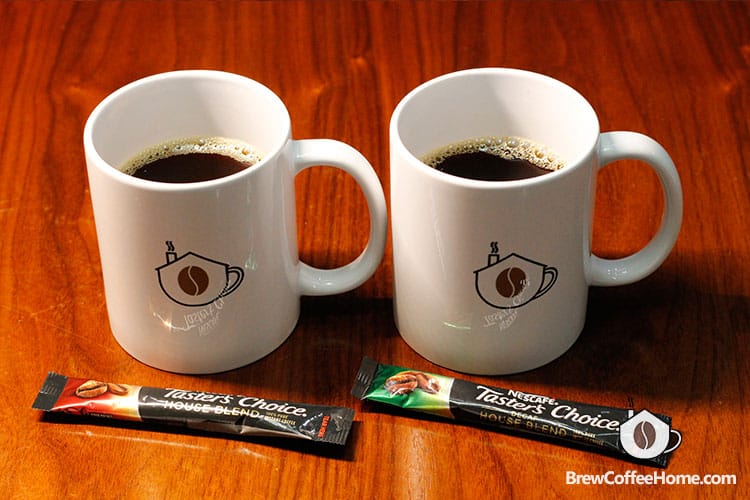 The medium roast decaf coffee is full-bodied with a fruity and bright aftertaste. There is also no bitterness. Unsurprisingly, it is milder than the caffeinated version. However, that difference is not as pronounced as we expected.
Another advantage is the price, which is very reasonable. You can buy the Taster's Choice Decaf House Blend in a pack of 80 single-serve sticks, which are very convenient for taking with you on the move. There are also jars of 7oz and 14oz for making at home.
2.Starbucks VIA Instant Decaf Italian Roast Packets
Whenever you see a package marked Italian Roast, that means it's a dark roast coffee. As with other coffees in Starbucks' VIA range, this is a robust coffee. The smell is strong and a tad burnt. It is perfect for people who love dark roast coffee. This brand also goes well with milk and sugar.
Overall, we found the caffeinated Italian dark roast too smoky and bitter to be pleasant. However, the decaffeinated equivalent is milder and lacks the bitterness of the caffeinated version.
The VIA Ready Brew Instant coffees are manufactured in a state-of-the-art factory using the company's propriety manufacturing method. The company roasts the coffee by tweaking the tastes, then extracts it with pressure and high temperature in the manner of an espresso maker to maintain a bold, rich flavor.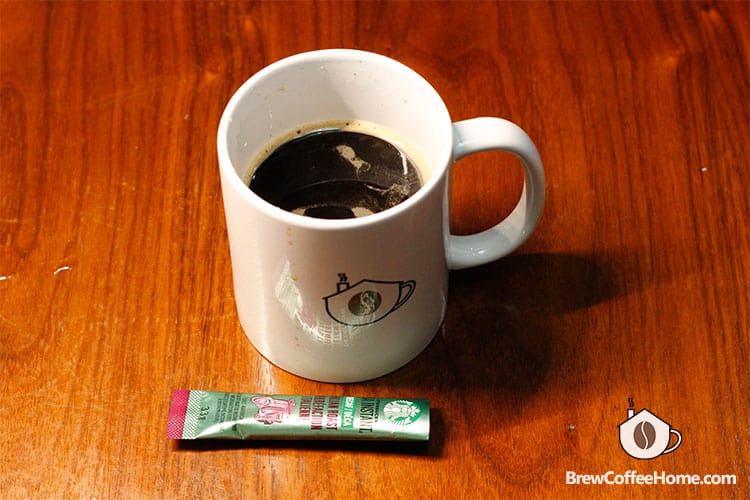 In a difference to rival brands that use freeze-drying, Starbucks opts for a propriety process of spray-drying to create its instant coffees. This allows the factory to make 4,000 tons of instant coffee per annum [1].
As we mentioned earlier, spray-drying removes some of the natural flavors of the coffee. Therefore, to bring more flavor to the coffee, micro-ground is added. This is similar to the grounds used for Greek or Turkish coffee and lends the coffee a taste similar to a French press. Some residues accumulate at the bottom of the cup, too.
Where it comes to learning what process was used to remove the caffeine, we attempted to contact VIA live chat for clarification but were instead advised to contact our local store's barista for information. We have concluded that the process is the Swiss Water Process, which gives VIA an advantage.
One of the drawbacks is the cost, which is more expensive than some rivals. However, it is still cheaper than some specialty decaf instant coffee, such as Joe Coffee or Waka.
This is a good option if you're a lover of bold coffee but don't want the effects of caffeine. We found this is the coffee that tastes least like decaf of all the coffees we sampled.
3.Waka Coffee Decaffeinated Quality Instant Coffee, Colombian, Instant Roast
Waka coffee makes some of the best instant coffee around, and its decaf option is great too.
Waka uses the freeze-drying method to manufacture its instant decaf coffee, just as it does with its caffeinated instant coffee, meaning much of the aroma and flavor of the beans is retained. However, rather than using water to remove the caffeine, this takes place with ethyl acetate, which originates from sugar cane.
Waka's decaf instant coffee is made using 100% premium-quality Colombian Arabica coffee beans.
As for the flavor, it is similar to the caffeinated equivalent. However, it isn't quite as sweet, and it has a lighter body. It uses medium roast beans, while the coffee benefits from a balanced, classic body with a smooth taste and citrus hints, which is typical of brighter acidity Colombian coffee beans.
The coffee can be bought in eight single-serve packs, while there's also a 3.5oz bag for making 35 cups of coffee. Compared against rival specialty instant coffee, the price is reasonable. However, it is still more expensive than standard instant coffees, somewhere between the Taster's Choice coffee and Joe Coffee (which we'll get to later).
4.Mount Hagen Organic Instant Decaffeinated Coffee
We loved Mount Hagen's caffeinated instant coffee when we tested it for our list of the best instant coffees. We also sampled the company's decaf equivalent, and it impressed us too.
This company's coffee is both USDA Certified Organic and Fair Trade. The beans originate in Honduras, Peru, and Papua New Guinea, and there's a unique profile with notes of spice while being nutty and fruity.
The freeze-dried instant coffee is decaffeinated with a process of natural liquid carbon dioxide.
Mount Hagan's regular coffee is one of the milder instant coffees, and its decaf coffee is no different. One thing that sets this instant decaf coffee apart from alternatives is its beautiful roasted smell, not unlike drip coffee. However, it is not as strong in flavor.
There is no bitterness, sourness, or metallic flavor in this coffee. It also has some sweetness and is smooth. Alongside the caffeinated version, the flavors are similar. However, the decaf version isn't as sweet as the caffeinated coffee and also lacks the latter's complexity.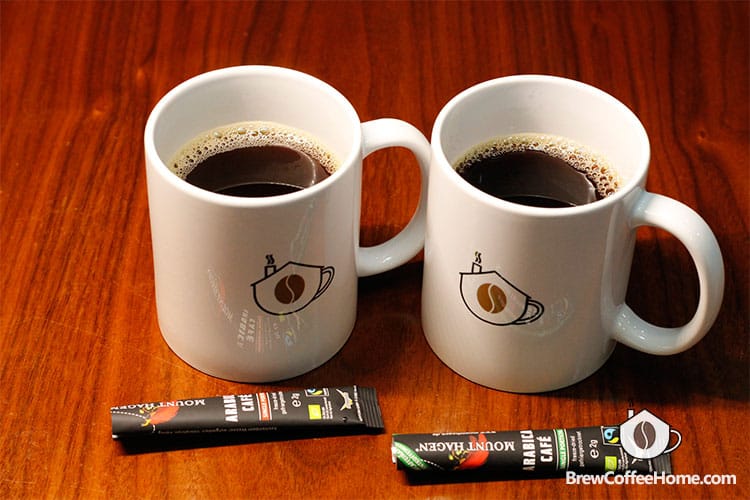 If you enjoy light roast coffee, this is well worth a try. However, if you prefer more bold flavors, this may not satisfy you.
The coffee is on the more expensive side. However, considering it is fair trade and organic, it is still reasonable.
You can purchase the coffee in a jar of 3.53oz, meaning you can easily make it at home and keep plenty stored for the times you need a good coffee in a hurry. For people who like instant decaf coffee while on the move, the 25-count single-stick packs are perfect.
5.Folger's Classic Decaffeinated Instant Coffee
Folgers classic decaf instant coffee has approximately 99.7% of its caffeine removed thanks to the ethyl acetate process.
The coffee is a medium roast that bears similarities with standard US drip coffee. If you enjoy a no-frills coffee without caffeine, this is the ideal option.
Our sample of this instant decaf coffee dissolved in the cup immediately. Also, there was not a strong smell, much like other instant decaf alternatives. However, flavor-wise, we found it satisfyingly robust and smooth. It also lacked bitterness and had a touch of stevia the aftertaste, with a low level of acidity. We prefer the decaf version to the classic roast.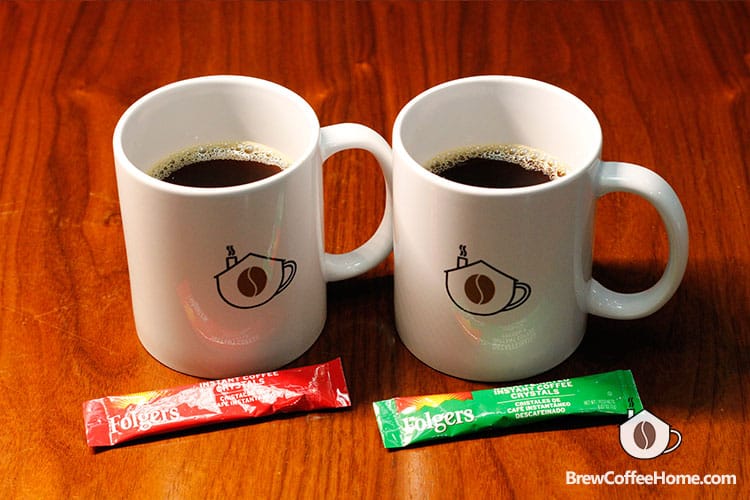 Folger's is a well-established company with a commitment to the ethical sourcing of its green coffee. The company also works alongside UTZ to guarantee its sustainability.
You can buy single-serve packets of Folger's Classic Decaf, meaning when you're in a hurry, you can grab a serving on the go without even needing to measure out the powder. There are also three, eight, and 12oz plastic jars available. Finally, it is the best option for those on a budget.
6.Café Altura Organic Fair Trade Decaf Instant Coffee
If having an organic decaf instant coffee is important to you, this is your best option.
The coffee is freeze-dried, meaning the flavor and aroma are retained. Meanwhile, a USDA-certified organic decaf method is used in decaffeination. It's also NonGMO, Fair Trade, and Kosher certified. Each of these gives assurances of a premium-quality drink.
The pure Arabica beans are sustainably grown in South America, Central America, and Indonesia.
Taste-wise, the blend is neutral and balanced. There isn't an acidic aftertaste, and the flavor is light. This is a beautiful decaf coffee that is virtually identical in taste to its caffeinated alternative.
If you enjoy coffee that tastes light and are on the lookout for organic coffee, this is the one for you. You can't buy single-serve packets. Instead, it is only available in a 3.53oz jar.
7.Joe Coffee Specialty Instant Coffee Packets, "Nightcap Decaf"
This instant decaf coffee uses both freeze-drying and the Swiss Water Process, meaning it has our approval on those elements.
The coffee is single-origin, and the company sources its beans from smallholder farmers in the Honduran mountain range of Merendon. The coffee is brewed to a coffee concentrate that's full of flavor in small batches. After this, freeze-drying is employed to turn them into coffee crystals via dehydration.
The coffee is a delicate flavor of roasted almonds and is smooth. There is also a wonderful balance of flavor, acidity, and sweetness. Also, the strength is even for a decaffeinated coffee. There is balance to the flavor in the mouth, and it lacks the harshness of lower-end instant decaf coffees.
Because it uses the more complex and costly processing techniques, this coffee is in the same price range of the coffee you'd buy in a coffee shop. That could put some people off.
There are six individual packs of coffee in each box, making it a good option while on the move as each serving is measured correctly, with 5g of coffee. All you now have to do is add 8oz of hot or cold water and stir it. While it is convenient, the cost will add up if you drink several cups each day.
If you own a coffee maker, the 12oz Nightcap grounds are a good option as they are less expensive. It will rest on whether you want to pay more for the convenience instant coffee brings.
What Else To Consider When Choosing Decaf Instant Coffee
Before you make a purchase, it's a good idea to sample the coffee, if you can. After all, regardless of our thoughts, tastes differ from person to person, so a coffee we may love might not be the best fit for you. However, there are several things to consider when deciding which instant decaf coffee to purchase.
Flavor
You can't determine the taste of a coffee by its appearance. We recommend, wherever possible, purchasing single-serve packets of coffee so you don't commit to a big jar of something you might not like.
Take into account the types of roast too. Light roasts tend to have delicate flavors, with floral, bright, and fruity aromas. They also usually have a higher acidity, although that will depend on which country it came from. Medium roasts tend to have more balanced tastes that appeal to most coffee lovers. Finally, dark roasts are robust, bitter, and smoky.
Decaf coffee usually has a milder flavor than caffeinated drinks, so we suggest starting with a medium roast and deciding whether to go lighter or darker from there.
Instant coffee is more often than not thinner in body than freshly brewed coffee. Because of this, well-known brands, including Nescafe Gold and Starbucks, use the micro-grind method to produce a fuller-bodied beverage. If your preference is for lighter coffees, try Mount Hagen, Folger's Classic Decaf Instant Coffee, and Nescafe's Taster's Choice Decaf House Blend.
Packaging
If you are only an occasional instant coffee drinker, single-serve sachets are good because they last longer because they're airtight. They are also the best option for taking with you while on the move. In particular, they are ideal for camping and traveling. However, they're not an option with every brand and are likely to be more costly per gram than a jar.
Jars are less expensive and a better option for people who regularly consume instant coffee. However, it is important to remember to use a dry scoop to remove the coffee from the jar and ensure you seal the lid properly afterward to preserve freshness.
Blend vs Single Origin
With the prominence of more specialty coffee roasters, single-origin coffee is now a sign of a high-end coffee. However, blends are cheaper and still used in most instant coffees. Indeed, sometimes blends are high-quality too. That's because they usually benefit from a rounded, balanced flavor, making them a safe option for many coffee lovers.
Single-origin coffee has a flavor profile that is both consistent and unique. However, although it is well-loved by many people, some people don't enjoy it. It's important to remember that even though single-origin is considered better quality, it's not always the preferred option because of personal taste.
If you are keen to sample single-origin instant decaf, we recommend Joe Coffee (that we reviewed earlier in the article). However, options are limited in the world of instant decaf coffee. That's because as it requires more steps to manufacture, it's more tricky to retain the original flavor. Therefore, the more the flavor is diminished, the less point there is in using high-quality single-origin beans.
Ways To Brew Decaf Instant Coffee
While it is straightforward to make a cup of instant coffee, there are ways to improve the flavor involving the temperature of the water and the coffee to water ratio.
Water Ratio
Make sure you correctly follow the directions on the package. The majority of brands recommend using 1-2 tablespoons or one pack of coffee for every 8-10 oz water.
Water Temperature
We have learned that some coffee has a better flavor when brewed with slightly cooler water from our tests. We recommend never making instant coffee with boiling water. The majority of the time, when there is a burnt taste to the coffee or undue bitterness, it will be because the water used was too hot.
75-85C is the perfect temperature for making instant coffee. If you have a thermometer, that's great. However, if you don't, just let the boiling water cool for 30 seconds to a minute before pouring.
You can use room temperature water to help dissolve the granules beforehand, then pour on the hot water. Doing this helps stop the granules from being over-extracted.
Is Instant Decaf Coffee Bad For Your Health?
Coffee has a range of health benefits, so even coffee that has been dehydrated and decaffeinated has some good health elements.
Nowadays, the process of decaffeination is safe, so it comes down to which is the method that offers the most benefits. The FDA has strict standards to guarantee that any solvents used for decaffeinating coffee are safe. For instance, if a manufacturer decaffeinates coffee with methylene chloride, the coffee has a limit of not above 10 parts per million (0.0001%) of the methylene chloride following decaffeination [2].
Also, health authorities worldwide typically recommend up to 400mg of caffeine per adult per day. Because 97% or over of caffeine is removed from decaffeinated coffee, you can rest assured that you won't consume more than the recommended daily amount of caffeine when you drink decaf coffee.
Final Thoughts
We have sampled decaf coffee and made direct comparisons with their caffeinated equivalents. Generally, the taste profiles are not too dissimilar. However, unsurprisingly, the decaf coffees are usually miler and weaker.
Frankly, instant decaf coffee is nowhere near as satisfying as freshly brewed coffee. However, if your aim is to have a quickly made cup of coffee that is decaffeinated, they are your best options.
There are still some instant decaf coffees that are better than others. In our opinion, the Nescafe Taster's Choice Decaf House Blend is a good option, to begin with. If you're more interested in robust, dark roasts, you should consider the Starbucks VIA Instant Italian Roast as a starting point. We recommend Waka as an inexpensive and relatively satisfying option for coffee lovers interested in trying instant decaf coffee from a specialty roaster.
Because of the vast number of available options, it can be difficult deciding which instant decaf coffee to try first. We suggest trying single-serve packets to begin with, while a good rule of thumb is to start with a medium roast and take it from there. That way, you won't spend too much money or be left with a big jar of coffee you don't enjoy.
Hopefully, this in-depth best decaf instant coffee review has given you enough starting points to help narrow your search and make an informed decision. And, hopefully, you're now one step closer to choosing an instant decaf coffee that will suit your tastes and you can enjoy!
Reference:
[1] Starbucks brews up advanced technologies – https://www.foodengineeringmag.com/articles/94902-starbucks-brews-up-advanced-technologies
[2] PART 173—SECONDARY DIRECT FOOD ADDITIVES PERMITTED IN FOOD FOR HUMAN CONSUMPTION – §173.255 – https://www.ecfr.gov/cgi-bin/text-idx?SID=9943d366eee6983f4d3240a1e9f03879&mc=true&node=pt21.3.173&rgn=div5#se21.3.173_1255