Are you a coffee drinker seeking a fresher blend for your morning cup? A home coffee roaster might be your best bet.
Wait! Roasting coffee beans is time-consuming and difficult, isn't it?
While there might be some truth to that, it doesn't have to be overwhelming. With one of the best home coffee roasters, you can produce tasty roasted beans for the freshest cup. Plus, you can do it all without stepping out of your house.
Keep reading to learn how to roast coffee beans at home and the top products to turn your kitchen into a personal roastery.
Why Roast Coffee Beans at Home?
Roasting coffee beans comes with a bit of a learning curve, but once you master the technique, it's worth the effort. There are several benefits to home roasting that will have coffee aficionados clamoring to try it.
First, you cannot beat the freshness and flavor of roasting your own coffee beans. You have absolute control over the entire process, meaning you can go light for more caffeine or let them sit a little longer to punch up the flavor.
Given the rising prices of almost everything, roasting your coffee beans might be a good way to cut costs. Green coffee beans cost far less than buying them roasted. Even with the investment in equipment, home roasting is the economical choice for avid coffee drinkers.
Finally, being a home coffee roaster is just plain fun. It's a new, useful skill that impresses your friends and family. You can develop custom blends as you learn more about the intricacies of coffee roasting.
Our Picks for the Best Coffee Roaster
Before you can call yourself a home coffee roaster, you need the right equipment to turn those green beans into little pops of flavor.
Best Overall – Fresh Roast SR540
The SR540 aims to reduce the learning curve for home coffee roasting. It's ideal for beginners because there are limited adjustments to make, leaving little room for error.
You have nine heat settings to control the entire roasting process. A display on the front shows the temperature in real-time to make your life easier and allow you to make adjustments at any point. Plus, you can flip a switch to initiate a three-minute cooling cycle.
This compact device fits almost anywhere, and it's easy to transport. You can roast up to four scoops or five ounces of green beans at a time, enough to brew around 18 cups. That amount may not be enough for avid coffee drinkers, but you can always roast more beans.
Fresh Roast's SR540 works fast, producing brew-ready beans in 15 minutes or less. Not only can you easily roast your beans daily, but you can also do different roasts for each coffee drinker in your household. Just make sure you wait at least half an hour between roasts.
Clean-up is relatively easy with this machine, especially since it features an efficient chaff collector. However, there's no smoke suppression system, so you must consider ventilation.
Pros
Easy to set up, use, and clean
Nine heat settings for more control over the roasting
Quick roasting
Cons
No smoke reduction features
Smaller capacity than other options
Best for Beginners – Angelloong Coffee Bean Roaster Machine
This coffee roaster might be the easiest to operate and clean with the largest capacity. It can roast up to 750 grams of beans in 25 minutes. There's a built-in timer, so you can almost set it and leave it, but you should never leave the room while roasting.
In terms of heating and safety, this roaster features a thermostat that monitors from 212 degrees to 464 degrees Fahrenheit. The heat-blocking handle on the lid protects you against burns, and the machine has a built-in cooling system. Plus, this powerful unit only requires 110 volts, making it highly efficient.
The interior is food-grade Teflon to prevent sticking and make cleanup a snap. It's also extremely versatile, with the ability to roast other goods, including nuts and popcorn.
Watch the roast of your beans through the clear lid. This machine can roast a fair amount of beans in less than half an hour. Inside, an agitating arm keeps the beans moving to get an even roast.
Even though there's not much to adjust on this machine, it would be nice if it came with instructions for roasting. You might need to experiment to get the ideal roast or seek out advice from other users.
Another major drawback is the lack of proper chaff collection. Prepare to devise a way to clear the chaff from your beans before you grind them.
Pros
Easy to use and clean
Roasts up to a pound at a time
Versatile enough to roast more than just coffee beans
Cons
Expect a lot of smoke, so roast near an open window
No chaff collecting feature
Best Design – Kaleido Sniper M2 Coffee Roaster
This might be the most complex-looking coffee roaster on the list, making it a bit overwhelming at first glance. However, it's impossible to beat this design that looks like it's straight out of a science fiction film. You can even choose three colors to get one matching your decor.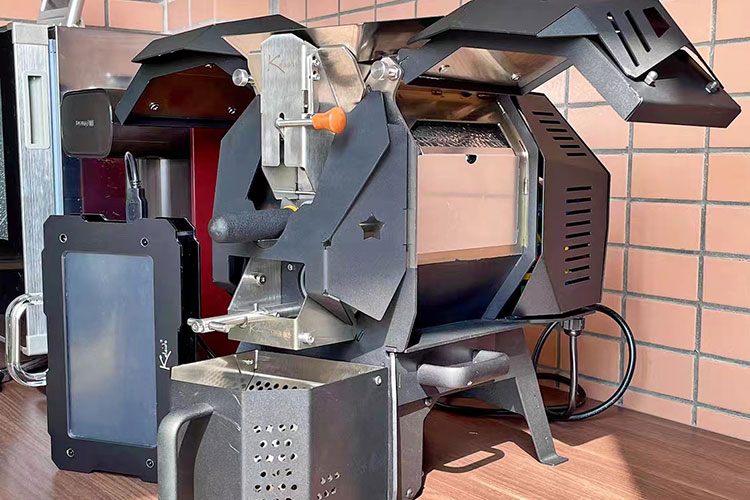 The Sniper M2 has everything you could ask for in a home coffee roaster, including a user-friendly touchscreen, efficient chaff collection system, and functional smoke extraction. This machine works fast, with roast times ranging from six minutes to 15 minutes. It also includes a three-minute quick-cool function to reduce the risk of over-roasting the beans.
Precision is the ultimate goal for this roaster, and the manufacturer certainly accomplished that. It's easy to monitor every aspect of the process thanks to precise temperature probes to keep tabs on the internal temperature.
You can't see the beans while they roast, but that doesn't mean you can't check on them. A built-in sampler feature lets you extract a few beans to check them as needed.
That said, this drum coffee roaster has many complex features that make for a steep learning curve. You might want to check out some of Kaleido's instructional videos to learn how to use everything properly.
Pros
The chic design is loaded with high-tech features
Effective chaff collection
Touchscreen controls
Cons
Precise roasting comes with a massive price tag
It might be too complex for some roasters
Best Budget – Nuvo Eco Ceramic Handy Coffee Bean Roaster
Coffee lovers who want to dip their toes into the pool of home coffee roasters might want to try this affordable, beginner-friendly option. It's one of the most affordable and efficient options on the market.
You don't have to mess with electronics, thermometers, or displays when you choose this roaster. Get up close and personal with your beans, and play around with roast times and techniques to find what works for you. There's no right or wrong way to roast with this device, but it takes time to master this coffee roaster.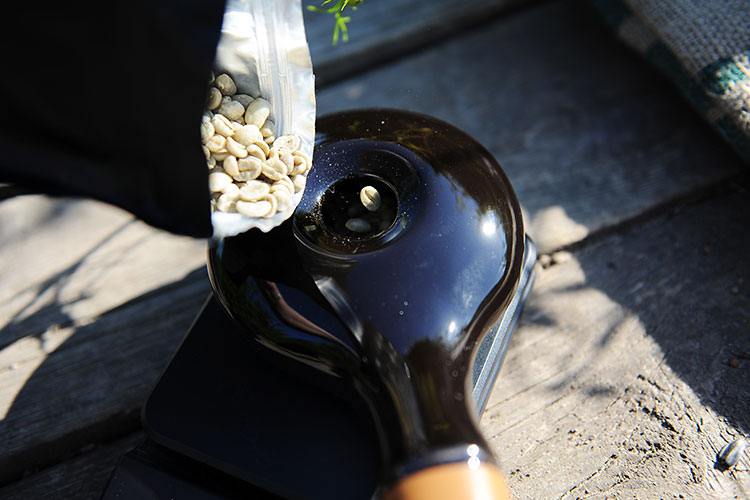 The compact design makes it ideal for storage, though it is unique and beautiful enough to serve as eye-catching decor. Additionally, campers can take this coffee roaster with them and roast beans over a campfire.
Though it looks low-tech, the Nuvo Eco Ceramic roaster has some thoughtful design elements. It's sturdy and handles heat well thanks to the ceramic, but it's also easy to clean with soap and water. Plus, you can blow the chaff out of the top hole to separate it from your beans.
Pros
Simple, portable design
Beginner-friendly
Easy to clean
Cons
Extremely small batch roasting only makes enough for a few cups
Doesn't come with instructions
Best Gas – KALDI WIDE size (300g) Home Coffee Roaster
This coffee roaster makes you look like a professional even though it's sized for home use. It has a decent capacity for personal coffee roasting, but it might seem disproportionate to the machine's size.
While this machine looks awesome, it's not a good choice for everyone. You need some experience or understanding of the roasting process to make a go at this one. It's not a tech-heavy machine, but you have complete control over the roasting process, including the temperature, drum speed, and roast time.
Some of the neat features that help you maintain control over the bean roasting include a built-in thermometer and sampler. You can monitor the internal temperature throughout the process and even check the bean color at any point by pulling a few beans out with the sampler.
You need to provide a gas heat source to use this one, preferably via a stove burner. However, running on gas works thanks to the unique Air Roasting Technology that KALDI used for this roaster. The technology maintains uniform temperatures throughout the drum.
The design is surprisingly sturdy, though it could use a few upgrades. First, the chaff system exists but doesn't quite pull out all of the flakes, so you pick out bits after the fact. It also lacks a functional smoke suppression system, so carefully consider ventilation.
Pros
Easy temperature adjustments
Handles large batches
Minimal cleaning
Cons
Takes time to learn the machine
The chaff collector needs an upgrade
Best Electric – Sandbox Smart R1
The Smart R1 doesn't look like much, or rather it looks like a novelty safe that you could buy at a toy store. However, the coffee roasting machine is a powerhouse with some chic features and quick roast times.
This coffee roasting machine is ideal for techies since it features a Bluetooth connection with an app. Use the built-in presets or manually override them through the app to create custom roasting settings.
The free app works on Apple and Android devices, meaning you can control your roasting process from your phone. Plus, you can track your roasting settings so that you can make modifications with each attempt until you find the ideal combination.
Unlike some other options that use bottom trays for chaff collection, the Smart R1 actually works. It doesn't have smoke suppression capabilities, but it's generally not a problem for light and medium roasts, though dark roast lovers might need to consider ventilation options.
Notably, the cooling tray is an optional feature. However, it's almost necessary given the lack of any other cooling feature.
Pros
Connects to an app for making adjustments and tracking preferences
Sleek, compact design
Use built-in presets or create custom profiles
Cons
It takes a bit to figure out
Smaller capacity than others
Best Drum – Dyvee Coffee Roaster Gas Burner Coffee Roasting Machine
This drum-style large-capacity coffee roasting machine offers you complete control over the entire roasting process. It features a corrosion-resistant stainless-steel frame and a quartz glass drum.
Simply set the device up on a gas burner, load the beans, and watch them roast to perfection. You will need to watch the beans the entire time and use the wooden handle to turn the drum occasionally for even roasting.
While it's not the most high-tech option, it's easy to learn and use compared to some of the others. You can easily disassemble the coffee roaster for cleaning, let it dry, and then reassemble it for the next use.
This Dyvee coffee roaster can handle up to 400 grams of green coffee beans, more than any other on this list. However, the manufacturer notes that you get better results with 200 to 300 grams.
The low-tech style means there are some notable drawbacks. With no timer or thermometer, you need to pay careful attention throughout the roasting process. It's a good idea to pick up a thermometer to make your life easier.
Another downside is that there's no smoke suppression system. Given the size and style, you can expect more than a little smoke during roasting.
Pros
Clear drum lets you see the beans while roasting
The manual design gives you complete control over the roasting process
Sturdy, large-capacity design
Cons
No smoke suppression system, so you almost have to roast outside
Doesn't come with a gas heat source
Best Large Capacity – JIAWANSHUN Electric Coffee Roaster Machine
When a few hundred grams of coffee beans don't suffice but you aren't ready to upgrade to a commercial roaster, you might consider this machine. It can hold up to 1200 grams, but the manufacturer recommends 500 to 800 grams, making it the largest capacity on the list.
Some unique design elements stand out on this machine, including the clear lid and 45-degree tilt that lets you see inside. The lid also features pressure release points to expel steam and smoke.
The internal arm constantly stirs the beans to ensure even temperature dispersal for even roasting. It's effective and efficient for home roasters seeking to increase their production.
While this machine can roast many beans for a personal roaster, it lacks some key features. There's no cooling option or chaff collector built in. The manufacturer suggests purchasing their electric coffee bean cooler as an accessory. Notably, the cooler supposedly cools beans in two minutes or less and solves the chaff problem.
Pros
Large capacity
Versatile enough to roast and dry other foods
Easy to operate with just two knobs
Cons
No chaff collector
No cooling option with the machine
Before You Begin Your Home Coffee Journey
As you can see, choosing the right home coffee roaster isn't easy, with so many awesome choices. It might help to break down the key factors and features to determine what's most important to you and what works best with your kitchen.
Capacity
How much coffee can you roast at one time? If you only brew for one, a small-capacity roaster might suffice. However, if you go through more coffee, you might have to consider something larger or capable of quick, back-to-back roasting spurts.
Unless you jump into a commercial-sized coffee roasting machine, you can expect to find capacities between 100 and 300 grams. Be sure to consider the suggested capacities because pushing a machine to the maximum doesn't always yield the best results.
Additionally, consider how often you plan to roast. A small-capacity machine might be sufficient for beginners and hobbyists who only do small batches for special occasions. After all, you are looking for freshly roasted coffee beans, just roast enough for a week or so.
Hot Air or Drum
There are two main types of coffee roasters. Most roasters have a preference and can argue the benefits of one over the other. Drum roasting is the more traditional option, and hot air is considered the modern approach.
The hot air style, sometimes called a fluid bed, relies on air circulating around the beans. It roasts beans faster and more efficiently than the alternative, but it requires precision with the internal temperatures. Additionally, these machines typically feature trays or compartments for the chaff as it peels away from the beans.
Drum roasters feature a drum positioned over a heat source. As the drum rotates, it heats up and warms the beans inside. This type takes longer because the drum has to heat up and transfer that warmth to the beans. Additionally, drum roasters tend to leave beans with a smoky flavor. Since the chaff has nowhere to go, it breaks off, burns, and smokes.
Manual or Automatic
Coffee roasting machines vary from fully manual to fully automatic, with several falling somewhere in the middle.
Coffee roasters that rely mostly or completely on manual power tend to be more affordable and give you more control. However, you need to keep a close eye on the beans through the entire roasting process.
Choosing partially to fully automated roasting machines makes life easier in many ways, but you can expect to pay more for that luxury. They also tend to have a tech side involved meaning you need a little know-how and can expect a greater learning curve.
Electric or Gas Powered
Determining how to power your coffee roasting machine matters. If you don't have a gas stove or burner, you either have to buy one or switch to an electric roaster.
Gas-powered roasters come in many shapes and sizes. They typically sit on top of the heat source and can also run on propane burners.
On the other hand, electric roasters are more convenient and compact with a self-contained heat source. Expect to pay a little more for an electric coffee roaster.
Cooling Feature
One of the key steps in coffee roasting is cooling the beans quickly when you reach the desired level. Some coffee roasters include a cooling feature or mechanism to make life easier, but if not, you need to figure out how to release that excess heat from the beans.
As a helpful hint, stop roasting the beans slightly before they reach your desired level.
Smoke Suppression
Roasting anything produces a lot of smoke, so it should be no surprise to see some billowing out of your coffee roaster. It's easy to remedy the issue by always roasting outside, but that's not always an option.
If you intend to handle all coffee roasting indoors, you should get a roaster with built-in smoke suppression. Otherwise, you might have to get creative to avoid setting off your smoke alarms. A few options for daring indoor roasters include roasting near an open window, using a fan, and or working on the stove with the exhaust fan running.
Chaff Collection
Chaff happens. Every time you roast, no matter how light the roast, you end up with light brown flakes. Those flakes are the thin outer layers that peel off the green beans throughout the roasting process.
In short, chaff can make a major mess if it's not handled properly. Chaff buildup can ultimately impact how well your roaster functions.
Unfortunately, only some roasting machine manufacturers consider the chaffing issue, so you have two options. Choose a machine with an efficient chaff collection system, or find a way to create your own solution.
Cleaning
Even with efficient chaff collection, you can expect to clean your roaster. Some manufacturers put a lot of thought into their designs and created easy-to-clean systems. You can even find a few with dishwasher-safe components.
Not all manufacturers were so considerate. You can find some machines that require tools to disassemble the units before washing them. Then, after washing the pieces, you have to wait until they are completely dry before reassembling them. That's a lot of work, especially if you frequently use your roaster.
Frequently Asked Questions
Do you still have some questions about choosing the best home coffee roaster? The following commonly asked questions and answers should help clear things up.
How long does it take to roast a coffee bean?
Coffee bean roasting times vary depending on the desired roast and the type of machine you use.
Light roasts take the least time, medium roasts fall somewhere in the middle, and dark roasts take the longest.
Using a hot air roaster takes anywhere from four to nine minutes. Drum roasting machines take a little longer, between 10 and 20 minutes.
What are the different types of roasts?
There are three different types of coffee bean roasts.
Light is the least processed with the highest caffeine content. They are lighter in color, milder in flavor, and have no oils on the bean's surface.
Medium roasts are darker, with more flavor and slightly lower caffeine content.
Dark roasts have a deeper, richer color and an oily exterior. You get maximum flavor with lower acidity and a notably bitter taste.
Some people argue that there are additional roast levels. However, they refer to blends that fall between the three primary roasts, like medium-dark.
How long do roasted beans last?
Roasted coffee beans can last up to two years, depending on how you store them. They taste best within the first week or two after roasting, but with proper storage, you can extend their shelf life.
Opened beans in an airtight container can last up to six months. Vacuum-sealing beans can extend their life to about nine months. Freeze coffee beans to get two years out of them.
Do you need to rest the coffee beans after roasting?
The freshest coffee is not always better, you need to release the CO2 trapped inside the beans for better coffee extraction. It's recommended to let the light and medium roasted coffee rest for 4 to 7 days, and 7 to 10 days for the darker roasts. Check this guide for more details about resting coffee beans.
Can a popcorn popper roast coffee beans?
Yes, you can roast coffee beans in a popcorn maker. In fact, this method is a common starting point for beginners who want to test the waters.
Hot-air popcorn makers function much like hot-air coffee roasters, making the process comparable. As a note, make sure you consider ventilation and the chaff mess before you get started.
Final Thoughts
If you're looking to dive into the world of coffee bean roasting, consider the Fresh Roast SR540. It's easy to use and compact enough to fit almost anywhere. This machine is among the best home coffee roasters, and it's ideal for smaller batches that serve one or two people and let you get a feel for the process.
The discerning coffee drinker looking for a challenge and a high-tech device might prefer the Sandbox Smart R1. It's also relatively compact and lets you customize your roast. While there's a bit of a learning curve, tech-savvy coffee roasters should master it quickly.
Becoming a home coffee roaster can be exciting and fulfilling. It's surprisingly easy to learn and gives you complete control over the flavor and roast level. You can save money on beans because unroasted green beans are much cheaper than roasted coffee. Plus, you get the freshest cup every time.