Are you looking for a refreshing way to enjoy your daily caffeine fix? Look no further – coconut water coffee is the perfect summer drink that combines the natural sweetness of coconut water with your beloved iced coffee. Not only is this delightful concoction easy to make, but it's also vegan and gluten-free.
I remember the first time I tried coconut water coffee; I was skeptical. Yet, after taking that first sip, I was hooked. The subtle sweetness of coconut water infused into coffee quickly became my go-to morning pick-me-up, leaving me feeling refreshed and invigorated.
Health Benefits of Coconut Water and Coffee
Coconut water and coffee both offer numerous health benefits. Combining these two drinks creates a delicious and refreshing beverage with various health-promoting properties.
Coconut water is known for its high potassium content, which can help remove excess sodium from the body through urine and even lower blood pressure [1]. It is also a natural source of electrolytes, making it an excellent hydrating beverage. Though it's not more hydrating than plain water, it's a great alternative to sports drinks [2].
On the other hand, coffee provides numerous benefits [3], including increased alertness, improved mood, and enhanced cognitive function. The caffeine content in coffee may also provide a temporary metabolism boost and contribute to improved physical performance in some individuals.
Combining these two beverages produces a unique and healthy drink option.
Coconut Water Coffee Recipe
In this section, we'll explore a simple yet refreshing coconut water coffee recipe that is perfect for a summer day or when you need a hydrating caffeine boost.
This recipe is naturally sweetened with coconut water and can be easily adjusted to your taste preferences.
Ingredients
1 cup 100% coconut water
1/4 cup to 1 cup of coffee, can be a double shot of espresso, cold brew coffee concentrate or any strong coffee
Optional: 1/2 cup coconut milk (To make coconut latte)
Optional: 2 teaspoons of sugar, honey, or maple syrup for added sweetness
Preparation Method
Follow these steps to make a delicious coconut water coffee beverage:
If you have an espresso machine at home, a shot of espresso is perfect for this drink. It's just like the traditional Americano; you just need to replace the water with coconut water. Or you can make strong coffee with a moka pot, Aeropress, or use cold brew.
Fill an 8-oz glass with ice cubes and coconut water.
Slowly pour your espresso or hot coffee over the iced coconut water.
Enjoy the refreshing drink.
I made a short video showing you my recipe so you can follow. In this video, I use double shot of espresso to make an iced 'coconut Americano.'
Variations of Coconut Water Coffee
There are several ways to mix coconut water in coffee. These recipes offer a refreshing twist on traditional coffee drinks, combining the tropical flavor of coconut water with the bold flavor of coffee.
Coconut Water Cold Brew
Cold brew is my favorite in the summertime. It's easy to make and doesn't require expensive equipment. You just need to replace the room temperature water with coconut water to make your coconut cold brew. Here is how I make it.
Grind the whole beans coarsely, or buy pre-ground coarse coffee grounds.
Combine 1 cup of coffee grounds with 3 cups of coconut water in a pitcher or sealable container.
Stir the mixture well, ensuring that the coffee grounds are fully saturated.
Refrigerate the container for at least 12 hours, allowing the coffee to steep in the coconut water. This will create a smooth concentrate that blends well with the coconut water.
After steeping, strain the liquid through a fine-mesh strainer, coffee filter, or cheesecloth to separate the coffee grounds from the liquid.
Now you have the coconut cold brew coffee concentrate, dilute it with more coconut water or just iced water and enjoy!
Homemade Starbucks toasted coconut cold brew
If you want to add extra coconut flavor to the drink, try making coconut syrup with toasted shredded coconut. To create this beverage, follow these steps:
Step 1: First, make the cold brew following the recipe above
Step 2: Make Toasted Coconut Syrup
Add 1/4 cup unsweetened shredded coconut to the pan, and keep string until it develops a nice golden brown color.
Turn the heat off and add 3/4 cup of water, mix the toasted coconut with water and then let it simmer for a while.
Strain the coconut and dissolve about 1/4 cup of sugar in the liquid.
Now you have your toasted coconut syrup!
Step 3: Combine Cold brew and coconut syrup
Serve your Cold Brew over ice, and add 2 tbsp of coconut syrup and 1/3 of coconut milk, enjoy the homemade Starbucks toasted coconut cold brew!
Coconut Latte
If you prefer a creamier coffee drink, try making a Coconut Latte. This beverage is similar to a classic latte but features coconut water and coconut milk as a unique and flavorful addition. To create your Coconut Latte, follow these steps:
Brew your favorite coffee or espresso
Steam or froth some milk or a dairy-free alternative, or use coconut milk.
Pour the brewed coffee/espresso and iced coconut water into a cup.
Top the coffee with frothed milk, creating a creamy layer on the surface of your drink.
Optionally, you may sweeten your Coconut Latte with a bit of sugar or any syrup you like, if desired.
Enjoy your delicious and refreshing Coconut Latte!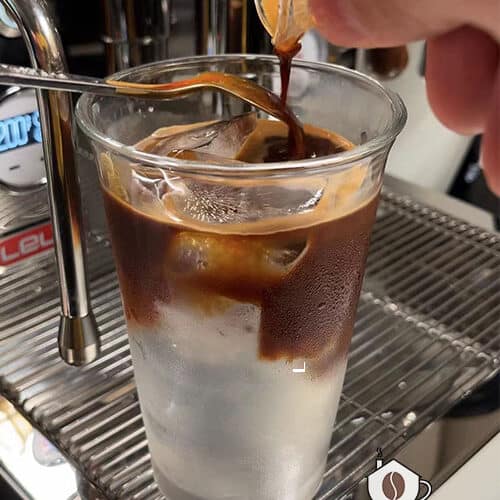 Coconut Water Coffee Recipe
This simple reciple will show you how to combine coconut water and coffee to make a refreshing iced coffee with tropical coconut flavor.
Ingredients
1

cup

100% coconut water

1/4

cup

strong coffee

double shot espresso, cold brew concentrate or any strong coffee

1

cup

ice cubes
Instructions
Pull a shot of espresso with your espresso machine. You can also use any strong coffee, such as cold brew concentrate, moka pot coffee.

Fill an 8-oz glass with ice cubes and coconut water.

Pour espresso over the iced coconut water, you'll see a beutiful layer.

Enjoy the drink, or add milk or syrup as needed.
Nutrition
Serving:
8
fl. oz
Calories:
60
kcal
FAQs
Can I use any type of coffee for this recipe?
Yes, you can use any type of coffee. However, espresso or cold brew concentrate are recommended since coconut water will further dilute the coffee. It's also recommended to use darker roasted coffee beans for a more robust coffee flavor.
Is coconut water iced coffee suitable for everyone?
Coconut water iced coffee is naturally vegan and gluten-free, making it an ideal beverage for many individuals. However, coconut water does contain calories, so those on a strict calorie-counting diet should be mindful of their consumption.
Conclusion
Overall, incorporating coconut water into your coffee routine is a delicious and unique way to enhance your beverage and take advantage of its health benefits. As I mentioned in the post, you can also try the variations and be creative.
Give it a try and enjoy a refreshing energy boost!
References: