Cinnamon is a common kitchen ingredient known for its instantly recognizable flavor. It's an excellent addition to baked goods, breakfast items, sauces, soups, and drinks. Plus, it's good for you.
But what about putting cinnamon in coffee? Are there benefits to adding a dash of this earthy spice to your morning cup? How does it taste? We answer these questions and more below.
Can You Put Cinnamon in Coffee?
The short answer is yes – you can add cinnamon in coffee! Cinnamon has a strong flavor and a fragrant aroma that tends to pair well with a cup of coffee. Not only can it enhance the taste of your drink, but it can deliver some incredible health benefits.
Does Cinnamon Coffee Taste Good?
Everything will taste differently for each individual, but cinnamon coffee is a winning combination.
Most people enjoy sweet coffee but don't want a sugar crash. Instead of opting for no-sugar sweetener, adding sprinkling cinnamon to coffee gives a touch of sweetness to mellow the bitter taste and emphasizes the flavor notes of your black coffee.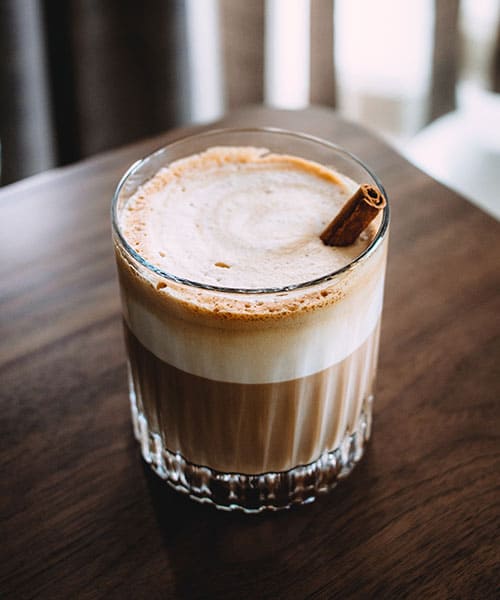 Cinnamon comes from the inner bark of trees from the Cinnamomum genus. Consuming tree bark may not sound appealing on the surface, but when it is cultivated, dried, and cut or ground into powder, it makes a delicious spice with an irresistible aroma. Many people also like to garnish their coffee drinks with whole cinnamon sticks.
Most people would describe cinnamon as warm, sweet, and woody. There are four common types of cinnamon, including Ceylon cinnamon, Cassia cinnamon, Korintje Cinnamon, and Royal cinnamon. Each has its own flavor profiles and characteristics, check this guide for more details.
While it's often a favorite for sweets like cookies and cakes, its flavor pairs well with the bitter acidity of coffee. It's a great way to make a sweet taste without using sugar.
How Much Cinnamon Should You Add to Coffee?
How much you should add cinnamon to coffee comes down to individual taste. However, cinnamon is a strong flavor and can be overpowering in even small amounts. As a good rule of thumb, add a quarter teaspoon of ground cinnamon per cup of coffee.
This amount will be enough to give you some of the awesome benefits without ruining the classic coffee flavor.
How to Make Cinnamon Coffee: Recipe
Making cinnamon coffee at home is easy. Use the following recipe to make your own cinnamon coffee.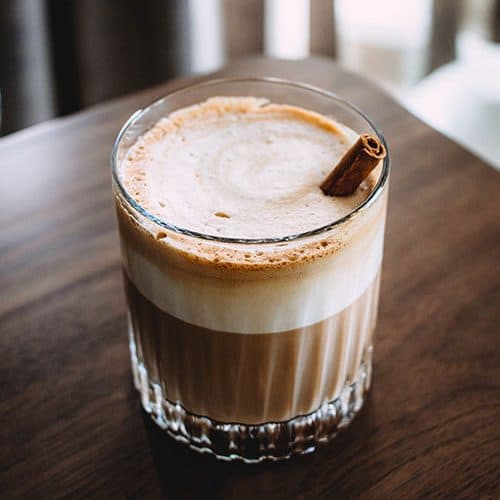 Homemade Cinnamon Coffee Recipe
Cinnamon and coffee pair well! This recipe will show you how to make cinnamon coffee at home.
Equipment
French Press

or any coffee brewer

Coffee mug
Ingredients
15

grams

coarsely ground coffee

8

fl. oz

hot water

2

Cinnamon sticks

or cinnamon powder
Instructions
First, you need to brew coffee. Add your favorite ground coffee to your French press or any other coffee brewer, adjusting to your desired coffee strength.

Break the two cinnamon sticks in half and add them to the press. 

Pour hot water over the grounds and cinnamon sticks and let the coffee steep for 4 to 8 minutes. 

Press the plunger to separate, and pour the coffee into your mug.

Enjoy this hot coffee with cinnamon flavor!

Optional – you can also add milk to make a latte, sprinkle some cinnamon powder or add a whole cinnamon stick to decorate your own drink.
Notes
If you don't like hot drinks and prefer cinnamon-iced coffee, you can add ice cubes to chill the coffee.

If you brew coffee with a drip coffee maker, mix the ground coffee with 1/4 teaspoon of cinnamon powder in the filter basket.
Nutrition
Benefits of Cinnamon Coffee
We've mentioned the several health benefits of cinnamon a couple of times, but what are they specifically? Adding cinnamon to your coffee is an easy way to take advantage of some of the natural health benefits of spice.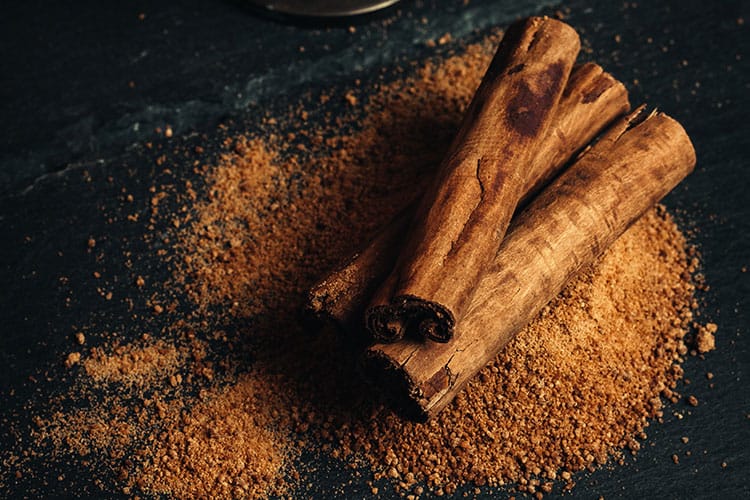 It's Anti-Inflammatory
You've probably heard about certain foods having anti-inflammatory properties, but what does that mean?
When something is anti-inflammatory, it means that it can reduce inflammation or swelling in the body. Inflammation can occur in the body for several reasons, including arthritis, tendonitis, and bursitis. Products with anti-inflammatory properties can help minimize pain.
Because cinnamon contains a lot of antioxidants, it can have anti-inflammatory properties. Adding some to your daily coffee might reduce pain and swelling in the body. These same compounds can also target free radicals.
It May Reduce Blood Sugar Levels
One study from the American Diabetes Association found that people with Type 2 Diabetes saw a noticeable drop in blood sugar levels after taking cinnamon supplements for 40 days. These individuals even saw lasting benefits after stopping the intake.
So, while anyone with diabetes shouldn't stop their medical treatment prescribed by a doctor, adding cinnamon to coffee daily could help their diagnosis and overall health.
It's Full of Great Nutrients
Just one teaspoon of cinnamon can be a great source of nutrients like magnesium, calcium, potassium, phosphorus, and fiber. And because it contains zero fat, it's safe to use daily.
The human body needs to take in a balanced diet of vitamins and nutrients every day, so adding a little bit of cinnamon to your morning coffee can help you achieve that goal.
It Has Antibiotic Properties
As well as being anti-inflammatory, cinnamon also has some awesome antibiotic properties. We can thank the compound cinnamaldehyde for those.
Scientific tests showed that the compound was effective in combating several common bacteria, including E. coli, salmonella, and staphylococcus. Cinnamaldehyde has proven successful in stopping the growth of these bacteria and others.
Drawbacks of Putting Cinnamon Coffee
Cinnamon is typically used in small amounts and is generally considered safe, but there is such a thing as too much of a good thing. Overusing cinnamon can lead to dangerous side effects.
Coumarin
Cinnamon contains coumarin, which is the chemical compound responsible for the spice's flavor and scent. As lovely as the taste and smell of cinnamon is, this compound can be dangerous in high amounts.
Cinnamon is one of the most concentrated sources of coumarin. Consuming more than two or three teaspoons daily can be too much. Over-consumption of this chemical compound can lead to liver damage, increase the risk of cancer, and impair the cognitive development of fetuses during pregnancy.
Lowered Blood Sugar
As we mentioned above, one of the benefits to add cinnamon in your coffee is that it can lower your blood sugar levels. While this is great news for Type 2 Diabetics and those with high blood sugar, too much cinnamon can lower it too much.
Low blood sugar can cause fatigue, dizziness, and anxiety and negatively affect any diabetes medication you're taking.
Other Popular Coffee Drinks with Cinnamon
If you're a cinnamon fanatic, you'll probably enjoy these other popular coffee drinks with cinnamon.
Cinnamon Dolce Latte
Starbucks has an excellent cinnamon coffee called the cinnamon dolce latte. This latte features two shots of the store's signature espresso roast and adds cinnamon dolce syrup, steamed milk, and a topping of whipped cream for a sweet and spicy treat.
Cafe Con Miel
Cafe con Miel is Spanish for coffee with honey. It's a popular Spanish drink that takes the average cup of coffee and adds loads of flavor using honey, cinnamon, vanilla, and nutmeg. You can also add your milk of choice to make it extra creamy.
Final Thoughts
Adding cinnamon to your coffee is not only a fun way to spice up your morning cup of joe, but it's also a great strategy to get some of the excellent health benefits the spice offers. Cinnamon spiced coffee has become super common, so it's worth trying it. 
Here are some great ideas for adding extra ingredients to enhance your coffee flavor.
Cinnamon in Coffee FAQ
Does Cinnamon Have Caffeine?
Cinnamon does not contain caffeine, so adding it to your coffee does not increase the caffeine content of your drink. Some experts think that cinnamon contains very small traces of caffeine, but these amounts wouldn't be enough to impact your day-to-day life. 
How to Dissolve Cinnamon in Coffee
You cannot truly dissolve cinnamon in coffee, even in ground cinnamon form, because it is made of very small wood fibers. If you add ground cinnamon to your coffee, you'll notice bits of it floating at the top. 
The best way to get the cinnamon flavor in your coffee without those bits is by adding it to your coffee grounds before you brew your cup or pot. You can add both cinnamon sticks or cinnamon powder to coffee.