Are you a budding home barista on the lookout for a burr grinder? If you are, both the Baratza Encore and Capresso Infinity are great options that won't break the bank.
But which should you choose? If you're reading this, there's a good chance you're torn between the two, which is hardly surprising. After all, they are around the same price and are both well-regarded in coffee circles. So, what better way to choose than a side-by-side comparison? Let's get down to details…
About The Companies
Baratza
Established in 1999, Baratza specializes in coffee grinders. That longevity as a company combined with its focus on one type of product has earned Baratza a great reputation in the coffee community. Its products include the Virtuoso+, Baratza Encore, and Sette series.
Capresso
Capresso has been around since 1994 and was launched in the USA. However, the company is marketed by Jura, another manufacturer of high-end coffee makers, and its owners are Switzerland company Jura AG.
While Baratza focuses on coffee Grinders, Capresso also makes other appliances for domestic use, including electric kettles, coffee makers, and espresso machines.
The Bottom Line
Both Baratza and Capresso enjoy solid reputations, and for good reasons – they each manufacture premium coffee grinders and have plenty of years of experience. However, Baratza just has the edge in coffee grinders because they are its sole focus of expertise. They are both listed in our favorite burr coffee grinders list.
Baratza Encore vs Capresso Infinity
It's worth remembering that while the Baratza Encore burr grinder has just one model, there is a range of Capresso coffee grinders, including the 560, 565, 570, and 575. Each of Capresso's models are fairly similar. However, this side-by-side guide will concentrate on one of the newer iterations, the Infinity Plus 575.
Product
Our Pick
Baratza Encore Conical Burr Coffee Grinder (Black)
Capresso Infinity Plus Black Conical Burr Grinder
Ground Coffee Container Capacity
Our Pick
Product
Baratza Encore Conical Burr Coffee Grinder (Black)
Ground Coffee Container Capacity
Product
Capresso Infinity Plus Black Conical Burr Grinder
Ground Coffee Container Capacity
Last update on 2023-09-28 / As an Amazon Associate, if you buy via the links, Brewcoffeehome earns a commission at no extra cost to you.
You can also read our in-depth reviews of each burr grinder:
Capresso Infinity Burr Grinder Review
Side-By-Side Comparison Of The Baratza Encore And Capresso Infinity
Design And Build Quality
The first thing you'll notice about the Baratza Encore grinder is its no-frills appearance, which, for an entry-level coffee grinder is what you would want. There's nothing that looks complicated enough to faze newbies to grinding, with only a pulse button on the front of its black plastic body and an on-off switch on the side. The tinted plastic hopper sits on top, with a clearly marked grind setting indicator separating it from the main body and grounds bin. The coffee grinder won't stand out as a centerpiece of your kitchen. However, nor will it look out of place, giving it an appealing feel of unfussy functionality.
Like the Encore, the Infinity Plus has a largely dark plastic body. However, the grounds bin is transparent, making it less uniform in appearance, which isn't quite to our tastes. The device has a cup selector knob at the front, with the company logo separating it from the grounds bin. Again, like the Encore, the transparent hopper sits on top. However, the grind setting indicator is a little more prominent than on the Encore. Overall, the appearance doesn't flow as nicely as the Baratza grinder. However, its design is still simple enough that it will blend in alongside most other kitchen appliances.
The Baratza Encore has a slimmer build than the Infinity. Also, it is a tad taller. Either way, though, they are both compact enough to fit snugly on smaller kitchen counter space, while storage shouldn't be an issue.
The Encore measures 5in height x 6in depth x 13in height, while the Capresso Infinity grinder measures 5in width x 7.5in depth x 11.5in height. Both devices weigh around 7lbs.
Our Verdict – Baratza Encore Wins
Each coffee grinder has a no-frills appearance, suggesting ease of use and functionality. However, neither will stand out as a premium kitchen appliance. Of course, the aesthetic taste is subjective, but we prefer the look of the Encore's darker hopper, which may also help keep the coffee beans fresher as they avoid as much exposure to the light. So, appearance-wise, we lean towards the Baratza Encore.
Grounds Bin And Bean Hopper Capacity
The Baratza Encore's bean container has an 8oz (227g) capacity, while the ground bin holds 5 oz (142 g).
However, while the Capresso Infinity's bean hopper holds a greater amount of coffee beans (11 oz, or 312 g), its grounds bin is smaller, holding just 4 oz (113 g) of ground coffee.
Our Verdict – Draw
We call a draw here – while the capacities of each device's hopper and grounds bin vary, there offer good capacities for domestic grinding, with each large enough for several cups of coffee a day.
Burr And Motor Quality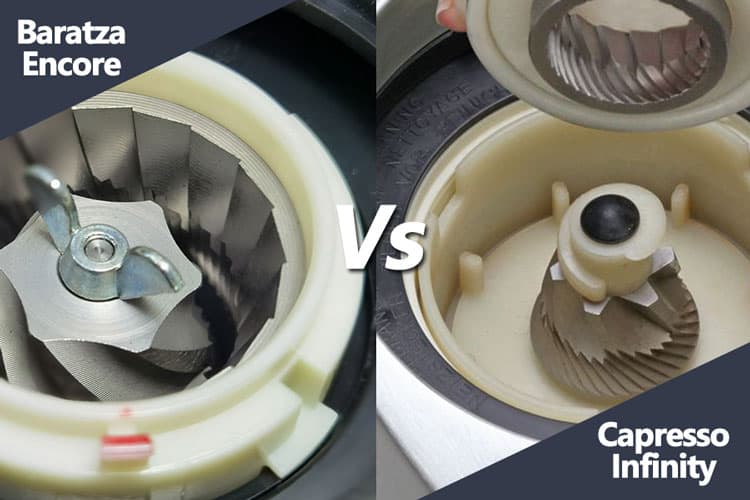 The Baratza Encore has 40mm conical burrs built from stainless steel. As well as being hard-wearing enough to last for years, the burrs also use speed reduction technology and an updated gearbox to control the rotation to 550 RPM. There is also a powerful DC motor with high torque that boasts a thermal cut-off switch.
The Capresso Infinity has stainless steel 40mm conical burrs, too. These offer a precise fit as they are hand-assembled in Switzerland and made as matched pairs. However, the multiple gear motor has a lower 450 RPM.
Our Verdict – Draw
Each grinder's burr set is the same size and highly precise. The lower RPM of the Infinity makes for less static and heat, affecting the beans' flavor. That lower RPM also makes the Capresso Infinity the quieter of the two devices.
While both burr grinders are fairly loud compared to more high-end devices, they are still (mercifully) quieter than many cheaper, sub-$100 grinders with higher RPMs.
There's little to separate the two here – each grinder has a premium burr set and motor that will do a fine job for the price.
Grind Settings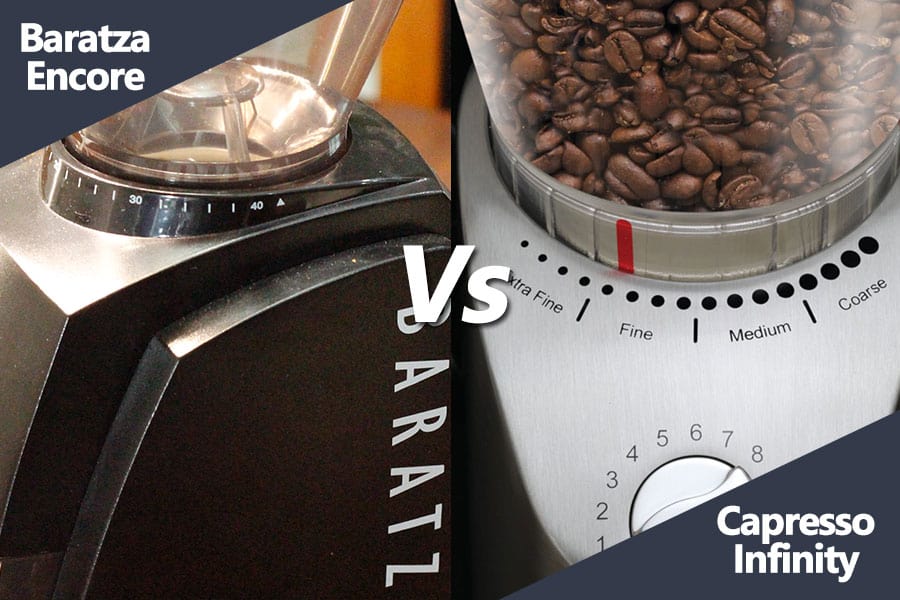 Both devices are built with brewed coffee in mind. However, if you decide to grind for espresso, you can probably use pressurized portafilters set to their finest. However, this is not ideal, and drip-style brewing methods are where each device excels.
There are up to 40 grind settings on the Baratza Encore. This range makes it easy to tweak the settings for any brewing method. So whether you need a finer setting for AeroPress or Moka pot, a medium setting for Chemex, or a coarse grind for a cold brew and French press, the Encore will rise to the challenge. The grinder's grind range is between 250 and 1200 microns.
In contrast, the Capresso Infinity has just 16 grind settings. These are in four categories – extra-fine, fine, regular, and coarse, which is helpful. In addition, you can set the Capresso Infinity's range from 300 to 1200 microns, meaning it's capable of grinding for plenty of coffee brewers.
Adjusting the grind setting is identical on each grinder – turn the hopper so the mark aligns with the preferred setting.
Our Verdict – Baratza Encore Wins
Because it has so many more grind settings, the Baratza Encore takes this by a landslide. While the Capresso Infinity's 16 settings are still enough for most home baristas, the more you have, the better, making the Encore the clear winner.
Consistency
Both devices are adept at grinding consistently for fine to medium sizes. That means if you enjoy AeroPress, Moka Pot, drip coffee, or pour over, they will serve you well. For medium grinds, the Baratza Encore is a little better than the Capresso Infinity. Meanwhile, both grinders do an excellent job at fine grinds. The consistent grind will give you an excellent coffee with each grinder.
Unfortunately, the results aren't as good for coarse grinds, whether with the Baratza Encore or the Capresso Infinity (which isn't unusual for grinders with conical burrs). However, because it has more grind settings, the Encore allows for more tweaking to increase the consistency of its finer grinds. You can expect an excellent French press with the coarser grounds produced by the Encore.
For the fine grind, each device will produce fluffy grounds suitable for espresso. However, you won't have the room to dial in, so you'll struggle to get the very best espresso unless you have a pressurized portafilter. Also, if you grind for Turkish coffee, you'll get a somewhat unpleasant chewy texture because the grounds won't be fine enough.
At each grinder's coarsest settings, the Capresso Infinity will produce the finer of the two. Capresso grinder's coarsest grinds resemble French press grinds. While the Baratza Encore's grinds tending to be chunkier, which may be too coarse for cold brew.
Our Verdict – Baratza Encore Wins
Our quality and consistency test found that the Encore offers a wider range while producing grounds of slightly greater consistency. So, the Encore clinches it, but each grinder still produces excellent grounds that can elevate the quality of your coffee, particularly when compared with cheap conical burr grinders or blade grinders.
Ease Of Use
The Encore is so simple to use you probably don't even need the manual – there's a pulse button at the front and an on/off switch at the side. Twist the hopper to alter the grind setting to the number you need, and it will do the rest.
The Infinity is also simple, with only a cup selector dial on top. However, it can be hard to work out what the numbers around it refer to. In fact, those numbers (1-12) refer to the number of cups it will grind for. However, to achieve the correct number for you, you'll need to weigh the amount until you're happy with the dose.
The Verdict – Capresso Infinity Wins
Both grinders are easy to use and the grinding process is straightforward. Once you've learned how to alter the grind size of each device and turn it on and off, you'll be fine. The Infinity has an auto shut-off function, which can be confusing, but it is still worth having. Both grinders have fairly low retention, so you just need to weigh the whole coffee beans, add them, then grind. We recommend weighing the beans for better brewing quality and consistency.
Ease Of Cleaning
You can clean the burr grinders on both devices by removing the hopper, taking out the outer burr, then either vacuuming or brushing to remove coffee residues.
Our Verdict – Draw
It's a dead heat. Neither requires lots of maintenance, and both are easy to clean. If you are not sure how? Check out this burr grinder cleaning guide, we showed you the step-by-step instructions.
Value For Money
Both grinders allow you to grind for superb coffee at a reasonable price. The motor and burr quality, grind consistency, and build quality are excellent considering the cost.
The Capresso Infinity Plus 575 is pricier than the Baratza Encore, while the 570 (and older Capresso models) are cheaper. However, of the Capressos, the 570 offers the best value for money, as the only thing separating it from the 575 is the housing materials. The latter has a body of stainless steel Zinc-Die cast, while the former uses ABS plastic.
A high-end manual grinder may produce superior grinds. That's because, in lieu of any motor or electronics, the cost goes into the burr set. However, there's no doubt that electric grinders offer more convenience.
Our Verdict – Draw
For the price you pay, both the Baratza Encore and Capresso devices offer excellent value for money, and a far better than blade grinders.
Durability
You can expect several years of excellent service from each grinder before they break down. How long each will last depends on several factors, including maintenance, grinding habit, your working conditions, and the coffee beans you use.
However, if your device breaks, you can repair the Baratza Encore, which is a significant plus. Also, Baratza has great customer service, and replacement parts are easy to find (via the company's official website) and affordable. Repairing the Encore yourself is also possible, thanks to the many YouTube tutorial videos available.
In contrast, you won't be able to find replacement parts for the Infinity if it breaks. This means your only option might be to purchase a new coffee grinder.
Our Verdict – Baratza Encore Wins
The Baratza Encore benefits from excellent customer service, while finding replacement parts is easy and affordable, making it the clear winner of the two.
The Final Verdict – The Winner Is Baratza Encore
If you consider the comparison we've made, it is relatively clear that we consider the Baratza Encore the better of the two grinders. However, that is not to dismiss the Capresso Infinity, which is cheaper than the Encore and still compares favorably against many other grinders in a similar price range.
Frankly, if you're stepping up your grinding game from a blade grinder, or just starting to grind coffee beans instead of using pre-ground coffee, either of these devices is far better. Meanwhile, as a pair, they stand alone as the best budget-friendly entry-level coffee grinders on the market.