Adventuring through the country in a recreational vehicle (RV) is a wonderful way to spend some vacation time or build a lifestyle. Many people associate camping and traveling with beautiful sunrises over scenic views, but even more, folks picture a delicious cup of coffee in hand during that experience.
Here we will review the best options for making coffee while traveling or living in an RV, no matter where or how far you choose to travel. The best RV coffee maker for your needs is right around the corner.
10 Best Coffee Makers for RV And Camper
We reviewed coffee makers and determined which ten were the best for making coffee in RVs and campers. Every type of coffee-making equipment listed is an excellent option for traveling and camping, from electric coffee makers to drip coffee brewers to manual coffee-making equipment. As you review this list of the best RV coffee makers, consider your traveling situation and which of these would best fit into your lifestyle.
Last update on 2023-09-26 / As an Amazon Associate, if you buy via the links, Brewcoffeehome earns a commission at no extra cost to you.
Best Electric Coffee Makers for RV
1. Keurig K-Mini Coffee Maker – Best Single Serve for RV
Last update on 2023-09-26 / As an Amazon Associate, if you buy via the links, Brewcoffeehome earns a commission at no extra cost to you.
The Keurig K-Mini Coffee Maker is the best option for a single-serve cup of coffee in an RV or camper.
This small coffee maker enables travelers to enjoy their favorite k-cup pods on the road. However, since it is small, makers must add water before brewing every cup. The water reservoir holds between 6 and 12 ounces of water. Brewing with freshwater improves the taste of the coffee.
It is available in four colors, even pink and green, to match any camper decor. A single silver button operates the coffee maker on the top. Its attractive design lends a contemporary look that enhances even the smallest space.
Brewing a cup of coffee is quick and energy-efficient. With only two buttons, a power button and a brew button, the machine is straightforward. A curved light flashes to indicate that the device is ready to brew.
Essential for a small RV kitchen, the mini coffee maker is easy to clean. Additionally, the mini coffee maker is compatible with all conventional K-Cups. With a removable drip tray, you can brew directly in your travel mug. Overall, it brews hot, delicious coffee with the touch of a button.
2. Nespresso Essenza Mini – Best Pod Coffee Maker For RV
Last update on 2023-09-27 / As an Amazon Associate, if you buy via the links, Brewcoffeehome earns a commission at no extra cost to you.
If you need a cup of espresso to get the juices flowing in the morning, the Nespresso Essenza Mini is the best option for you.
Users can enjoy a quick shot of espresso from the comfort of their RV with ease. The small Nespresso Essenza Mini makes high-quality coffee just like other espresso machines that are much more expensive.
The mini espresso maker is the most compact Nespresso model. It is easy to use with a one-touch system allowing the user to adjust the brew size by pressing and holding one button. What's great for campers is the solid internal construction which means if it takes a tumble when the vehicle is moving, it will not break easily.
The mini uses the Nespresso coffee capsule, so clean-up is minimal. Capsule machines are less untidy than traditional espresso machines that use grounds and tampers. Furthermore, the minis are excellent for beginners since the capsules are easy to brew. The brewing process can be a bit loud, so if you are traveling with a friend or partner, it might function as an early wake-up alarm.
3. BLACK+DECKER 12-Cup Thermal Coffeemaker – Best Programmable
Last update on 2023-09-26 / As an Amazon Associate, if you buy via the links, Brewcoffeehome earns a commission at no extra cost to you.
The BLACK+DECKER 12-Cup Thermal Coffeemaker is the best programmable small RV coffee maker for those traveling in a camper or an RV.
The coffeemaker is compact but at the same time offers a large brewing capacity.
It is an attractive stainless steel thermal carafe that keeps brewed coffee warm. Additionally, the coffeemaker is programmable so that you can wake up to brewed, warm coffee every morning. Because of the warming thermal carafe, coffee brewed in the morning remains warm and ready to drink throughout the day – before and after a hiking adventure.
The coffeemaker is intuitive and easy to use. Even the options to choose coffee strength or set the time for a programmed brew are easy to understand with the help of the included manual.
What's more, this coffee maker is suitable for preparing coffee for more people, so if you are traveling or camping with a group, this coffee maker provides all the liquid energy your group will need to take on the day.
4. Cuisinart DCC-450BK 4-Cup Coffeemaker – For Drip Coffee Lovers
Last update on 2023-09-26 / As an Amazon Associate, if you buy via the links, Brewcoffeehome earns a commission at no extra cost to you.
The Cuisinart DCC-450BK 4-Cup Coffeemaker is the best camper coffee maker for drip coffee lovers traveling across the country.
The coffeemaker is compact and will take little space on an RVs kitchen counter. It is also incredibly affordable. Keeping as much kitchen counter space as possible is essential in an RV, and this four-cup coffee maker works well as a beneficial addition rather than a large detraction.
The stainless steel pitcher keeps the coffee hot for an extended time, so if you drink coffee throughout the day, this is a great option that offers warm coffee for hours.
The Cuisinart is a low-wattage coffee maker and is energy efficient. With an automatic cut-off option, the coffeemaker is safe and will turn off if not used for thirty minutes continually.
This coffee maker is perfect for those traveling in pairs, and the brewed coffee is ideal for a group of two.
Best Non-Electric Drip Coffee Maker
5. Coleman Camping Coffee Maker – Best For Dry Camping
Last update on 2023-09-26 / As an Amazon Associate, if you buy via the links, Brewcoffeehome earns a commission at no extra cost to you.
The Coleman Camping Coffee Maker is the best for dry camping. Dry camping, or boondocking, means camping in an RV, van, or camper with no hookups to electricity or water outside of a traditional campground.
Coleman coffee brews like a drip coffee maker, but you can use campfires and propane stoves without electricity.
The coffee maker offers a 10-cup glass carafe and has a steel base that fits most camp stoves – making this option is great for larger groups who are hiking, camping, or traveling together.
By adding coffee grounds to the removable filter basket and filling the reservoir with water, the coffee maker is ready to be set atop heat and will begin to brew. Additionally, the coffee maker has a 'Pause 'N Serve' button allowing users the opportunity to pour a cup of coffee before the brewing ends.
Best Manual Coffee Makers for RV
Manual RV coffee pots require more actions from those seeking to brew a cup of coffee by pressing or pouring water through coffee grounds to create coffee. While manual coffee making requires specific equipment and a bit of practice, the gear's weight and size are usually smaller and great for traveling or camping. All of these options make the list for their versatility and quality of the product.
6. AeroPress – Versatile Outdoor Coffee Maker
Last update on 2023-09-26 / As an Amazon Associate, if you buy via the links, Brewcoffeehome earns a commission at no extra cost to you.
The AeroPress is the most versatile manual coffee maker and is very popular among campers. The AeroPress is a unique design similar to a French press; the makers push water through the coffee to create the brew using a plunger.
The AeroPress brews an espresso-style drink. Campers can also use it to brew a quick drip coffee or cold brew. As coffee drinkers practice with the AeroPress and refine their techniques, the coffee's taste will become better.
It is compact, relatively affordable, and effortless to use. Furthermore, AeroPress is very sturdy. While the device consists of plastic and rubber and the plunger is often faced with intense pressure, it is infrequent that any part of the gear breaks.
What's great is that travelers can store the AeroPress away in tight spaces, meaning it will not hold any precious countertop space in your RV. It's small and lightweight enough that you can easily fit it into your regular backpack and bring it to work or on a trip.
7. Mueller Stainless Steel French Press
Last update on 2023-09-26 / As an Amazon Associate, if you buy via the links, Brewcoffeehome earns a commission at no extra cost to you.
The Mueller Stainless Steel French Press is the best French press for RVs and campers. All French presses require a manual operator to press water through a mesh filter to separate coffee grounds from the liquid to create coffee.
This French press uses durable stainless steel material that will not break along the journey. It is also double-insulated for longer-lasting hot coffee.
Easy to use, enjoy full-bodied coffee without hassles. Coffee made with this French press is very customizable; users can choose the type of coffee, how much to add, and how much water is needed, which will determine the strength of the brew.
Unlike other French presses, no grit or extra ground sneak through the triple-layered filter, resulting in smooth and delicious coffee.
Since a French press requires coffee grounds, this could be more difficult to clean the others on this list.
8. Staresso – Best Manual Espresso Machine
Last update on 2023-09-27 / As an Amazon Associate, if you buy via the links, Brewcoffeehome earns a commission at no extra cost to you.
The best manual espresso maker for camping and RVing is Staresso. To use the Staresso requires repeatedly pumping a push-lever to create pressure.
This manual method equipment offers an easy way to enjoy espresso with its traditional rich crema. The crema is the creamier, lighter-colored froth that usually sits atop a shot of espresso.
It is small and compact, making it a great addition to a camper's kitchen without the need for additional space. With a vertical design, you can easily tuck the pump-action coffee-making machine into a corner or place it in a drawer to secure it from moving around the cabin.
The Staresso can also froth milk, so if you are a latte or macchiato drinker, then this is the perfect travel coffee maker for you! In the same way the pump pressurizes the water to make coffee, the pump-action also adds air to the milk for many espresso-based drinks.
9. Bialetti Express Moka Pot – Best Stovetop Coffee Maker
Last update on 2023-09-26 / As an Amazon Associate, if you buy via the links, Brewcoffeehome earns a commission at no extra cost to you.
The Bialetti Express Moka Pot is the best stovetop coffee maker for RVs and campers. A Moka pot is a stovetop coffee brewer that pushes pressurized boiling water via steam through the ground coffee in the coffee filter and collects coffee in a chamber at the top of the pot.
This Moka pot allows for versatile coffee brewing with multiple options for a heat source like a camp stove or fire. Usually, you can separate the Moka pot into three pieces for cleaning with the thin center portion containing the coffee grounds.
The coffee pot is aluminum and durable, making it an excellent choice for camping and traveling. Durability is essential when traveling in an RV or camper because the movement can lead to shifts within cabinets and drawers, so delicate kitchen tools do not often last long.
What's more, is the robust flavor created by using the Moka pot for coffee needs. If you like espresso-style coffee, drinking the product directly from the pitcher is excellent. However, if you prefer drinking Americanos, add hot water to the robust coffee for a more mellow sip.
10. Hario V60 – Best Pour Over Dripper
Last update on 2023-09-26 / As an Amazon Associate, if you buy via the links, Brewcoffeehome earns a commission at no extra cost to you.
The best pour-over for traveling is the Hario V60. The pour-over method allows gravity to pull water through coffee grounds resulting in a quick and delicious cup of coffee. The speed of preparation and the taste of the result will both improve with practice.
This pour-over is the best way to enjoy gourmet coffee on the journey because the manual drip method extracts varying flavors. However, perfecting the proper technique for an excellent cup of coffee takes practice.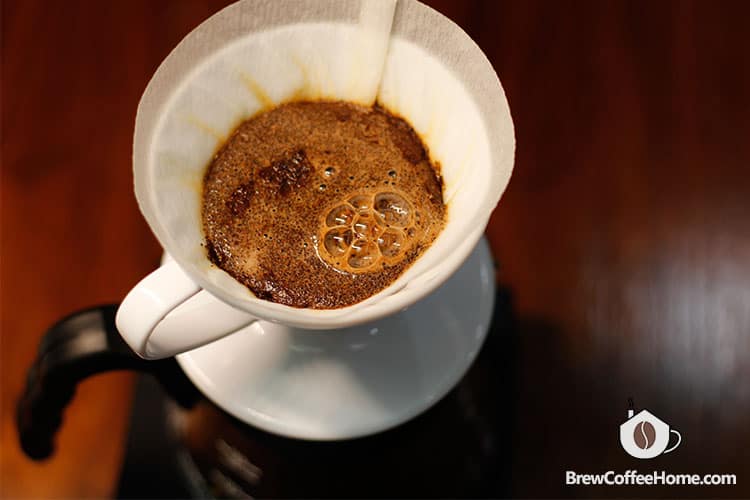 The V60 is an excellent option for traveling with few pieces because all you need is paper filters, a kettle, and a mug.
The pour-over process with the V60 is incredibly fast, so you can get out of the RV and into nature. It is so fast because it uses some of the thinnest paper filters, which increase uninterrupted water flow.
Things to Consider When Buying a Coffee Maker for RV
Travelers must consider several factors when deciding which coffee maker to purchase for use in an RV, van, or camper. These five considerations are essential to finding what will work best for you.
1. Footprint
Usually, RV kitchens are small, so any coffee maker needs to fit in a tiny position. Therefore, compactness is an important characteristic when determining which is suitable for your traveling and camping adventures.
2. Types of Coffee Makers
With various coffee makers that are suitable for RV, it is essential to understand how each one works. Also, determining your needs will be necessary to ensure you find the best option for your purposes. For instance, if you would rather wake up to a brewed cup of coffee in the morning, a manual coffee maker might not be the best fit.
Single-Serve Coffee Makers (Pod Coffee Makers)
A single-serve coffee maker is great if you are traveling alone. Single-serve coffee equipment usually deposits brewed coffee directly into an individual's coffee mug, which helps with footprint since carafes are not usually needed. If you opt for a single serve coffee maker, you'll have two choices:
Keurig K-Cup
A coffee maker that uses k-cups is very tidy since no loose coffee grounds are needed. A k-cup fits into a holder within the coffeemakers, and then tiny needles press into the top of the k-cup so that heated water can move through coffee grounds resulting in a fantastic cup of coffee. It's suitable for drip coffee drinkers
Nespresso
A Nespresso operates very similarly to gear that can use a k-cup, like a Keurig. A Nespresso uses a small pod to hold ground coffee; the pods fit tightly into a small opening. After the top portion is pierced, hot water is pressed through the coffee at a high rate so that a more espresso-like brew lands in your cup. It mainly brews espresso instead of drip coffee.
Drip Coffee Makers
One of the most common coffee machines in US families. Simply fill water, add coffee to the filter basket, push a button and it starts brewing coffee. Home coffee makers are usually larger, so when you are choosing the best coffee maker for your RV, pick a smaller one. Also, stainless steel carafe is more durable than the glass one during your journey.
Manual Brewing
Manual brewing requires effort from the maker, whether that be by pumping, pressing, or pouring.
AeroPress
The AeroPress is a type of manual coffeemaker. It uses a cylindrical chamber and a plunger with an airtight silicone seal. To begin the process, Ground coffee and water steep together, and then the water is moved through a filter when you push the silicone plunger through the chamber.
Pour-Over
For a manual pour-over, you put the ground coffee in a filter held in a cone-shaped piece of equipment. You then slowly pour water over the grounds, and the liquid flows into either a pitcher or directly into an individual's mug.
French Press Coffee
Both water and coffee grounds sit in the primary chamber of the French press. After steeping, a filter presses through the mixture, separating the grounds from the water, resulting in coffee rising to the top of the pitcher. Be careful to pour all of the coffee intended to be consumed soon after pressing because the coffee will continue to steep and become bitter if it remains in the French press.
Moka Pot
A Moka pot sits atop a stove; water is heated from the bottom, pushed through coffee that sits in the middle, then the drinkable liquid awaits the drinker at the top chamber of the pot. You can always find a non-electric coffee maker for your favorite type of coffee.
Manual Espresso maker
Many portable espresso makers are available in the market in recent years. Those small coffee makers come with a plunger to create enough pressure, so you can make a single cup of espresso using coffee pods or your own coffee grounds without electricity.
3. Manual or Electric Coffee Maker?
Manual coffee makers are compact, making packing, storing, moving, and using most manual options very easy. However, electric coffee makers are convenient but require a power source. While one is not better than another, consider how much space is available for your coffee equipment and how much time you'd like to spend making a cup of coffee in the mornings.
4. Power consumption
Whether your RV is powered by a battery-based volt system or plugging into a power source, considering how much power your coffee maker might consume is essential for understanding how often it can be used and might be a strong case for manual coffee-making gear.
If you can access 120-volt shore power, that's fantastic. You can use most electric coffee makers. If you are using 12-volt batteries, lower power consumption can save the battery amp hours. Also, you'll need an inverter to convert DC to AC power if you use batteries.
5. Glass Carafe vs. Thermal Carafe
A thermal carafe is the better option for RVing and camping purposes because it is more durable and because glass is fragile and easily broken. Additionally, when using glass, a hot plate is often associated with that brewing method and can consume more battery amp hours to warm. Further, the thermal is superior in its own right for these purposes because a thermal carafe usually comes with a lid, so the chance of spills decreases.
6. Under Cabinet Coffee Maker
When searching for the best RV coffee makers, you may find BLACK+DECKER SCM1000BD recommended in many reviews online. Indeed, an under cabinet coffee maker is suitable for RV since it won't take up any space on the countertop. However, we've confirmed with the manufacturer the model has been discontinued. Other than this model, we couldn't find an alternative since this type of coffee machine is not on the list.
Choosing the Best RV Coffee Maker
Buying a coffee maker for your RV or camper is a significant cost-savings purchase. You can brew your own from the comfort of your own space. Most RVs have a small kitchen or electrical outlet to brew coffee. Even without a power source, there are many manual alternatives.
Our top recommendations are either the Keurig K-Mini or the Coleman camping coffee makers because both fit the needs of travelers and campers using an RV. They hit the necessary points that RV travelers want in their coffee machine, like compactness, tidiness, and energy efficiency. With these machines, it is possible to have a great cup of coffee no matter where you travel.