Are you an espresso lover who has limited countertop space? Or, would you like to make espresso in your office, but only have a small desk? If the answer is "yes," the Nespresso Pixie espresso machine is worth considering.
This popular Nespresso machine is compact but powerful enough to pull a bold and beautiful espresso in just 30 seconds.
Let's take a closer look at this compact Nespresso maker that packs a punch to see if it's a good choice for you.
Nespresso Pixie Espresso Maker Review
Nespresso Pixie Quick Look
Pros:
Extremely compact
Rapid heat-up and brewing
Very easy to use – you don't need to be skilled in making great espresso
It makes beautiful espresso or lungo
Availability of a range of capsules
Cons:
Limited to two sizes of espresso drinks, not a cup of coffee
You'll require an additional Aeroccino milk frother for milk-based espresso drinks
About The Nespresso Pixie
Pixie is a single-serve espresso machine that was launched in 2011. Despite the Nespresso Pixie being over a decade old, espresso enthusiasts still rate this espresso maker highly. It's one of the most popular Nespresso machines.
If you're interested in purchasing a Nespresso machine, you'll need to choose between an OriginalLine or Vertuoline model. They brew different coffees, use different technology, and use different coffee capsules. For more details on each, see our comparison of the Original and Vertuo before deciding. The Pixie is part of the Nespresso OriginalLine range, so it requires OriginalLine capsules.
What Can The Nespresso Pixie Brew?
Like all the other Nespresso OriginalLine machines, Pixie mainly focuses on brewing Espresso instead of a larger cup of coffee.
In fact, the Nespresso Pixie machine only brews two sizes of espresso drinks – a 1.35 oz of classic espresso and a 3.7 oz lungo. Each of those is an Italian-style espresso poured into small cups. If you want enough for an 8oz cup, you will need to make a double shot using two capsules.
If you're more interested in making larger cups of coffee, Keurig rather than Nespresso is your best option.
Espresso Quality – Can The Pixie Make Excellent Espresso?
One of the big queries people often have is whether Nespresso can actually make espresso. If you're not an espresso snob, the answer is an emphatic "yes." However, purists would argue that it's not technically an espresso.
Let's look at the definition of espresso, as quoted by SCA news:
Espresso is a 25–35ml (.85–1.2 ounce [×2 for double]) beverage prepared from 7–9 grams (14–18 grams for a double) of coffee through which clean water of 195°–205°F (90.5°–96.1°C) has been forced at 9–10 atmospheres of pressure, and where the grind of the coffee is such that the brew time is 20–30 seconds.

Defining the Ever-Changing Espresso – 25 Magazine: Issue 3 – https://scanews.coffee/2018/02/01/defining-ever-changing-espresso-25-magazine-issue-3/
If we adhere to that description, Nespresso can't make espresso. However, while the Pixie doesn't brew the high-quality espresso you'd expect in a posh coffee shop that uses freshly ground coffee, the final product is so close to espresso that all but the most passionate espresso enthusiasts won't notice the difference.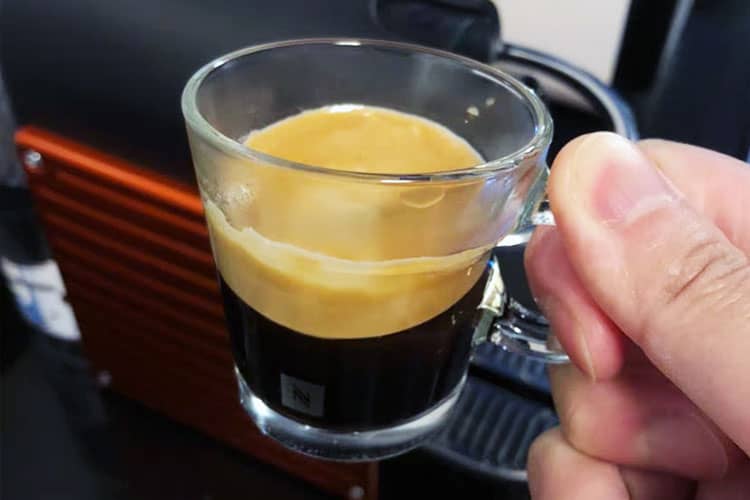 So, the chances are that the creamy shots produced by the Pixie won't disappoint you. But how does it do it?
19-Bar Pressure Pump And Optimal Temperature
The Nespresso Pixie has a 19-bar pressure pump, which is far higher than the 9-bar pressure afforded to most espresso machines. However, correct extraction is vital to a perfect shot. Nespresso achieves the perfect extraction by combining more pressure with lower temperature and minimal extraction time. This results in a beautiful coffee with all the aromas and flavors you'd expect in espresso, and the all-important crema on top.
The Pixie provides excellent espresso time and again at the push of a button. You are more than likely to be pleasantly surprised as to how good the espresso it produces is, particularly considering how difficult it is to make good espresso.
Why Choose Nespresso Pixie?
As well as being compact and looking nice, the Nespresso Pixie has a range of features. Let's examine the best of them.
Compact Footprint
The machine measures 4.4 x 12.8 x 9.3 inches, meaning it is small enough for a dorm, work desk, or any other place where space is at a premium. Additionally, it weighs just 7.5lbs, so it's easy to transport. For example, if you're taking it with you on vacation, you only need the machine, a capsule, a bottle of water, and a power outlet for beautiful espresso on your travels.
Rapid Brewing
One of the things that sets the Nespresso Pixie apart from other espresso makers is its efficiency. The machine uses Thermoblock technology, meaning it takes next to no time to heat up, ready for brewing.
It takes the Pixie just 18 seconds to pull an espresso shot and 30 seconds for a lungo, making it perfect for coffee lovers with tight schedules.
Large Capacity Water Reservoir
Despite its compact size, the Pixie has a generous 24oz water tank attached to the back. It is also removable, making filling it straightforward. This generous capacity means you can brew 17 espresso shots and six cups of lungo before it needs refilling. However, it's a good idea to run a cup of water through it whenever you've finished brewing to remove the excess coffee grounds from the flow system. Doing this offers better flavor the next time you use it.
One thing the Pixie lacks is a filter in the water reservoir, so we recommend using filtered water for the best results.
Foldable Drip Tray And Used Capsule Container
The Nespresso Pixie offers a mess-free experience. After you've used it, lift up the handle and the capsule will automatically drop into the capsule container. It will need to be emptied after brewing 10 cups.
The removable drip tray is also well thought out and very user-friendly. If you're brewing lungo, the drip tray flips to fit in the larger cup.
Automatic Shut-Off Feature
The machine turns off automatically if it sits idle for nine minutes, making it eco-friendly. Of course, this isn't a problem if you had intended to use it, either, as switching it back on and allowing it to heat again takes seconds.
Ease Of Use
It's extremely straightforward to use the Nespresso Pixie to brew a shot of espresso. The machine has just two buttons and a lever. Here is the brewing instructions:
Ensure there is enough water in the water tank.
Turn the Pixie on by pressing either the Espresso or Lungo button at the top of the machine.
Lift the lever to open the brewing chamber.
Place a Nespresso capsule in the chamber and then press the lever down.
Place an appropriately-sized cup under the coffee outlet. If you're using a larger cup, fold in the drip tray to make more space.
Press either the Espresso or Lungo button, and the coffee will begin pouring into the cup.
After brewing, lift then close the lever to dispense the used capsule into the capsule container.
Turn off the Pixie by pressing the Espresso and Lungi buttons simultaneously. Remember that even if you don't do this, it will turn off automatically after nine minutes without use.
There isn't any part of the brewing process that's complex, making it one of the most straightforward ways to make espresso.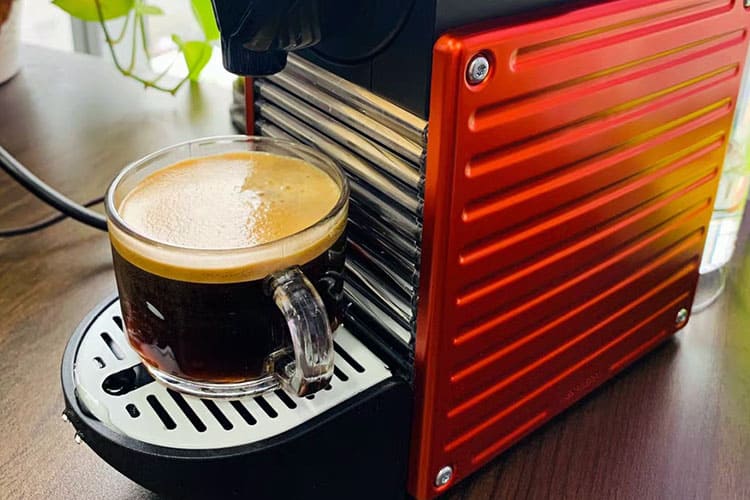 What Capsules Do You Need For The Nespresso Pixie?
As we mentioned earlier, the Nespresso Pixie is an OriginalLine machine, meaning any OriginalLine capsule is compatible. Nespresso produces its own line of coffee capsules, but third-party companies offer OriginalLine capsules too.
However, there are some capsules the Pixie is not suitable for. For example, VertuoLine capsules are not compatible with the Nespresso Pixie because they use a barcode that can only be read by VertuoLine Nespresso machines.
| # | Preview | Product | Rating | |
| --- | --- | --- | --- | --- |
| 1 | | Nespresso Capsules OriginalLine, Ispirazione... | 38,502 Reviews | See on Amazon |
| 2 | | Nespresso Capsules OriginalLine, Barista Flavored... | 7,836 Reviews | See on Amazon |
| 3 | | Nespresso Capsules OriginalLine, Ristretto... | 8,405 Reviews | See on Amazon |
| 4 | | Nespresso Capsules OriginalLine, Morning Lungo... | 4,941 Reviews | See on Amazon |
| 5 | | Nespresso Capsules OriginalLine, Mild Roast Blend... | 4,148 Reviews | See on Amazon |
Last update on 2022-11-21 / As an Amazon Associate, if you buy via the links, Brewcoffeehome earns a commission at no extra cost to you.
There is also the option of reusable Nespresso capsules. However, we have seen comments that they don't work that well with the Pixie.
Alternatives To The Nespresso Pixie Espresso Machine
If you prefer large carafes of coffee
Single-serve coffee makers are not for everyone. If that applies to you, regular drip coffee makers should not be overlooked. These brew as many as 12 cups of coffee per batch. Capsule based espresso machines only brew espresso or lungo shots.
If you require a larger cup of coffee
Nespresso VertuoLine machines are well worth considering. These can brew a range of sizes. For example, the newest model, the Vertuo Next, can brew 18oz coffee with one coffee capsule.
The Keurig single-serve coffee maker is also worth looking at. These use the K-cup, and there are many flavors to choose between. However, unlike the Nespresso Pixie, they brew drip-style coffee rather than espresso.
If you prefer milky drinks
Nespresso only has a few models that can make milk-based espresso drinks and they are quite expensive, such as Creatista and Lattissima. A more affordable solution is buying an external Aeroccino frother, or purchase the Nespresso Pixie and Aeroccino bundle.
Our Verdict
The Nespresso Pixie is a highly regarded coffee maker, and it's entirely warranted. The fact it has been on the market for over a decade and is still one of Nespresso's best-selling OriginalLine models tells you everything about how good it is.
As well as being compact and easy to use, it is quick and offers an entirely mess-free experience. Best of all, though, is the surprisingly excellent espresso it produces time and again.
There are one or two drawbacks. For example, it may produce coffee that's a little too cool for some people because it brews at a lower temperature to standard espresso machines. Also, it is limited in the amount of coffee it can produce each time. However, there are workarounds for these issues, and in our opinion, the drawbacks it does have are not significant enough to be game-changing.
The bottom line is that the Nespresso Pixie espresso maker is a tried and trusted option for anyone seeking a compact, easy-to-use, and mess-free espresso-brewing experience.
FAQs
Who manufactures the Nespresso Pixie?
Nespresso doesn't make its machines. Instead, the company owns the proprietary technology, which it licenses to other companies to build the Nespresso machines.
In the USA and Canada, the Nespresso Pixie is manufactured by De'Longhi and Breville. The models differ in the designs of the side panels and spout. However, the technology used in the machines is identical, so which one you buy will come down to aesthetic preference or price. In markets elsewhere, Krups and Magimix make the Nespresso Pixie.
How do I recycle the Nespresso capsules?
If you purchase Nespresso capsules, you'll have the option of recycling them via the company's recycling program. The aluminum Nespresso pods can be recycled, and there are around 90,000 drop-off points throughout the country to recycle used capsules. The company also offers a postal service to encourage recycling, which is easy and convenient. In addition, there is no need to remove the coffee grounds from the capsule – the company will take care of this and use the remaining grounds as fertilizer.
Single-serve coffee machines have often been criticized for being wasteful and therefore harmful to the environment. However, Nespresso bucks this trend with its sustainability plan for its products.
What's the warranty of the Nespresso Pixie?
like most Nespresso machines, Pixie comes with a two-year warranty, which should offer ample peace of mind to would-be purchasers.
How do I descale my Nespresso Pixie?
Before descaling your Nespresso Pixie, ensure that there are no coffee capsules in the machine. Once you've done this, pour in 500ml of water and add some of Nespresso's descaling solution to the water reservoir. Make sure you place a sizeable container beneath the coffee outlet, then press both Espresso and Lungo buttons simultaneously for around three seconds until the light starts to blink. Then press the Lungo button to begin the cycle.
After the flow has finished, fill the reservoir back up with the used solution, and go through the process again. Empty the water tank, rinse it out, fill it with more water, and run another cycle. Once that has finished, ensure you press the Espresso and Lungo buttons simultaneously to exit the descaling mode.
What are my options if the Nespresso is not hot enough?
The brewing temperature of the Nespresso machine is between 83 and 86 C (181 to 187 F). This is lower than standard espresso and drip coffee machines. If you prefer hotter coffee, you can preheat the cup using hot water. Another issue consider is the need to descale the machine from time to time. That's because machines that need descaling can also lower the temperature.