We had a lot of questions about coffee grinders when we first began our coffee journey. One of the most frequently asked questions is whether to get a manual or electric coffee grinder.
Convenience is one thing for sure, but the difference between them is more than that. In this article, we will explore the pros and cons of manual coffee grinders vs electric grinders, so you can decide which option is best for you.
About Manual Coffee Grinders
Manual coffee grinders, also known as hand grinders, require more effort to get freshly ground coffee. You need to put in the elbow grease and turn a handle to rotate the burr, rather than simply push a button.
Hand grinders typically have a conical burr inside. When you turn the handle to rotate the shaft, the inner burr rotates against the outer burr, crushing the beans into coffee grounds. You can adjust the distance between the burrs to achieve different grind sizes, from coarse grind for French press to fine grind for espresso.
Is hand-grinding coffee better?
Compared to electric blade grinders, hand-grinding coffee is better. Since the gap between the conical burrs is fixed, so only the particles that are smaller than the gap can pass through. As a result, hand grinders produce more uniform coffee grounds than electric blade grinders. However, when it comes to grinding consistency, manual burr grinders and electric burr grinders are on par with each other if they both use a similar conical burr design.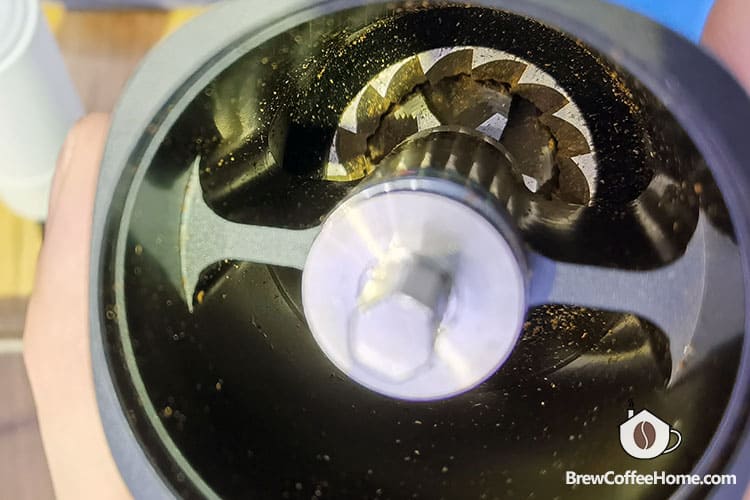 Pros of manual grinders:
Affordable
Portable
Quiet
No power source needed
You have more affordable options when choosing a manual burr grinder, making them a great option for those on a budget. You can choose a cheap hand grinder with smaller ceramic burrs for under $50 or higher-end models with the premium build quality and larger steel burrs at around $300. The general price range for manual coffee grinders is between $50 and $300.
If you are overwhelmed by the options, check out our best manual grinders guide, we picked our favorite models for you.
Another pro of manual grinders is that they are portable and do not require a power source. You can easily take them with you on the go. Whether you are traveling, camping, or simply going to your grandma's house, a manual grinder is a great option. In addition, they are compact, making them a great option for those with limited kitchen counter space.
Grinding coffee manually is typically quieter than using an electric burr grinder. It's a good option for those who prefer a more peaceful morning routine.
Additionally, as manual grinders have been used for centuries to grind coffee beans, hand-grinding has a sense of nostalgia and tradition. This can add a unique and personal touch to your morning coffee ritual.
Cons of manual grinders:
Time-consuming
Require manual effort
Low capacity, grind for 1-2 cups a time
Not the best option for espresso
One of the most obvious cons is that they can be time-consuming and require more effort than electric grinders. This can be a deal breaker for some, especially for those who are short on time in the morning.
Is an electric coffee grinder always faster than a manual coffee grinder?
That's not always the case. Now some higher-end manual grinders have a faster grinding speed than many electric grinders thanks to the larger and sharper steel burrs and the smooth bearings. But generally speaking, entry-level hand grinders are slower than most electric coffee grinders.
* For example, 1Zpresso JX Pro takes about 35 seconds to grind 20 grams of coffee beans in pour-over grind size, but Baratza Encore takes about 45 seconds.
And the capacity of hand grinders is much lower than the electric options. You can only grind 20 to 40 grams per time, which is just enough for two cups of coffee.
Do manual burr grinders grind for espresso?
Some manual burr grinders can grind fine enough for espresso, but not all manual grinders are designed to do so. Espresso requires an extra fine grind size to achieve fast extraction and robust flavor in a short brewing time. However, most manual grinders are not able to achieve this level of fineness.
Additionally, most hand grinders are not stepless, meaning you can only adjust a step or click when dialing in espresso. Now some grinders, such as the 1Zpresso J-Max, allow you to adjust 8 microns per step and provide hundreds of settings. However, if you're looking for even more options, a stepless electric grinder is the way to go.
For a regular hand grinder, it can take much longer to grind the beans to the espresso grind setting with a manual grinder compared to an electric grinder for espresso.
Who Is Manual Coffee Grinders Suitable for?
If you are willing to put in the time and effort to enjoy the traditional way of grinding coffee, a manual coffee grinder is a good option for you. Suppose you are looking for a more convenient option and mainly brew for espresso. In that case, an electric grinder may be a better choice.
Ultimately, it all comes down to personal preference and what works best for your lifestyle and budget.
About Electric Coffee Grinders
Electric coffee grinders are a popular option for coffee enthusiasts who want a quick and efficient way of grinding their coffee beans.
We are not discussing electric blade grinders here. It's almost impossible to get consistent ground coffee with a blade grinder. If you are interested in the difference between blade grinders and burr grinders, check out this guide.
Pros of electric grinders:
Faster and effortless
Larger capacity
Variety of settings
They are fast, efficient, and can grind coffee in a matter of seconds, all you have to do is push a button. Most electric burr grinders can hold a bag of coffee in the hopper. With a motor that rotates the burrs at a much higher speed, anywhere from 300 RPMs to over 1400 RPMs, you'll be able to grind a whole bag of coffee all at once with ease, something that manual grinders can't compete with.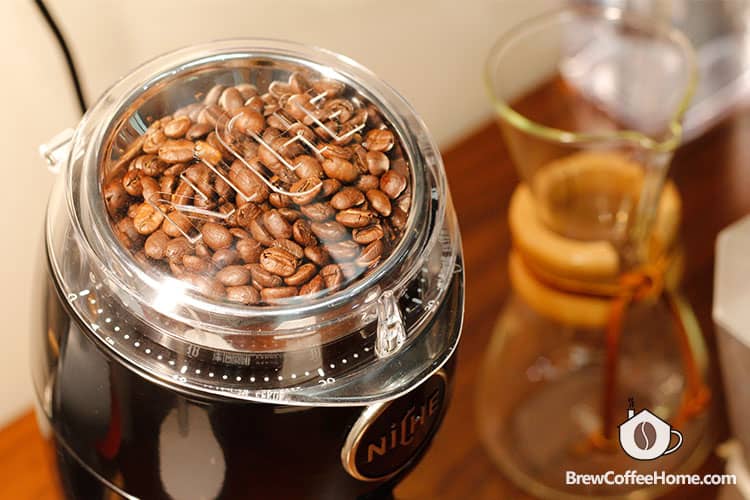 Some electric models provide a set of grind settings, while some higher-end grinders are stepless, allowing you to freely adjust the distance between the burrs for the perfect grind for your espresso.
Plus, some electric grinders have more user-friendly functions, such as built-in dosage mechanisms. You can easily dose the exact amount of coffee by weight or grinding time for your brew each time.
Cons of electric grinders:
More expensive
Need a power source
Can be loud
Cheap electric grinders don't perform as well as manual grinders
Electric coffee grinders have more complicated electrical components, which increases the cost. As a result, they are more expensive than manual grinders in general. This can be a concern for those who are on a budget.
You can find cheap electric burr grinders under $100, but you may not get the same performance as a manual grinder at the same price. Since manual grinders are simpler, manufacturers can use higher-quality burrs while controlling the overall cost. Good electric burr grinders that produce consistent grinds cost around $100 to $200. So if you are looking for a grinder for espresso, your budget should rise to $300 and above. Professional prosumer-level grinders are like the fancy sports car of the coffee world. They look sleek and perform well but come with a hefty price tag of $1000 or above.
While most electric grinders can produce fresh coffee grounds for drip coffee, french press, or cold brew. However, like manual coffee grinders, not all electric grinders are designed for espresso. Many entry-level electric grinders can't grind fine enough for espresso. We explained it more in our espresso grinder buying guide.
Additionally, electric grinders require a power source, which is not an option when traveling or camping. Some models can be loud, and you won't enjoy the screaming motor in the quiet morning. If you like brewing coffee in the morning, opt for a manual one.
Who Is Electric burr grinders suitable for?
An electric grinder may be a great option if you are looking for a more convenient option and don't mind spending more money. Just be aware of the low-quality options. They may not perform as well as a good manual grinder. If you want more information about the best electric burr grinders, check out our best picks to narrow your list.
Final Thought
Both manual and electric coffee grinders have their own pros and cons, and we can't simply say one is better than the other.
You have plenty of manual or electric grinder options, from entry-level to higher-end premium options. In recent years, many new grinder brands have joined the game and released many great options to satisfy the specific needs of different coffee drinkers. Therefore, it's important to understand what you are looking for when buying a coffee grinder. We hope this comparison helps you find the right coffee grinder for you.