Making pour-over coffee is a science and an art. From grinding the beans to heating water to the right temperature, everything must be precise.
With its electric gooseneck kettle, Maestri House offers an exceptional product to achieve the kind of accuracy you need to prepare great-tasting pour-over coffee.
Let's take a closer look at the standout features of this kettle in our Maestri House electric gooseneck kettle review.
Who Is Maestri House?
Maestri House is a business based in Cypress, TX. This brand offers premium coffee products for wholesale and retail distribution.
Previously we reviewed Maestri House's milk frother, which gives you precise control over the temperature and consistency of the milk. With integrated and handheld models available, this innovative milk frother has quickly established Maestri House as a popular brand among coffee lovers. You can check our review of this super cool milk frother.
The electric pour-over gooseneck kettle is Maestri House's latest product.
What Sets It Apart From Other Pour-over Coffee Kettles?
Maestri House offers an elegant electric kettle designed to help you achieve a precise brew temp and smooth pouring motion. The product stands out thanks to the quality of its construction, its built-in safety features, and its attention to detail.
Maestri House Electric Gooseneck Kettle
Pros:
Aesthetically pleasing design

The kettle lets you adjust the temperature to the degree.

The spout design allows for a slow and steady water flow for consistent results.

The built-in stopwatch is an innovative feature that helps you keep track of your coffee extraction time.

It has incredible safety features like the child lock or anti-dry boil feature.
Cons:
There is only one color available.
We earn a commission if you make a purchase, at no additional cost to you.
Maestri House Kettle Hands-On Review
This innovative gooseneck kettle simplifies the coffee brewing process with its precise controls and smart design. Read on to learn more about the key features of this product.
Aesthetic Design and Build Quality
The aesthetic gooseneck design creates elegant and minimalistic lines for the kettle. This accessory will look at home in a modern kitchen with its sleek design.
If you are tired of the dull stainless steel or matt black kettles on the market, this shiny kettle may impress you.
The build quality is also worth mentioning. This grade of stainless steel contains at least 50% of iron and uses chromium to prevent oxidation and nickel to ward off corrosion. The result is a sturdy and heat-resistant kettle that will last for years. 
Control Panel
The control panel is compact and easy to use. You'll find two knobs that you can use to adjust the temperature to the degree and adjust the temperature holding setting.
The LCD screen will display the current water temperature, the target temperature, and other important information. After a few uses, you'll be able to use the screen to track your brewing time precisely and turn preparing a cup of pour-over coffee into a science.
Overall, the control panel feels minimalistic but will help you save time with preparing pour-over coffee.
Performance
The Maestri House electric kettle can heat water with precision from 86 to 212°F.That is a wide range that you won't find in many other kettles, which have you covered for almost all brewing purposes. What's more, you can use the temperature holding function to maintain the desired temperature if you're not quite ready to pour, for up to 100 hours! This may sound like a marketing gimmick, but it's just nice if you just want a cup of warm water in the cold winter and you can have it immediately.
The minimum temperature increment is a degree, which helps you achieve precise results. 
The kettle can reach the desired temperature in three to five minutes. You can heat 33.4 oz at once and this small appliance will use 1,200W of power.
Pouring Experience
Coffee lovers know that the water temperature and pouring motion are crucial for extracting the right amount of flavor from coffee beans.
Thanks to the curved shape of the spout, you can achieve an easier optimal coffee extraction with a precise pour. Plus, the narrow shape of the spout helps slow down the pour for a perfect cup of coffee. In our testing, we can effortlessly control the water flow with this kettle.
The handle features a textured grip to give you more comfort. You have stable water flow whether you're aiming for a continuous pour or want to use the pulse pour technique to agitate the coffee grounds and extract more flavor.
Other Great Features
The Maestri House gooseneck kettle has more features worth mentioning. Here are a few of the best aspects of this modern kettle.
Built-In Timer
You'll find a convenient built-in brew stopwatch feature built into the kettle so you can keep track of your coffee extraction time. Timing your pour is a key step for creating the perfect cup. Ideally, you should pour for two to three minutes, depending on the dripper and coffee beans.
Experience makes tracking your coffee traction time easier, but the built-in stopwatch is an extremely convenient feature for beginners.
Variable Temperature Control
Many coffee lovers recommend heating water to 205°F for the perfect cup of pour-over coffee. With the Maestri House pour-over gooseneck kettle, you can use the knob to adjust the desired degree temperature control to the degree.
The wide temperature range makes the pour-over gooseneck kettle versatile, and you can easily switch between Celsius and Fahrenheit degrees if needed.
Child Lock Function
The child lock feature disables the control panel. It's a unique feature that sets this electric kettle apart from others.
There are also other safety features, such as a built-in auto shutoff function.
Anti-Dry Boiling Feature
The Maestri House pour-over gooseneck kettle lets you maintain the water temperature for hours thanks to the keep warm function. However, hot water can evaporate.
The anti-dry boiling feature will protect your kettle by shutting it down if there isn't enough water left.
Mute Feature
Not everyone likes the beeping of a kitchen appliance. If you like your quiet mornings or don't want to wake up other household members when preparing your pour-over coffee pot, you can enable the mute function to turn off the noise the buttons make.
Value for Money
The Maestri House electric gooseneck kettle costs a little more compared to other regular kitchen kettles, but the price range feels right for a premium product.
It delivers excellent value compared to other more popular models, which offer similar functions.
The coffee brewing features make the kettle worth it. The spout design allows for a precise stable flow, and the induction temperature control is essential for preparing pour-over coffee.
The safety feature also adds value. It's definitely worth it to spend a little more and get an electric kettle with a child lock feature if you have young children who might press the buttons.
After researching this product for our Maestri House electric gooseneck kettle review, we highly recommend it. It's an ideal accessory for coffee lovers who want to take their pour-over coffee game to the next level, and it's also an original gift idea for the sophisticated coffee drinkers in your life.
Electric Pour-Over Kettle Comparison
How does the Maestri House pour-over gooseneck kettle compare to other products?
Maestri House Kettle Vs. Fellow Stagg EKG
The Fellow Stagg EKG is one of the most stylish and premium electric kettles on the market. It comes in a wider range of colors compared to the Maestri House pour-over gooseneck kettle, and the wood accents are an aesthetic addition. Check our Fellow Stagg EKG review here.
However, the temperature holding mode lasts only 60 minutes, and the temperature range is narrower since it goes from 125 to 212°F. Plus, the Fellow kettle costs over twice the price of the Maestri House pour-over gooseneck kettle.
Maestri House Electric Kettle Vs. Brewista Artisan Gooseneck Kettle
This Brewista kettle stands out thanks to its retro-inspired design. It will take up more space on your kitchen counter. The pouring experience of the Brewista kettle is excellent and loved by many professional baristas. Check our Brewista kettle review here.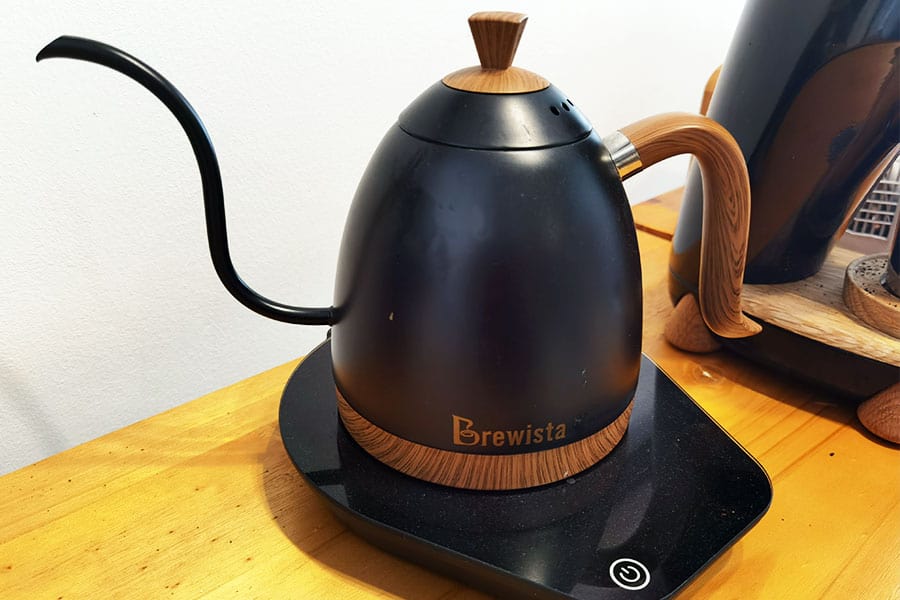 The capacity is slightly larger since you'll be able to heat up an additional three ounces of water. This appliance uses a little less power at 1,100W instead of 1,200W.
The control panel is a major difference since you'll have to push buttons instead of turning knobs. The induction temperature control panel feels a little bulky when compared to the Maestri House pour-over gooseneck kettle.
You also have more color and finish options, however, the price is also much higher than Maestri House's kettle.
The Verdict
While there are many electric gooseneck kettles to consider, Maestri House offers a product that stands out thanks to its quality and attention to detail. After researching this electric kettle for our Maestri House electric gooseneck kettle review, we feel confident recommending this product. It offers great value considering the awesome features it provides.
The simple and modern design results in a quality product that will last for years. The food-grade stainless steel construction is safe, and the control panel is easy to navigate if you're new to pour-over coffee. The precise temperature control is a must-have feature, and the gooseneck and handle design allows for a precise pour that will extract as much flavor as possible regardless of the pouring technique you use.