There's nothing like a cup of coffee in the morning — and choosing the perfect roast is a must. But if you are looking for something brighter, cleaner, and more refreshing, you need to turn to a light roast coffee. In this article, we'll compare the best light roast coffee for you to try.
What Is Light Roast Coffee?
So what is light roast coffee, and how does it differ from medium and dark roasts?
Light roasts have been around for as long as coffee has existed, but they've experienced a surge in popularity in recent years. This is due, in part, to the growth of specialty coffees that have more depth and variety of flavor.
Light roasts make these distinct flavors much more prominent, which adds interest and complexity to your morning cup of coffee as you've never experienced it before.
Also Read: Light, Medium, Dark Roast Coffee Comparison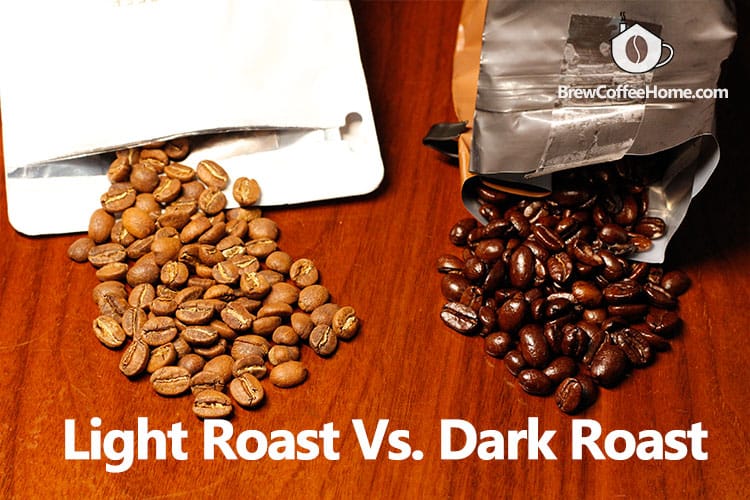 So what makes light roast coffee what it is?
Light roast refers to the temperature and amount of time that the green coffee beans are roasted until the first "crack" of the bean. Light roast coffee beans are light brown without oil on the surface. They also maintain more of the natural flavor of the coffee and are higher in acid and caffeine.
Light roast coffee is usually brighter and more acidic in flavor. You may experience flavors ranging from citrus to herbs, flowers, fruits, and nuts. Because lightly-roasted beans retain more of the flavor of the coffee plant, this will be highly influenced by altitude, environment, bean type, growing method, processing, and much more.
Needless to say, there is a massive amount of variety among light roast coffee beans. It is worth taking your time to sample these to find a blend that is perfect for you. You can also look for terms like cinnamon roast, blonde roast, breakfast blend, light city, or half city.
8 Best Light Roast Coffee Brands
So what are the best light roast coffee brands, and how do they compare to one another?
1.Lifeboost Light Roast Coffee
USDA certified organic
Tested for impurities
Fairtrade
single-origin
Handpicked and -roasted
Grown in the mountain shade
Flavor Profile: bright, citrusy, low in acid
Lifeboost Light Roast Coffee is made in Nicaragua, one of the most prolific growers of coffee in the world. The unique geographical makeup of the country results in hundreds of micro-ecosystems, which means the coffee grown there is totally unique.
Lifeboost's coffee uses wet processing to dry the beans in the sun and then wash them thoroughly, resulting in a bean blend that is bright, flavorful, and low in acid. This process is slow and deliberate to let harvesters choose the best beans of the crop.
The high elevation of the Nicaraguan mountains and the rich nutrients of the soil makes for some of the most delicious coffee beans you'll ever taste. That is followed up by Lifeboost's unique harvesting, fermentation, and storage process, which encourages the release of all the right chemical compounds.
Lifeboost grows all its coffee beans without pesticides, only using growing methods that are good for you and good for the earth. Its light roast coffee has been voted as one of the best roasts for cold-brewing at home.
2.Spirit Animal Coffee – Catuai & Bourbon
Non-GMO
Fairtrade
Sustainably grown
single-origin
Scored by Specialty Coffee Association (90 percent or higher)
Flavor Profile: Bright, low in acid, notes of pineapple and jasmine
Spirit Animal Coffee is a company that aims to provide luxury coffee roasts while forging a community of respect — for workers, farmers, customers, and of course, for the earth. To do this, they use sustainable growing methods and pay their workers more than most fair trade unions.
As for the light roast coffee, it is grown at an elevation of 1,800 meters in Lempira, Honduras. Like all the coffee beans from Spirit Animal Coffee, it is harvested, processed, and roasted in micro-lots, which means there's no mass production here.
The coffee beans are grown slowly to ensure the optimal quality and development of flavor. The company selects the top 1 percent of its crop to be roasted and distributed, ensuring a quality blend of coffee beans.
Unlike many coffee growers, Spirit Animal Coffee roasts its beans on-site before shipping by air to its customers. This reduces the development of harmful mold and helps you get your cup of coffee faster.
3.Volcanica Coffee – Guatemala Geisha Coffee
Kosher certified
single-origin
Sustainably sourced
Flavor profile: floral with notes of bergamot and jasmine, fruity with notes of citrus
This light roast coffee from Volcanica Coffee was grown at a 5,000-ft elevation in the mountains of Guatemala. This unique roast is hard to find and produces only micro-crops, which means it might be unlike any coffee you've ever tasted before.
Geisha from the top estates in Panama is the most expensive coffee in the world. They are now more widely grown throughout parts of Africa and the Americas, including Guatemala, Costa Rica, Panama, Colombia, and Peru. This Guatemala Geisha is much more affordable and you can still enjoy the Geisha flavor without breaking the bank.
The Guatemala Geisha coffee beans are naturally resistant to some diseases and thrive in the one-of-a-kind ecosystem on the side of the Guatemalan mountains.
The coffee is grown on small farms, picked by hand, and dried in the sun. The growers use a wet process method, which results in a brighter, more acidic flavor as the bean is separated from the fruit.
4.Fresh Roasted Coffee, Tanzanian Peaberry, Light Roast
Kosher certified
Sustainably sourced
single-origin
Roasted with environmentally-friendly methods
Flavor Profile: Bright, full, clean, fruity with notes of peach and lemon, herbal with notes of black tea
The Tanzanian Peaberry Light Roast from Fresh Roasted Coffee is a unique and flavorful roast that is unlike anything you have ever tried.
Sourced from a single-origin in Tanzania, this roast is grown and processed through sustainable methods and roasted in the United States. It is washed, separating the bean from the fruit to produce a crisper, more flavorful blend that is bright and refreshing.
This is a blend made from the Bourbon coffee bean varietal, a subset of Arabica coffee beans. In other words, they are some of the best quality Arabica coffee beans you can find almost anywhere.
The coffee beans are grown beside Mount Kilimanjaro, at an elevation of 1,200 ft. The highlands here are well-known as coffee producers and grow Arabica beans that are robust and flavorful without being overly bitter or aggressive.
5.Coffee Bros Light Roast Coffee
Coffee Bros Light Roast Coffee is perfect not just as a classic cup of coffee but also as an espresso. It is clean, crisp, and exceptionally bright, with both fruity and floral notes.
The beans are sourced from Ethiopia and Colombia, where they can take advantage of the ideal growing climates. The warmth, wind, and soil compounds at 12,000-ft elevation are perfect for producing coffee beans that are delicious and robust.
Coffee Bros is a new company founded in just 2019. Their goal is to share great coffee with the world while finding sustainable growing methods and repaying the earth for its generosity. To do this, they grow their coffee beans in smaller batches and use sustainable practices to reduce the company's carbon footprint.
6.Kicking Horse – Hola
Kicking Horse Coffee Hola Light Roast is a deliciously bright coffee grown in Central and South America. Though it is not single-origin, this zippy coffee roast is highly caffeinated and will get you feeling energetic and ready to tackle your day.
The beans are roasted in the Canadian Rocky Mountains before being shipped throughout North America.
While the taste is bright and fruity with notes of red currants, the aroma has a fuller body. This roast smells delicious, with a hint of cocoa and brown sugar. It's perfect for almost any brewing method and can make both traditional coffee and espresso.
Kicking Horse Coffee's beans are grown through sustainable methods that reduce their carbon footprint while supporting local farmers. To this end, they are ranked as climate pledge friendly. As for the light roast coffee, it is one of the most delicious and energizing ways to start your day.
7.Cooper's Cask Coffee – Ethiopian Bright Light Roast Grade 1
Produced and roasted in small batches
Fairtrade
USDA certified organic
single-origin
Small batch roasted
Flavor profile: Fruity and bright with notes of berries, citrus, and honey
Cooper's Cask Ethiopian Bright Light Roast coffee is grown in Gomma Woreda in Ethiopia. This rich district is a treasure trove of farmland, especially coffee farms. Located at an elevation of 6,500 ft, Gomma Woreda produces a unique coffee bean that benefits from the rich soil and fresh winds.
This coffee is dry processed, drying in the desert sun to fully develop the flavors of the bean. This results in a roast that is bright and acidic with a fruity, floral taste. When you enjoy this coffee, you might be able to detect notes of citrus, berries, and honey.
Cooper's Cask Coffee is grown and roasted in small batches to ensure the highest quality. This means that every coffee bean is inspected during processing. Only the best beans of the harvest are chosen for processing and roasting, so you know your cup of coffee will be delicious.
8.BeanBox Subscription
Fairtrade
USDA certified organic
Sourced from small producers
Roasted in small batches
Subscription, taste the best light roast coffee from different regions every month.
BeanBox is a one-of-a-kind coffee subscription service. It is designed to help you sample different roasts to learn which ones you like.
So, how does it work?
When you subscribe to BeanBox, you can choose your preferred type of roast. Then you'll be sent four sample roasts every month. This is a great way to try out many types of coffee and sample the unique flavors and aromas of different regions around the world!
All of the coffee beans from BeanBox are roasted by the top coffee roaster in Seattle and sourced from growers around the world. You can choose a blend or single-origin coffee roast. Each sample is 1.8 ounces.
There are many light roasts from BeanBox. These include roasts like the Colombia Nelson Cordoba, with notes of melon, strawberry, and maple, and the Ethiopia Uraga, which tastes like ginger, peach, and hibiscus. Other roasts come from Costa Rica, Honduras, Kenya, Papua New Guinea, and more.
Buying Guide: How to Choose the Best Light Roast Coffees
Here are the top aspects to consider when choosing the best light roast beans. We also shared more tips for choosing the best coffee beans in this coffee buying guide.
Coffee Region Matters
Coffee is grown in many regions around the world, but the unique conditions of each region affect the taste, smell, body, and texture of the coffee beans.
How, exactly, does this happen? Each region has a distinct climate and soil, which affect the flavor of the coffee beans. Other aspects such as the growing conditions and processing methods also play a role.
Light roast coffee is particularly unique and flavorful because it is usually made using single-origin beans. That means that you will be able to taste the distinct flavors of the region where the beans were grown.
For example, coffee beans grown in Africa are known for their high acid content and fruity or even floral taste and aroma. African roasts include Ethiopian, Rwandan, and Kenyan.
Coffee beans from Central and South America, meanwhile, have some variance between regions but in general are described as robust, bright, full, and evenly-textured. These roasts include Brazilian, Peruvian, Costa Rican, Guatemalan, and Colombian.
Asian roasts are characterized by fullness and lower acid content. These include Sumatran, Sulaweisi, Indonesia, and Chinese Yunnan blends.
Flavor Profile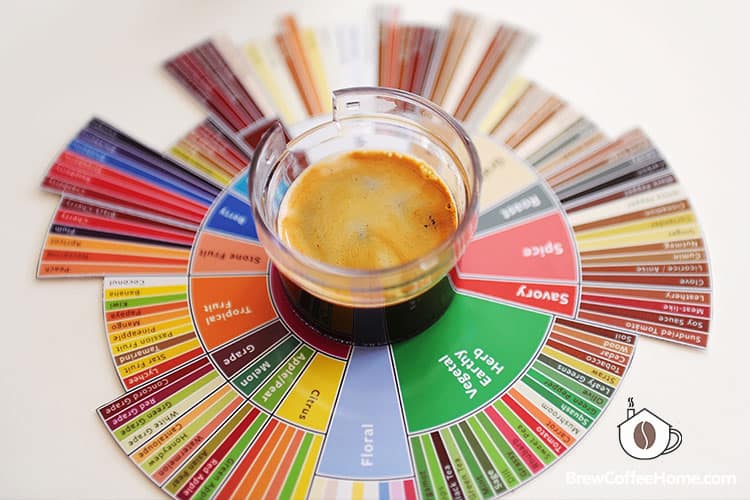 The flavor profile can vary significantly between coffee roasts. Just like with wine, you will learn to taste these subtle flavors and aromas more as you practice!
If you are just learning to expand your coffee palate, however, light roasts are a great place to start. The tasting notes in these are stronger and more pronounced compare to dark roast coffees, so you will probably be able to detect them more easily.
Some examples of flavor profiles include:
Floral flavors: chamomile, rose, jasmine, honeysuckle, eucalyptus, lavender, honey, elderflower
Fruity flavors: berries (strawberries, blueberries, raspberries, blackberries), citrus (orange, lemon), peach, raisins, pomegranate, coconut, prunes, grapes, and pears
Nutty flavors: hazelnut, milk chocolate, almond, walnut, cashew, maple
Herbal/spicy flavors: cinnamon, cloves, cardamom, pepper, tobacco, brown sugar, black tea, vanilla, molasses, anise, nutmeg
Smoky flavors: tobacco, malt, earth, wood
The flavor profile of coffee beans depends on many things, including but not limited to processing and growing methods and origin.
Processing Methods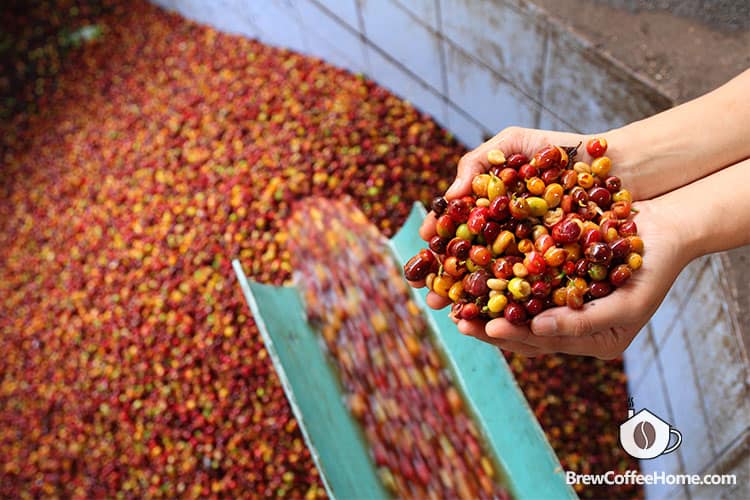 The way coffee beans are processed varies significantly, not just from region to region but even farm to farm. These methods can affect the flavor of your coffee, as well as the levels of oil, bitterness, and acidity.
The three coffee processing methods are dry or natural processing, wash or wet processing, and honey processing.
In dry processing, the fresh coffee beans (known as coffee cherries) dry under the sun before the bean and fruit are separated. This results in a flavor profile that is deep and robust, with notes of fruit and wine.
In wet processing, the flesh is separated before the beans are fermented, then washed and dried. This results in a more narrow, pointed flavor and higher acid content.
In honey processing, the flesh and beans are separated, but the beans are not washed, so a small amount of the fruit remains. This helps a fruity, acidic flavor develop.
We explained more in this 'coffee processing methods' guide.
Best Ways To Brew Light Roast Coffee
Why should you brew light roast coffee any differently? There is a distinct reason why light roasts respond best to specific methods.
Light-roasted coffee beans are significantly less porous than darker roasts. This means that slower brewing works more effectively, drawing out more of the flavor extracts with the longer, slower method.
The best ways to brew light roast coffee include pour-over and cold-brew.
Pour-Over
Pour-over is as simple as it gets. All you use is a cup, filter, coffee beans, and a pot of hot water. This allows the water to have as much contact with the beans as possible to extract all those flavors.
Just because pour-over is simple as a concept, however, does not mean that you have to do it with the simplest tools. Using a V60 or Chemex lets you monitor the temperature and brew time to make the perfect cup of light roast coffee.
Cold Brew
Cold-brew coffee uses room temperature water to soak coffee beans for as long as 12 hours. This gives you a super-long immersion time while cutting back on the bitterness and acidity of the coffee beans. However, you will also still taste the complex flavors of the roast.
Are Light Roasts More Acidic?
Light roasts are the more acidic coffee roasts. All coffee beans naturally contain chlorogenic acid. However, the roasting process of dark roast coffee beans is long enough that the chlorogenic acid breaks down and turns into quinic acid.
This is what tastes much more bitter in dark roasted coffee. There is more oil and sugar in these roasts as well, which makes it more difficult to taste the acid.
The shorter roasting time, on the other hand, is responsible for the acid-forward flavor of lighter coffee roasts. While either type has roughly equal health benefits, you may find that you prefer one over the other.
Final Thoughts
So with all these options, how do you choose one that is the definitive best?
Our choice for the best light roast coffee is Lifeboost. This is because of the company's unique growing, harvesting, and processing, which encourages the development of all the chemical compounds that you want in a delicious cup of coffee.
Even more importantly, Lifeboost grows without pesticides and practices sustainable methods to reduce its carbon footprint. With coffee that is fair trade, single-origin, and tested for impurities, it offers everything you need in a cup of coffee — as well as in a coffee company!