Buying a gift for the coffee lover you care about isn't an easy task. Coffee is incredible, but there are a lot of aspects to producing the perfect cup. After all, that's why we share so many articles about all areas of domestic brewing, including equipment, beans, coffee knowledge and culture, and more.
As coffee aficionados, we're acutely aware that one coffee drinker's idea of the perfect gift may differ entirely from another's. That's where this guide comes in.
We've categorized the gift ideas and selected the best ones from each. In the guide, you will find items including the best coffee beans, best coffee equipment, and accessories that any coffee enthusiast would love. We've also included specific gift ideas for coffee lovers with precise drinking requirements. Let's get started.
Gift Coffee Beans For Coffee Lovers
What coffee fanatic could say no to delicious, fresh coffee beans? Fresh coffee beans are among the best gifts you could choose for any coffee drinker because they offer the best chance of producing flavorful coffee. But how do you choose the highest-quality beans? For example, we drink around five cups a day, have tried many different beans, and have still not even come close to sampling all the beans out there. Thankfully, there are some safe bets that whoever you're buying for is almost sure to love. So let's take a look at them.
Gift Subscription For Coffee Lovers
A coffee subscription service delivers freshly ground coffee or whole beans to your door weekly or monthly and can be an incredibly thoughtful gift. Many of the services employ coffee experts and curators to choose the best beans, so you'll know the recipient is only receiving the best-quality beans. Another advantage of subscription services is they often have gift options. Here are our top picks.
1. Atlas Coffee Club
Atlas Coffee Club curates coffee from around the world. Meanwhile, their beans come with beautiful packages, brewing tips, and postcards. Check out our Atlas Coffee Club review here.
There are options for three, six, and 12-month gift subscriptions. Each month, the gift recipient of the subscription will receive high-quality, single-origin, fresh beans from one of the most renowned coffee-loving regions.
You'll have the option of choosing whole or ground beans and different roast levels. You can also add a custom gift note.
2. Trade Coffee
Trade Coffee collaborates with the best roasters throughout the US. Meanwhile, the coffee is freshly roasted and shipped by roasters. However, its incredible coffee quiz to determine the ideal coffee and customized gift options make Trade Coffee stand out. It would make a fantastic gift for you and your coffee-loving friend or family to sample the best coffee from the highest-quality roasters and different coffee origins.
Trade Coffee offers a coffee gift box with four craft coffees in light, medium, and dark roasts. Alternatively, you can choose a coffee gift subscription and allow the recipient to take the quiz to select their ideal flavor profiles, coffee grounds or whole beans, and shipping frequency. Recipients will receive a redeemable gift code, making it a thoughtful and particularly flexible option. We tried a 3-month subscription, here is our thought about Trade Coffee.
Premium Coffee Beans
If you'd rather not use a subscription, why not buy a premium bag of coffee? There are so many options as to make it overwhelming. However, you won't go far wrong if you choose the rare, superior, and well-regarded coffee from the most famous coffee-growing regions.
4. Jamaican Blue Mountain
Jamaican Blue Mountain coffee is likely to be a familiar name to anyone seriously interested in coffee. The region's tropical climate and optimal elevation produce a sweet, creamy, and richly flavorful profile without bitterness. The beans are rare because only a limited area of Jamaica is approved as the Blue Mountain region. The limited supply and superior quality of the coffee mean it's more expensive than regular coffee.
Meanwhile, there's a strict grading system. Perhaps unsurprisingly, there are fake Jamaican Blue Mountain coffees and blends. If you're looking for 100% Jamaican Blue Mountain coffee, ensure you purchase it from reputable roasters and check the CIB-certified seal and paperwork. Here is our JBM coffee buying guide.
5. Kona Coffee
Kona coffee is a premium brand from Hawaii. The region is blessed with rich, volcanic soil that's exposed to a well-balanced mix of rainfall,
sunlight, and humidity. Because of those elements, Kona Coffee has received critical acclaim from industry experts for its premium-quality flavor. These are gourmet coffee beans that any coffee enthusiast will love. However, a little like JMB coffee, not all Kona coffee is 100% Kona, and not all Hawaiian coffee is Kona, so be careful before you buy. For more information, see our 100% Kona coffee buying guide.
Best Coffee Gifts For Different Types Of Coffee Drinkers
Now that we've looked at some of the best coffee bean options, let's look at some of the best gift ideas for different coffee lovers. Of course, to choose the best gift, you'll need to have an appreciation for their coffee preferences.
Best Gifts For Espresso Lovers
If the person you're buying for often orders espresso drinks, you know there's a good chance they'd appreciate an espresso-based gift. Here are some of the best.
Espresso Machines
If the recipient has yet to buy an espresso machine, it can be an amazing gift. There are essentially three types of espresso machine, and they vary in price.
6. Semi-Automatic Espresso Machine – Breville BES870XL Barista Espresso Espresso Machine
This is one of the best semi-automatic espresso machines for domestic baristas. There is much to love about it. For example, it's durable with a stainless steel build. Meanwhile, it's trusted as it's been on the market for a decade. There's also an integrated grinder, which is essential for espresso brewing and means the recipient won't need to pay extra for a separate grinder.
The machine allows you to make espresso shots and steam milk for latte art with ease. Overall, it's an excellent entry-level machine for anyone who wants some control over the brewing process. It's also reasonably priced and offers superb value.
7. Super-Automatic Espresso Machine – Philips 3200 Series Fully Automatic Espresso Machine
This espresso machine is best suited to those who don't have much domestic brewing experience. It's a fully automatic machine, so it does everything for you. We've reviewed many automatic coffee machines, and the Philips 3200 is one of the best as a gift option. Why? Well, it makes the most popular espresso drinks with just one touch, including espresso, latte macchiato, cappuccino, and Americano. The LatteGo system also makes perfectly frothed milk. Furthermore, there is an intuitive touchscreen meaning it's easy to use for anyone.
The primary difference between entry-level machines and higher-end espresso machines is the number of drink recipes they offer. Some are restricted to espresso or cappuccino, whereas others offer dozens of recipes with a single touch. Check this guide if you want more options for automatic coffee machines.
8. Manual Lever Machines – Flair Espresso Maker PRO 2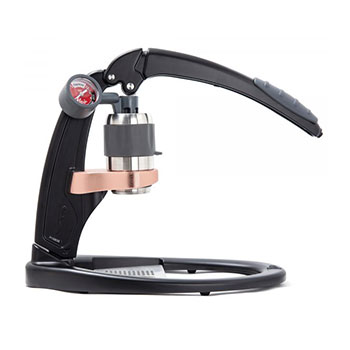 If the person you're buying for loves the idea of making espresso manually, this is the best gift for them. Even if they already have an espresso machine, a manual-lever machine would be a great gift as it's fun and satisfying. It's also stylish, while the user will have total control over the shot. If you perfect your technique, this machine can make perfect espresso shots. However, it's mainly suited to espresso purists as manual machines like the Flair can't steam milk.
9. Capsule Espresso Machine – Nespresso Essenza Mini
Not everyone has time to pull an espresso shot, so a capsule machine offers a great solution. Nespresso is the best option. The Essenza Mini compares favorably with the Originalline Nespresso capsule machines, but it's more compact. Not only that, but it makes tasty espresso topped with rich crema at the touch of a button. If the person you're buying for leads a busy life and doesn't have time to prepare coffee, this is an excellent gift.
Portable Espresso Coffee Maker
10. Wacaco Picopresso
Espresso machines are not cheap, so if you have a smaller budget but still want to surprise someone with the gift of an espresso machine, a portable espresso maker is the best option. We've tested many compact portable espresso machines, and the Wacaco Picopresso is one of the standouts.
It's more affordable than most espresso machines, but it still has a large bottomless filter basket and some useful tools. The machine can make beautiful espresso with just a few pumps. It also looks amazing and is really compact. It would make a wonderful gift for outdoor enthusiasts and serious espresso drinkers. Here is our hands-on review of the Wacaco Picopresso.
11. Staresso Pro Mirage
Even though Picopresso makes beautiful espresso shots, you need proper fine grounds to get them. If the person you're buying for doesn't have a separate grinder, the Staresso Pro Mirage could be the answer as it is equipped with a pressurized filter basket. That means it's far more forgiving on grind size, easier to pull a shot, and you'll get a thick, rich and stunning crema. Check out our Staresso Pro Mirage review here.
12. Moka Pot – Bialetti Moka Express
The Moka pot is also known as a stovetop espresso maker. One of the main advantages of them is they are inexpensive. Meanwhile, they're also suitable for outdoor enthusiasts and make strong, aromatic espresso-style coffee. The Moka pot was designed in 1953, and there's a reason it retains popularity so many years later. Overall, it's a classic and iconic coffee maker that will make a fantastic gift for espresso lovers.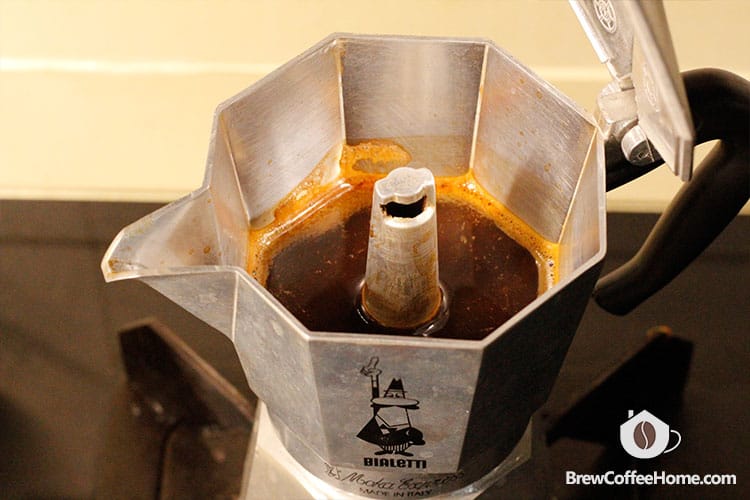 Espresso Accessories Gift Ideas
13. Milk Frothers – Subminimal Nanofoamer
Many coffee lovers prefer coffee with milk. Therefore, if the recipient of your gift isn't a black coffee drinker, a good milk frother is worth considering. The Subminimal Nanofoamer is an inexpensive handheld milk frother that creates microfoam perfect for espresso-based milk beverages. However, what makes it stand out is its ability to froth milk for latte art. That's in contrast to most other handheld frothers, which tend only to produce larger bubbles. Therefore, it's an excellent gift choice for people who love milk-based espresso beverages on a par with those you'd buy in a coffee shop. We played around with Nanofoamer and it did create microfoam for latte art; here is our Nanofoamer hands-on review.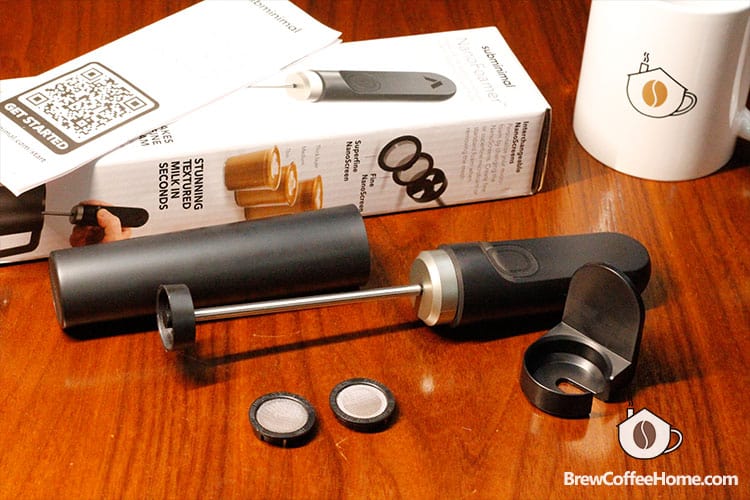 14. Tamper & Distributor – Crema Coffee Distributor
One of the key aspects of the perfect espresso is a perfectly prepared coffee puck. After grinding, the grounds need to be evenly distributed and tamped at the correct pressure to ensure optimum extraction. The Crema Coffee Distributor is the 2-in-1 tool that can do both. One side is the leveler, and the other is the fixed depth tamper.
The device is built from stainless steel and looks high-end. It's also extremely sturdy. Overall, it's a useful tool that will make a thoughtful gift for any espresso lover. One thing you need to be aware of, though, is the diameter, as portafilters in different espresso machines have different sizes. Not sure how to use it? We explained the useful espresso tools in detail.
15. Tamper Station – MGCM 4-In1 Tamper Station
This tamper station would be a thoughtful gift for any espresso lover. It includes a coffee puck knock box and coffee stand to ensure even tamping, which is also for holding the tamper. Finally, there's a distributor. Perfect for helping to declutter a kitchen countertop.
Best Gifts For Coffee Geeks
If the person you're buying for is a fan of specialty coffee shops and sampling varieties of beans, roasters, and roast levels, some specialty brewing equipment may be the best option, particularly if they also like to carefully craft their coffee at home.
16. Coffee Grinder – 1Zpresso JX Pro
Genuine coffee connoisseurs will use freshly ground coffee for the best flavors. If that describes the recipient of your gift, a burr grinder will be an excellent choice. Burr grinders produce more uniform coffee grounds than blade grinders. There are a lot of grinders on the market, including electric and manual grinders. Entry-level grinders are affordable, but they don't offer the consistency of premium grinders.
Meanwhile, some coffee grinders are more suited to drip coffee machines, while others are best for espresso. However, the 1Zpresso JX Pro grinds well for both and is highly efficient.
1Zpresso is a premium hand grinder manufacturer, and the JX Pro is its flagship model. It offers 200 clicks of adjustment ranging from fine espresso grinds to coarse grinds. Meanwhile, its large 48mm conical burrs grind quicker and more effortlessly than some electric grinders. As a result, the 1Zpresso JX Pro can grind beautifully for pour-over, French press, or even very coarse cold brew. It's also durable and built from high-quality aluminum alloy. Finishing it off is a stylish wood knob on the handle giving it a premium-quality look and feel. Overall, it's an excellent gift option. We tried all the flagship 1Zpresso grinders. Check out our reviews and comparison for more details.
17. Specialty Coffee Brewer – Hario V60 Immersion Dripper – Hario Switch
Specialty coffee lovers who enjoy carefully crafting the perfect cup of coffee for pour-over would likely appreciate a machine like the Hario V60, Kalito Wave, and Chemex. However, they are extremely popular, so the chances are the person you're buying for already has at least one of them.
The Hario Switch is a great alternative dripper and is a tweaked version of the Hario V60. There's a switch that shuts the bottom of the dripper, meaning that the grounds can steep for immersion brewing. Alternatively, flip the switch to open it if you want to brew a regular pour-over. This offers more control and diversity in brewing. Coffee geeks love nothing more than experimenting with different recipes. If that describes who you're buying for, the Hario Switch is ideal. Here is the Hario Switch instruction.
18. Coffee Scale – TIMEMORE Black Mirror Basic
People serious about making the best morning cup will need a coffee scale. First, you weigh the beans, then carefully pour the water to let the coffee bloom, and ensure you have the correct coffee-to-water ratio for the best extraction rate. A coffee scale is a must to perfect the first part of that.
The Timemore Black Mirror is the one we recommend (Check our hands-on review). It has a classy, minimalist design. It has far more than aesthetics, though. It also is highly precise, and has a built-in timer, auto-timing, and many other excellent features. Even so, it is reasonably priced. So, if the person you're buying for doesn't have a coffee scale, gift them this and make their day!
19. Gooseneck Kettle – Fellow Stagg EKG Gooseneck Kettle
A gooseneck kettle is an essential item for anyone with serious designs on improving their domestic barista skills. It offers a more controlled pouring and extraction time. It is useful for many brewing methods, but particularly pour-over. The Fellow Stagg EKG is an excellent option as it is modern, aesthetically pleasing, and smart. Quickly heat the water to the preset temperature, holding it at that level for an hour. It looks great on any countertop, has great packaging, and is overall a wonderful gift option.
20. KRUVE Sifter
A sifter lets the domestic brewer remove the boulders and fine grounds to leave consistent grind sizes. There are options with either five or 10 interchangeable sieves, each with holes measuring in microns. Not only that, but the sifter looks classy and well-designed with its bamboo lid and aluminum body. The coffee will be cleaner and sweeter after sifting. Meanwhile, it's also a good tool for calibrating the coffee grinder. Overall, it's an excellent gift for a coffee snob. Check out our Kruve sifter review for more details.
Best Gifts For Iced Coffee Lovers
If you're buying for someone who regularly drinks coffee with ice, cold brew coffee makers are a good choice. Making cold brew takes time, but it is easy. Meanwhile, cold brew coffee makers are convenient, making them excellent gifts for fans of iced coffee.
21. Cold Brew Maker – OXO Good Grips 32 Ounce Cold Brew Coffee Maker
There are many cold brew coffee makers on the market, and they all work in similar ways. First, you steep the coffee grounds in room temperature water for between 12 and 24 hours, then filter the grounds. What makes each different is their capacities and ease of use.
The OXO Good Grips is our recommendation. It's easy to use, and the entire brewing process is hassle-free. The rainmaker on top of the machine ensures even distribution of water. Meanwhile, it makes cold brew concentrate that can be diluted to make several cups of cold brew. The coffee it produces is smooth and low in acidity, making it an excellent choice for people who love cold brew coffee.
22. Nitro Coffee Maker – NitroPress Nitro Cold Brew Maker
If the person you're buying for might prefer a twist on cold brew, a nitro coffee maker could be the ideal gift. Nitro coffee is a cold brew infused with nitrogen gas to offer a velvety texture and beautiful cascading layers.
The machine looks like a whipped cream dispenser, and, combined with an N2 cartridge, it makes domestic nitro coffee brewing easy. It has a reassuringly premium aesthetic and comes in beautiful packaging reminiscent of Apple products, making unboxing an event in itself and perfect as a gift idea. This NitroPress review shows you the recipe and instructions.
23. Ice Maker – AGLUCKY Countertop Ice Maker Machine
This compact machine will fit snugly on most countertops and will produce nine beautiful-looking bullet-shaped ice cubes within eight minutes. It's an excellent product for anyone who loves iced coffee. The machine is also quiet, while it offers two sizes of ice cubes. It's great for cold coffee or any other iced beverages.
Best Gifts For Coffee Newbies
If the person you're gift-hunting for often drinks instant coffee, it might be the time to get them some entry-level domestic brewing equipment so they can enjoy a more satisfying coffee in the morning. Freshly brewed coffee is a big step up from instant, and it'll save them from needing to visit their local coffee shop to get a similar drink.
Drip coffee makers are among the most common pieces of equipment for domestic brewing, but not all make beautiful coffee. If you gift that special person in your life an SCA-certified brewer, it will ensure they get delicious coffee every day.
The Bonavita Connoisseur is one of the best drip coffee makers. It brews coffee to the optimal brewing temperature, coffee-to-water ratio, and pre-infuses. It also mimics the pour-over process to brew beautiful drip coffee. With just one touch of a button, it's incredibly easy to use, making it suitable for anyone. Anyone using this over a standard drip coffee machine will notice a big increase in the flavor quality.
25. Keurig K-Supreme
Keurig is an excellent choice if you're hoping to gift a single-serve K-cup coffee maker, and it's as popular as a drip machine. It's fast and convenient, and you don't need grounds. Simply place the K-cup pod in your machine, press a button, and you'll have the coffee within one minute. The machine is also compact, while there is an extensive selection of K-cup options available from many leading brands. The K-Supreme is the latest model and has multistream technology, offering a more flavorful coffee than older models. You can find the Keurig model comparison here.
26. French Press – Bodum 1928-16US4 Chambord French Press Coffee Maker
If the person you're buying for is new to domestic brewing, it doesn't get easier than French press. Just add grounds and hot water, wait four to eight minutes, then press the plunger and filter down to get beautiful freshly brewed coffee that's far nicer than instant coffee. There are many options, from stainless steel to glass machines, as well as different brands and sizes.
However, Bodum is one of the best brands for French press. The Bodum Chambord is the most iconic model. It has a one-liter capacity, which will make four 8oz cups of coffee. Meanwhile, you can easily make robust, full-bodied coffee. A stainless steel lid and body with a borosilicate glass carafe lend a high-end feel to the French press. Overall, it's the best option for anyone who you think may like a French press.
27. AeroPress
The AeroPress coffee maker has been popular since it launched in 2005. Initially, it was designed to brew espresso-style beverages quickly by adding grounds, stirring, and steeping before plunging. However, it's an incredibly versatile machine that can even make cold brew and many other recipes. There are many recipes online, while it's lightweight and compact, making it a great gift for anyone who loves outdoor pursuits and experimenting with coffee recipes.
Best Gifts For Exotic Coffee-Obsessed Person
Coffee is popular throughout the world, meaning there are countless variations of it too. If who you're buying for loves sampling coffee from different cultures, the following coffee gift ideas will be ideal.
28. Vietnamese Coffee Set
Vietnamese coffee is known for its beautiful, refreshing taste. Traditional Vietnamese coffee is made using a specially designed dripped called a phin. It's inexpensive and brews robust coffee with ease. Vietnam is the main region for Robusta coffee, which is higher in caffeine than the more common Arabica beans. It's also stronger and more bitter. However, when mixed with sweet condensed milk, it coaxes a nutty flavor from the beans. This set contains fresh roasted Vietnamese beans and the phin. It's ideal for anyone wishing to try this beautiful coffee.
29. Turkish Coffee Set
Turkish coffee is brewed using an ibrik. The grounds are unfiltered, so you'll need ultra-fine grounds. Turkish coffee represents one of the world's most important coffee cultures and has a long history. This Turkish coffee maker is a fantastic option as a gift for coffee lovers to explore a distinctive and unique brewing method.
This includes all the coffee equipment you need, including cups, saucers, Turkish coffee pot, and authentic Turkish coffee grounds. Meanwhile, it's all elegant and beautifully packed.
Best Coffee Accessories For All Coffee Lovers
30. Smart Mug – Ember Temperature Control Smart Mug 2
Coffee cups are thoughtful gifts but not necessarily the most imaginative. But how about a smart mug that can keep the coffee warm for several hours? The Embed is a stylish smart mug that can do exactly that. It can keep coffee warm for up to one and a half hours thanks to its built-in battery, or all day using the charging coaster. You can also connect it to the Ember app to keep everything effortlessly under control. It'd make an ideal gift for tech-loving coffee fans and a great Christmas present.
31. Coffee Thermos – Zojirushi Stainless Steel Vacuum Insulated Mug
For campers or commuters, a high-quality vacuum-insulated Thermos is a useful and thoughtful gift idea, and is suitable for both hot coffee and cold coffee lovers. This Zojirushi Thermos will keep your coffee as hot or cold as you need for hours. There's also a safety lock to ensure it doesn't leak, while there are several color options with a beautiful design, meaning there's bound to be one to suit whoever you're buying for.
32. Coffee Canister – Fellow Atmos Vacuum Canister
An airtight canister is a fantastic gift for anyone who'd like to brew coffee at home. It keeps the coffee fresher for longer by blocking light, air, and moisture. However, once you've ground your coffee, the aroma and flavor immediately begin to deteriorate, meaning it's essential to store it correctly to retain the best flavor each time. The Fellow Atmos is our choice because there are different size options and color options. Fellow is also well-known for its beautiful designs, and this canister will look amazing alongside its equally lovely grinder, kettle and espresso cups. It'll look great in anyone's kitchen.
Final Thoughts
The list of options can be overwhelming if you're buying a coffee-related gift for someone close to you. From high-end espresso machines to coffee mugs, there is almost any gift to suit any person and budget. In this guide, we have looked at a range of categories and hand-selected the best of each to give you a clearer picture of the best items available in each. We're also confident that each of the items we've highlighted in the guide has the potential to delight the coffee aficionado you're buying for.
While the products in the guide are thoughtful and high-quality, it is still important you understand exactly what your loved one needs because different coffee lovers are at different stages of their domestic-brewing journey.
Nevertheless, we're confident that if you can do that, there's something in the guide for domestic brewers of any level, while whether your budget is big or small, there's something in it that will be affordable.
Good luck finding the perfect gift for that special someone. With a little bit of research, we're sure they'll love whatever you choose.