The existence of dual brew coffee makers proves that there are better things to fight about than what type of coffee maker to get. These days, the conclusion will always be: why not both?
In this roundup of the best dual coffee machines, we'll search for the best combination coffee maker and help you make the best decision.
What Are the Benefits of Having a Dual Coffee Maker?
Just as in everything else, everyone has their preferences when it comes to coffee. In the case of this morning beverage though, our preferences are powerful. When you do not have access to your type of coffee, it can ruin your whole morning, if not your entire day.
That's why, in an office or a household, your best bet is to find a coffee maker that can accommodate everyone's tastes, even if that means getting a dual brew coffee maker. When everyone is happy and caffeinated, there's always going to be less conflict.
However, a second benefit is that you're giving yourself more options. Although you might have a favorite type of coffee, perhaps you don't always have the time or energy to make it. For example, you might love a classic drip coffee but not want to wait the six or ten minutes it takes to brew a carafe. In these situations, a dual brew coffee maker allows you to pop in a K-cup and enjoy coffee within a couple of minutes.
Finally, you are doubling the amount of space for experimentation with coffee. There are many different blends of ground coffee to try out just as K cups seemingly come in a never-ending variety of flavors. Dual coffee makers mean you can give everything a try and find your absolute favorite cup of coffee.
Things to Consider When Buying a Two-Way Coffee Maker
There are a surprising number of dual brew coffee makers on the market. Once you've decided to buy one, the question of which one is best for you looms large as you scroll through pages and pages of options.
While we've selected the seven best dual coffee makers, which narrows it down slightly, the list is still long. Read this section to get a sense of the questions you should ask yourself to assist you in searching for the best dual coffee maker that fits your unique needs.
Last update on 2023-09-27 / As an Amazon Associate, if you buy via the links, Brewcoffeehome earns a commission at no extra cost to you.
What Types of Coffee Do You Drink?
The first and most important question is to decide which two types of coffee you'd like to get a machine capable of making. The many dual coffee makers on the market come in a dazzling variety of combinations, so this is the crucial first choice. Here are some of the most popular options.
Drip Coffee and K Cups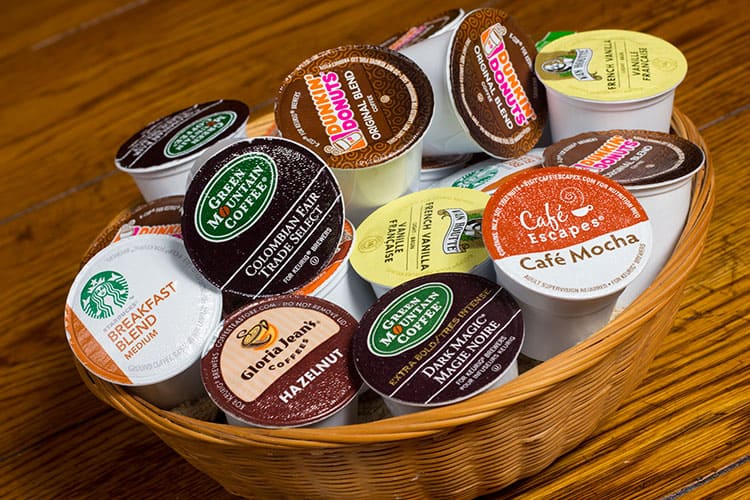 Perhaps the most common type of dual coffee machine is the drip coffee and K cup combination. These two types of coffee are similar but differ in the amount of time and effort it takes to brew them.
Two way coffee makers give you the option of brewing a cup of drip coffee when you want to sit down and enjoy it, but also the ability to just insert a pod and push a button when you're busy, on the go, and just need a quick pick me up.
Drip Coffee and Espresso
The second most common two-way coffee maker is the kind that brings together an espresso machine and a drip coffee maker. This option has a slightly different profile of consumers in mind. If making espressos, macchiatos, and cappuccinos is very important to you, you need to get a machine that can do it.
Yet, perhaps some of your co-workers or your significant other likes their coffee in its more traditionally American instantiation. Then, having the option to brew the traditional drip coffee along with espressos presents an advantage.
Coffee and Other Beverages
Sometimes, you're going to want to drink something other than a cup of hot coffee, whether that's at night before bed or on a hot day when only an iced drink will suffice. Some dual coffee brewers on this list have functions that allow them to make other beverages with as little effort as coffee, such as teas or specialty drinks.
Also, some machines come with a cold brewed system, which I'm counting as a different type of beverage because it needs other techniques to achieve than the types of coffees brewed in hot water.
When trying to decide on a dual coffee maker, it's crucial to think about how you'll use your machine, and what other beverages you might actually want to drink regularly besides a cup of steaming hot coffee.
Coffee Grounds Vs. Coffee Pods
There's a world of difference between coffee made from fresh coffee grounds and coffee made from coffee pods. Both are great in their ways, but each has drawbacks as well.
When it comes to taste, freshly ground coffee is usually going to win out, but, once it's been ground, it goes stale relatively quickly (usually within a week). On the other hand, K cups have a long shelf life and offer a very consistent taste of coffee, and more flavors are available other than just plain coffee.
However, K cups are both more expensive in the long run and aren't very good for the environment. These two properties are related: you need to pay for the extra processing and plastic packaging, and it also needs to go to a landfill after you've drunk the coffee.
Best Dual Coffee Makers Reviews
Here are our top 7 dual coffee makers on the market.
1.The Hamilton Beach 49976 FlexBrew Trio 2-Way Single Serve Coffee Maker
Made by Hamilton Beach, a manufacturer of home appliances with a stellar reputation, the Hamilton Beach 49976 FlexBrew Trio does a great job at making both K-cup and drip coffee.
It functions as both a single serve and carafe coffee maker, allowing you to make just as much coffee as you need without going to waste. At the same time, you can make a sizable 12-centiliter pot when lots of people are looking for their caffeine fix. That's enough for 12 cups of coffee.
On this machine, you can choose how strong you want your coffee to be when making drip coffee using what Hamilton Beach coffee maker calls the 'Select-a-Brew' mode. It has two choices: regular and bold.
Another exciting feature is the separate water reservoirs that flow into the single serve side and full carafe brewer.
Pros
Two options for brew mode
Up to 12 cups of coffee at once
Two water reservoirs
Programmable
Cons
Glass pot
Two hour shut off means it can't keep coffee hot all day
2.Cuisinart Coffee Center SS-15P1 12-Cup Coffeemaker and Single-Serve Brewer
Cuisinart is one of the most recognizable brands in kitchenware for a reason—they make excellent products. The Cuisinart SS-15P1 Coffee Center 12-Cup Coffeemaker and Single-Serve Brewer is a perfect option for people looking for a machine brewing drip coffee and K-cups.
The attractive silver finish on the machine will look great with any other stainless steel that you have populating your kitchen. However, it also comes in four different colors: Black, Copper, Light Grey, and White. That gives you a lot of choices when it comes to the appearance of this Cuisinart machine.
This model comes with a reusable filter for brewing coffee that cuts down on waste and leads to exceptionally consistent taste. You're also able to choose the brew strength control, which ensures you'll get a cup of drip coffee that you love.
If you like what you've heard about the Cuisinart SS-15P1 Coffee Center, you might also want to take a look at the Cuisinart SS-20P1 Coffee Center. The latter model is the same as the one we've covered here with one exception: it has a thermal carafe rather than a glass carafe. A thermal carafe means coffee made a while before drinking will taste better, it can keep your coffee fresh and hot for longer.
Pros
Gold filter means great taste
Charcoal water filter
Multiple single-serve sizes
Includes reusable k-cup
Comes with sample recyclable capsules
Cons
Glass carafe
Must line up k-cup exactly or get leaks
3.Keurig K-Duo Coffee Maker, Single Serve, and 12-Cup Carafe Drip Coffee Brewer
Although Keurig is mainly known as the inventor of the pod coffee technology, they've managed to produce the machine that makes excellent K-cup coffee and classic freshly brewed coffee. Not only that, they've given you the ability to make either a single serving in a cup or a full carafe.
This model, especially in the all-black option, has a pleasingly utilitarian look to it. There's also a silver option if the full black doesn't work for your aesthetic taste or kitchen décor.
The Keurig K-Duo Coffee Maker has lots of preset options for brew size, allowing you to choose between brewing a six, eight, ten, or twelve-cup carafe or a six, eight, ten, or twelve-ounce cup. You decide how much coffee you'd like to drink, and therefore no waste.
I want to mention two more great features that I found helpful. There's the vast water reservoir, which holds 60 ounces of water—meaning you won't have to constantly be refilling it. Also, the Keurig K-Duo Coffee Maker has a programmable auto-brew system, which allows you to set up the machine the night before and have it make delicious coffee in the morning on its own.
Pros
Multiple brew sizes for k-cup
Compatible with reusable k-cups
60 ounce water reservoir
Programmable
Strong brew option
Cons
Glass carafe may leak when pouring
4.DeLonghi BCO430 Espresso and 10-Cup Drip Coffee Machine with Frothing Wand
If you're not a fan of K-cups but want a dual brew coffee maker that makes both espresso and drip coffee, the DeLonghi BCO430 Coffee Machine with Frothing Wand is the way to go for you.
The espresso machine and drip coffee machine sit beside the other, with the frothing wand sticking out of the espresso side. Whichever side you use, you'll get a nicely made cup of coffee underneath the spout.
The water reservoir isn't the largest—only 40 ounces—but that's not so bad when you consider that espressos use much less water to make. The nice thing about the water system is that you fill it up from the front of the machine, which doesn't sound like a big deal until you see for yourself how much easier it is than reaching over the device to fill it. You'll spill much less water all over the place this way.
The milk frother works well, taking cold milk to hot in only seconds. That's to say that the cappuccinos you make will impress just about anyone.
Pros
Gold tone coffee filter
Programmable
Carbon filtered water
Can pause the carafe brew to pour a cup then resume procedure
Cons
Smaller reservoir
Only ten cups
5.Ninja 10-Cup Specialty Coffee Maker CM401
Ninja is a relatively new American brand specializing in kitchen appliances, owned by a giant conglomerate with the awesome name of NinjaShark LLC. In the coffee maker space, they are known for making versatile machines that can do many things well.
The Ninja 10-Cup Specialty Coffee Maker has four different brew types that you can choose between. These are Classic Brew and Rich Brew (both drip coffee), Iced Coffee (which brews cold, so it doesn't melt your ice right away), and Specialty Brew (which makes espresso-style drinks). There's also a fold-away frothing machine to get that tremendous foamy milk for your cappuccinos and lattes.
There's no option to use K-cups with this machine, just classic regular coffee.
This machine honestly looks like it should be on the International Space Station, with a tall metallic reservoir that stands beside the brewing apparatus. When you're making espressos, it looks like your cup is floating in thin air.
If you don't like the glass carafe and hot plate, CM407 has a thermal carafe. They are both SCA-certified coffee makers that are suitable for serious coffee lovers. Check out our Ninja Coffee Maker comparison, you will know which model is the best for you.
Pros
Four brew types
Brews cold iced coffee and espresso-style coffee concentrate
Ability to foam milk for lattes
6 brew sizes including single-cup, travel mug, half carafe, full carafe and more
6.Keurig K-Duo Plus Coffee Maker, Single Serve, and 12-Cup Carafe Drip Coffee Brewer
The Keurig K-Duo Plus Coffee Maker is similar to the Keurig K-Duo Coffee Maker in many ways, with a few crucial differences. Most notably, the Keurig K-Duo Plus Coffee Maker comes with a thermal carafe rather than a glass one that sits on a heater which creates taste differences over time. Thermal carafes help preserve your coffee's taste even when it's been sitting in the carafe for too long.
As you would expect, this dual coffee machine is compatible with both K-cups and ground coffee when used in its drip mode.
One innovative feature is the movable water reservoir. The 60-ounce tank can go on the back or the side of the coffee machine, which makes finding a place to put it easier.
Pros
Thermal carafe to keep coffee warm even after shut-off
60 ounce water reservoir can be used in multiple positions
12 cups of coffee
Cons
More expensive than Keurig K-Duo Coffee Maker
7.Brim Trio Multibrew System, 12 Cup And Single-serve Coffee Brewer
The Brim Trio Multibrew System is a functional and no-frills dual coffee maker that will get the job done. Founded in 1961, Brim works to bring high-quality, "artisanal" coffees into people's homes.
Capable of making drip coffee and K-cup coffee, the Brim Trio Multibrew System is customizable while remaining easy to use. You have different settings for using six, ten, and fifteen ounces of grinds in terms of size. And, depending on the size of the cup of coffee you'd like to make, you can adjust the drip tray upwards and downwards.
There's also a clear and easy-to-see LCD built into the machine. It works well with the silver and black design of the dual coffee maker.
Pros
12 cup glass carafe with hot plate
Multiple sizes for k-cup
Straightforward backlit LCD display
brew strength selector.
Cons
May not have as long a lifespan as other models listed
Other Things to Consider When Buying a Dual Coffee Maker
When you're thinking about buying a dual coffee maker, you need to make some efficient decisions. For instance, you need to be sure that your coffee maker will fit where you want it to go and be sure that your buying brand aligns with your expectations about the coffee you want to make.
Dimensions
Be sure to check out the counter space that you're planning on putting the dual coffee maker in, ensuring there's enough room for it to fit. Buying appliances online can be difficult because you can't visualize their size, but you can get out a tape measure and look at the dimensions listed below.
| Product | Dimensions |
| --- | --- |
| Hamilton Beach 49976 | 11.4" H x 12.2" W x 13.7" D |
| Cuisinart SS-15P1 Coffee Center | 10.13" H x 10.38" W x 14.25" D |
| Keurig K-Duo Coffee Maker | 12.92" H x 10.94" W x 12.76" D |
| DeLonghi BCO430 | 14.5" H x 11" W x 12.8" D |
| Ninja Specialty Coffee Maker CM401 | 11.99" H x 8.75" W x 15.04" D |
| Keurig K-Duo Plus Coffee Maker | 14.19" H x 8.2" W x 11.7" D |
| Brim Trio Multibrew System | 12.12" H x 11.18" W x 14.72" D |
Thermal or Glass Carafe
The first thing to mention about carafes is that thermal carafes are unquestionably better, but they only show their value in certain situations. If you like to make a big pot of coffee in the morning and go back to it until the afternoon, you'll want to get a thermal carafe because it will keep your coffee warm and tasting fresh. If you do this with a glass carafe on top of a heater, your coffee will still be warm—not hot—and it won't taste the same as when it was fresh. Some models offer carafe temperature control.
However, if this doesn't sound like you, it might not be worth it to go for the extra expense of a thermal carafe. Just bear in mind that, as the years pass, glass carafes will degrade whereas a thermal one won't.
Brands
The different brands on this list have different strengths and weaknesses. Most obviously, Keurig machines are best for making coffee with K-cups. On the other hand, although the Ninja Coffee Maker can make better drip coffee since it meets the golden cup standard. Delonghi is an expert at making espresso machines.
Usually, you can get a good idea of what brands are best at by looking at their websites.
Conclusion
It's time to tell you our top pick of this best dual coffee maker round-up. In terms of functionality and value for money, the Keurig K-Duo Coffee Maker is the top choice. Quite simply, Keurig knows the K-cup best, and their insider information results in an exceptional machine that performs best on K-cups. The drip coffee it makes isn't anything to sneeze at either, which seals it as our top choice.
However, all the machines we've reviewed are capable of making a great cup of coffee. Perhaps another will fulfill your needs better. Whatever the case, head over to Amazon to pick one out.