If you're a coffee drinker, you probably know that there are three different roast designations: light, medium, and dark. This article will focus on Dark Roast Coffee, covering taste, flavor profile, roasting criteria, a buying guide, and a list of the best dark roast coffee brands on the market today. The smell of dark roasted coffee alone is comforting, invigorating, and irresistible even to non-coffee drinkers.
How Does Dark Roast Coffee Taste?
Dark roast coffee has the strongest flavor of the three roast types. Dark roast typically has a heavy body, low acidity, and deep, sweet flavor notes. You may associate dark roast coffees with the rich black coffee served at classic diner counters – they are certainly not mild or simple tastes.
Since dark roast coffee beans have a complex, full-body flavor, they combine well with milk and cream. Most coffee shops use dark roasted coffee beans to make drinks like macchiato, cappuccino, or lattes. Because the strong coffee flavor shines through the creaminess of the milk. Milk or cream may overpower or over-dilute the lighter roast coffee.
To achieve a darker roast, coffee beans must roast for a longer period of time at higher temperatures. Unfortunately, this can lead to over-roasting, which causes dark roast coffee to taste bitter, ashy, smoky, and burnt. Also, when roasted dark, the original flavor of the green coffee bean will lose. Some roasters may blend low-quality coffee beans or robusta beans with a bitter taste to lower the cost since the tasting notes are not pronounced compare to light roast coffee beans.
We wrote this guide to help you avoid bad-tasting dark roasted beans by informing you about its characteristics and providing a list of the best dark roast coffee from expert coffee roasters.
If you want to know more about how to choose the best coffee, check out this best coffee beans buying guide, we explained more in detail.
8 Best Dark Roast Coffee Beans
Last update on 2023-09-27 / As an Amazon Associate, if you buy via the links, Brewcoffeehome earns a commission at no extra cost to you.
1. KOA – Peaberry Dark Roast 100% KONA Coffee
Peaberry Beans
100% Kona Coffee
Grade: Extra fancy
Single origin
Notes: Chocolate, almond and marzipan
Kona coffee is already special because it comes from the most remote island on earth: Hawaii. However, Peaberry coffee is an even more specialized form of coffee because the beans have a distinct oval shape to the coffee cherries-hence the name peaberry- that only occurs in 3-5% of the harvest of coffee cherries.
Because only 3-5 bags out of every 100 bags of coffee produced are peaberry beans, they are considered a delicacy, and you can expect to pay a high price for them. Don't worry; you won't regret shelling out for these rare Hawaiian beans. They make the perfect dark roast coffee.
Coffee aficionados call the Peaberry the Champagne of Kona due to its full-bodied yet smooth and silky flavor. Peaberry coffee is of single-origin, from the highland slopes of Hualalai and Mauna Loa of the big island of Hawaii. It is also pure Arabica, which is the rarer of the two coffee types, and offers the best beans for dark roast coffee.
Authentic Kona coffees only grow in the 'Kona Coffee Belt' regions and have a label of '100% Kona coffee'. We explained it in this Kona Coffee Buying Guide to help you avoid the Kona blends scam. KOA is a reputable roaster that you can trust. They have been around since 1997 and have won countless awards for their expertise in coffee roasting and their perfectly roasted, delicious coffee offerings.
2. Volcanica Costa Rican Coffee, Tarrazu, Reserve – Dark Roast
Fair Trade
Rain Forest Alliance Certified
Shade Grown
Single-origin – Costa Rica
Notes: Medium body, nutty, caramel and honey with balanced acidity
Volcanica coffee roasters pride their single-origin coffee beans on being some of the most flavorful on earth due to their growing conditions and soil content. Volcanica coffee beans are from a region known as Tarrazu in the highlands of Costa Rica.
Costa Rica has long been known for having ideal growing conditions as many plantations grow coffee on the slopes of volcanoes, whose rich soils are perfect for growing delicious Arabica coffee [1]. Additionally, the high altitudes, constant rainfall, and small farm plots are all crucial factors in producing high-quality, super flavorful coffee beans.
Volcanica Dark Roast coffee is Kosher Certified and Rainforest Alliance Certified. Therefore, you can expect a truly authentic single-origin Tarruzu blend that has been sustainably cultivated by coffee farmers who have been growing coffee for generations.
Volcanica Dark Roast coffee has a bold flavor with a higher acidity than most dark roasts, which enhances its flavor and aroma. It also retains a smooth and silky taste characteristic of dark roast coffee beans.
3. Lifeboost Coffee Whole Bean Coffee Dark Roast
USDA certified organic
Fairtrade
single-origin – Nicaragua
Mountain shade grown
Mycotoxins free
Low-acid
This dark roast organic coffee from Lifeboost is single-origin premium Nicaraguan coffee. Shade-grown in the highlands of Nicaragua, these coffee beans are acid-free for an unbelievably smooth cup of coffee, perfect for people who have acid indigestion or sensitive teeth.
Lifeboost Coffee roasters assert that their coffee is 100% natural, and they have a slew of certifications to back up that claim. This dark roast blend is cultivated with the utmost care, each bean hand-picked, spring-water fed, and sun-dried for pure, chemical-free coffee.
Coffee itself has lots of health benefits, Lifeboost makes this dark roast coffee healthier. Lifeboost Dark Roast Coffee is USDA Organic, Non-GMO and 3rd party tested for pesticides and other dangerous toxins that could leach into coffee and negatively affect consumers. You can enjoy the rich, robust but smooth flavors of this healthy and pure coffee with peace of mind.
4. Cooper's Cask Coffee – SUMATRA DARK ROAST
USDA certified organic
Fairtrade
Roasted in small batch
Single origin – Sumatra
Notes: Woody, Dark Chocolate, and Cherry with a hint of tobacco
Cooper's Dark Roast coffee is single-origin, organic, and fair-trade certified coffee from the Indonesian island of Sumatra. These coffee beans are also cultivated from volcanic soils, wet-processed, and dried in the sun, ensuring high quality and purity.
They roast their coffee in small batches, ensuring that they equally apportion flavor to every bean for a full-bodied, bold flavor that still retains a complex flavor profile. This dark roast has sweet, earthy, and fruity undertones, making it great for various taste preferences.
You can expect the woody cedar, dark chocolate, cherry flavors to shine through each sip.
Indonesian Sumatra is one of the most famous coffee growing regions, in another coffee beans buying guide, we picked the best Sumatran coffee. If you like low-acid and robust coffee, you can find the right one for you there.
5. Kicking Horse Grizzly Claw – Whole Bean Dark Roast Coffee
Kicking Horse Grizzly Claw roasters are Canadian roasters that produce amazing dark roast coffee, like this Central and South American blend of 100% Arabica dark roasted coffee. The flavor profile is sweet and nutty, with dark chocolate, cacao nibs, brown sugar, and roasted hazelnut undertones, not to mention a bold, robust, full-bodied flavor inherent in dark roasted coffee.
They even guarantee an aroma of condensed sugar cane and cocoa powder wafting through your home as you brew your morning cup.
All the beans are shade-grown and sustainably sourced using fair-trade practices that help farmers uphold high-quality practices that underpaid farmers are unable to sustain. Kicking Horse Coffee is certified organic and Kosher as well, so you can expect pure, chemical-free coffee roasted to perfection.
6. Death Wish Coffee Whole Bean Coffee
You can tell by their name that Death Wish Coffee means serious business. Their motto is "World's Strongest Coffee," and they promise a powerfully flavorful brew that'll give you that eye-opening energy jolt you need in the morning.
Not only is their coffee strong, but it's also expertly brewed in small batches to ensure an evenly fresh taste without bitterness. This dark roast blend is USDA organic and fair-trade certified coffee. Death Wish believes in environmental and economic sustainability as critical criteria for the beans they select for their blends.
7. Koffee Kult Coffee Beans Dark Roasted
You'll probably join the cult after trying Koffee Kult's Dark Roast. They are an artisanal roaster out of Florida that prides themselves on offering the freshest, tastiest blends on the market using a diverse array of coffee beans from around the world.
This dark roast is a perfect example of a diverse blend, using coffee beans from all the best regions for 100% arabica coffee that is best suited for dark roast methods. This blend has coffee beans sourced from Colombia, Guatemala, Brazil, and Sumatra.
You can expect a full-bodied yet smooth cup of coffee from this dark roast coffee with a spicy cinnamon flavor profile.
Koffee Kult is also committed to fair wages for their coffee farmers and sustainable practices for coffee cultivation. Their roasters also do ample research and quality control to ensure that all their coffee beans are premium quality and roasted directly before packaging and delivery, so you get the freshest, most high-quality product possible.
8. Peet's Coffee Major Dickason's Blend, Dark Roast Whole Bean Coffee
As the signature blend and the all-time bestseller of Peet's Coffee, Major Dickason's Blend gives you everything you expect from a dark roasted coffee.
The shiny oil on the beans is telling you this is a darker roasted coffee. Once open the bag, you will sense the robust but complex aroma. Peet's sources the best coffee beans from America and Indo-pacific, then roast them in small batches. So the roasted coffee retains the flavor characteristics of the growing regions and presents the smoky and robust flavor of the dark coffees.
Major D is the best dark roast blend for those who enjoy old-school intense coffee. No matter you brew it with a French Press, Cold brew, or Espresso or drip machine, you'll get a smooth, complex, and balanced cup of coffee that satisfies your taste buds.
Buying Guide: How to Choose the Best Dark Roast Coffees
The list of eight excellent dark roast coffees is a great place to start your buying journey, but if you want to narrow down your choices even more, we provide this buying guide to pinpoint other crucial criteria such as:
Coffee Roast level
Flavor profile
Coffee region
Dark Roast Level
Dark roast coffee is roasted for a longer period than light roasts, often reaching the second crack or even beyond.
Cracking refers to the coffee bean literally cracking open as it expands and loses moisture as steam during the roasting process. The first crack happens at around 385 F degrees, so dark roast coffee beans will crack at least twice in the roasting process. (Read our guide for coffee roasts for more details)
The two most common dark roasts are Italian Roast and French Roast:
Italian Roast
Italian Roast coffee is very dark and oily, which entails roasting the coffee at temperatures between 437-446 F degrees or even higher. This dark roast has a burnt taste and bitter taste, it's not on our best dark roast coffee list, but it's suitable for those who prefer a super robust coffee.
French Roast
French roast coffee is roasted at a whopping 464 F degrees and must reach a second crack. French roasted coffee beans are nearly black in color and almost appear to be burnt.
French roast is some of the darkest roasted coffee of all the dark roasts with a famously bold, full-bodied, and smokey flavor with sweet undertones.
Other Dark Roasts:
When you see the following, you'll know they are dark roast coffee beans.
Espresso roast- these can be 100% dark roast coffee beans or a combination of dark and medium roasts.
Vienna Roast
Continental Roast
New Orleans Roast
Spanish Roast
Turkish Roast
Neapolitan Roast
Dark roast coffee beans have a distinct flavor because they are essentially roasted to the point of burning. While this method has a huge following, who love the smokey, strong, full-bodied flavor of dark roast, it also may overpower the original coffee bean's subtler flavors.
In fact, many specialty coffee roasters seldom roast their premium or exotic beans that dark because they will lose the distinct flavor profile from their place of origin.
Flavor Profile
If you read coffee packaging, you'll always find a description of a coffee's flavor profile that usually provides a list of floral, earthy, nutty, or sweet flavor descriptors. Of course, tastes are personal choices, and you probably have a personal preference for underlying flavor notes in your coffee.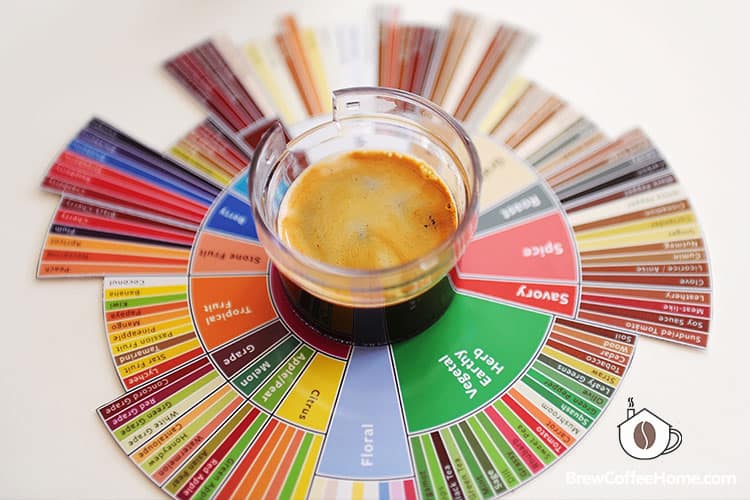 Here's a quick guide on what descriptors to look for depending on your personal taste preferences for flavor notes:
Sweet flavor: sweet caramel, maple syrup, chocolate, honey, molasses
Nutty flavor: peanut butter, praline, hazelnut, toasted nuts
Very strong and bold flavor: Earth, tobacco, smoke
Spices flavors: Cinnamon, Nutmeg, Anise
The flavors above are very common in darker roast coffee, and while you may not perceive those exact flavors in your cup of coffee, they will give you some hints of what to look for.
Coffee Regions
With light and medium roast coffees, the coffee region is crucial to taste as lower roast temperatures allow subtler flavors characteristic of regional soils to shine through. However, dark roast coffee uses a method that heats beans to such high temperatures that they lose the natural flavor imparted by the regions in which they were grown.
Even though, coffee beans from some coffee-growing regions are suitable for the typical dark roast or medium-dark roast, such as Colombia, Brazil, Guatemala from Central and South America, or Sumatra from Indonesia.
Best Ways to Brew Dark Roasted Coffee
Dark roast coffee is versatile and works well with most brewing methods. However, the following brewing methods are the most common for brewing dark roast coffee:
Espresso
Most espresso blends include dark roast coffee or a mix of dark roast and medium roast coffee because the darker roasts, the quicker and easier the extraction. Plus, stronger flavored dark roast coffee pairs well with milk, and most espresso drinks include milk or cream.
Espresso coffee making is one of the more difficult and precise brewing methods, and you'll need espresso machines to make it. The important thing to remember with making espresso is that pulling a shot is all about high pressure that sends water rapidly through the finely ground coffee to create a concentrated coffee flavor.
For the best results, you want the freshest beans that you grind yourself just before preparing the pull. You should also make sure the grind is super fine, so coffee can easily filter through the coffee grounds.
When shopping for the best dark roast beans for espresso, you should pay attention to certain criteria in espresso blends, including:
Arabica or Robusta Coffee Beans – ensure that espresso blends are 100% Arabica beans as Arabica offers a more flavorful and rich taste.
Date of roasting-ensure that espresso blends are roasted within 7-14 days of purchase for optimal flavor.
French Press
French press coffee is simple to make and offers a deliciously full-bodied cup of coffee, showcasing dark roast's bold flavor palette perfectly. French presses require a coarse grind size for optimal brewing.
Cold Brew
The long immersion in cold water extracts the rich flavor from the dark coffee, but not the bitterness. You can have a smoother cup of joe.
Drip Coffee
Most households have a standard drip coffee maker, and that's perfectly adequate for brewing full flavor dark roast coffee. You should choose a medium grind setting if grinding the beans yourself, but any store or online platform offers coffee grounds for drip coffee machines as they are the most common form of brewing at home.
Is Dark Roast Coffee Stronger?
This depends on what you mean by "stronger." If you are referring to caffeine content, then the answer is no. Although you might think that a stronger coffee flavor is indicative of a higher caffeine jolt, that is not the case. Dark roast coffee has almost the same amount of caffeine content as medium or light roast coffee. The roasting process does not enhance or destroy caffeine levels.
Caffeine aside, dark roast coffee does have a much stronger flavor than medium or light roast coffee. Despite different flavor profiles and regional characteristics, dark roast coffee, on the whole, tends to be bolder and stronger in flavor.
Are Dark Roasts Considered "Low-Acid"?
When compared to light roast coffee, dark roasts have less acidity because longer roast times break down the highly acidic compound chlorogenic acid, converting it into a less acidic quinic acid compound which increases the overall pH level [2]. Just for reference, the higher the acidity, the lower the pH level, and vice versa.
Light roast coffee has a higher chlorogenic acid content, thus decreasing its pH score to indicate high acidity. Dark roast coffee makers often market their coffee beans as easier on the stomach for coffee lovers who suffer from acid indigestion.
Logically, dark roast coffee tastes less acidic due to the natural acid breakdown along with other factors such as sugars and oils dissolving and masking any residual acid flavor. [3]
Final Thoughts
Dark roast coffee has a strong, bold flavor, smooth finish, and low acidity. Due to extra hot roasting temperatures and longer roasting times, dark roast coffee is dark brown or black in color. Different kinds of dark roasts differ in terms of roasting temperature and flavor profile. You should look for dark roasts that use Arabica blends as they lend themselves best to higher temperatures.
You can brew dark roast coffee hot or cold, and its intense flavor pairs perfectly with milk. You'll see most coffee shops using dark roasts in combination with coffee drinks like lattes and cappuccinos. However, a simply brewed black cup of French press or drip coffee using a dark roast is equally delectable.
All the dark roast coffee in our list are excellent options that showcase a diverse array of flavor profiles and use the highest quality coffee beans from the world's best coffee regions. If we had to choose our favorite, we would unequivocally choose Koa Peaberry 100% Kona Dark Roast Coffee. It is simply the best of the best and well worth trying.
References:
[1] What's Geology got to do with it? 2 – Coffee – by Flo Bullough October 24, 2013 – https://blogs.egu.eu/network/4degrees/2013/10/24/whats-geology-got-to-do-with-it-2-coffee/
[2] https://www.huffpost.com/entry/coffee-roast-caffeine_n_576c8725e4b017b379f57ff8
[3] USGS.GOV pH Scale – https://www.usgs.gov/media/images/ph-scale-0
[4] Light Roast vs. Dark Roast Coffee: Which Packs More Health Perks? – https://www.health.com/nutrition/light-dark-roast-coffee-which-is-healthier