Are you looking for a coffee grinder that helps you get into home espresso and have you covered with the drip, French press, pour over and other brewing methods? Breville Smart Grinder Pro is the first one that comes up to my mind.
Assume you already knew that making an espresso at home without a decent espresso coffee grinder is an unrealistic expectation, even if you have a great espresso machine. It's even harder to find a grinder that works for both espresso and drip coffee with a relatively low budget.
Breville Smart Grinder Pro is the one that suits you the best. It offers a wide range of grind settings for all the brewing methods but still gives you enough room to dial in your grinder for espresso's best result.
No doubt, Breville is one of the biggest home appliances manufacturers in the world. The Breville Smart Grinder Pro is a product that is making huge hype. It is a bit more expensive than most burr grinders, but it is much more affordable than most decent espresso grinders in the market. Check out our selection of the best coffee grinder for espresso for more options.
In this Breville Smart Grinder Pro review, we will discuss the key features of this product and will help you decide whether or not this coffee grinder is the right choice for you.
The Breville Smart Grinder Pro Review
Breville aimed to modernize their customers' grinding experience by creating a powerful, intuitive, and highly convenient coffee grinder. Its advanced but straightforward features make grinding simple and hassle-free.
Let's look at the key features that make it stand out from the rest of its kind.
Overall Design
Burr and Motor Quality
Breville Smart Grinder comes with 40mm stainless steel conical burrs, which will offer you a decent consistency that is fine enough for espresso and a bit coarser for French Press grind size. Further, it is fitted with a powerful 165W motor that spins the burrs at a lower rate of 450rpm to ensure that there is no excess heat buildup during the grinding process. It also reduces the noise when grinding. This burr set is also similar to the one in the best-selling Breville espresso machines such as the Barista Pro BES878 and Barista Express BES870.
Aesthetic Appearance
The Breville Smart Grinder Pro looks appealing and also professional. The blue LCD display on the front makes it look very stylish and premium. It will pair up pretty well with any espresso machine or kitchen appliances that might be sitting on your countertop. Moreover, there are eight colors to choose from: Black, Cranberry Red or Brushed stainless steel and more.
Dimensions
Breville BCG820BSSXL measures 8.5 x 6 x 15.5 inches, it's not very compact, so you have to make some room for it. Further, the main stainless steel bodyweight around 6.4 pounds. This will keep your grinder stable while doing the grinding job. In short, it will not shake or shiver when you're working.
Capacity
The capacity of the bean hopper is 1 pound (18 ounces). We usually don't really recommend storing the beans in the container, but this one comes with an airtight lid, so you can store your beans in it without worrying about their freshness when you don't have a decent coffee bean container.
Ease Of Cleaning
Breville has made the grinder very easy to clean, which is a great plus point. All you need to do is detach the hopper and pull it to expose the removable burr. It has a removable magnetic grounds tray that makes cleaning super easy. The coffee machine also comes with a brush, which you can use to clean the residue.
What Comes With The Breville Smart Grinder PRO?
#1. Two Different Portafilter Cradles
Breville indeed kept the end-users in mind while designing this smart machine. The product comes with two different sized portafilter holders, one for 58mm portafilter and the other for 50 to 54 mm portafilters. Both of these cradles are removable and feature magnetic locks. Further, there is also a magnetic plate at the base which catches the coffee dust spilled during the grinding process.
#2.A ground container
#3.One Cleaning Brush
Ease Of Use
The Breville coffee grinder features an LCD screen, making it stand out from the other grinders in this range. It makes it look premium and also guides the user in the process.
This programmable conical burr grinder displays information such as the grind time, the number of cups or espresso shots you're making, the grind setting you're using, etc. Every setting is distinct and well-explained, which makes it easy to use.
Precise Digital Timer allows you to program grind time in 0.2 second increments. This 'Dosing IQ' feature offers proper control to the user and helps in getting the perfect result every time. Once you've found your desired dose setting, you only need to press and hold the "Program" button for saving the setting. By doing this, you'll get the same exact amount of ground coffee every single time.
It is definitely worth its name – Smart grinder PRO. It offers you the programmability that no other machine offers at the price point. You can set a different mode for each one of 4 options – Espresso, Percolator, Drip and Press. Next, you can change the number of shots or cups to grind for, and the smart grinder will automatically set the required time.
There is a built-in pause function in the start button, which comes in handy when you want to settle the coffee grounds into the portafilter in between. You can pause the grinder till you finish.
What's more, there's a manual grind button in the portafilter slot. You can insert the portafilter and push the button, the machine will start grinding. And it will stop grinding when you remove the portafilter, giving you total control over the dosage. Once the manual grinding starts, it runs a count up timer automatically, so you can also record your manual operation in the program if needed. Such a considerate design.
We also like the lock/unlock feature of the hopper. When it is unlocked, it seals down the bottom and makes sure you won't spill the coffee beans all over your countertop.
Grind Consistency and Quality
Breville Smart Grinder Pro offers 60 grind settings that can be calibrated further. These settings will help you in grinding the texture you want. Depending on your likes, you can adjust the grinder for having coarse, medium coarse or fine grinds.
The coffee grounds remain consistent regardless of the setting you're grinding on. There is a 10-step micro-adjustment feature that is built on the top burr. This function offers more flexibility and control. We believe that the 60 grind settings of Breville Smart Grinder Pro are more than enough for a variety of brew styles.
Like many other coffee grinders, the consistency gets reduced as you go down for coarser grinds. We found that this product struggles a bit for the coarser grind but does an excellent job for the fine and medium grinds.
Some user reviews are stating that this Breville burr grinder can't grind` perfectly coarse grind for French Press. But know that you can make delicious coffee even with the finer grinds.
Durability
The finish and features of Breville Smart Grinder Pro are top-notch, provided the price range it comes in. Its plastic body sits right in the main stainless steel casing, which keeps the grinder stable while operating. It is sturdy and will surely last for a few years, no doubt in that.
However, this fancy-looking machine comes with lots of electronic components, which is not a good thing when talking about durability. But the good thing is that it offers a one-year warranty, not to forget, Breville offers great customer support.
Value for Money
Breville Smart Grinder Pro offers the same feature you'd get in a high-end grinder. The number of grind settings, LCD display, the aesthetic looks and the convenience dosing IQ feature can make anyone go gaga at this low price.
Some burr grinders in the market that come at twice the cost of Breville Smart Grinder Pro have fewer features and capabilities. Many manufacturers claimed their grinders grind fine enough for espresso, but in fact, you can only use the pressurized portafilter to get away with it, and you have no room for any adjustments. In the end, you have to spend an extra budget on upgrading. Breville Smart Grinder Pro is a real espresso grinder that saves you the frustrations.
So, without any doubt, we can say that this grinder is a great value for money.
---
Are There Any Alternatives?
Baratza Vario Flat Burr Coffee Grinder
If you've more budget and are looking for a café-quality grind consistency, have a look at Baratza Vario flat burr grinder. It offers nearly the same features and capabilities as this Breville grinder but with a better grind consistency. Although Vario comes at twice the price of Breville, we think it is worth the money.
Baratza Virtuoso – Conical Burr Coffee Grinder
If you're looking for a high-quality coffee grinder and not particularly an espresso grinder, have a look at the Baratza Virtuoso. It is a non-fussy, everyday use grinder that offers great features and better grind consistency for pour-over, French press, and drip coffee. The price is the same as Breville Smart Grinder Pro. Check out our detailed review of the Baratza Virtuoso – Conical Burr Coffee Grinder.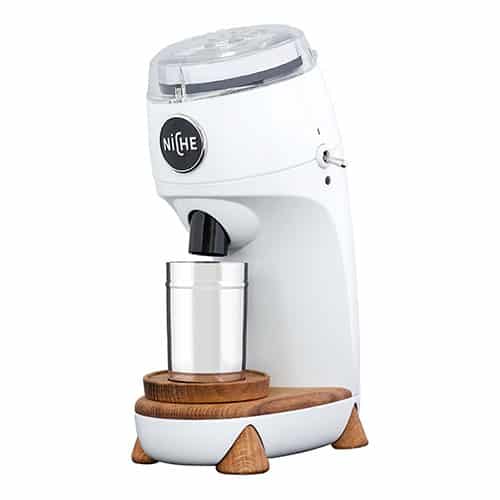 Niche Zero Coffee Grinder
Just like Breville Smart Grinder Pro, Niche Zero is also an all-rounder coffee grinder that works perfectly for any brew style. In our test, Niche Zero does a better job in both fine and coarse sides. However, the price is much higher than Smart Grinder Pro, and it's often sold out. Check out our hands-on review of the Niche Zero.
Our Verdict
Breville Smart Grinder Pro is a perfect choice if you want a grinder that does both espresso and the others well.
It has collected the best features from a variety of grinders and packed them into one fantastic machine. The main advantage is the reasonable price it comes at. Whether you're a beginner or a pro-level coffee enthusiast, Smart Grinder Pro has got the best for you. It is simple and easy to use, coffee grinding will surely be a breeze with it.
FAQ
Are Breville and Sage The Same?
The Australian company Breville sells the products all over the world, in some regions it is operated by their partners who use their own brands for local marketing. In UK and some European countries, the Breville products are branded as Sage by Heston Blumenthal. So don't be surprised when you see the exact same models with different brand names when you search for product information online. In the United States and Canada, they use the brand name 'Breville'.
References:
Photo credit: https://www.breville.com