For any avid coffee consumer, the beverage is most enjoyable with even just a drop of milk. Unfortunately, simply pouring milk does not provide you with the best quality drink. Consequently, more people are purchasing expensive specialty coffee crafted in a shop.
What if you could make it at home and save yourself the money? That is the pinnacle reason milk frothers of every type exist today. If this struggle sounds relatable, keep reading to discover the best milk frothers.
Types of Milk Frother for Coffee
There's a milk frother type for all coffee enthusiasts, so let's identify the merit of each. Please note that we are not talking about the steam wand in espresso machines here, only the standalone milk frothers.
Automatic Electric Milk Frother
Last update on 2023-09-27 / As an Amazon Associate, if you buy via the links, Brewcoffeehome earns a commission at no extra cost to you.
Electric milk frothers are becoming a thing of the future, thanks to their ability to do all the work for you. While they are higher in price, they are very convenient and fully automatic with a single push of a button. Making coffee in the morning is challenging to many coffee drinkers, a push of a button is much easier.
So what are the positives and negatives of the electric milk frother?
Pros
Heating options, so you will not have to steam milk separately
A plethora of functions to make a wide variety of coffee drinks
Removes the mess of splattering milk everywhere
Cons
Complicated to clean because you cannot stick it in the dishwasher
You can't froth the milk directly in your coffee cup
Prone to more frequent malfunction
Handheld Milk Frother
Last update on 2023-09-27 / As an Amazon Associate, if you buy via the links, Brewcoffeehome earns a commission at no extra cost to you.
Most handheld milk frothers are incredibly inexpensive, but they are not for the novices of milk frothing. Comparable to a whisk that holds electric mechanisms and a sleek, cylindrical body, the battery-operated milk frother routinely performs on AA batteries with a few rechargeable exceptions.
Now, let's review the benefits and limitations of the handheld milk frother:
Pros
Easy to clean
Provides more control of how you froth your milk
Can froth your milk directly in your coffee cup
Cons
Does not steam the milk
Most require batteries
Manual Milk Frother
Last update on 2023-09-27 / As an Amazon Associate, if you buy via the links, Brewcoffeehome earns a commission at no extra cost to you.
These milk frothers require manual effort. They are akin to the french press both in appearance and operation. For those unfamiliar with french presses, you essentially move the plunger attached to the jug lid, up and down to froth milk.
What's satisfactory and what's unfavorable regarding the manual milk frother?
Pros
The cheapest option available for most
Does not require you to have prior milk frothing skills
The entire item is dishwasher-safe given it possesses no electric parts
Cons
Manual milk frothers take more time
Manual frother requires you to prepare steamed milk separately
The most laborious choice out of all three types
How to Choose the Best Milk Frother
Now that you recognize the three types of milk frothers, consider these details to find your perfect match.
What Kinds of Milk Foam Do You Expect?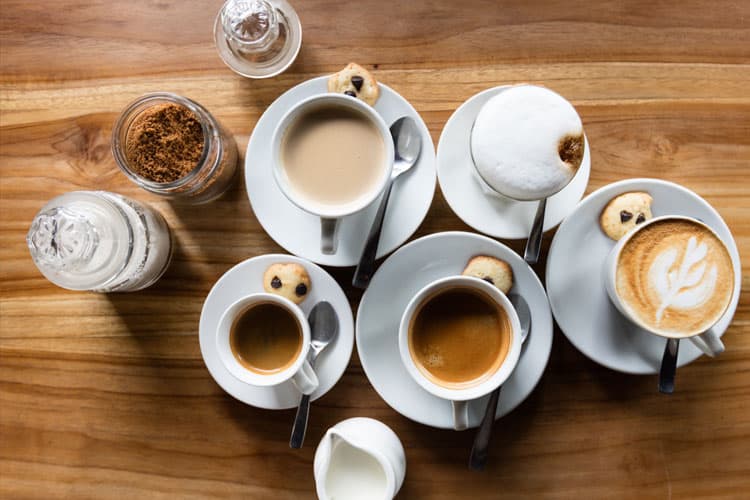 If you prefer a tasty cappuccino, you will want creamy cappuccino foam. Potential baristas will want a handheld milk frother that creates super-fine microfoam to mimic paint for latte art.
With electric milk frothers, you can make light and fluffy foam for hot drinks, including hot chocolates. Manual milk frothers allow you to create a heavy and thick whipped cream for iced coffee beverages.
Dalgona coffee is a Korean-style specialty beverage that whips sugar, hot water, and instant coffee together. Manual or handheld milk frothers work best for this concoction.
As we explained above, different coffee drinks require different frothed milk, make sure the one you choose can achieve that.
Frother vs. Steamer and Frother
If you are exclusively an iced coffee drinker, having a frother without a steamer built-in will not matter as much to you. Many coffee connoisseurs prefer some sort of hot beverage, so getting a frother that does not heat milk will be a bigger hassle.
Overall, preheating the milk will give you the best froth texture possible regardless of your drink being iced or hot. Getting a frother with a milk steamer lets you skip the independent, steaming milk step.
What Features Do You Need?
Handheld milk frothers often come with varying velocity settings either through the amount of pressure applied to one button or the existence of multiple buttons to pick from.
Electric milk frothers habitually offer more features made for specific types of beverages involving milk. You can choose textures, temperature, and drink-type through buttons or a dial.
Manual milk frothers should always come with a jug and a lid that holds the plunger. The lid is usually plastic but the jug material may vary, determining your ability to run it through the microwave.
Is It Easy to Clean?
Manual and handheld milk frothers are easier to clean than most automatic ones because they contain fewer electric parts.
Handheld frothers only require cleaning the whisk rather than the entire device. Simply run the whisk under hot soapy water to rinse it off and turn it on for a couple of seconds to dry it off.
Electric milk frothers are a bit more tedious because many require disassembly to wash the most essential pieces.
What Is Your Budget?
It is crucial to calculate how much money you can actively spend on a milk frother before making any final decisions.
Automatic electric milk frothers cost more, some even more expensive than the entry-level espresso maker with a steam wand.
Handheld and manual milk frothers are more affordable. If you are new to the milk frothing game, consider purchasing one because the lower price makes it less of a commitment.
11 of the Best Milk Frothers in 2023
With 2021 being a whirlwind, coffee consumption was on the rise. Let's delve into the best frothers coffee lovers preferred this year.
Best Electric Milk Frothers
Electric milk frothers are pivotal game-changers, so let's find out why.
1. Breville BMF600XL Milk Cafe Milk Frother– Most Versatile
Pros
The most versatile electric milk frother for different coffee drinks
Accurate temperature control, froth milk perfectly
Long-lasting and not known to malfunction
Works well for any milk, including alternatives
Cons
The Breville Milk Cafe is the first electric milk frothers worth noting. This frother possesses an outside container crafted entirely of stainless steel. Additionally, it comes with plastic add-ons such as the handle and lid. The milk jug capacity reaches a generous 25 ounces or three cups.
This Breville milk frother has a few unique settings as well. Holding optimum temperature settings of warm, cold stir, and hot, the apparatus is excellent for any kind of coffee. It even offers a convenient cord-wrap feature at the base of the gadget. This component appeases potential buyers concerned about the wiring occupying functional counter space.
Let's say you're looking to have a cup of ice latte one day and a steaming-hot cappuccino the next. No matter how piping or how chilling you want your drink to be, the Breville covers it all. It also comes with two frothing discs, you can create frothy milk with the cappuccino disc or smoother foam with the latte frothing disc.
2. Maestri House Milk Frother – Best Overall
Pros
Elegant design
Easy-to-clean detachable milk jug
Three milk temp and thickness options
Support cold froth
Extremely quiet
Affordable for what it offers
Available in many stylish colors
The Maestri House milk frother is one of the best on the market. It has a beautiful, aesthetically pleasing design with several colors. Not only that, but it is solid and robust and won't take up much countertop space.
The machine also has three temperature settings: 120°F (48°C), 140°F (60°C), and 160°F(71°C), and you can choose from three milk thickness settings – perfect if you like to try different espresso-based milk drinks.
Not only that, but the cost is relatively low and comparable to the other electric milk frothers that offer similar functions.
Overall, the machine produces beautiful coffee consistently and easily, while it's also easy to clean and maintain, offering an excellent option if you have neither the barista skills nor the time to make drinks manually.
3. Nespresso Aeroccino4 Milk Frother – Best for Nespresso
Pros
Fits neatly on your counter or in a cabinet
Offers four froth settings to pick from
Excellent for Nespresso coffee
Cons
Expensive for what it offers
Less specialty beverage-making abilities
Should you upgrade to the Nespresso Aeroccino4 milk frother? Equipped with four settings to choose from, the Aeroccino4 allows future buyers to cold froth, heat, delicately, or thickly froth the milk.
As a reasonably compact machine, this milk frother does not require loads of counter space. The milk pitcher has a stainless steel body and a non-stick interior, making it easy to clean. Bottom line, if you are a user of a Nespresso capsule espresso machine, the Aeroccino4 might be a frother to keep in mind. They are just a perfect match.
Nespresso also has a cheaper Aeroccino 3, which has 3 frothing options and is controlled by one button. However, the Aeroccino4 comes with a spout and a handle, making it easier to pour milk into the coffee.
4. Smeg 50's Retro Style Aesthetic Milk Frother, MFF01 – Most Stylish
Pros
Looks aesthetically pleasing anywhere in the kitchen
Comes with a dial displaying pictures for easy use
The detachable jug is easy to clean compared to other electric frothers
Cons
More expensive than other milk frothers on the list
Aside from its trendy aesthetic, the Smeg 50's style milk frother created a hefty stir over the past year. When searching for your best overall milk frother, you might consider this gadget.
This SMEG milk frother includes an easy-to-use dial for a total of six different beverage-making settings. These settings consist of hot chocolate, heating milk, lightly or heavily frothing hot or cold milk, and an option to utilize your device manually.
Also containing a cord wrap, the Smeg frother comes with a detachable milk jug that is dishwasher-safe. The Smeg offers three vibrant colors, red, pastel green, and cream, complimenting your kitchen attractively.
5. Bodum Bistro Electric Milk Frother – Best Budget
Pros
One of the more affordable electric frothers
Does not use excessive power
Turns off automatically
Cons
Has a harder time frothing milk alternatives
The canister is not fully waterproof, leading to difficult cleaning
For coffee drinkers who previously owned handheld or manual frothers, 'Bodum' probably rings a bell. The Bodum Bistro electric milk frother compares impressively against a few of the other electric frothers.
Being one of the more affordable automatic frothers, the Bistro is unique given that the manufacturer recommends using low or nonfat milk. However, there is no need to worry if 2% or whole milk is your preference.
The unit powers down automatically when frothing is complete. Additionally, the milk added to the frother can warm up to a steamy 158°F.
6. Huogary Milk Frother – Best Value Option
Pros
Includes a 12-month warranty
Overall reasonable price
Cons
Spinner may malfunction after several months of use
The Huogary milk frother, decorated with a beautiful chrome finish, provides admirable performance. It froths milk in less than a minute. You can either create hot or cold foam, or just heat milk.
The cord attached is extra-long with the ability to wrap around the detachable base of the frother.
The Huogary additionally possesses a brush, offering customers a more efficient cleaning method. The brush allows you to get to those harder-to-reach crevices that most milk frothers subsequently have.
7. Secura Milk Frother and Steamer – Best Detachable Milk Frother
Pros
Holds twice the capacity of milk compared to other electric milk frothers
Has an easy-to-clean, removable, dishwasher-safe lid and jug
Cons
Must adjust frothing disks constantly to receive your desired froth
This stainless steel appliance is another contender in the line-up of automatic and electric milk frothers. The Secura turns 250mL of milk into a rich and creamy foam.
The frother contains a heating whisk and frothing disks to warm up the milk. It also allows you to create cold or hot froth that is extra thick in a matter of minutes. You can even produce small amounts of froth from heating chocolate milk.
Whichever heating whisk is not in use is securely stored by a magnet on the bottom of the base. This stainless steel frother also possesses a jug spout, allowing you to pour without causing a splash.
Best Handheld Milk Frothers
If you're no rookie and enjoy having a bit more control over how you produce your milk froth, handheld milk frothers are the way to go.
8. Subminimal NanoFoamer – Best for Latte Art
Pros
Compact and lightweight
Ideal for aspiring baristas to perfect their craft
Removes the tedious whisk on most frothers
Cons
Battery drainage may excessive
Switch requires constant pressure to keep the item on
Other than its guarantee of creating scrumptious microfoam milk in just 20 seconds, the NanoFoamer is great for amateur latte art. Not many milk frothers dare to claim that they can create foam for latte art. It takes some practice, however, if everything's done right, you can make a perfect cup of coffee like the one you get from your favorite coffee shop.
The handheld electric frother includes two nano-screens that you attach to the existing propeller. These screens provide you with the option to produce fine or super-fine foam. It additionally comes with a holder that you can mount to your wall for improved accessibility.
This frother is a decent in-between frother compared to basic handheld and automatic electric versions. However, you will want to keep in mind that it requires two AA batteries.
9. Zulay Milk Frother Handheld Foam Maker – Best Value
The Zulay Milk frother is an affordable foam maker that helps you craft a variety of specialty coffee beverages. This compact and simple milk frother functions well. It works as an immersion blender, just add milk and place the whisk just under the surface, you can create foam for your drinks.
Storage is made easy with the durable metal stand accompanying the frother. To clean your item, you simply run the whisk portion of the frother under warm or hot water while briefly pressing the power button.
10. FoodVille MF02 Rechargeable Milk Frother – Best Rechargeable
Pros
Each button only requires one quick push to keep the product on
Rechargeable and requires zero physical batteries.
Three-speed settings to choose from.
Cons
Size makes it challenging to store in the utensil drawer
Submerging this frother too deep into a liquid will cause it to shut off automatically
The FoodVille handheld milk frother stands out from many others as you do not need physical batteries to keep this item running. Any purchaser will receive a stand, a USB cable, and an additional whisk type to attach to your frother.
This battery operated kitchen appliance also has three large, circular buttons with various speed settings. Given that the milk frother does not function on batteries, the USB cable makes it easy to recharge your device whenever necessary.
Best Manual Milk Frothers
While electric and hand held frothers have their appeal, many people still prefer manual milk frothers. Their affordable price and easy maneuverability make them a favorite, especially the following products.
11. Bodum Latteo Glass Milk Frother – Best Budget Manual Frother
Pros
Both microwavable and dishwasher-safe
Requires no prior milk frothing skills for optimal utilization
Comfortable grip on the plunger handle
Cons
May cause you to tire easily
Plunger can break with over-usage
The Bodum Latteo is a manual frother that holds up to eight ounces of milk. The jug is made of borosilicate glass and contains a comfortable plunger handle.
The company recommends cold, nonfat milk for the best results, but any milk type is still formidable. The container displays a maximum fill line, so you do not have to make guesses when pouring your milk.
Typically, the manual frother will only require a minute of labor to get your milk to a nice, thick consistency. You can then spoon the froth directly out of the jug and into your coffee cup.
Every part of this manual frother is dishwasher-safe, so nothing requires handwashing. Plus, the jug is microwave-safe, allowing you to heat your milk without wasting extra dishes.
12. ENLOY Stainless Steel Handheld Milk Frothing Pitchers – Best Stainless Steel Option
Pros
Jug can serve as a kettle for tea or other non-coffee beverages.
Easy-to-clean stainless steel material
Cons
Not microwave-safe due to the metal jug
While the ENLOY has several similarities to the Bodum Latteo, this frother holds a maximum of 27 ounces of milk. Crafted almost entirely of stainless steel, the coffee appliance will last you a considerably long time.
You will also receive a filter screen to produce super-fine milk foam with each use. This manual milk frother is made of mostly metal, requiring that you heat your milk on a stovetop if you prefer to do so directly in the jug.
What Is the Best Milk for Frothing?
The type of milk you use when frothing is up to you and what you consume most comfortably. Some will say that the fat and protein levels in the milk determine how thick and steady your milk froth turns out.
Many coffee consumers recommend using low-fat or skim milk with their products because the milk is easier to froth and create thicker foam.
Non-dairy alternatives such as soy milk often produce a foam that drops quicker and creates larger air bubbles. Whole milk typically provides a very creamy and stable foam.
As time progresses, dairy is no longer enjoyable for many. For non-dairy milk and other alternative milks, handheld or automatic milk frothers will work best. Oat milk, almond milk, rice milk, and coconut milk all produce froth that takes longer to thicken.
What Coffee Drinks Can You Make with a Milk Frother?
If you are new to the world of specialty coffee beverages, use this comprehensive list as your guide: 
Hot Cappuccino: This coffee beverage is an espresso with thick, creamy froth. You can have it caffeinated or decaffeinated with nutmeg powder sprinkled on top.
Iced Latte: Lattes manifest with cold milk that is lighter in texture and mixed with espresso or black coffee.
Macchiato: Often served hot or cold, macchiatos are shots of espresso poured over an already-made froth, creating an attractive layer.
Hot Chocolate: This holiday drink includes chocolate flakes or cocoa powder mixed with frothed milk and often topped with marshmallows or syrup.
Dalgona Coffee: The trendy Korean-style beverage incorporates instant coffee blended with sugar and hot water until thick, served over milk.
The Verdict
Now that you have all the necessary information about milk frothers, it's time to get your own.
The Best Automatic Milk Frother
Last update on 2023-09-27 / As an Amazon Associate, if you buy via the links, Brewcoffeehome earns a commission at no extra cost to you.
For an electric milk frother, we recommend the Breville Milk Cafe for its ability to make frothing a trivial activity, regardless of what milk type you use. It is reasonably priced and offers many settings for every coffee beverage in existence.
The Best Handheld Milk Frother
Last update on 2023-09-27 / As an Amazon Associate, if you buy via the links, Brewcoffeehome earns a commission at no extra cost to you.
If you prefer a handheld frother, start with the Subminimal NanoFoamer because it changes the game by replacing the whisk with a screen, creating a microfoam suitable for fluffy or thin milk froth.
The Best Manual Milk Frother
Last update on 2023-09-27 / As an Amazon Associate, if you buy via the links, Brewcoffeehome earns a commission at no extra cost to you.
For the fans of old-fashioned frothing, the Bodum Latteo is the most affordable frother out there. It produces the creamiest foam while being super easy to store and clean.
Frequently Asked Questions
What is the best temperature for frothing milk?
The optimal temperature for frothing milk is 150-155°F on a home machine. Milk will start burning around 165-170°F. Most coffee shops will have flamboyant machinery that reaches temperatures of 165-170°F, but this is not a must for any homemade froths. 
Is a milk frother worth the money?
Milk frothers are worth the money and save you multiple trips to coffee shops that charge way too much for a single cup. Imagine being able to make all your specialty coffee beverages from home? This investment keeps you from making a stop at your local cafe early in the morning. 
Can you froth cold milk?
It is possible to froth cold milk. The texture might not be ideal for handheld or electric frothers. The best milk foam manifests with warm or hot milk, but manual milk frothers might suggest chilled rather than heated milk. 
Frothing cold milk is not a dealbreaker for most, and your coffee will still be enjoyable.