If you are in the market for an espresso machine, you are looking for consistent, excellent quality espresso drinks, just like anything served at your favorite coffee shops or espresso bars.
However, having a reliable espresso machine is not enough, you'll also need a decent espresso grinder that can grind fine enough and offer the ability to dial in for the perfect shot. If you want to save the hassles and money, consider buying an espresso machine that grinds coffee beans for you.
To help narrow down your decision and avoid any overlooked possibilities, we've identified eight of the best espresso machines with a built-in grinder on the market today.
Last update on 2023-09-28 / As an Amazon Associate, if you buy via the links, Brewcoffeehome earns a commission at no extra cost to you.
Things To Consider Before Choosing An Espresso Machine With Grinder
First thing's first. It is necessary to identify how much counter space you have or are willing to allocate to storing your espresso machine. Espresso makers are larger than your average coffee maker, and they're even larger if you select one that includes an electric coffee bean grinder.
After that, you want an espresso machine that makes an espresso your way, which comes down to features and convenience. Almost any machine on the list in this guide can make an excellent espresso sure to satisfy a large part of the coffee and espresso drinking population. You want an espresso machine that makes an espresso your way, which comes down to features and convenience.
What Types Of Espresso Machines Do You Like?
The odds are that if you are looking to brew your espresso at home, you are already motivated, at least somewhat, by the idea of convenience. The question then becomes, how much convenience do you need or desire.
Generally speaking, there are three primary categories of espresso makers.
With a manual espresso machine, you have full control over your shots. You can choose to purchase a separate grinder and milk frother, adding to the overall cost and taking up more counter space, or you can buy pre-ground coffee beans. Neither option is a bad one. However, a better flavor is possible if you use freshly ground coffee.
A semi-automatic espresso machine with a grinder is a popular option. It offers the convenience of a combination system, saving money and space, but these espresso machines require a little more effort in the brewing process and cleanup. Additionally, the features on the semi-automatic do not offer as many diverse setting options as the super-automatic espresso machines.
All fully automatic espresso machines come with built-in grinders and all the bells and whistles, often offering more settings and more delicate grinding options than what is available on semi-automatic machines. They brew your espresso from bean to cup with a touch of a button.
Built-in Grinder Vs. Stand Alone Espresso Grinder
Built-in grinders usually use a conical burr set with smaller burrs and fewer grind options. You have smaller steel or ceramic burr grinder in it. And standalone grinders can use conical or flat burrs. Usually, higher-end grinders have larger burrs set and more grind size options or stepless adjustment for dialing in for the best espresso shots.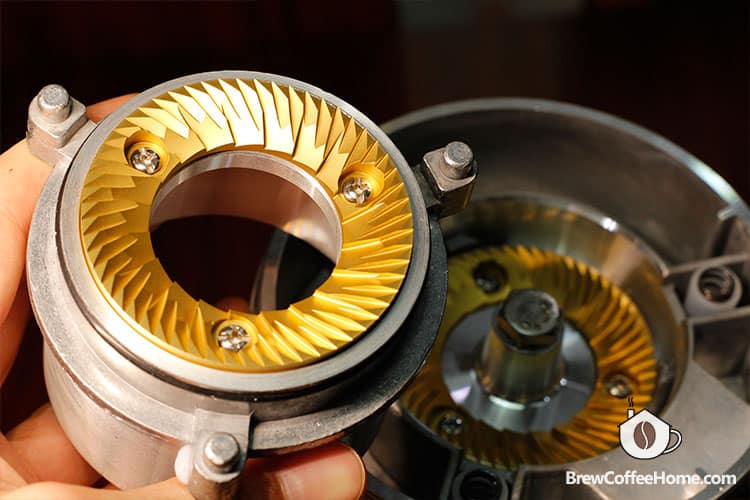 Even when selecting the option for a built-in coffee grinder, many espresso enthusiasts believe that it is essential that the machine also allows you to use your own coffee grounds from time to time. This duality provides for the diversity of specialty coffee bean flavors that are pre-ground. If you are choosing a semi-automatic machine, make sure it offers pressurized baskets for pre-ground coffee. And not all super-automatic espresso machines allow ground coffee, while you may find a grinder by-pass chute in some models.
Budget
Finally, your budget matters. Not all home espresso machines on the market today can make authentic cafe-quality espresso. We often categorize them into entry-level, mid-range, and high-end ranges.
Cheap entry-level coffee machines often use smaller pressurized basket that allows users to use pre-ground coffee, and normally they don't have a built-in grinder. Mid-range espresso machines allow you to have more control but require a learning curve. High-end coffee makers are equipped with components that are used in commercial machines but designed with home brewing in mind.
Espresso machines and espresso grinders are not cheap. Regardless of your choice, a combination costs less than buying them separately.
Top 8 Espresso Machines with Built-In Grinders
Semi-Automatic Espresso Machines with Grinders
1. Breville BES878BSS Barista Pro Espresso Machine
Last update on 2023-09-28 / As an Amazon Associate, if you buy via the links, Brewcoffeehome earns a commission at no extra cost to you.
The Breville Barista Pro model is trending among the Breville Barista Series praised for its efficiency, dosing control, and balanced flavor extraction.
After grinding, it takes only 3 seconds to reach an optimal brewing temperature and less than a minute to get a full-bodied, brewed, and flavored espresso. It then instantly goes from espresso to steam, adding the satisfying flavor and froth of foamed milk.
You can select brewing for either single or double-shot. The right cup of coffee is delivered every time using a precision dosing by time combined with the conical burr. You have 30 grind settings, which is more flexible than the Breville Barista Express espresso machine and many espresso grinders on the market. The bean hopper can hold 2 lbs of coffee with a well-sealed lid.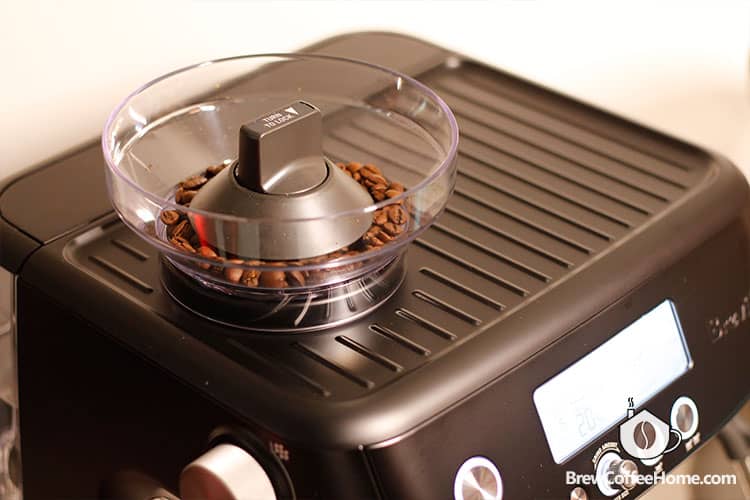 In addition to efficiently reaching optimal temperatures every time, a gradual pressure increase process achieves optimal brewing pressure. These features create even flavor extraction allowing for a smoothly balanced taste in every cup.
This Breville espresso maker holds 67 oz of water and comes with a commercial-style steam wand for enhancing flavor and creating unique latte art sure to bring a smile to any day.
Its bright LCD is exceptionally user-friendly, featuring digital plain text directions for selecting all your brewing options. The display includes progress animations highlighting every stage in the perfect espresso-making process, from a bean grinder countdown to being ready for frothy foam. This is an upgrade to the popular Breville Barista Express espresso machine, if you have enough budget, we recommend the Pro. Check our hands-on review of the Breville Barista Pro for more details, we've been using it for quite a long time and love the performance.
2. De'Longhi La Specialista Espresso Machine with Sensor Grinder
Last update on 2023-09-28 / As an Amazon Associate, if you buy via the links, Brewcoffeehome earns a commission at no extra cost to you.
The La Specialista is a semi-automatic espresso machine with a built-in burr grinder designed with beginners in mind.
It is one of the fastest and most efficient models on the market, taking less than a minute to power up. Once on, it has a quick-start feature that allows it to begin grinding immediately.
It offers a single or double espresso dose option. The added feature of a sensor in the grinder makes it possible to grind the exact amount of beans for even dosing every time. You have six grind size settings.
Tamping is another variable that affects dosing and flavor. The La Specialista eliminates inconsistencies in tamping pressure with its advanced innovative tamping system that creates even, proper pressure to maximize flavor.
In addition to precise dosing and tamping, this cappuccino maker uses two separate temperature-controlled features to maximize flavor extraction and create perfect steamed milk. This second temperature-controlled system is what allows it to transition instantly to steam.
It uses a 19-bar pump system to create the desired milk topping consistency for latte and cappuccino beverages. The panarello wand includes options for flat milk, foam, or giant bubbles. You can easily froth milk for cappuccino without learning. It also has a separate hot water dispenser to brew an authentic Americano. Check out the La Specialista review if you are interested in more details.
3. Calphalon Temp IQ Espresso Machine with Grinder
Last update on 2023-09-27 / As an Amazon Associate, if you buy via the links, Brewcoffeehome earns a commission at no extra cost to you.
The Calphalon Temp IQ is a stainless steel espresso machine with an advanced conical burr fine grinder for ideal brewing.
With the diversity of 30 grinder settings, the Temp IQ allows for a more individualized espresso brewing than any other machine. Complete control over grind size allows a better, more flavorful, and personalized brew option.
It allows for pre-programming, grinding, and brewing preferences with options for 1 or 2 espresso shot dosing. Automatic volume control features ensure even dosing every time.
It holds a larger capacity for beans and water than other espresso machines.
It has two separate heating systems that allow optimal brewing temperature and simultaneous steaming. This duality enables the machine to automatically switch to steam once brewing is complete. This heating system also allows optimal temperature control, vital for even and robust flavor extraction.
The Temp IQ has a 15 bar Italian pump system that extracts maximum flavor and creates ideal froth consistencies. It comes with a commercial size 58mm portafilter with pressurized and non-pressurized baskets.
Additional features include a steam wand, tamper, stainless steel frothing cup, separate hot water dispenser, and a cup warming option not found on many other models. Read our Calphalon Temp IQ Espresso Machine review here.
4. Breville Oracle Touch Espresso Machine
Last update on 2023-09-28 / As an Amazon Associate, if you buy via the links, Brewcoffeehome earns a commission at no extra cost to you.
The Breville Oracle Touch is a high-end dual boiler, highly programmable espresso machine with adjustable grind control and touch screen operation.
The Oracle Touch comes pre-programmed with five popular espresso recipes. It allows for programming eight additional personalized flavors, making it one of the most customizable machines on the market.
You can program everything from coffee strength and foam thickness to temperature. You can save each setting by name and picture to make selecting your daily espresso flavor easy and fun.
The Breville Oracle Touch is more advanced than other semi-automatic espresso machines on the list. It offers more hands-free assistance such as the advanced dosing control and automatic grinding and tamping. What's more, it's a double boiler espresso machine that allows you to grind and steam simultaneously.
Each of these features is critical in maximizing the balanced flavor in each shot and is friendly to espresso beginners.
Other features include a stainless steel milk jug, automatic and self-cleaning steam wand, and mini grinds bin.
Fully Automatic Espresso Coffee Machine with Grinder
5. Jura A1
Last update on 2023-09-27 / As an Amazon Associate, if you buy via the links, Brewcoffeehome earns a commission at no extra cost to you.
The Jura A1 is an elegant, ultra-compact, fully automatic coffee and espresso machine with an advanced AromaG3 grinder.
It is a Jura bean-to-cup machine designed for coffee and espresso enthusiasts and those investing in a quality coffee and espresso maker for the first time.
Along with its efficient sizing, it is an easy-to-use, single press, touch screen machine, programmable to three cup sizes and two coffee strengths. The common recurring theme in its design is simplicity and minimalization to allow you to make your daily coffee or espresso quickly and easily.
The Jura A1 has mastered an innovative Pulse Extraction Process (P.E.P.), allowing maximum flavor extraction by filtering water through the grounds in small intervals rather than continuously as standard machines do.
Efficiency also extends to energy usage with an automatic energy-saving mode and programmable shut-off features.
The AromaG3 grinder allows for adjustment to the exact coffee powder fineness desired. The Aroma G3 also uses modern cutting and grinding techniques that reduce grinding times by half while still extracting a full aroma from your freshly ground beans.
You have great espresso brewed with fresh beans without hassles. Find more details in our Jura A1 review.
6. Philips Kitchen Appliances EP4347/94 Espresso Machine
Last update on 2023-09-28 / As an Amazon Associate, if you buy via the links, Brewcoffeehome earns a commission at no extra cost to you.
The Philips EP4347 model espresso machine is a user-friendly, compact, fully automatic machine with LCD touch capabilities.
The EP4347 allows the creation of two user profiles to save individualized coffee settings while maintaining non-user profile brewing options. User profiles can customize coffee preferences quickly and efficiently with variable LCD touch screen options allowing selection of flavor strength, drink size, and temperature.
The EP4347 has a durable ceramic grinder with 12 grind settings. It also offers optimal temperature and an efficient aroma extraction process with five aroma strength settings.
LatteGo milk frothing systems with no added tubes or parts. Cleaning is possible in as little as 15 seconds in the sink, making it Philips' fastest and most uncomplicated machine to ever clean.
In addition to easy cleaning, the GoLatte milk system creates thick, smooth milk froths of varying thicknesses and flavors to enhance your espresso enjoyment. You have 10 preset recipes, press a button then you can enjoy Cappuccino, Americano, Latte Macchiato and more.
The EP4347 model uses a filter system that makes up to 5000 cups of coffee, espresso, and lattes with quality clean water before requiring filter changes. Filter changes are simple, and the LCD screen lets you know when the system recommends a cleaning or filter change.
7. De'Longhi ECAM37095TI Dinamica Plus Fully Automatic Espresso Machine
Last update on 2023-09-28 / As an Amazon Associate, if you buy via the links, Brewcoffeehome earns a commission at no extra cost to you.
The Dinamica Plus is a simple to clean, fully automatic, highly programmable, simple touch espresso machine. It's equipped with all the latest technology of Delonghi espresso machines.  
The Dinamica Plus uses a customizable Coffee Link application to create up to three users profiles. It offers 16 programmable single-touch coffee flavors easily created on a large 3.5" LCD touch color display screen. It also tracks and lists your most commonly selected drink orders at the top of the screen for easy selection.
This machine offers 13 different grind options to individualize your grind quality, aroma, and flavor.
A dual heating system to allow for optimal brewing and steaming temperatures, making steaming and frothing options available immediately after brewing is complete. The LatteCrema System steams and froths milk substitutes in addition to regular milk, further individualizing an excellent espresso to your taste.
The Dinamica Plus comes with a special True-Brew over Ice feature not found on many espresso machines. With the simple push of a button, you can enjoy your favorites on ice without losing out on quality or flavor. It is just one more way to personalize your drink options with increased variety.
It is one of the easiest to maintain and clean with removable and dishwasher-safe parts, including the milk system and drip tray. Here is our detailed Delonghi Dinamica Plus review.
8. Jura Z10
Last update on 2023-09-28 / As an Amazon Associate, if you buy via the links, Brewcoffeehome earns a commission at no extra cost to you.
The Jura Z10 is a beautifully designed, elegant and sleek, high-quality, durable espresso machine that is the first of its kind to offer a full range of hot and cold brew options.
The Z10 is an advanced system with 3D brewing and intelligent preheating. It has wifi capabilities making it highly user-friendly. It has built-in automatic grinder adjustment (A.G.A.) capabilities with a specialized product recognizing grinder (P.R.G.) system allowing the grinder to automatically adjust the grind quality based on the recognized drink selected. This is the ultimate home espresso machine with grinder, you won't see this in other models.
You have whopping 32 drinks options. Additionally, unlike other machines that simply chill the coffee after brewing to create an iced option, the Z10 brews the drink with chilled water to ensure that flavor extraction is not compromised. The result is a refreshing chilled drink with full energy and coffee aroma.
It is fully programmable, adjustable for grind, brew size, and temperature, easy to clean, and heated with a dual-block heating system.
It has a single-touch milk cleaning system, energy-saving mode, and programmable turn-off features.
At 4.3", it has the most prominent color display with LCD touch screen operations, adding to ease of use when programming favored espresso recipes. The display includes popular process tracking and maintenance notification features. Check out the Jura Z10 review here.
The Verdict
While you can't go wrong with any of the machines we've discussed here, our choice for the best espresso maker with grinder in the semi-automatic category is the Breville Barista Pro for its extreme ease of use and super-fast readiness. This efficiency makes it ideal for on-the-go individuals and families who want something easy to set up, quick to use, and still provide them with the same quality beverage day in and day out.
Last update on 2023-09-28 / As an Amazon Associate, if you buy via the links, Brewcoffeehome earns a commission at no extra cost to you.
The best espresso machine with a grinder in the fully automatic category is the Philips EP4347 model. This model is impressive because it doesn't skimp on details, although compact. It allows for multiple user profiles, drink customization options, easy-clean capabilities, and lasts up to 5000 cups of coffee. It has incredible uniqueness, durability, and power. And it's also relatively budget-friendly.
Last update on 2023-09-28 / As an Amazon Associate, if you buy via the links, Brewcoffeehome earns a commission at no extra cost to you.
Each of these machines has individualized and exciting features that set them apart from other devices and make them an excellent option for anyone in the market for a home espresso machine. The machine you choose for your brewing options should satisfy your personal preferences while suitable to your home and lifestyle.
Consider the information in our review when deciding on such a long-term investment. The right choice can make a difference in your homebrew espresso quality while saving you the time and expense of going anywhere else. We hope our review helps narrow down your choice for a home espresso machine with a grinder. Enjoy!