If you're a coffee enthusiast who would like to enjoy barista-level espresso at home, choosing a reliable and high-quality espresso machine is vital. However, making that selection is not easy because of the sheer number of options on the market. So, how do you find one that fits your needs and budget?
This buying guide is designed to help you streamline your decision-making process by giving detailed descriptions of the nine best espresso machines under $500 and offering advice on how to choose.
Best Semi Automatic Machine Under $500 – Gaggia Classic Pro
Best Super Automatic Machine Under $500 – Philips Carina 1200
Best Manual Espresso Maker Under $500 – Flair Pro 2
Best Espresso Machines To Buy Under $500
If you're in the market for an espresso machine but have a budget of $500 or less, don't worry, there are still plenty of machines that can cater to your preferences and needs.
You will typically find mid-range semi-automatic machines, entry-level fully automatic machines, and manual machines in this price range. Therefore, it makes sense to break the list into three categories, which should help you find one ideal for you and within your budget.
Semi Automatic Espresso Machines Under $500
1. Gaggia Classic Pro – Best Semi Automatic Machine
Best Entry-Level Espresso Machine
Gaggia RI9380/46 Classic Pro Espresso Machine
Pros:
Switches with indicator lights when ready

3-way solenoid valve

Commercial steam wand

Single and double shot baskets & a pressurized basket

A tried and true product with extensive community support

Made in Italy

Produces flavorful and aromatic espressos and americanos
Cons:
Some time investment needed to learn the machine

No PID, require temp surfing to get the optimal brew temperature
We earn a commission if you make a purchase, at no additional cost to you.
The Gaggia Classic Pro is an affordable and capable entry-level espresso machine that can easily hold its own alongside more expensive options. I've used the machine for almost a year and wouldn't hesitate to recommend it to friends.
The machine has a beautiful aesthetic with rounded edges and chrome accents, and it is also available in a range of colors. One of the machine's most attractive features is its extensive range of aftermarket upgrades and accessories owing to its standard commercial size 58mm portafilter. Meanwhile, its 3-way solenoid valve and brass group are usually associated with more expensive machines.
It's not all perfect. One of the issues with the Gaggia Classic Pro is temperature instability, which can adversely affect the shots, especially for medium to lighter roasts. It is solvable, but I needed to perfect the temperature surfing technique. That involves running the group for a few seconds to reheat the machine before pulling a shot. Also, you may need to adjust the machine's pressure from its default 15 bars setting to a more traditional nine or lower for the best shot.
Despite that issue, the Gaggia Classic Pro is an excellent option and can produce coffee shop-quality espresso straight out of the box. However, for even better results, it's worth upgrading it. There is plenty of room to improve it with the addition of some inexpensive mods. There is also an extensive community and knowledge base to draw from whether you're installing modifications or troubleshooting.
As I mentioned in my dedicated Gaggia Classic Pro review, it is one of the most popular options for home baristas. It's easy to see why, too, given its affordability and extensive aftermarket support. Those qualities help set it apart from other espresso machines in the price range. Check out my previous Gaggia Classic pro review here for more details.
2.Solis Barista Perfetta – Best Compact
SOLIS Barista Perfetta Plus Espresso Machine, Black
Pros:
Compact and suited for limited space

Comes with all necessary accessories

Easy-to-use and programmable

Three temperature settings for adjusting to different roasts

Authentic shots and rich crema with non-pressurized basket

Strong steaming pressure and perfect for latte art
Cons:
The build quality is not as solid as other machines
We earn a commission if you make a purchase, at no additional cost to you.
I've previously shared an unboxing review of the Solis Barista Perfetta, which details a compact machine best suited to those new to making espresso at home or living in a property with limited space.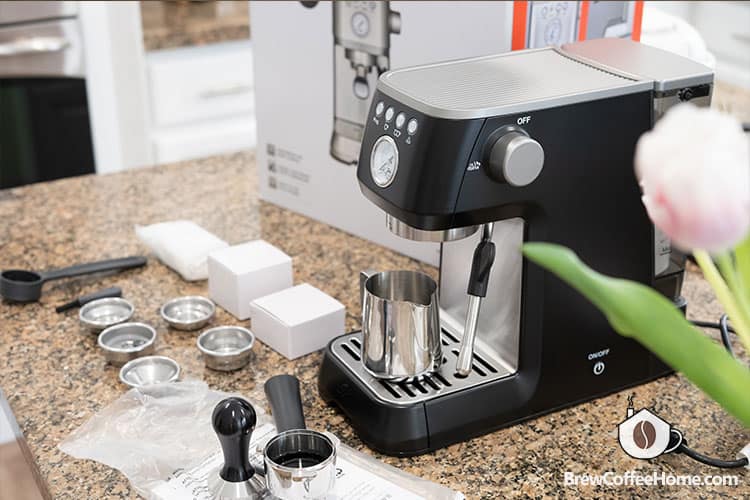 The machine comes with a double-spouted portafilter, pressurized and non-pressurized baskets, a basket for ESE pods, a cleaning basket, a milk jug, and a tamper. That gives you all you need to make great coffee.
The Solis Barista Perfetta is an easy-to-use, programmable machine. It has single and double shot options. It is also a thermoblock machine with three temperature settings, which can be adjusted to suit the roast profile of the coffee. Adjustable brew temperature is not usually seen in machines at this price, and with it, I can get the most out of different roasts.
In my testing, if the grind size is perfect using this machine, I can pull authentic shots with rich crema using the non-pressurized basket. Also, the strong steaming pressure and one-tip steam wand are perfect for creating microfoam for pouring latte art.
Overall, the Solis Barista Perfetta suits those new to making espresso at home and those with limited space and a smaller budget.
3. Breville Bambino Plus – Best For Milk Drinks
Best for Smaller Spaces
Breville Bambino Plus Espresso Machine
Pros:
Easy-to-use yet classic espresso experience

Exceptional build quality with real metal

Compact design suits small spaces

Pod-free for endless coffee options

Fast heat-up time

Pre-programmable steam wand with fast steaming performance
Cons:
Basic technology

Pressurized filter baskets are inferior to non-pressurized baskets
We earn a commission if you make a purchase, at no additional cost to you.
The Breville Bambino Plus specializes in milk-based espresso beverages. True, it has an entry-level appearance, but, don't let that put you off, as the build quality is exceptional, incorporating real metal akin to more expensive Breville espresso machines.
This is a compact espresso machine ideal for a small kitchen. There is also a large removable water reservoir at the back, a cup warming rack, a small drip tray and a user-friendly five-button interface.
The steam wand is pre-programmable to attain three independently adjustable levels of temperature and texture. The milk texturing quality is similar to that produced by more expensive options from the brand, too. However, what sets the Bambino Plus apart is its steaming performance. It has a four-hole steam wand that reaches a temperature of 60ºC in just 38 seconds. That's faster than the Barista Express and even the dual boiler.
The machine also offers a low-pressure pre-infusion, the option to program the duration of either single or double espresso shots, or you can extract manually by holding down either button. The machine doesn't require professional barista skills and is relatively easy to use too.
I disliked the temperature sensor, which is separate from the steam wand and demands double checking to ensure good contact.
Another downside is the machine's portafilter quality and quantity of filter baskets, which aren't nearly sufficient. These were likely skimped to avoid cannibalizing the market share the Breville Infuser espresso machine holds.
Nevertheless, the Breville Bambino Plus is an excellent option if you're in the market for a compact entry-level machine with beautiful steaming performance that consistently produces good quality milk-based espresso beverages. If you don't need the automatic milk frothing, the basic Bambino is more affordable, check our comparison of the Bambino Vs Bambino Plus here.
4. Calphalon BVCLECMP1 Temp iQ Espresso Machine
Calphalon BVCLECMP1 Temp iQ Espresso Machine with Steam Wand, Stainless
Pros:
Affordable and beginner-friendly semi-automatic machine

58mm portafilter, 2L large water capacity

Professional-style steam wand
Cons:
Lacks a single-walled basket

Pressurized baskets don't produce the best extraction

Not suitable for experienced espresso drinkers who want more control
We earn a commission if you make a purchase, at no additional cost to you.
The Calphalon Temp iQ is a beginner-friendly semi-automatic machine. The primary selling points of the machine are its affordable price and ease of use. In addition, it has a 58mm portafilter, two liters of water storage capacity, a professional-style steam wand, and a 12-ounce pitcher.
There are also two pressurized baskets for single and double espresso shots. However, it lacks a single-walled basket. Pressurized baskets are an excellent option for pre-ground coffee, but on the downside, they don't produce the best espresso extraction.
Everything is on the front control panel and you can pull espresso shots without expert technical skills. The machine also allows for manual control over the water volume of the shots, while there are settings including ready, steam, hot water, single and double shot automatic preset. Meanwhile, it has a high-quality steam wand which is excellent for honing your latte art skills.
Overall, the Calphalon Temp iQ is an affordable option for domestic brewers new to espresso. On the other hand, if you are a more experienced espresso drinker and are versed in spotting the nuance of different shots, the Calphalon offers a more advanced model with a built-in grinder and single-walled filter baskets. Read our comprehensive Calphalon Temp IQ Review.
Super Automatic Espresso Machines Under $500
5. Philips Carina 1200 – Best Super Automatic Espresso machine
PHILIPS 1200-Series Fully Automatic Espresso Machine w/Milk Frother (EP1220/04)
Pros:
Attractive design with clear water reservoir and chrome accents.

Simple touch interface for easy operation.

Adjustable coffee spout for taller cups.

Competent at every task, including frothing milk.

An all-in-one machine that won't break the bank.
Cons:
Limited customization options for cup size.

Maximum fill is only 8oz.

Panarello wand not suitable for latte art.

Fewer features than the Philips 3200 model.
We earn a commission if you make a purchase, at no additional cost to you.
The Philips 1200, also known as the Carina, stands out for its attractive aesthetic. It has a black plastic exterior, a clear water reservoir, and chrome accents. In addition, there is a bean hopper for fresh coffee and a bypass pre-ground chute for even more options.
On the front of the machine are indicators denoting the water level and other alerts or errors. There is also a simple touch interface that simplifies the operation of the machine.
The adjustable coffee spout offers sufficient clearance for taller cups and you can make single or double shots of espresso or Americano with one touch.
The machine comes with a Panarello wand for frothing milk, which, while not sufficient for creating latte art, is still good for drinks including cappuccinos.
Overall, the machine is competent at every task, but it's not without its downsides. For example, limited customization options exist, particularly with the cup size. In addition, the maximum fill is only 8oz which is smaller than the average size in the US.
However, compared to other machines in this list, the Philips 1200 posts beautiful aesthetics and a touch interface with significant advantages. The fact it is an all-in-one machine is another plus.
This is the best automatic espresso machine for anyone looking for an easy-to-use, straightforward, super-automatic machine that won't break the bank.
But, of course, if you are like a machine with more features, this will not be the one for you. In that case, you'd be better off opting for the Philips 3200 (our review), which makes more coffee drinks at the touch of a button. Furthermore, it costs around $100 more.
6.Gaggia Brera Super-Automatic Espresso Machine
We earn a commission if you make a purchase, at no additional cost to you.
The Gaggia Brera is a compact super-automatic espresso machine in black and silver. It offers excellent value for money and is extremely easy to use. There is also a ceramic burr grinder, rapid steam and fully programmable drink volumes.
The machine is ready to brew in under a minute and has a 41oz water reservoir and accessible dredge draw that can hold coffee from as many as eight brewing cycles.
One of the best things about the machine is the adjustable coffee doser, which lets you choose between light, medium or strong options from 7g to 10.5 g. The machine also has height-adjustable spouts for different-sized cups. Meanwhile, the Panarello wand automatically froths milk, while there is a removable brew group for straightforward maintenance.
The Gaggia Brera makes hassle-free and delicious espresso with freshly ground coffee beans. It is an excellent machine offering superb value with useful and clever features that set it apart from other super-automatic espresso machines in the price range. It has been on the market for over a decade and is still the best value option for espresso lovers and comes highly recommended.
7. Tchibo Fully Automatic Coffee And Espresso Machine
Tchibo Fully Automatic Coffee & Espresso Machine
Pros:
Efficient bean-to-cup espresso machine

Freshly ground beans with burr grinder

Easy to use and requires minimal upkeep

Affordable option

Compact and fits easily in small kitchens
Cons:
No steam wand for milk foam

Tall machine may not be convenient for refilling water reservoir

Beans cannot be too oily
We earn a commission if you make a purchase, at no additional cost to you.
The Tchibo is an excellent option if you're an espresso purist and in the market for an efficient bean-to-cup espresso machine.
The automatic coffee machine grinds fresh beans and has a burr grinder with five levels of coarseness. Elsewhere, the bean hopper can hold around 5oz of beans. Conveniently, there is also an extension that can be used to hold almost an entire bag of beans.
At the back is the water reservoir, which can hold up to 37 ounces, while the machine can make either espresso or Americano. One disadvantage is that there isn't a steam wand for milk foam.
On the plus side, the machine is extremely easy to use and requires minimal upkeep, although it will need to be cleaned occasionally. To do so, remove some stray coffee grinds from the interior.
The Tchibo is compact and easily fits in even small kitchens. Nonetheless, it is a little tall, so refilling the water reservoir may not be convenient if you have low cabinets.
Still, the Tchibo stands out from other super-automatic espresso machine offerings due to its affordability and using freshly roasted beans. As long as the beans are not too oily, they will produce a high-quality espresso that can rival any other machine.
Manual Espresso Machines Under $500
8. Flair Pro 2
Flair Espresso Maker PRO 2
Pros:
High-quality manual espresso maker

Compact and portable

Excellent coffee quality on par with expensive machines

Sturdy base and lever for pressure application

Affordable price
Cons:
Small portafilter

Requires thermal management for perfect shots

Not suitable for those with a semi-automatic machine

A good espresso grinder is required for the best espresso

An extra milk frother is required to make milk-based drinks
We earn a commission if you make a purchase, at no additional cost to you.
This brand has helped shift the narrative about manual espresso brewing and the Flair Pro 2 is a high-quality manual espresso maker in a compact travel case.
I particularly enjoy the workflow, while the coffee quality is excellent and on a par with expensive espresso machines when used correctly. The machine is straightforward to put together. It also has a sturdy base and a lever that applies pressure to the espresso shot.
To make espresso with the machine, you only need to fill the brew chamber with hot water and use the lever to drive the piston, which pushes the water through the coffee in the brew basket using high pressure.
For my taste, the portafilter is a little too small. However, it gets the job done well enough. Nevertheless, to produce the perfect shot, it requires thermal management. In other words, the brew chamber has to be reheated to prevent the espresso from being brewed at too low a temperature.
The Flair 2 Pro also has a pressure gauge that allows you to monitor the pressure applied during a shot. That is a convenient feature not found in other models. The machine is also an excellent option for those who want to brew espresso at home without spending much money.
Because of this excellent value for money, it allows users to begin brewing espresso for just a few hundred dollars. However, if you already have a semi-automatic espresso machine, it may not be the best option as it doesn't have the functionality it will offer. Flair offers a series of manual machines at different price ranges. Check this Flair review for more details.
9.9Barista Espresso Machine
The 9Barista is an espresso machine from jet engineer William Playford that resembles a stovetop moka pot.
It has three pieces – a top, a bottom water chamber, and a middle section that divides the water chamber into two parts with two red gaskets. Water is boiled in the bottom chamber and reaches nine bars of pressure. The upper chamber acts as a cooling bath, allowing the water in the coil to be around 100ºC. Coffee then exits the shower screen effectively at about 93ºC or 94ºC.
The espresso machine is essentially an upside-down portafilter that distributes pressure through a dispersion block and into a collection chamber where the espresso is poured.
Compared to other espresso machines, the 9Barista has unique features that set it apart. For example, its clever design generates nine bars of pressure on a stovetop.
It comes with an adapter desk for gas or induction and a tamper necessary for proper coffee preparation. The recommended dose when using a machine is 20g of coffee, but users can adjust it to their preference. The machine requires proper gasket seating for high-pressure generation, and it is essential to avoid overfilling the water chamber.
Overall, the 9Barista is an ingenious and fascinating solution for the issue of generating high pressure on a stovetop. It suits coffee enthusiasts who appreciate the machine's unique design and want to experiment with different espresso doses. However, it requires proper maintenance and attention to detail, which may not be ideal for people who prefer more automated espresso machines.
Pros:
Unique design generates 9 bars of pressure on a stovetop
Comes with an adapter desk for gas or induction and a tamper
Allows users to adjust the coffee dose to their preference
Cons:
Requires proper gasket seating
Essential to avoid overfilling the water chamber
Requires proper maintenance and attention to detail
Expensive
Types Of Espresso Machines To Buy For $500 Or Less
Mid-Range Semi-Automatic Machine
Mid-range semi-automatic machines are most appropriate for those with experience with espresso and who want more control over their brewing process.
These machines require more manual involvement. For example, you'll need to grind, tamp and decide the volume of your shot. However, this control allows users to tweak their espresso shots to their taste.
The Gaggia Classic Pro is the best espresso machine I recommend in this category.
Entry-Level Super Automatic Espresso Machines
For those who prefer convenience and speed, entry-level fully automatic espresso machines are ideal.
Around $500 is the starting price for a bean-to-cup automatic espresso machine. The more expensive the machine, the more features, customization and preset drinks it will offer. If you want to see more options at different price range, check our comprehensive super automatic espresso machines reviews.
This price range often includes basic espresso and Americano, built-in grinders, milk frothing and one-touch brewing features. In addition, you can find popular options like the Philip 1200 in this price range.
Fully Manual Espresso Machines
Manual espresso machines are for the most committed coffee enthusiasts who enjoy the fully hands-on process of crafting the perfect espresso shot.
A $500 budget is sufficient for most manual espresso machines. In this category, you can find machines with lever-based systems requiring the user to control pressure and water flow manually.
Some well-regarded options in this category include machines from brands like Flair, Rok, Cafelat Robot and the stovetop maker 9Barista.
Refurbished Espresso Machines
Another viable option for anyone on a budget is to consider a refurbished espresso machine.
These machines have been professionally inspected and restored, meaning they should function like new ones.
Many top brands, including Breville, Gaggia, and De'Longhi, offer refurbished models at lower prices than brand-new machines. In addition, some reliable coffee equipment outlets like Seattle Coffee Gear and Whole Latte Love offer refurbished espresso machines for under $500.
However, it's important to remember that refurbished machines may come with a shorter warranty or minor cosmetic flaws. Check our refurbished espresso machine buying guide before buying.
What Types of Machine Should You Choose?
A manual machine gives you the most control over the brewing process but requires significant skill to produce a perfect espresso shot.
Semi-automatic models find a balance between control and ease of use, while fully automatic machines do most of the work for you.
For those reasons, it is important to consider your experience level and the degree of control you desire when selecting a machine type.
Other Things To Consider When Buying An Espresso Machine
As well as ensuring you select the correct machine type for your needs, there are other things you need to consider before choosing the best espresso machine under $500.
Do you Need A Coffee Grinder?
If you are hoping for the freshest and most flavorful espresso, grinding your coffee beans right before brewing is essential. While some espresso machines have a built-in grinder, they are typically found in more expensive models. Therefore, it's worth considering if you already own a high-quality grinder or are willing to invest in one separately while choosing.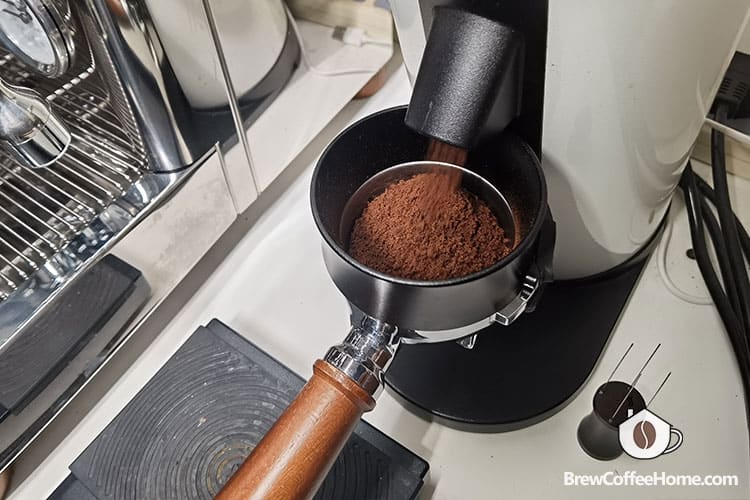 Check our best espresso grinder reviews, and you can find budget-friendly and premium options.
The most budget-friendly manual espresso grinders cost over $150, so remember to add the additional cost to your budget if it applies to you.
Heating Elements – Thermoblock Or Single Boiler
The heating element is responsible for rapidly heating the water to the precise temperature needed for optimal espresso extraction.
This price range has two common types: thermoblock and single boiler. Thermoblock systems heat water on demand, making them faster and more energy-efficient. However, single boiler systems usually offer more consistent temperatures. Here is a comparison of different types of espresso boilers.
While both options can be found in machines under $500, it's worth considering which type best suits your needs before purchasing.
Steam Wand Types
A steam wand is essential if you prefer milk-based espresso drinks, including cappuccinos and lattes.
Some machines have a commercial steam wand that necessitates manual steaming and frothing, while others are automatic. Not surprisingly, automatic wands make frothing a straightforward and hands-free process. Conversely, manual ones may need practice but allow more control over the texture and temperature of the milk.
Brand Reputation
Quality and reliability are essential when choosing an espresso machine.
Though price restrictions may limit your choices, researching different brands and looking for well-regarded manufacturers with positive reviews from experts and users can provide helpful guidance.
Within the $500 budget, you can find various reputable brands, including Gaggia, Breville, Philips and Flair. However, proceed with caution choosing brands that are not as well-known.
Extra Features
Some machines may offer extra features, including programmable options, PID Temperature Control, dimension pre-infusion, or a hot water outlet for making Americanos or tea.
Consider which features are most important to you and whether they fit within your budget. Then, balancing cost with a reasonable set of additional features will help ensure you are ultimately satisfied with your purchase.
Conclusion
On the surface, choosing an espresso machine under $500 may appear relatively straightforward. However, as I have explained in this article, there are myriad things to consider depending on factors including experience level, kitchen size, aesthetics, and the types of coffee you enjoy.
That doesn't mean it needs to be a laborious process, though. Indeed, you can quickly narrow down your options by figuring out exactly what you desire from an espresso machine and choosing from there.
If you take a methodical approach to making your choice, you stand an excellent chance of arriving at a purchase that offers exactly what you need and that you will be happy with.
Frequently Asked Questions
Are semi-automatic or fully automatic machines better for a $500 budget?
Both semi-automatic and fully automatic espresso machines can be found at this price point, depending on your preferences. Semi-automatic machines offer more manual control over the brewing process and excellent shots if used correctly. In contrast, fully automatic espresso machines provide a more hands-off experience, but you will be restricted to getting basic features at this price range.
Is a higher pressure rating, like 15 or 19 bars, important for espresso machines?
Higher pressure is not always better for espresso extraction, with 9 bars often considered sufficient. Generally, machines with 9 to 15 bars of pressure can pull excellent shots.
How much should you pay for a good espresso machine?
The price of a good espresso machine can vary depending on the brand, features, and quality. Generally, you can expect to pay between $200 and $2,000 for a high-quality machine that produces excellent espresso. However, $500 is sufficient for a decent semi-automatic or manual espresso machine and some basic super-automatic espresso machines.
Can you make good espresso with a cheap espresso machine?
It is possible to make good espresso with a cheap espresso machine, but the quality may not be consistent because of factors including unstable pressure and inconsistent brew temperature. Other elements, including the quality of the coffee beans and the grinder used, can also affect the espresso's taste.