If you love the taste of cold brew or iced coffee but hate spending $6 or more on a cup every morning, you will want to look into getting a cold brew coffee maker. They are easy and cheap, and the resulting coffee is often tastier than what you buy at a coffee chain.
Cold brew coffee has a sweeter, less bitter finish than its regular counterpart. It also is known for being much lower in acid. It's the favorite drinks for many coffee lovers.
If this sounds good to you, read on to discover our list of the top 10 best cold brew makers of 2023 below.
Things To Consider When Buying The Best Cold Brew Coffee Maker
There are a few paramount considerations to remember when buying your own cold brew coffee maker, and some of the most essential are listed below.
Last update on 2023-09-27 / As an Amazon Associate, if you buy via the links, Brewcoffeehome earns a commission at no extra cost to you.
Ready-to-Drink or Cold Brew Coffee Concentrate
Depending on the type of coffee maker, you will be making ready-to-drink, cold brew concentrate, or both.
The difference between the two types of output is that ready-to-drink cold brew usually has a much higher water-to-coffee ratio than strong cold brew concentrate.
You genenrally use a 1:12 to 1:18 coffee to water ratio to make ready-to-drink coffee. These measurements mean you can drink the finished cold brew immediately without adding any more water.
Cold brew concentrate, however, cannot be consumed immediately after making it. You'll need to dilute it with cold water when serving. This version is much more intense and overwhelming. You generally want to use a 1:4 concentrate-to-water ratio.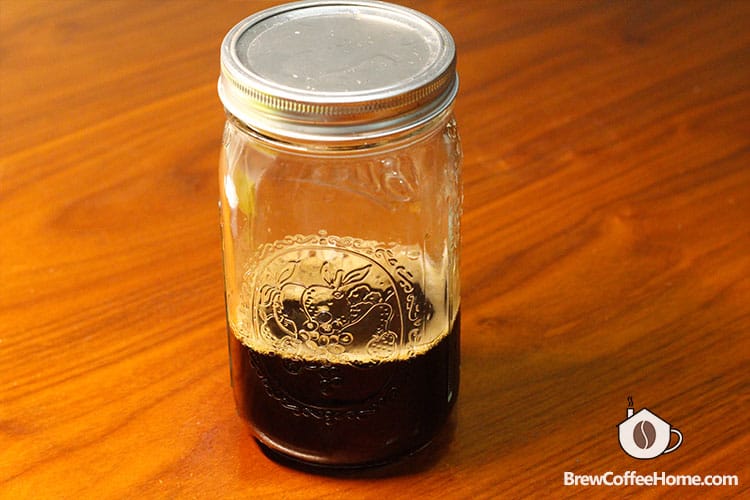 When choosing a cold brew coffee maker, knowing which of these two kinds of output you want your coffee maker to deliver is important.
Capacity
Producing cold brew coffee requires at least 12 hours of wait time. Because room temperature water takes considerably longer to extract the coffee flavors. So, when you are considering different cold brew coffee makers, you want to keep in mind how low or high their capacities are.
For example, some cold brewers only produce a couple of ounces of coffee at a time, and this would mean that you would have to wait for 12-24 hours for just one or two cups of coffee.
But other coffee maker models can produce up to 128 ounces at a time. The high volume produced allows you to only go through the lengthy cold brew process every so often.
On top of this, if you use a machine that makes concentrate instead of ready-to-drink coffee, you will get more coffee in the same time frame because the concentrate makes far more cups per ounce.
Filter
There are two common filter materials that you will find in cold brew makers, paper and stainless steel. A third, less common option is a felt filter.
These three may seem inconsequential at first glance. But there are differences in ease of use, cleaning time, and reusability.
With paper, it is quick and easy to throw out and eliminates any mess. But it is not very sustainable, and it is also a bit of a pain continuing to buy new paper filters every so often.
With stainless steel mesh filters, you save money in the long run because you do not have to continue to replenish. The cleaning process is more hands-on because you will need to wash the filter between each use.
And with felt, you will find a happy medium between the two above options. You have to replenish felt filters, but they can have many uses before throwing them out.
Materials
The body of the cold brew coffee maker can come in many different materials. It is paramount to know which one will work best for you. Most makers will be a combination of materials for each part.
Without a doubt, no matter which materials are used in your favorite coffee maker, you want to ensure that they are both durable and easy enough to clean.
You can find coffee makers that use glass, food-grade plastic, stainless steel, and anodized aluminum. Usually, the carafe for holding the coffee is glass, but plastic can be more affordable.
Brew Time
For the vast majority of cold brewers, you will need to let the cold brew steep for a minimum of 12 hours, but up to 24 hours. However, it's worth waiting since you can make enough cold brew that lasts for a week.
There are models available that use electricity to agitate the coffee grounds if you do not want to wait for your coffee. Your coffee can be ready in as little as one hour with this cold brewing process.
10 Best Cold Brew Coffee Makers
With all these considerations in mind, we have created a list of the top 10 best cold brewers for you.
Best for Cold Brew Concentrate
1. OXO Good Grips 32 Ounce Cold Brew Coffee Maker
Coffee Type: Coffee Concentrate
Capacity: 32 Ounce
Material: Plastic & Glass
Filter Type: Paper filter
The mid-sized OXO cold brew coffee maker is an option for those who want to make cold brew concentrate instead of ready-to-drink cold brew.
Many users report that the size and shape of the machine are perfect for their kitchen counter even when they do not have much space. But while it is compact, it also has great output with a maximum of 32 ounces of cold brew concentrate.
The coffee maker is simple to use, only requiring you to add 10 oz of coffee grinds into the brewing container and 40 oz of water to the upper RainMaker top. After the suggested 12-24 hours, you only have to flip a switch to begin using your delicious, homemade cold brew concentrate. Whenever you want a caffeine kick, add 2 oz of concentrate and dilute it with 6 oz of cold water and ice cubes. You have 12 cups of refreshing cold coffee for each batch.
Here is our OXO Good Grips Cold Brew Maker Review.
If you find this is too large, you can also try the OXO compact cold brew maker (Check price), which makes 16 oz of concentrated coffee only.
2. Toddy Cold Brew Coffee Maker System with Extra Filters and Silicone Stoppers Bundle
This cold brew coffee maker's capacity is very high at 64 ounces. Because it also makes concentrate and makes so much of it, you only have to wait one day for weeks worth of coffee. You can keep your cold brew refrigerated for up to two weeks so that you can enjoy a fantastic cold brew whenever you want.
This easy-to-use machine includes a few filters and a carafe perfect for pouring. You can also rest assured that this one is easy to take apart and clean because it has minimal pieces.
When it comes to filters, you can opt for the specially designed reusable felt filter (10 times) or the one-time-use paper filter bags.
For large batches of cold brew coffee, the Toddy Cold Brew System is a great choice.
3. KitchenAid KCM5912SX Cold Brew Coffee Maker 38 Ounce Brushed Stainless Steel
The chicest and sleekest of the cold brew concentrate makers, this KitchenAid stainless steel model is beautiful to look at and highly functional.
With the included spout, you can place the machine in your fridge or on the counter and fill your coffee cup straight from the cold brew maker. There is also a very convenient handle on top for easy portability.
The Kitchenaid Cold Brew Coffee Maker is another mid-sized coffee maker with a capacity to brew 38 ounces of cold brew concentrate. If you are looking for something just the right size, that will fit on the counter nicely and look pretty, you can count on this coffee maker.
Best for Ready-to-Drink Cold Brew
4. Takeya Patented Deluxe Cold Brew Coffee Maker
Take the Takeya coffee maker into consideration if you are looking for a ready-to-drink, fresh cup of coffee. It makes about four servings or 2 quarts of coffee in one batch and can be stored in your fridge for use at a later time.
The machine is just as easy to use as the concentrate makers, and it only requires you to input both the coffee grounds and the water and then wait.
This particular model is 100% BPA-free plastic, so it would also be a great idea for those who want to take their cold brew on the road with them. If you are a camper or hiker, you may like the idea of bringing this portable, safe cold brew coffee maker on your next adventure.
Each piece detaches so that you can clean it easily and quickly. And because the filter is a part of the machine itself, you do not need to replace it. It only requires cleaning in between each use.
Check out our Takeya Cold Brew Maker Review here.
5. Hario 'Mizudashi' Cold Brew Coffee Pot
This Hario model is quite similar to the one above. It has a lower capacity at about 1 quart of ready-to-drink cold brew. It is also different because it has a glass carafe instead of a plastic one. And the glass carafe is 100% dishwasher safe, making it easier to clean.
You will not need to buy replaceable filters for this maker because the reusable filter comes inside. It is as simple as washing it between each use. It's easy to pour out the used grounds since it has a removable lid at the bottom of the filter basket.
You will also love this model if you are looking for a ready-to-drink coffee maker that is easy on the eyes and can sit on your counter. It is sleek, and pretty, so you can expect to love showing off this one. This compact cold brew coffee maker is also slim enough to store in the fridge door.
We have been brewing coffee with Hario Mizudashi for a year and really love the cold-brewed coffee it produces. Here is our hands-on Hario Cold Brew Coffee Maker review.
6. County Line Kitchen – Cold Brew Mason Jar Iced Coffee Maker
Country Line Kitchen offers a unique product because the coffee brews inside a large Mason jar. When the brewing is complete, you can remove the filter, dump out the used-up grounds, and start sipping your delicious cold brew straight from the receptacle.
The capacity is 2 quarts on this coffee maker. Likely you will get four large glasses of cold brew at a time, depending on the amount you typically drink.
It is hard to deny that this one is also beautiful because of the Mason jar. If you want a cold brew coffee maker that you can drink straight out of this is a good option. It is convenient, pretty, and easy to use.
Best of all, you can also place this one in the dishwasher between uses, so you do not have to worry about a long cleanup time.
7. Willow & Everett Cold Brew Coffee Maker
Willow & Everett keep it simple with this model that will remind you of fresh-brewed sweet tea in the summer. You have likely seen a setup like this one. The brewer sits on the counter and uses a spout to dispense your delicious beverage.
The Willow & Everett cold brew maker is an attractive option with a much higher capacity than the others. This coffee maker brews 4 quarts at a time. It would be the best option if you only want to make coffee a few nights a week.
Like the Hario, you can remove the filter once the grounds finish steeping and have a large container full of tasty cold brew to store on your counter or in the fridge.
And once again, you do not have to worry about returning to the store often to find new filters because the stainless steel reusable filter is built-in and easy to clean. It is the best cold brew coffee maker for larger batches.
Best Quick Cold Brew Coffee Makers
8. Presto 02937 Dorothy™ Electric Rapid Cold Brewer
You may want a large glass of cold brew coffee in the morning but do not want to prepare it 12-48 hours in advance. Electric cold brew coffee machines can provide cold brew to you in minutes.
This interesting and handy cold brew maker is a combination of a French Press and a base that creates the whirlpool. The extra agitation speeds up the extraction when brewing with cold water.
This Dorothy cold brew machine whips up cold brew coffee in 15 minutes. The coffee grounds spin rapidly in the water speeding up the steeping process. You will not have to wait very long before sipping on your coffee.
The capacity on this machine is lower, with less than a quart of brewed coffee made at one time. That is not a problem because you are not waiting one or two days to receive the final result.
The machine is very compact, so it would be easy to store out on your kitchen counter, and because the glass carafe is pretty as well, you will not mind looking at it every day.
9. Cuisinart DCB-10P1 Automatic Cold Brew Coffee Maker
The Cuisinart model is reminiscent of a traditional coffee maker that brews hot coffee. It looks and functions very similarly. It has a similar capacity as conventional coffee makers.
You only have to wait 25-45 minutes to have a ready-to-drink cold brew at your fingertips. This one produces about 7 cups of cold brew coffee. It's worth mentioning that each cup is measured in a 5-oz cup, meaning it makes about 32 oz of coffee.
You will also have no problem storing this one on your counter because it is just like a traditional coffee maker on the counter.
We cannot forget that all removable parts are dishwasher safe, so it is easy to use, clean, and perfect for those who do not want to change their hot coffee routine. Your routine will be similar, but you will have cold brew instead.
Best for Making Nitro Cold Brew Coffee
10. GrowlerWerks uKeg Nitro Cold Brew Coffee Maker
Coffee Type: Ready To Drink, Nitro Coffee
Capacity: 50 oz
Material: Stainless steel
Filter Type: Filter bag
If you are a fan of cold brew, you have likely heard of Nitro cold brew. This version of cold brew coffee has nitrogen gas added to create a smoother, more velvety texture.
The GrowlerWerks coffee maker can do all of this at once. It first makes your batch of cold brew. Then when it is ready to pour, it infuses the drink with nitrogen gas. As you tip coffee from the spout, you will see the signature foam when making Nitro cold brew.
With a large capacity, this machine is fantastic for those who love the signature sweet, soft feel of Nitro cold brew. You could brew once and have many servings worth of Nitro cold brew on hand.
Keep in mind that you will need to continue to buy filter bags for the system, but it comes with four included, so you will be off to a good start. It's also one of our picks of the best nitro cold brew makers, you can check out the full list for more options.
What About Using a French Press or Mason Jar or Other DIY Methods?
You could also use a French press for cold brew coffee, but most models have a much smaller capacity than cold brew coffee makers. French presses are also more challenging to clean because of the mesh filter and the pieces included.
You can also use a Mason jar for DIY cold brew, but without a designated system, it is easy to make a mess of the coffee grounds. If you want to keep the Mason jar feel, you could always try out the County Line Kitchen model that uses a large Mason jar as the carafe.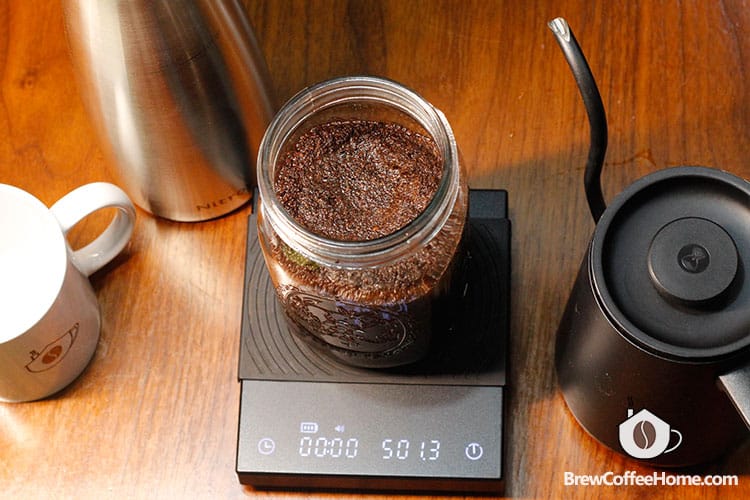 If you'd like to try them, here are the detailed brewing Instructions:
Making Cold Brew With A French Press >>
Making Cold Brew With A Mason Jar >>
Other DIY methods are great if you prefer them, but nothing is as hassle-free and user-friendly as a cold brew coffee maker. It is 100% worth it to invest in one for easier coffee making.
Conclusion
Our picks are just some of the thousands of amazing cold brew coffee makers. There are endless options that fulfill various preferences and needs. But we are sure that we have compiled some of the absolute best available options for you here.
Last update on 2023-09-26 / As an Amazon Associate, if you buy via the links, Brewcoffeehome earns a commission at no extra cost to you.
In all, the best overall option is the OXO Good Grips. It is easy to use, has a large capacity of 32 ounces, and takes only 12-14 hours for the cold brew concentrate to steep.
The best ready-to-drink option is the Takeya Cold Brew Coffee Maker. It has a handle attached and can be stored easily in the fridge.
And lastly, the best option for quick, electric-based cold brew coffee is the Cuisinart Automatic Cold Brew Coffeemaker. It takes less than an hour to brew multiple servings of flavorful cold brew, and it is just as easy to use and clean.
With them, you don't need to go to coffee shops again.
Cold Brew FAQs
Here are the most frequently asked questions about cold brew coffee:
Is cold brew as healthy as regular coffee?
Claims say that cold brew coffee can be better for your health than regular brewed coffee because of the lower acidity. Cold-brew coffee can have up to 60% less acidity, making it easier on your stomach while still packing all the other benefits of coffee.
Can you use regular ground coffee for cold brew?
Yes, you can use your regular ground coffee for cold brew, so grab your usual bag from your favorite brand and start making cold brew with it!
One thing to note, however, is that coarse ground coffee generally performs better when making cold brews. The fine-ground version can easily slip through the filter and leave you with a silty cup of coffee, while the coarse-grind version cannot.

How long does cold brew last?
Cold brew coffee can last about two weeks when stored properly in the fridge. Some cold brew experts say 7-10 days is best, though you can use it for up to 14.
In any case, you can count on your cold brew coffee to last longer than your hot coffee does.
How much caffeine is in cold brew?
The amount of caffeine will differ depending on your brewing method and how much coffee and water you use. Generally, cold brew has less caffeine than regular coffee.
You can expect about 200 mg of caffeine per 16 ounces of cold brew coffee.
How long does it take to brew cold brew? How long is too long for cold brew?
At a minimum, you need about 8 hours to steep cold brew coffee. At maximum, you need about 48 hours only when steeping in the fridge. 
Anything shorter than 8 hours will produce a watery, bland cold brew that has not had enough chance to soak up the coffee grounds' flavors unless you grind your coffee beans finer and add some agitation.
Anything longer than 24 hours on the counter or 48 hours in the fridge will result in a bitter, over-steeped cold brew that will not be pleasant to drink. 
The sweet spot for brewing cold coffee is 12-14 hours.
What is Nitro cold brew?
Nitro cold brew is a kind of cold brew that has nitrogen gas added to the final result. The gas is added as the cold brew is being poured. It results in a rich, velvety cold brew of delicious coffee.


Also read: Does nitro cold brew have more caffeine?
What Is Cold Drip Coffee?
Unlike the cold brewing with an immersion brewer that let the coffee steep in the water, cold drip coffee is made by a slow drip coffee maker that separates the grounds and water. Ice water drips from the top and reaches the coffee grounds in the middle. Finally, the coffee is collected in the vessel below. The whole process takes 3 to 12 hours depending on the drip-rate.