The old-school way of rolling your coffee bags up and putting them on top of the fridge is over.
If you're tired of musty, stale coffee, it's time to invest in a coffee canister. And suppose you're a coffee enthusiast or casual drinker, you've probably sat quietly listening to debates on coffee freshness, or you've invested too much in gadgets and have yet to be impressed. Storing coffee beans properly is the key.
That's why we've researched, tested, and reviewed the best coffee canisters that we could find to bring you the hottest and most functional coffee canister to help make your life that much better.
The Best Coffee Storage Canisters
Best Overall –  Fellow Atmos Vacuum Coffee Canister
We earn a commission if you make a purchase, at no additional cost to you.
At first glance, Fellow's Atmos Vacuum Canister carries a minimalist aesthetic– easy on the eyes with airtight functionality. The canister elevates each cup of joe with fresh coffee beans that are never bland. In addition, Atmos's signature twist lid features a vacuum seal that removes stale air from penetrating your favorite coffee beans until it's time to grind and brew.
And it doesn't matter if the coffee beans need to stay fresh for days. Or if you're a home barista that wants to seal in that fresh, roasted, ethically sourced coffee bean taste. Fellow Atmos lets you quickly pour your coffee beans into the canister, twist, and vacuum seal every three days.
But that's not all. The canister features a vacuum lock indicator with a small green ring to store your coffee beans with airtight freshness. Then, when you're ready for a cup of coffee, Atmos's easy-release button unlocks the vacuum lid and returns its air pressure to normal.
Pros:
Atmos is a food-safe stainless steel container that protects the beans from sunlight and heat
The vacuum seal integrates into the canister – no separate piece is required
Cons:
Atmos is not dishwasher safe, but it is handwash friendly
Runner-Up – Airscape Stainless Steel Coffee Canister
We earn a commission if you make a purchase, at no additional cost to you.
Airscape knows that coffee beans don't belong in the bag. So after the coffee leaves its vacuum-sealed packaging, Airscape incorporates its stainless steel container with a BPA-free two-way valve lid and secures fresh coffee beans with minimal oxygen exposure.
In short, this technology gives the beans a longer and more fragrant shelf life with high-quality airtight storage.
And it's simple to use. Grab your coffee beans, pour them into the canister, put the lid on using the handle, and flip the handle down. Then, place the clear lid on top of your canister– easy! The set inner lid protects your coffee beans from UV ray light damage, while the clear upper lid lets your peak inside your canister without opening it.
Pros:
The Airscapes top and the inner lid will not clog if you store fine ground coffee beans.
It creates a "swoosh" sound that assures coffee freshness
Cons:
However, Ground coffee can stain the plastic lid parts
Most Durable –  Coffee Gator Stainless Steel Canister
We earn a commission if you make a purchase, at no additional cost to you.
The Coffee Gator Stainless Steel Canister incorporates everything you could ever want in an airtight coffee canister – food-grade safe, organization friendly, and good-looking. And aside from its BPA-free premium quality, it features an innovative valve that releases CO2 gasses and keeps oxygen out of your coffee with airtight seals.
But if you're seeking exceptional freshness, this canister can help you keep track of your coffee's expiration date with its calendar wheel located conveniently on top of the lid. Do you know what else is convenient about the Coffee Gator? The look! Its sleek design doesn't compromise on its quality, eliminating light and moisture damage.
Pros:
Coffee Gator uses military-grade steel, so you know that it's durable
Includes a stainless steel measure scoop and four replacement valves
Cons:
But its stainless steel features are noisy and rattle
Best Budget – OXO Good Grips POP Container
We earn a commission if you make a purchase, at no additional cost to you.
When you're skeptical about the efficacy of an airtight container for your coffee freshness, the OXO Good Grips POP Container is the best coffee canister for frugal budgets. It features high-quality BPA-free materials with durable curved corners that easily snug away in any corner without picking your pockets.
OXO coffee pop containers are transparent and feature fill lines that help you keep the perfect amount of coffee grounds airtight and fresh with the push of a button. And the sizes are conveniently arranged from square to rectangle in eighteen different sizes, so you'll always have enough storage space for your favorite bag of coffee.
Pros:
The container is dishwater safe.
OXO containers are minimal in design and only take up a little space.
Cons:
The contents inside the container can spill over if the container falls.
Light can go through, so keep it away from the sunlight.
Best Design – Easehold Coffee Canister with Magnetic Scoop
We earn a commission if you make a purchase, at no additional cost to you.
When you're used to simple living, the Easehold Coffee Canister compact design seems like a match made in heaven. What's better than having quick access to 18 ounces of fresh coffee beans? Storing 18 ounces of beans in a canister with a built-in magnetic scoop is way better– you never have to dig into the coffee mound searching for your spoon again.
In addition, the Easehold is easy to clean, corrosion resistant, and won't break easily under heavy-duty use. That means the Eashold Coffee canister is the best for a durable, functional yet beautiful design for countertops.
Pros:
The Easehold Coffee Canister uses 304 food-grade stainless steel materials
Quietly multifunctional for coffee or tea
Cons:
But, this canister is difficult to open and doesn't keep its airtight seal when it's filled to the brim.
Best bulk Storage – Oggi 62-ounce Ground Coffee Canister  
We earn a commission if you make a purchase, at no additional cost to you.
Oggi's 62-ounce Ground Coffee Canister is the best coffee canister for coffee drinkers that buy their beans in bulk and keep them fresh. Oggi is simple– airtight, BPA-free, and stainless steel. Although the airtight seal isn't anything extraordinary, its silicone seal and clamp lid keep your coffee beans and grounds dry and airtight fresh.
Its simple BPA-free lid helps support safe food storage by reducing your coffee bean's exposure to toxic chemicals. In addition, its stainless steel body helps reduce the use of plastic for a healthier plastic-free planet.
Pros:
Oggi features a see-thru lid for easy visual access to the contents inside.
Large capacity
Cons:
Not as stylish as the others on the list
Best for Pods – DecoBros K-Cup Storage Drawer
We earn a commission if you make a purchase, at no additional cost to you.
It's not a canister for coffee beans, but it's useful if you brew coffee with K-cup.
Since K-Cups swept the hearts of coffee lovers, the single-serve packets of coffee have made their homes inside DecoBros K-Cup Storage Drawer for easier and quicker access to your favorite variety of coffee. So go ahead and recycle that box the K-pods came in. And say goodbye to digging through that bin of K-pods sitting in your pantry.
And if you have ample counter space, the DecoBros minimal aesthetic opens up kitchen spaces without compromising function. Especially in spaces where there is no drawer space.
Pros:
DecoBros easily stores 30 pods in a sliding drawer
Cons:
Make sure you have ample counter and cabinet space. This storage drawer tends to be larger than the Keurig and takes up a lot of space in areas with low cabinet areas.
Why Do You Need a Coffee Canister?
It's simple. You need a coffee canister to keep your coffee fresh. For folks who love coffee, we love generous swigs of flowery, nutty, flavorful coffee. But we don't love the musty funk that tends to swirl inside the coffee bag after a few weeks of breaking its vacuum seal.
And we don't have to love it. Instead, we can use coffee canisters to help resurrect the freshness of our coffee. Coffee canisters help store high-quality coffee with ease:
The beans have ample cool-airtight room for long-term storage
Whole beans and fine, medium, or coarse grounds keep their freshness, limiting their exposure to air
They're safe from harmful UV rays that degrade coffee bean aroma and flavor
Canisters create a temperature and humidity-controlled environment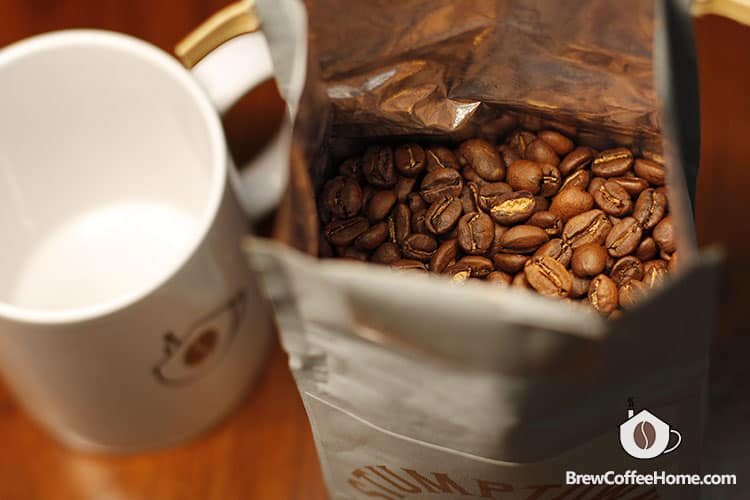 How To Choose a Coffee Canister
Regardless of your level of coffee roasting expertise, degree of coffee consumption, or lack of interest in gourmet coffee drinks, we all want the same thing: fresh coffee! We all want coffee beans fresh, boasting caramelized coffee fragrances and exploding with flavors.
It would help if you had a coffee canister that prevents your coffee from transforming into a sour, musty bag of beans. But, especially when your resealable bags don't have a one-way valve to secure the freshness of the coffee, the best coffee containers are airtight, control moisture and temperature, and can hold your beans.
Materials
Coffee storage containers are all about preventing freshly roasted beans from oxidizing. A high-quality coffee container can come in glass, ceramic, stainless steel, and plastic, including a vacuum seal lid.
Glass mason jars are the best in-store option to store your coffee. They look rustic, and they're relatively affordable and easy to find. However, to get the most freshness out of your coffee beans, choose an amber-colored or ultraviolet mason jar to help prevent light from aging the coffee beans.
Similarly, ceramic jars can be found in most stores. And they don't leak chemicals into your coffee beans as some plastics do. However, you don't need to go out of your way to find colored ceramic jars to help block out sunlight. Ceramic jars naturally block out light.
Stainless steel containers are the best coffee canisters for long-lasting zero waste storage. Unlike glass and ceramic containers prone to breaking, stainless steel containers don't break or degrade even after years of heavy-duty usage. In addition, stainless steel coffee canisters are a safe alternative for your coffee beans and the planet, as they don't leech harmful chemicals.
Lastly, plastic coffee containers are just as durable as stainless steel and are typically available at a fraction of the cost. Furthermore, they are lightweight and can withstand warping or cracking with age. In addition, plastic coffee canisters typically come with UV ray protection so that you can see into the container without compromising on freshness. However, avoid cheap plastic containers.
Airtight
The best coffee canisters have an airtight seal that extends the coffee shelf life and maximizes its freshness. After roasted coffee leaves the roasters, its freshness is a ticking time bomb. Without an airtight seal, oxygen can quickly turn your favorite coffee stale.
Oxidation overwhelms the coffee beans with noticeable musty and sometimes sour flavors when the beans have exposure to air for an extended time.
That's why proper coffee storage makes all the difference for fresh coffee.
Moisture Control
Humidity is the coffee bean's worst nightmare. Humidity can affect the whole bean and coffee ground freshness, but it can also grow unpleasant mycotoxins. On the contrary, coffee beans stored under low humidity can quickly dry out coffee, yielding a bitter dull flavor.
Too much humidity creates the ideal environment for tiny mold spores that can cause short-term health issues like fatigue, headaches, and sneezing. However, coffee mold is relatively common and poses low-risk threats in otherwise healthy individuals.
The coffee storage containers will help you control the levels of moisture that you allow inside the coffee canister.
Temperature Control
Coffee beans and grounds should always be stored in cool dark temperatures or in a storage container to limit the amount of exposure to warm temperatures and sunlight. Some coffee drinkers swear by freezing their coffee beans.
After all, the air in the freezer is drier than in the refrigerator, so moisture shouldn't be an issue. However, it requires quite a lot of steps to do it right. Otherwise, you will ruin your beans instead of keeping coffee fresh.
Capacity
Finding the right coffee container size can be confusing when searching for the best one. But think of it this way; Coffee beans are dry goods– you should always measure them by weight, not liquid volume, and put them in a storage container.
How much coffee can you fit in a coffee container anyway? Whole bean coffee does not take up more space than ground coffee. Instead, they use the same amount of space.
Before you purchase a coffee canister, double-check that the capacity is measured in ounces by weight instead of fluid ounces.
Accessories
The best coffee canisters have convenient accessories that enhance your coffee brewing experience in small ways. Making fresh coffee should be easier than it is tedious.
If you stay in a small studio apartment, van, or RV, a coffee canister with a scoop can save you spoon space. And in general, it feels ritualistically lovely to have a designated spot for your coffee scoop.
Coffee canisters that have handles or clasps are gentle on folks with small hands. Sometimes jar lids are difficult to open. But, they can easily make the list of early-morning-hassles.
And if you are the type of coffee drinker that finds zen organizing, purchase a coffee canister that lets you label it. Or opt for a chalkboard label and write your coffee type and expiration date.
FAQs
Do you still need to be convinced about how fresh your coffee can be? Then, check out these frequently asked questions to help you find the best coffee canister for you.
Are coffee vacuum canisters worth it?
Vacuum canisters are worth it when you're tired of vacuum bags and want to cut back on using plastic. Although not necessary, vacuum canisters or storage containers can help your coffee keep its freshness.
What is the best way to store coffee?
The best way to reserve coffee is in an airtight, opaque container away from bright light, warm heat, and wet air. The worst place to store your coffee is in the fridge. The cold temperatures are not enough to keep your grounds fresh, and the beans will absorb the odors circulating inside the fridge. Freezing coffee beans is another good option but it requires many steps to do it right. It's not worth the hassles unless you have premium specialty coffee beans.
Can you keep coffee in mason jars?
Yes! You can keep coffee in mason jars in a dark, cool place. However, to give your coffee a longer life, store your coffee beans in an amber-colored mason jar to help block out as much UV light as possible.
Final Thoughts
Coffee canisters are the best storage options for fresh coffee. When finding the best coffee canisters, devotees choose Fellow Atmos Canister or the Airscape Stainless Steel Coffee Canister for easy access to the freshest cups of coffee. So say goodbye to dusty-stale coffee beans and hello to that first sip of goodness.