The French press is an excellent method for home-brewing gorgeous coffee. However, a lot of coffee lovers don't achieve the full potential of the brewing method.
It's a simple brewing method to perfect, and it's not as nuanced as using an espresso machine to pull a great espresso shot. However, if the coffee beans you use are not suited to the method, it isn't guaranteed you'll get a beautiful finished beverage with a French press.
This article will select the most suitable coffee for the brewing method so that you can get the maximum potential from the French press.
What Affects The Quality Of French Press Coffee?
Brewing French press coffee is extremely straightforward. There are only four steps, leaving just a few critical questions to answer.
Step one: Add coffee. Which is the best coffee to use and the ideal grind size?
Step two: Add water. What is the correct volume of water (brew ratio), and what's the best temperature?
Step three: Leave it to steep. What length of time should the coffee steep for?
Step four: Press and enjoy the coffee.
Provided you are aware of the coffee type and grind size, brew ratio, ideal temperature, and brewing time, you can make great French press coffee.
The Specialty Coffee Association of America (SCAA) recommends a 1:18 ratio of coffee to water for French press coffee, using coarse grounds with a brewing temperature of 200 °F (93.5 °C) and a brewing time of four minutes.
If the brewed coffee is not strong enough for your tastes, we recommend altering the coffee to water ratio to 1:15, while we suggest a steeping time of between eight and 10 minutes. Check out our French Press brewing guide here.
Whichever recipe you opt for, there's not much more to do except one critical step: Pick the best coffee for French press.
Our Best Picked Coffee For French Press At A Glance
Last update on 2023-09-27 / As an Amazon Associate, if you buy via the links, Brewcoffeehome earns a commission at no extra cost to you.
Which Coffee Beans Are Best For French Press?
No bean is not suitable for French press coffee. However, while making a beautiful cup of French press is perfectly possible with many beans, some are better than others. Here are a few tips:
Use Fresh Whole Beans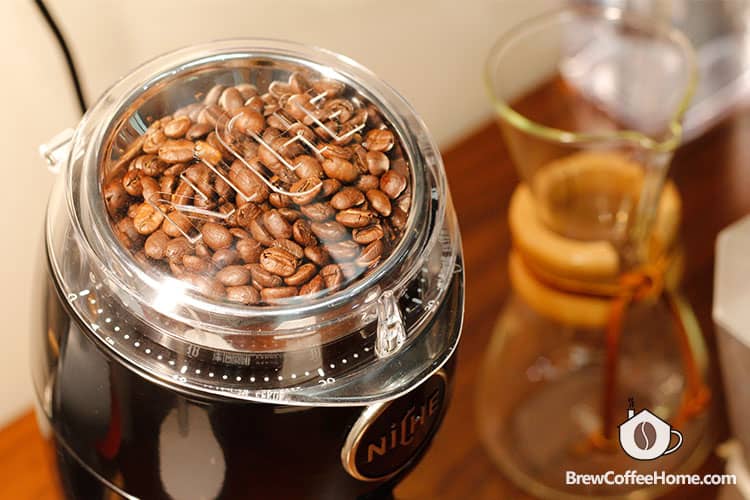 We believe in grinding our beans prior to brewing because this allows us to extract the most taste and the subtleties of those flavors. Regardless of your brewing method, fresh is always best, so if you can, opt for the freshest beans possible.
If you'd rather not purchase a good coffee grinder, some roasters offer excellent pre-ground coffee options with a grind size suitable for the French press. Many of them are still almost perfectly fresh, too, and offer premium quality. We have previously detailed the top coarse ground coffee for a cold brew and French press. However, we suggest you only purchase ground coffee in small packages, as they lose their freshness fairly quickly – and certainly more rapidly than fresh beans. If you want to learn more about choosing the best coffee for you, check out our best coffee beans buying guide.
Coffee Regions
French press is a versatile brewing method where almost any coffee is suitable. Depending on the region they're from, coffee beans have their own taste profiles and characters. Which you choose will depend on your palate.
In the following rundown, we detail the most popular coffee-growing regions, examining the beans' aroma and flavor to help you choose.
South American Coffee
South American coffee offers a classic coffee taste that will appeal to most coffee lovers. Coffee from this region also benefits from a medium body and mellow acidity. There are regularly notes of nuts, chocolate, hazelnut, and caramel. Meanwhile, the medium roast brings balanced characteristics to the fore. Brazilian and Colombian coffees are our favorite options. Coffees from these areas offer well-balanced flavors for a French press.
Central American Coffee
Central American coffee is known for being clean and bright and not as sweet as its South American counterparts. There are notes of cocoa, milk chocolate, and nuts. There is also low acidity. Mexican, Nicaraguan and Guatemalan coffees are good choices from the Central American region.
African Coffee
African coffees are well-known for their more intense sweetness and higher acidity. They are regularly described as floral or fruity. They also use a light roast, which helps bring out the flavor profile. For coffee lovers who enjoy the brighter, exotic, subtle yet complex flavors, Kenyan, Rwandan, and Ethiopian coffees are worth considering. French press using African coffee also tastes beautiful. However, it is also popular with lovers of pour over coffee.
Asian Coffee
You would often associate a full body and a chocolatey, earthy flavor with Asian coffee. Coffee from this region is also low in acidity. Indonesia Sumatra and Sulawesi produce beautiful coffee, while Vietnamese coffee is also a good option for people who like a highly caffeinated, robusta coffee. If you use Asian coffee while brewing with a French press, expect a robust, bold cup beverage.
This is a general summary, and because of that, you will find coffee beans from each region with qualities that aren't typical of the area. However, as a rule, the French press highlights the unique flavor profiles you tend to find in the coffees sourced from the four regions we have highlighted.
Roast Level
Whether you're buying coffee beans for French press or any other brewing method, you'll have a choice of light, medium, or dark roasted beans. Another article of ours goes into detail about the differences between the coffee roast levels.
However, most baristas opt for a medium or dark roasted coffee when it comes to the French press method. The reason is that these beans have the most oils, which adds to and improves the flavor. However, if you prefer a lighter body with more acidity, you can use light roast coffee for a French press too. However, we'd rather use light-roast beans in either pour over or a drip coffee maker.
Best Coffee For French Press – What We Recommend
At this point, you have a solid idea of the type of beans that are best for the French press. From the regions, we listed earlier, we have sampled the best beans offered by each of them to help you get a more specific idea of which coffee is best for you.
1. Best Central American Coffee Option – Lifeboost Coffee
Central America's mountainous areas have been a fertile ground for premium-quality Arabica coffee beans for many years. These Lifeboost beans are sourced from the mountains of Nicaragua.
Two percent of the world's coffee is shade-grown, and Lifeboost's organic certified beans fall into that category. This condition means that while the beans are growing, they are not subject to the harsh sun rays that can negatively impact the flavor of the coffee. It also means that the beans are pesticide-free.
Lifeboost coffee is rich, thick, and aromatic. It has notes of chocolate, fruit, and nuts, which combine beautifully with Arabica coffee's classic flavors. The medium roast is well-rounded, making it a great option for any lover of French press coffee.
Another thing we love about Lifeboost is that it is not at all harsh on the stomach. Coffee that is high in acidity is more likely to cause digestive issues and heartburn. However, the growing and processing methods used for these beans lead to low acidity. This means you can enjoy as many cups as you like without stomach issues.
The company is also Fairtrade, so when you purchase its beans, you are supporting the rights of plantation workers and farmers and promoting the conservation of the environment.
2. Best South American Coffee Option – Stone Street Coffee Cold Brew Reserve Colombian Supremo
The source of Stone Street's coffee is directly from the Colombian farm in one of the planet's most renowned growing regions. The beans grown in this area are regarded as some of the world's best. Don't let the "cold brew" in the name put you off – this is an excellent choice for French press brewing.
The arabica supremo beans are single-origin and produce a sweet, smooth, bold and beautifully balanced flavor. Beans from Colombia are low in acidity and have a fruity, slightly sweet taste. When you brew with a French press, they offer a rich and deep beverage.
The Stone Street Colombian is medium roast, making it ideal for both cold brew and French press.
If you don't own a coffee grinder, Stone Street has a ground coffee option. The company grinds the beans coarsely, making them great for cold brew and French press.
3. Best African Coffee Option – Ethiopian Yirgacheffe, Volcanica Coffee
Coffee originated in Ethiopia, and to this day, it is responsible for some of the world's most unique, highest-quality coffees. Coffee from this country is usually fruity, brilliantly acidic, with wine-like flavors. There is a blueberry flavor in some of the country's most well-loved beans too.
Volcanica's Ethiopian Yirgacheffe coffee is unique. Most of each crop comes from wild coffee trees, making for a fruity, floral coffee drawn from the kind of arabica beans grown there for generations. However, it is lighter-bodied and has higher acidity than other Ethiopian coffees, so it may not be to the taste of coffee drinkers who prefer a more robust, darker drink.
The coffee is medium roast making it great for French press brewing. The result is a full-bodied and bold coffee alongside some exotic floral flavors.
If you're a lover of the fruity, bright flavors typical of African coffee, you could also try Volcanica's Kenya AA Coffee.
4. Best Asian Coffee Option – Fresh Roasted Coffee Sumatra
Fresh Roasted Coffee has a wide selection of premium-quality coffee options worldwide, including Indonesia's Northern Sumatra.
Indonesia produces some of the most coffee globally, and Sumatra is at the heart of much of that production. The body is syrupy and sweet, while it has an earthy flavor with low acid, making it stand out. This organic coffee from Fresh Roasted perfectly encapsulates coffee typical of Northern Sumatra.
This bold coffee is Fairtrade, USDA organic, and is earthy, peppery, and full of flavor. It is also chocolatey, with vegetal hints common to the area. This coffee transforms from a medium-roast brew into an incredibly rich coffee with a strong finish of chocolate using a French press.
If you'd rather try a dark-roast coffee with an even more robust flavor, Fresh Roasted's Sumatra Mandheling is an excellent option.
5. Best Medium Roast Option – Stumptown Coffee Roasters Holler Mountain
Stumptown's Holler Mountain is a blend of certified organic coffee that is incredibly versatile. It is sourced from East Africa, Indonesia, South and Central America. The coffee is Stumptown's original and signature organic blend, and it offers a full-bodied coffee rich in flavor when used with a French press.
This coffee uses the brightness of exceptional East African beans combined with the chocolatey textures of Latin American beans to produce a medium roast ideal for a range of brewing methods. The blend provides creamy tasting notes of caramel with chocolate and fruit.
Most of Stumptown's beans are direct trade, which means they enjoy a strong arrangement with the producers of the coffee, ensuring openness in the supply chain at every step.
6. Medium Roast For French Press – Intelligentsia Frequency Blend
This blend is medium roasted with beans from Guatemala and Brazil.
In most coffee from Central America, you can detect the chocolate and almond flavors. However, what sets this coffee apart is the notes of pineapple and lemongrass, offering an enjoyable acidity and robust sweetness. It tastes lovely! The coffee is medium-bodied, with a fruity and bright aftertaste. Overall, the coffee is balanced and refreshing. We enjoy using this blend for pour over coffee, and it is also gorgeous brewed with a French press.
Intelligentsia is one of the most well-regarded roasters of specialty coffee globally. The company was also one of the pioneers in traveling directly to the source of the coffee to purchase one-to-one with the farmers. Today, the Intelligentsia Direct Trade community counts over 50 partners in 14 nations.
7. Best Dark Roast Option – Peet's Coffee Major Dickason's Blend
If you enjoy bold-flavored dark roast coffee, this is a great option. It's one of the most popular in Peet's Coffee's history too. The blend contains some of the highest-quality coffees from the most renowned growing regions to offer a balanced and smooth beverage.
When using this coffee in French press brewing, you can expect complex, rich, and smooth coffee that's got several layers and is full-bodied. It is a sophisticated and interesting blend that is ideal for French press brewing. It is also neither too harsh and bitter nor too weak, but just right.
Peet's Coffee is a specialty coffee company from the San Francisco Bay region that has been making coffee since 1966. The Major Dickason's blend is among the most popular of all its beans and one of the company's signatures.
8. Best Highly Caffeinated Option – Death Wish Coffee
Do you like a big hit of caffeine in the morning? Death Wish is the one for you. It's particularly good with the French press as the immersion brewing method accentuates its bold taste.
The company states it produces the galaxy's strongest coffee, with a cup of Death Wish apparently containing twice the caffeine levels you'll find in a standard coffee.
The coffee is a bestseller on Amazon, while it is hugely popular and well-regarded among caffeine-loving coffee enthusiasts.
This coffee uses top-quality robusta and arabica beans sourced from Fairtrade, USDA organic plantations. The dark roast coffee beans offer a chocolate and cherry-flavored coffee that's well-loved worldwide.
French press a fantastic brewing method for this robust coffee.
Tips For Making The Best French Press Coffee
Now that we've looked at our favorite coffees for brewing with the French press, let's examine some of the best ways to brew coffee using this popular method.
1. Buy a high-quality French press coffee maker. The mesh filter in French press coffee makers differs depending on the machine's quality. The better the filter, the cleaner the cup of coffee it produces.
2. Try to grind the beans before you start brewing. Once you have ground the beans, the quality quickly diminishes because the coffee has far more contact surfaces than when the beans were whole. That's why our list comprises only whole beans.
3. Use a high-quality coffee grinder. Blade grinders produce less consistent grind sizes than burr grinders, so keep this in mind as you shop for a coffee grinder. Because the coffee grounds will steep for several minutes in the water, small particles will over-extract while larger ones will be under-extracted. This inconsistency can make for an unpleasant taste, so we always recommend using a burr grinder.
4. Clean your French press regularly. If you don't clean your French press properly, the old oils from previous brews will accumulate, affecting the taste.
Conclusion
French press brewing can be the ideal choice for coffee enthusiasts. It's a cost-effective, simple method that provides delicious coffee that's full-bodied with a pleasant mouthfeel.
However, you can get the best out of French press brewing by choosing the best coffee beans. We recommend using our guide to select the region most suited to your tastes. From there, choose a roaster you're happy with and the type of roast that best fits your palate, then enjoy!