Whether you're a fan of the drive-through or prefer the personal touch of a local cafe, chances are you've ordered a cappuccino. The cappuccino is one of the most common coffee drinks around.
This espresso-based drink makes for a tasty treat on your way to work, but did you know you can easily make one from the comfort of your bathroom and bunny slippers? With the right machine, you can become the coffee shop barista you've always watched from behind the counter in awe.
We have a list of the best cappuccino makers on the market for you below, so let's get started.
What Is a Cappuccino, and How Is It Made?
A cappuccino is a hot coffee drink that combines espresso with steamed milk. In most cases, you can make a cappuccino by brewing one shot of espresso and adding half a cup of steamed milk. The drink is topped off with a creamy layer of frothed milk or foam.
So in order to make this iconic coffee drink at home, you need a home espresso machine and device that can froth milk, or a cappuccino machine that handles everything for you.
Also read: Cappuccino vs Latte
Best Cappuccino Makers: Top 8 Picks
If you're ready for fresh cappuccinos from the comfort of your kitchen, it's time to check out our eight top-rated picks.
Best Overall – Mr. Coffee Espresso and Cappuccino Maker
Best Overall
Mr. Coffee Espresso and Cappuccino Machine
Pros:
Multiple, one-touch drink options

Built-in, automatic milk frother makes a speedy process

Removable water and milk reservoirs

Relatively affordable price
Cons:
Porta-filter design needs upgrading. The pressurized baskets are not perfect when it comes to brewing espresso
We earn a commission if you make a purchase, at no additional cost to you.
What better way to start our list off than with Mr. Coffee itself? This espresso and cappuccino machine is a programmable coffee maker that comes fully equipped with an automatic milk frother.
Mr. Coffee cappuccino maker gives you the best of both worlds. It allows for some user control over the types of grounds used but also offers one-touch execution for espressos, cappuccinos, and lattes. Once you choose your coffee beans and grind them, you can let the machine do the rest.
Technically speaking, this is a semi-automatic machine. However, you can get an authentic cappuccino with one touch, just like a super-automatic machine. The creamy milk froth is just perfect! Apart from cappuccinos, you can make and customize other coffee shop drinks, such as lattes and more, and switch between auto and manual brewing as you like.
The model features a classic black and stainless steel design, suitable for a wide range of kitchen styles. Its water reservoir is removable for easy refills. Check our detailed Mr. Coffee cappuccino maker review for more information.
Best Runner-Up – De'Longhi EC9665M La Specialista Maestro Espresso Machine
Best Runner-Up
DeLonghi EC9665M La Specialista Maestro Espresso Machine
Pros:
Lots of integrated technology

Hands-on approach to espresso

Excellent functionality

Great for beginners and professionals
Cons:
A very high price point

Requires a lot of trial and error for new users

The built-in grinder has fewer grind settings compared to other espresso machines at this price point
We earn a commission if you make a purchase, at no additional cost to you.
The De'Longhi La Specialist Maestro Espresso Machine is not for the faint of heart. But if you're willing to invest some time and money into your at-home barista journey, you have to check out this impressive cappuccino maker. It's one of the best semi-automatic espresso machines on the market.
The La Specialist is an accurate, high-end espresso machine with tons of user control. It starts with the built-in grinder, which allows you to pour fresh beans every day for the best-tasting cup. Features like smart tamping, dynamic pre-infusion, the LatteCrema system, and the steam wand all give you endless options to create your perfect cup. You won't be disappointed by the premium Delonghi espresso machines.
Get creative with your coffee by adjusting temperatures, experimenting with pressure, and finding the perfect grind size. This system is ideal for anyone looking for a hands-on, artistic process. You can craft as many specialty drinks as you hone your barista skills. It's a professional espresso cappuccino maker that lasts for years without considering upgrading.
Best Fully-Automatic – Jura E6
Best Fully-Automatic
Jura D6 Automatic Coffee Machine
Pros:
Super-automatic and easy to use

User-friendly directions

Several drink options

Built-in milk frother and grinder
Cons:
No room for artistic experimentation

Very high price point
We earn a commission if you make a purchase, at no additional cost to you.
The Jura E6 Platinum isn't just a fully-automatic machine; it's super automatic. It can make espresso, coffee, cappuccinos, and milk foam, and delivers plain hot water for tea and other uses.
The one-touch color display is state-of-the-art. It works in tandem with the 10 oz. bean grinder to create an automatic brew with very little work on the user's end. The built-in milk frother gives you the creamy touch every cappuccino needs. In addition, you have seven preset recipes.
As one of the most popular Jura fully automatic machines, the Jura E6 features the optional JURA Smart Connect, which lets you operate the machine using Bluetooth communication on smart devices.
If convenience, ease of use, freshly ground beans, and modern appearance are important to you, then this fully-automatic machine is an excellent option to consider.
Best Semi-Automatic – Breville Barista Express Espresso Machine
Best Semi-Automatic
Breville Barista Express- BES870XL
Pros:
Made from high-quality materials

Balanced blend of manual and automatic features

Easy to use

Precision water temperature control

Full control over the quality of your espresso drinks
Cons:
No automatic milk frothing feature

Large size takes up significant counter space

Barista skill is required
We earn a commission if you make a purchase, at no additional cost to you.
The Breville Barista Express Espresso Machine is a semi-automatic espresso machine perfect for creating a flawless cappuccino. It's been popular for a decade but is still one of the best espresso machines for home baristas.
As a more affordable alternative to some of the fancier products out there, the Breville Barista Express still comes with plenty of bells and whistles. It features a built-in conical burr grinder so you can be sure your espresso is fresh every morning. Choose from an impressive 16 grind settings.
After the freshly ground coffee directly into your basket, you can tamp them down in the attached tamper and lock the basket into place. You can pick from a single or double espresso shot, and then use the manual steam wand to steam milk. You have full control over your drinks. However, the milk steaming technique is required for latte art.
Pro Tip: position the tip of the steam wand right below the milk surface and agitate the milk for a bit longer; you will have perfectly frothed milk for cappuccino.
Barista Express has been on the market for quite a long time. If you have more budget you can consider Barista Pro, here is a comparison between Barista Pro vs Express, and more Breville espresso machine options for your reference.
Best Budget – De'Longhi EC685M Dedica Deluxe
When you're looking for one of the best semi-automatic cappuccino makers on the market, you might not think a budget option will work. But you don't have to drop $1,000 on a cappuccino maker to get quality features and solid performance. In fact, De'Longhi offers a space-saving value option that gets the job done.
The Dedica Delux is a single-serve, automatic espresso machine. It's lightweight and has basic features that create authentic espresso drinks. With this compact machine, you can brew single or double shots of espresso. It features a milk frothing wand so you can heat and froth your milk as well. You can adjust the frothing option on the steam wand to get a denser milk froth for a cappuccino or steamed milk for a latte.
The removable water tank makes it easy to refill. What's more, its brew basket works with your favorite grounds or ESE pods. This model is ideal for the casual cappuccino drinker or beginner barista, thanks to its intuitive design and relatively affordable price.
Check our Delonghi Dedica Espresso Machine Review here.
Best for Smaller Spaces – Breville Bambino Plus Espresso Machine
Best for Smaller Spaces
Breville Bambino Plus Espresso Machine
Pros:
Easy-to-use yet classic espresso experience

Exceptional build quality with real metal

Compact design suits small spaces

Pod-free for endless coffee options

Fast heat-up time

Pre-programmable steam wand with fast steaming performance
Cons:
Basic technology

Pressurized filter baskets are inferior to non-pressurized baskets
We earn a commission if you make a purchase, at no additional cost to you.
Large, fancy machines are rich with features, but they're not conducive for small spaces such as apartments, dorms, or small kitchens. If you have limited counter space, the Breville Bambino Plus could be for you.
The machine's basic design keeps things simple with little to no guesswork. Simply brew one or two shots of espresso and add your desired milk.
With a three-second heat-up time, this espresso maker is quick. The attached steam wand works hands-free to deliver delicious microfoam with customizable temperature and texture settings. It's a compact Breville machine designed for milk-based espresso drinks.
And at just 7.7 inches wide, the small yet powerful Bambino will fit just about anywhere.
There's a cheaper basic model of Breville Bambino, here is a comparison between Bambino vs Bambino Plus.
Best for Pods – Keurig K-Cafe SMART Single Serve Coffee Maker
Best for Pods
We earn a commission if you make a purchase, at no additional cost to you.
Keurig is one of the top names in the coffee industry, especially when it comes to brewing coffee pods. The Keurig K-Cafe SMART single-serve coffee maker maintains that reputation. It's one of the latest models in Keurig's coffee machine lineup.
This coffee maker is more advanced than your average brewer. With its Wi-Fi capability and intuitive app, you can brew your cup from anywhere. Tell Alexa to brew your favorite drink, and the SMART will do the rest.
It's also extremely versatile, brewing regular coffee, lattes, cappuccinos, and more. The built-in milk frother makes hot and cold milk to add to your coffee, which you can determine the strength of. However, K-cup machines don't brew espresso, and you may find the coffee is weaker.
You'll have the chance to feel like a coffee cafe barista with the app's Barista Mode, which lets you discover new drinks and step-by-step instructions. You might never need to step foot in a coffee shop like Starbucks again.
Best Nespresso – Nespresso Lattissima Touch Espresso Machine with Milk Frother by De'Longhi
Best Nespresso
Nespresso Lattissima Touch Espresso Machine
Pros:
Modern, compact design fits any style

Easy-to-use, one-touch method

Built-in milk frother

Rapid brew
Cons:
Only uses Nespresso pods

No room for user control

More expensive than other Nespresso machines
We earn a commission if you make a purchase, at no additional cost to you.
Another smash hit from De'Longhi, the Nespresso Lattissima is the only Nespresso machine that brews milk-based coffee drinks automatically. If you enjoy the conveniences of coffee capsules, but are not satisfied with the coffee strength of Keurig we mentioned above, this is the best option for you.
The compact design is clean-cut, attractive, and convenient. It's modern yet small enough to fit on any countertop or coffee bar.
This Nespresso comes with six programmable buttons and one-touch milk recipes, from cappuccinos to lattes and everything in between. The milk frother's spout pours directly into your cup for the perfect finish.
Built for convenience, this cappuccino machine has a water tank hidden in the back, a 40-second heat-up time, and descaling alerts. With one touch, your drink of choice is ready.
What To Look for in a Cappuccino Machine for Home
Before you select a cappuccino maker for your home, it's smart to have an idea of what you're looking for. Features like the ease of use, cost, and versatility can help you make your final decision.
Ease of Use
We can't all be master baristas. That's why it's important to have a functional cappuccino maker that doesn't take any special training to use. Ease of use is a top priority for those who rely heavily on their morning cup of Joe to start their day.
If this sounds like you, then your best bet is to go for a modern, automatic, or semi-automatic machine that does all or most of the work for you. Today's state-of-the-art models can measure, grind, tamp, and brew your espresso at the touch of a button.
Other machines require a bit more work and knowledge. You may need to grind, measure, and tamp the beans yourself, which brings us to our next point.
Level of Control
If you're ready to dive head-first into the world of home espresso machines, you may be excited about every step of the process. And if that's the case, you don't want a machine that does everything for you.
Some coffee lovers want more control over the process. Choosing your beans, finding the perfect grind, and measuring the flavor and pressure can be quite intriguing for some.
Manual espresso machines are made for those interested in the art of espresso, not just the convenience of a cup in hand.
Coffee Grounds or Capsules?
These days, there are essentially three forms in which you can find coffee: whole beans, pre-ground coffee, or capsules. The latter has risen in popularity. Think K-cups, Nespresso pods, etc. However, many still prefer the old-fashioned method of freshly ground coffee.
Capsules are certainly quicker, easier, and more convenient, by far. They require no measuring or extra steps; simply pop it into place and brew espresso.
But coffee grounds allow you to adjust to your taste. Those who prefer a strong brew can add more grounds or grind finer. Freshly ground coffee is more aromatic and tastes much better. In addition, it's better for the environment.
True coffee connoisseurs like to buy whole beans and grind them each morning for the freshest possible coffee. Of course, that takes more time and effort and requires a coffee grinder.
Milk Frother or Steam Wand?
A cappuccino maker tends to have either a milk frother or a steam wand attachment. So, it's a good idea to decide which you prefer before purchasing one of the options on our list.
Milk frothers work well with any type of milk and give you a thick, creamy consistency for cappuccinos. However, you can't make latte art with thick foam.
On the other hand, a steam wand will heat your milk evenly but require barista skills to get the optimal texture and temperature.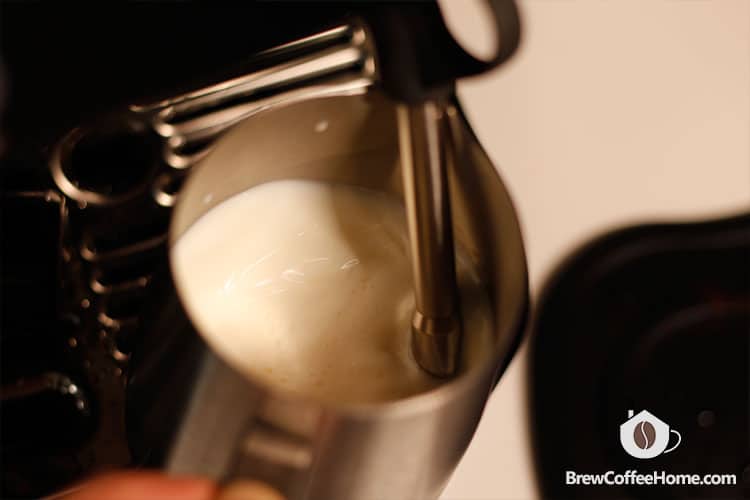 Versatility
Do you want your machine solely for making cappuccinos, or do you want it to do more? A home espresso machine with a frother is enough for cappuccinos, but you won't be able to make regular coffee.
And if you're looking to serve a large group, a single-serve espresso maker will make doing so a lengthy process. The versatility of a machine will determine what you can and can't do with it.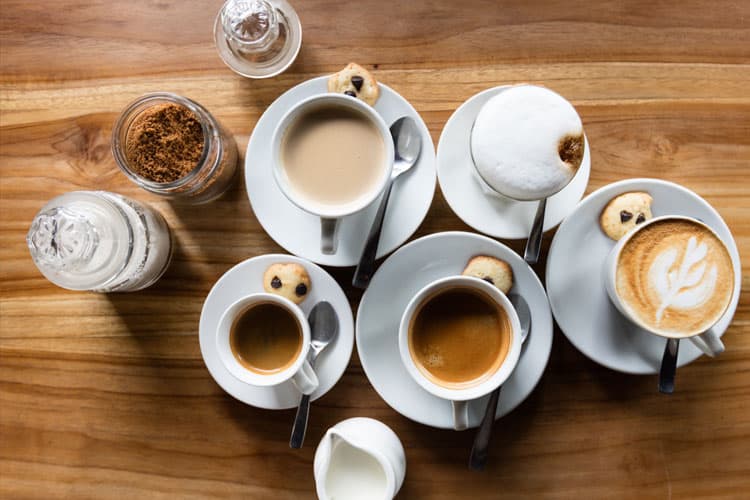 Cost
One critical feature on your shopping list is always the cost. Cappuccino makers come in a wide range of styles, functionality, and brands – all of which contribute to its final price.
It's important to spend within your budget. That's why our eight top-rated picks come in a wide range of prices, from $100 to $1,000. Be sure to weigh the importance of certain features you want versus the money you'll spend on them.
Generally speaking, bean-to-cup super-automatic machines cost much more than semi-automatic machines, while Keurig and Nespresso machines are more budget-friendly. However, the pods and capsules cost more in the long run compared to buying whole beans.
Frequently Asked Questions
Anyone buying a cappuccino maker for the first time is bound to have some questions, so check out our FAQ section for more answers.
What's the difference between a cappuccino machine and an espresso machine?
A cappuccino is made by adding foamy cream and steamed milk to your espresso shot. So, it's possible to use an espresso machine without a steam wand or milk frother to make a cappuccino. However, most cappuccino machines feature everything you need to brew espresso and create steamed milk and foam. 
How do you clean a cappuccino machine?
You can clean the inside of a cappuccino machine by using either espresso machine cleaning tablets, a descaling solution, or an equal mixture of vinegar and water. Most cleaners will come with detailed instructions; follow them closely. 
Otherwise, add your cleaning solution to the machine's reservoir with fresh water to the fill line. Run the machine's brewing cycle until you've used all the water. Turn off the machine for 20 minutes, then run a full reservoir of fresh water through it.  
Also, remember to wipe the steam wand after steaming milk each time.
What's the average time to make a cappuccino with a machine?
An experienced coffee cafe barista can make a cappuccino in under 2 minutes. But if you're still learning the process at home, it could take a little longer. Additionally, your machine may need five to 10 minutes to warm up before it's ready for use. 
Why get a cappuccino machine?
Having a cappuccino machine is a great way to ensure you can have a freshly made cappuccino whenever you want. It can also save you time and money, allowing you to make it yourself rather than going to a coffee shop. Plus, you get more say in the strength and flavor of the drink. 
Final Verdict
With tons of cappuccino machines on the market, it can be challenging to determine which will work for you. Our top eight choices give coffee lovers a wide range of options, from budget picks to premium options.
If you're looking for a solid, automatic machine with built-in frothing and user-friendly features, you can't go wrong with our top pick, Mr. Coffee Espresso and Cappuccino Maker. It makes the learning process easy, gives you automatic features, and lets you experiment with coffee blends and grind sizes. Of course, if you're a fan of the ever-convenient coffee pod, we love the Keurig. With this guide, you'll find the best cappuccino makers for yourself or a loved one in no time.