Sick and tired of drinking the same cup of coffee? Adventurous coffee enthusiasts don't have to limit themselves to what's at the local grocery store. You can explore the world of coffee without leaving your home, thanks to Atlas Coffee Club.
We tried their Coffee Of The Month subscription box, keep reading to discover our honest thoughts on Atlas Coffee Club's subscription. You'll get insider information to help you determine whether Atlas Coffee Club is worthwhile.
Also check out our coffee subscriptions round-up to discover more options.
About Atlas Coffee Club
Atlas Coffee Club is a coffee subscription company and roaster that provides a curated selection of artisanal coffee from around the world. Profits from subscriptions go directly to paying global farms above-average pricing for their coffees. With coffee from famous coffee regions such as Brazil, Ethiopia, Colombia, Peru, Indonesia, Kenya and more, you have no shortage of flavors to experience.
Subscribing to Atlas Coffee Club takes only minutes. You'll choose how much coffee you want, the frequency, and select your roast types and grind preferences. Then, they roast the beans before packaging and shipping them, ensuring you get the freshest quality coffee possible.
Despite being central to Austin, TX, Atlas Coffee Club strives to share views of the globe through different gourmet coffees. With their coffee subscription, you receive not just coffee, but also brewing instructions, flavor notes, information on the origin location, and a postcard about the coffee-growing regions.
If you have questions, Atlas Coffee Club's experts can answer them, or you can view past coffees and brewing guides on their website.
Pros
Very reasonable pricing
Single-origin coffee tour
Lovely packaging with postcards and informative guides
Commitment to sustainable coffee production
Simple subscription design
Cons
$5 shipping per order
No sampler options
Coffee bags are not resealable
Atlas Coffee Club Coffee Subscription Review
What are our thoughts on this subscription? Highlights of the Atlas Coffee Club include international coffees, limited subscription options, and an easy signup process. Let's dive into their coffee, the buying experience, and what differentiates this subscription from others.
Coffee Options
Atlas Coffee Club sources their offerings from the best coffee-growing regions. This gives you access to a large selection of artisanal coffees, from a fruity Ethiopian coffee to a sweet, creamy Arabica from Costa Rica. You'll be tasting the top 1% of specialty, hand-picked coffee from many countries.
All the beans from Atlas Coffee Club's subscription are single-origin. You'll taste exclusive coffees that aren't sold in stores anywhere in the world. If you're interested in sharing the experience with a loved one, they also offer gift subscriptions from three to 12 months.
You can choose whole bean coffee, ground coffee, decaf, and multiple roasts. With light to medium, medium to dark, and no preference for roast options, you can easily ensure you'll receive coffees with your preferred flavors.
Unfortunately, there is no way to sample multiple coffees. You get a single type of coffee every two or four weeks during the subscription process. The coffee beans come freshly roasted for maximum freshness and arrive on your doorstep quickly with a $5 shipping fee.
Subscription Options
Atlas Coffee Club offers an easy subscription design. You'll select how many bags you want per shipment, between a single bag, half bag, and double bag. A single pouch is 12 oz and offers around 30 cups of coffee, while a half bag will make approximately 15 cups.
Shipment frequency has two options: every two weeks or every four weeks. Coffee changes once a month, so ordering every two weeks will mean you get the same coffee twice a month. Choosing every four weeks ensures you try one new coffee each month.
Roast preferences include light to medium, medium to dark, and an "all types" option. Whole-bean and ground coffee options are also available. However, please note that the grind size is only for drip coffee. It's not that friendly for coffee drinkers who brew their favorite coffee with a French press or cold brew. If you have a grinder, buying whole beans is a good idea. You can view a summary of your selections at the bottom of the subscription page to ensure your choices are correct before confirming your order.
Whether you're subscribing for yourself or a loved one, Atlas Coffee Club makes it easy. Canceling your subscription has no negative impact on your account. You can skip a month, pause, and restart your subscription whenever you want. Canceling your subscription has no adverse effect on your account.
Coffee Quality
After making your order, you will receive your coffee up to six days after it ships. While this is slightly more time than other coffee subscription companies, it's still exciting to know that you have new coffee to try on the way to your doorstep.
Because Atlas only works with micro-lot farms, you're getting the highest quality coffee available. Their partner farms take excellent care in growing their beans to produce a smooth, great-tasting cup of coffee.
Atlas Coffee Club roasts the beans the day after you place your order. This means they will arrive fresh, making for the most flavorful and potent experience. Each package comes with tasting notes, brewing recommendations, and more helpful information to get the best tasting coffee possible.
We tried their Costa Rica beans, the coffee tasted sweet and clean with a slight acidity. The Tanzania coffee is vibrant with sweet berry and fruity tasting notes. Overall, they are great coffee to try, and you'll love them if you are a pour-over coffee lover.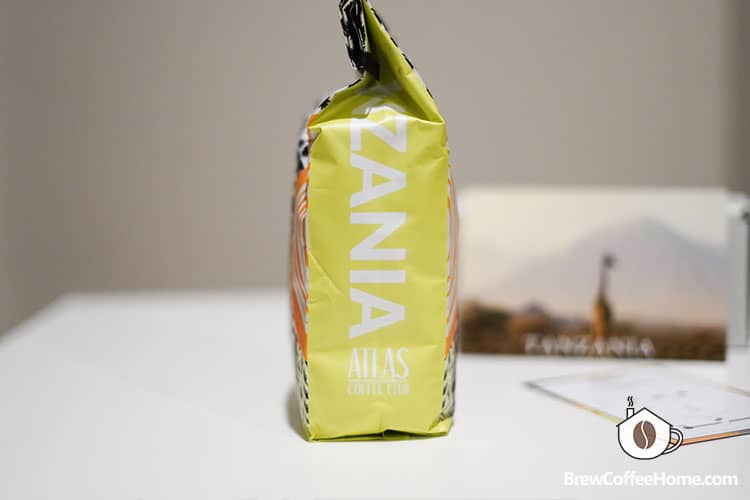 The coffee's packaging is just as lovely as the coffee itself. The minimalist packaging features bright colors and patterns relative to each origin country and bean characteristics. Unfortunately, they don't seal, so you'll likely want to transfer them to an airtight container after receiving them. If you can consume the coffee before the next batch comes, this shouldn't be a big issue since the beans are freshly roasted.
User Experience
It's straightforward to subscribe and keep track of your favorite coffees. By signing up, you get access to a member portal where you can skip certain months, keep track of coffees you enjoy, and edit your current subscription plan to get the perfect shipment date each month.
While they don't offer a quiz to determine your coffee preferences, the form is very straightforward and has minimal options to make your decision easier. You can view tasting notes on each coffee and find brewing tips on the Atlas Coffee Club website. Your subscription box will also have all the relevant information.
Atlas Coffee Club offers excellent customer service. Their team can answer questions about your account or help you choose a plan. Changing your order, roast preference, pausing, restarting, and canceling your subscription is easy with an Atlas Coffee Club account.
With your Atlas Coffee subscription, shipping requires a $5 fee, and your package will arrive up to six days after you order it. Having access to more exclusive coffees may be worthwhile to any dedicated coffee aficionado despite the long wait. Packaging is not resealable, so you'll need dedicated storage for your coffee if you want to keep the beans fresh for longer.
We found a letter from the Atlas team in the new espresso roast subscription pack, what a surprise!
Value For Money
The Atlas Coffee Club subscription offers excellent value for the money compared to other subscription boxes. Atlas is a steal with access to global coffees, freshly-roasted beans, and a lower price than competing coffee subscription boxes. While it's not as affordable as going to your local grocery store, it's hard to find gourmet coffee at this affordable price.
Depending on your plan details, you can save significantly. Although shipping isn't free, it only adds $5 to your order total. By becoming a club member, you can collect store credit and redeem them for free shipping and discounts on your subscription.
After tasting the high-quality, fresh flavors of artisanal coffee, you won't want to go back. Atlas provides excellent value by making coffees not sold in stores accessible to the ultimate coffee lovers. This could easily make up for the slightly higher price of coffee plus shipping to true enthusiasts.
What Sets Atlas Coffee Clubs Apart from Other Subscription Services?
Atlas Coffee Club's affordable price point, highly-sustainable process, and additional rewards set it apart from other coffee subscriptions. They make it possible to drink rare and exclusive coffees without sacrificing quality. You get incredible value and delicious coffee for not much money.
You will benefit coffee farmers around the world, thanks to Atlas Coffee's dedication to sustainability and fair wages. Their thoughtfulness and compassion put them at the front of the pack. On top of these features, you'll get rewards points with every order, so you can increase your savings or use them when purchasing a gift subscription.
Atlas Coffee Club's most attractive feature is its exclusivity. It's the best coffee subscription for trying high-quality beans around the world.
The Verdict
Atlas Coffee Club is an excellent coffee subscription service if you want to try amazing coffee at an affordable price. This subscription combines quality with ease of use and convenience. While it features fresh coffee from micro-lots productions, you can enjoy the world tour of coffee at a very reasonable price.
If you're an adventurous coffee drinker, this is the coffee subscription for you. With so much variety, you'll never get tired of new coffees, and Atlas Coffee Club makes it easy to purchase the ones you like again. Little customization means your package depends on curators' picks.
With Atlas Coffee Club, you don't have to keep drinking the same bland brand of coffee. Subscribe to them for a full flavor experience.