Have you ever had an affogato coffee? The combination of espresso and sweetly flavored ice cream is a caffeinated dessert combination you do not want to miss!
Many people enjoy it in Italian-style cafes, but there is a way you can make it at home. Follow our tips and step-by-step instructions to see how!
What Is Affogato — Coffee Ice Cream?
As mentioned, affogato is coffee and ice cream. Some people request the addition of amaretto for a boozy twist with an almond flavor.
In Italian, "affogato" means "drowned" and is also called 'affogato al caffe'. This drink is named due to the hot and cold temperatures and clashing flavors taking your breath away as you eat it! It is also an appropriate name since the ice cream is added to the coffee, causing it to "drown" in the liquid.
It is served in a coffee cup with a spoon. Occasionally it is served with berries or cookies to enhance the dessert experience. It is widely unknown exactly what Italian location the dessert originates from, but it appeared in American dictionaries in the early 1990s.
Coffee and cream as a combination in cooking are common in Italian cuisine. Think tiramisu! People who like coffee and cream flavors will love an affogato. It is also suitable for those who love sweet and bitter flavor combinations.
What Does Affogato Taste Like?
An affogato often tastes better than it looks. Due to the high temperature of the espresso shot, the ice cream begins melting immediately when you pour espresso over it. If you want to take a photo, do so quickly before it melts entirely!
Some shops serve this delicious dessert with cinnamon topping, chocolate syrup, biscotti cookie crumbles, whipped cream, or other decorations to enhance its look and add flavors.
In the traditional combination of espresso and ice cream, the taste is simultaneously sweet and bitter, but it is also rich depending on the type of ice cream you use. The most common choice is vanilla or vanilla bean.
How To Make Affogato At Home?
The affogato recipe might seem intimidating, but actually, it is one of the easy dessert recipes for anyone. Follow the instructions below to make the delectable dessert when it is convenient for you at home.
Ingredients
The main ingredients of the homemade affogato are:
Gelato or ice cream
Hot espresso or strong brewed hot coffee
Toppings (optional)
Ingredient 1: Gelato or Ice Cream
The main difference between gelato and ice cream is the cream and milk ratio. Gelato is denser, thicker, and creamier than ice cream because it has more milk and less cream. Ice cream often contains egg yolks, which gelato does not have.
Italian gelato is dense because it churns at a slower rate than ice cream or other types of gelato.
However, which One Makes the Best Affogato? Deciding to use ice cream or gelato is totally up to you! It all depends on your preference for taste and texture. Gelato will likely stay solid longer than ice cream because it is denser, so keep that in mind.
Traditional affogato is made with very cold vanilla gelato or vanilla ice cream. Still, you can choose whatever you like for this recipe, such as Fior di latte, chocolate, or any other flavor.
Ingredient 2: Hot Espresso or Strong Brewed Coffee
The second ingredient is hot espresso or strong brewed coffee. You want something with a rich flavor because it combines with gelato or ice cream.
If the espresso or coffee is too light or weak, the affogato will taste mostly like ice cream, and you will not get the full effect of the coffee and sweet flavors marrying, which is essential to the affogato.
Ingredient 3: Toppings You Prefer (Optional)
Adding toppings is also up to personal choice, taste, and style.
Adding toppings like chocolate shavings, chocolate syrup, cinnamon, crushed Biscoff cookies, or even amaretto adds a subtle new flavor to the affogato. It also makes it prettier!
Equipment
There are two main equipment pieces to have in your kitchen to whip up the perfect affogato. These include an espresso machine, preferably a machine that pulls the authentic espresso, or a Moka pot to brew strong coffee.
If you do not have a Moka pot or an espresso machine, make about 30ml of strong coffee. Instant espresso powder is also an acceptable alternative if you do not have these pieces of equipment.
Instructions
Here are a few steps to follow when making an at-home affogato:
Step 1:
Make a single or double-shot of espresso, or brew strong coffee.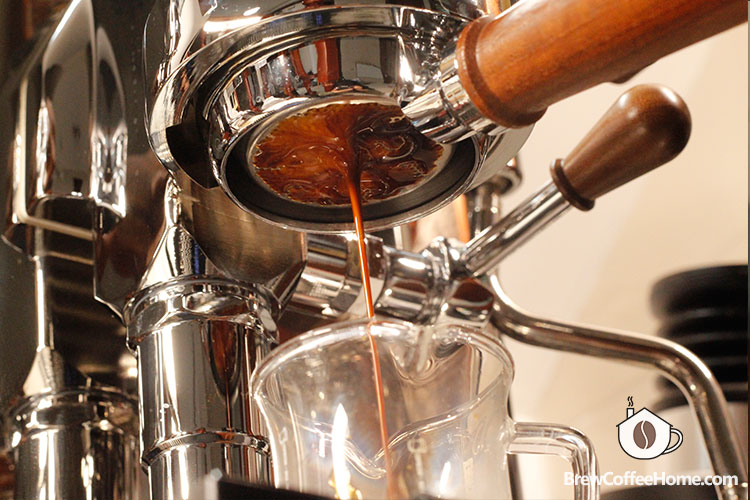 Step 2:
Scoop a hefty scoop of vanilla gelato or ice cream and drop it into the cup.
Step 3:
Carefully pour espresso over the cold gelato or ice cream.
Step 4:
Garnish it with your desired toppings like cinnamon, shaved chocolate, cacao nibs, chocolate syrup, etc.
Step 5:
Serve immediately with a spoon!
Affogato recipe
How to make Affogato coffee ice cream at home.
Equipment
Ice cream scoop

Espresso Machine

Alternatives: moka pot, aeropress, nespresso machine

Serving cup
Ingredients
2

scoops

ice cream or gelato

1

shot

espresso

or any strong brewed coffee (1-2 oz)

Toppings

Any toppings you like
Instructions
Pull an espresso shot with your espresso maker, or brew concentrated coffee using a moka pot, Nespresso machine or even instant coffee.

Add one or two scoops of ice cream and drop it into the serving cup.

Pour espresso or coffee over the ice cream.

Garnish it with your favorite toppings.
Notes
You can also pull an espresso shot directly over the ice cream!
Nutrition
Serving:
1
cup
Calories:
140
kcal
What Is Affogato Style Shot at Starbucks?
Though Starbucks does not have an actual affogato on the permanent menu, it is a seasonal offering in some countries!
They do offer an affogato-style shot year-round. Affogato-style drinks are made by pouring a shot of espresso on creamy, milk-based drinks like frappuccinos.
You can ask your barista for your favorite type of icy frappuccino, then ask them to make it an affogato-style Frappuccino.
They have an espresso poured on top of the drink, creating a marbling effect and adding caffeine to the drink.
Conclusion
Have you been convinced? Are you into the idea of making coffee delicacies at home? Bring the affogato into your repertoire by following our four easy steps to making an affogato at home! It is as easy as 1-2-3 (4).
It is not intimidating once you have the appropriate apparatuses to make it happen and the experimental spirit to try it out! Serve this delicious caffeinated treat at your next dinner party and wow your guests!